Koling drops to second; Owens, Barsby, Wysocki tied for third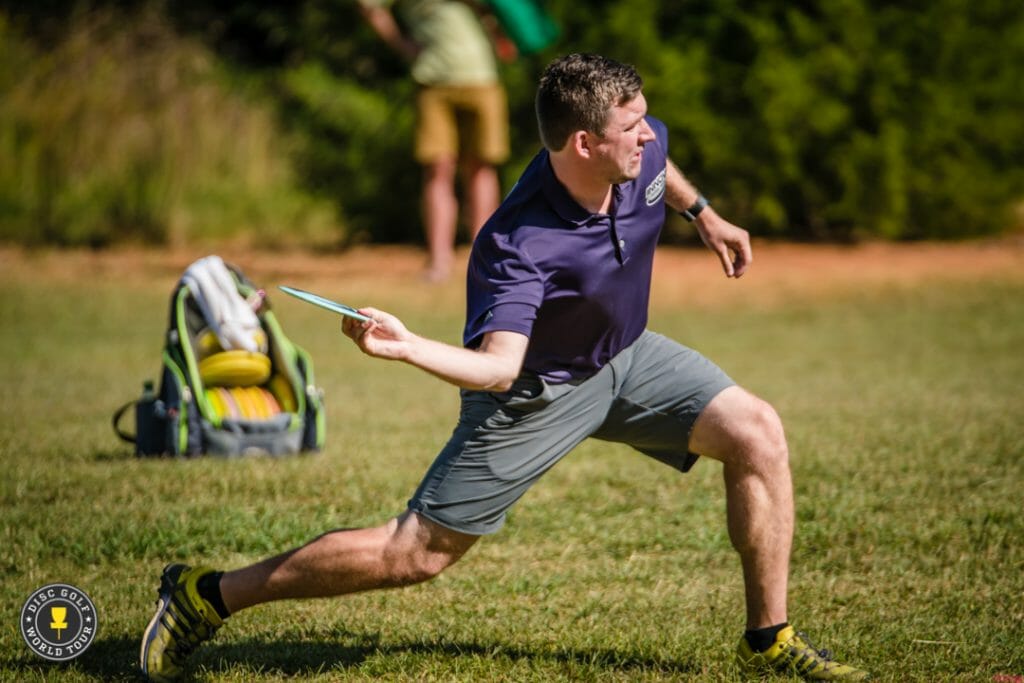 Ultiworld Disc Golf's coverage of the 2017 United States Disc Golf Championship is presented by Savage Apparel Co.; all opinions are those of the authors. Please support the brands that make Ultiworld Disc Golf possible and shop at Savage!
ROCK HILL, S.C. — Just up I-77 from Winthrop University is an amusement park called Carowinds. With roller coasters like Carolina Cyclone and Intimidator, it offers Charlotte-area thrill-seekers an opportunity to satiate their need for adrenaline.
Even though summer heat is still lingering, local schools are back in session, and as a result Carowinds was closed yesterday. Instead, Winthrop Gold proved an admirable stand-in, as the course continued to force the world's best disc golfers to buckle in and hang on for dear life.
When the ride finally came to a screeching halt, a new player was atop the leaderboard at the United States Disc Golf Championship, as Nate Sexton used a 9-under par 58 to move to a 16-under par 117 through two rounds. Jeremy Koling's 6-under par 61 dropped him to second place with a 15-under par 118, while Devan Owens and Gregg Barsby tossed dual 7-under par 60s to move into a third place tie. They share a 13-under par 120 total with Ricky Wysocki, whose 5-under par 62 yesterday was mired in late struggles.
Like the tell-tale click click click of a coaster making its first climb up the track, the pressure continued to mount with each passing hole at Winthrop. And Sexton said he wouldn't have it any other way.
"There's so many holes out here that can ruin your round. It's a high-stress tournament and that's how they want it, and that's kinda how I want it," Sexton said. "That's a good way to decide who can be the U.S. Champion. You play under big pressure, and there's probably five or 10 shots during the course of every round that could absolutely blow you up if you don't execute."
The first of those shots for Sexton came on hole 6. He had started the round quickly, logging four birdies in the first five holes with a mix of parked forehands and outside-the-circle connections. But he left his drive on the 371-foot beachside line too straight and it landed in the bean-shaped OB area. He then missed low on his par save and swatted at the air in frustration as he took his first bogey.
Sexton quickly rectified his scoring, though, with a birdie through the clown's mouth on hole 7. He again recovered after a bogey on 11, this time with a par, and through two rounds has yet to play consecutive holes over par.
"Taking a bogey is part of playing at Winthrop — and probably even taking a double bogey is part of it," Sexton said. "I would be surprised if I can get through unscathed, but I hope I can. But you can't dwell on it. Obviously, I get mad about it. But it makes me feel even more pressure — pressure in a good way — to get up and execute the next one, or else goodbye to my chances."
Acknowledging that risk — and mitigating it — has been a hallmark of Koling's play through 36 holes. Though he was the lone player on the lead card to find the right side hazard on hole 2, which led to a bogey, he followed it with well-executed birdies on holes 3 and 4. Later in the round, instead of leaning on his power and running for eagle on holes 9 and 10, he demonstrated the lessons he's learned from years of playing at Winthrop and carded consecutive birdies via safe lay-up drives.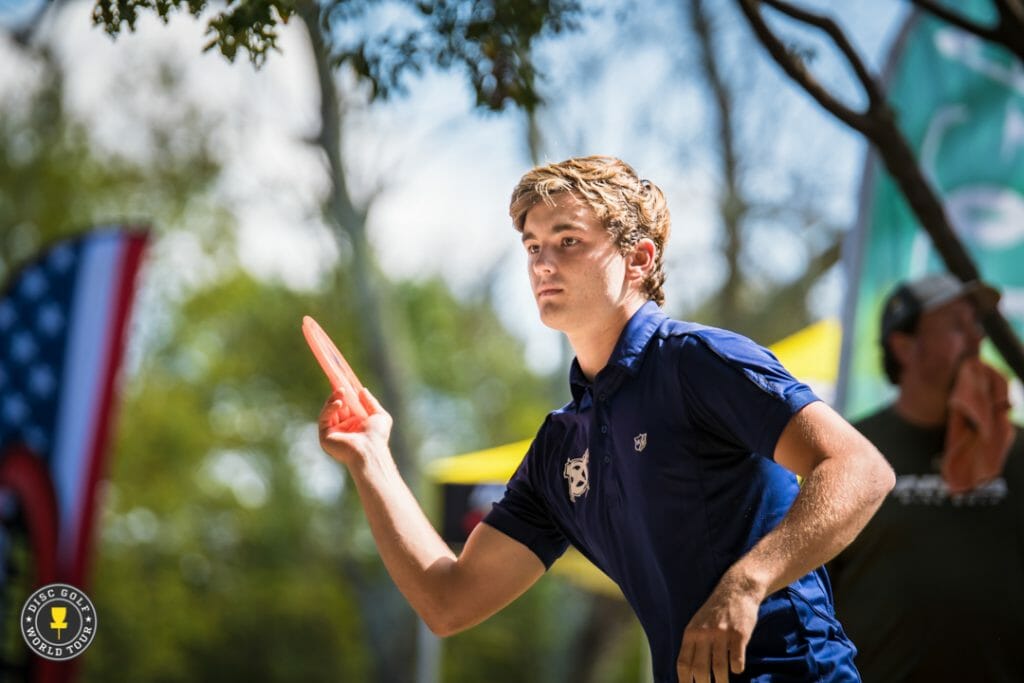 That style stood in stark contrast to the play of Kevin Jones, the 21-year-old Arkansas pro who burst onto the lead card with a round one flourish. Though at times his distance was an asset — he took a birdie on hole 2 after putting his second shot on the 629-footer under the basket — it also caused trouble. After carding an eagle on the 499-foot 9th on Wednesday, he again took the aggressive approach and skipped mere inches out of bounds. His putter upshot from the drop zone barely stayed inside the ropes, but he missed his circle's edge putt and it rolled OB. He then missed from the same spot a second time before holing out with a triple bogey 7 and a five-shot swing from his Wednesday score.
Koling noted the importance of the rookie lesson that Jones learned.
"Through two rounds he's at nine strokes and I'm at six with a lay-up, lay-up," Koling said. "Not to put him on the spot, but it's just knowing that that 3 feels a lot better and a lot safer and lot less stressful than going for that crazy, awesome, exciting, crowd-cheering 2 which could turn into a big number.
"I just chip away at this course," he continued. "You don't have to go 14-down out here. If you do, congrats — you're gonna win the tournament by a lot of strokes. But 8-down, 7-down, 9-down — anywhere 6-down and above is a great score. So you're really just trying to stay in that range and at the end put yourself in position where you can make an attack the last day, where you really know what the situation is like."
Jones experienced another Welcome to Winthrop moment on hole 17, when he failed to land on the island green in three attempts and was forced to proceed to the drop zone. He ended up carding a quintuple bogey 8 and dropped into eighth place after a 2-under par round. He kept his head up after the performance, though, and was already plotting ways to improve.
"I think on 17 I'm gonna practice other discs now, because I didn't have a plan for 'What if I miss?'" Jones said. "Maybe make sure I've got a couple other ways to get on the island. Other than that, just keep attacking. I'm gonna play the same game plan I've got. I'm excited. I had a lot of good today. There was a lot of good out there."
It wasn't just the fresh faces who struggled on 17, though. Barsby took a bogey-free 11-under par into the hole, when his Firebird unexpectedly stood up and rolled — in painfully slow fashion — into Winthrop Lake. He was astonished at the bad luck and directed his ire at the hole's spotter, whom Barsby scolded for not retrieving his disc out of the lake before it had a chance to float away. The spotter insisted that he was not allowed to touch any discs, and Barsby was left to extend his full body over the shoreline — Owens held on to his ankles to provide more extension — and use a stray piece of bamboo to push the disc underwater so it could be retrieved later. Still fuming, he missed his bogey save off the left side of the chains and carded a 5. He hadn't cooled off by hole 18 and went out-of-bounds twice to squander his hot round with consecutive double bogeys.
After the round, Barsby admitted that he lost his cool, and he had already reached out to the spotter to offer an apology.
"What happens is I end up getting a little heated with the spotter, and I know it's not his fault," Barsby said. "I know it's not, and I know that they're out here for our benefit and for us, so I appreciate them. But it's the way the emotions — when they roll out like that, it's hard to bottle them up."
Even with the late-round tilt, Barsby was still focusing on the positives from a round that found him connecting on four putts from outside the circle.
"I feel like I'm playing the course as good, or better, than anybody," Barsby said. "I take that and I go to sleep on that knowing that my skills and where I've worked toward is paying off, and all I have to do is stick to that code."
Though hole 17 didn't bite Sexton as it did his contemporaries, it came close: His Firebird skipped off the top of the hay bales that protect the green and landed in tap-in range.
"The water back there — it's hard to throw at water," Sexton said. "It takes a little out of your throw more than you think, so I've just gotta remember to throw that shot firm and make sure I clear those hay bales every time."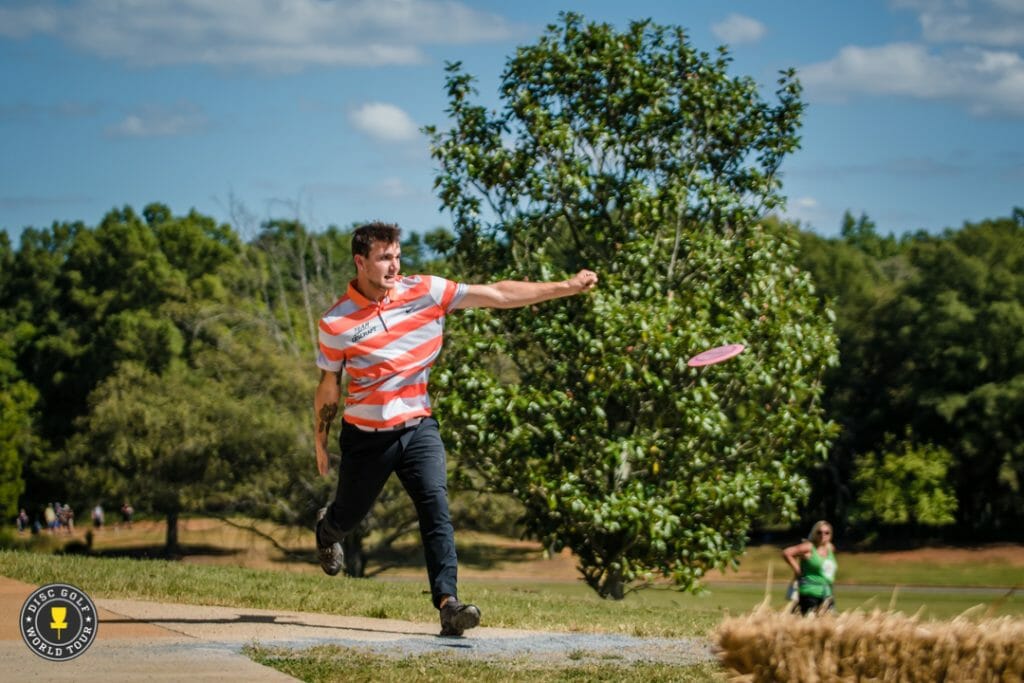 Other action at Winthrop held to the theme that the course is not for the faint of heart. Owens snuck onto the lead card with a turkey to close the round, as the Oklahoma lefty continues to show up at the sport's biggest events. Paul McBeth was 4-over par after the first four holes, got back to 1-under with his hole 9 eagle, then logged two more double bogeys before finishing with a 2-under par for the round. He's now in 15th place with an 8-under par 125 total, but with two days left to play he was not counting himself out. "I'm pretty sure I'm still in it," he said. "I just have to shred it."
Austin Turner landed the tournament's first ace with a shot that ricocheted off hole 7's bamboo fortress before crashing the chains. The 19-year-old moved up into 21st place with his 5-under par round, but even he admitted that the hole-in-one was more serendipity than skill.
"It was the dumbest shot I've ever seen," Turner said. "It didn't deserve to go in."
He almost canned another ace with a skip shot on 16, but it ended up bouncing out. Instead, he was content to continue his climb up the standings in his first career USDGC. "Putting myself in there to hopefully get top 10," he said. "Two more rounds to go."
Sexton echoed that sentiment, and he's been in the lead at Winthrop before: He took a three-shot lead into the final round of the 2015 USDGC before struggling during a storm. Instead of looking back to that event for a reminder of what to do this year, he planned a more simple approach.
"I've just gotta play my game," Sexton said. "Hopefully there won't be a torrential downpour and wind and everything like last time I had the lead. I would love to make it to Saturday with the lead still. We're only halfway home — I've got a lot of golf left to play. If I can find myself at 32-under — double what I've done so far — I think I'll be in the hunt."