The edge-of-your-seat moments that defined the season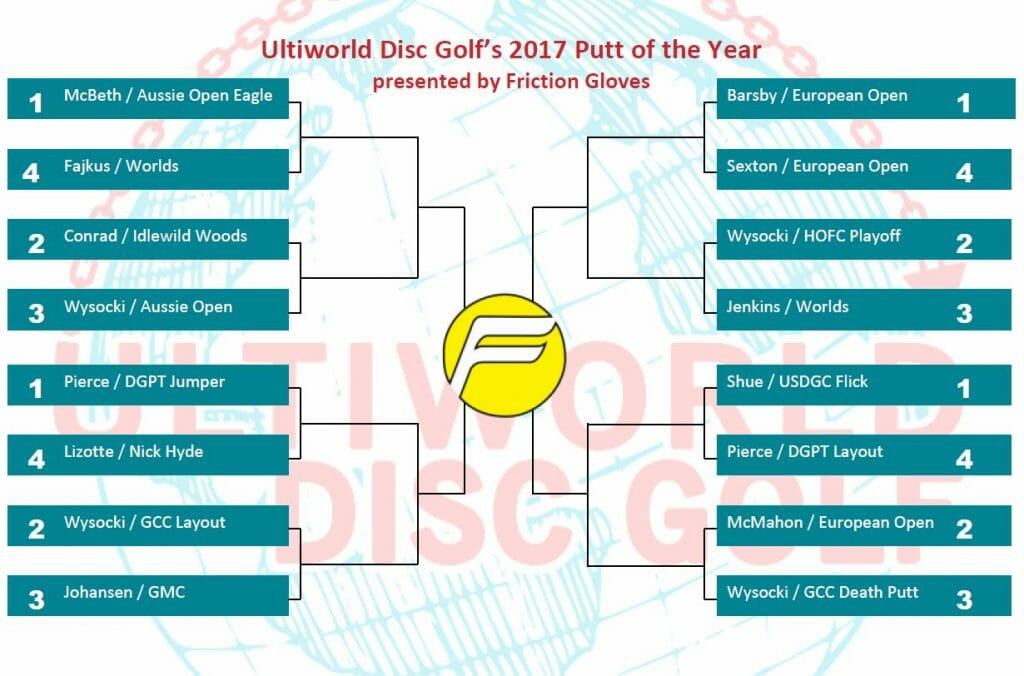 Ultiworld Disc Golf's 2017 Shot of the Year voting is presented by Friction Gloves; all opinions are those of the author. Check out our review of Friction's DG Gloves here.
While we've seen some jaw-dropping feats dominate our Roller of the Year and Air Shot of the Year brackets, our next set of voting tackles those moments that are the most consequential in a round — and, really, a career.
Indeed, our Putt of the Year bracket features players who have combined for 14 PDGA World Championships. It also boasts the reigning United States Disc Golf Champion and an array of breakout stars who all have one thing in common: the clutch gene. There might not be a better exemplar of that trait than Ricky Wysocki, who headlines this competition with five entries from 2017. Still, it's no guarantee the game's consensus best putter runs away with this one, as he'll be rivaled by a massive eagle from his top rival; some wizardry from a seasoned woodsmith; a two-fer from Paige Pierce at the same event; and many more.
So without further ado, select your favorite putt from each of the matchups below, and check back in later this week for the quarterfinal round. Much appreciation to Jomez Productions, The SpinTV, Prodigy Disc Video for bringing us the season's best moments on the small screen.
1) McBeth vs. Fajkus
Paul McBeth was unstoppable with the putter during his four-year run of world titles, and this bomb for eagle at the Aussie Open was the easy pick for the overall number one seed in this event for its sheer distance:
Lisa Fajkus might be the best pure putter in the Open Women's division, as she showed here during Pro Worlds at Fort Gordon:
2) Conrad vs. Wysocki
When he's not throwing putters on tight lines through the woods, James Conrad is busy throwing them into baskets from out of the woods. Case in point: this jam from his victory at the Idlewild Open:
Ricky Wysocki started off his heroic season in fine form at the Aussie Open, where he made it clear that it didn't matter if he parked a shot or not:
3) Pierce vs. Lizotte
Pierce already had the Disc Golf Pro Tour Championship title in hand when she faced this birdie look on hole 17 at New World Disc Golf, but she was never going to lay up:
In that same vein, it's rare you'll ever see Simon Lizotte switch to his "Simon Layzup" alter ego, and he wasn't doing it at the Nick Hyde Memorial:
4) Wysocki vs. Johansen
Wysocki wasn't afraid to sacrifice his body for this birdie at the Gentlemen's Club Challenge. It was a key moment early in the final round to add some insurance:
It's no line, no problem for Michael Johansen at the Green Mountain Championship as he tries to chase down Nate Doss:
5) Barsby vs. Sexton
Gregg Barsby was one errant drive away from taking the victory at the European Open, but he still went out with a bang and made McBeth earn the W after this 50-footer:
Sure, the water carry was right in front of him. But this smooth stroke from Nate Sexton made for yet another highlight at the EO:
6) Wysocki vs. Jenkins
If it's crunch time, it's Sockibomb time. And the second hole of a three-way playoff at the Hall of Fame Classic certainly qualified as crunch time:
Can a four-time world champ oust a two-timer? Valarie Jenkins gives it her best run with this 70-footer at Pro Worlds:
7) Shue vs. Pierce
When there's a clown's mouth of bamboo between you and the basket, you've gotta get creative. Well done, Grady Shue:
Another DGPT Championship putt from Pierce, as she hits the deck for deuce on hole 7:
8) McMahon vs. Wysocki
Eagle McMahon already won our Roller of the Year competition. Does this long-range connection at the European give him a shot at another accolade?
And we close out the bracket with the man who has had his fingerprints all over it. With McBeth chasing and a water hazard in the background, Wysocki connected for a crucial par save in Vegas before taking home the win a couple hours later: