Lizotte, McBeth double up their chances as the field is cut in half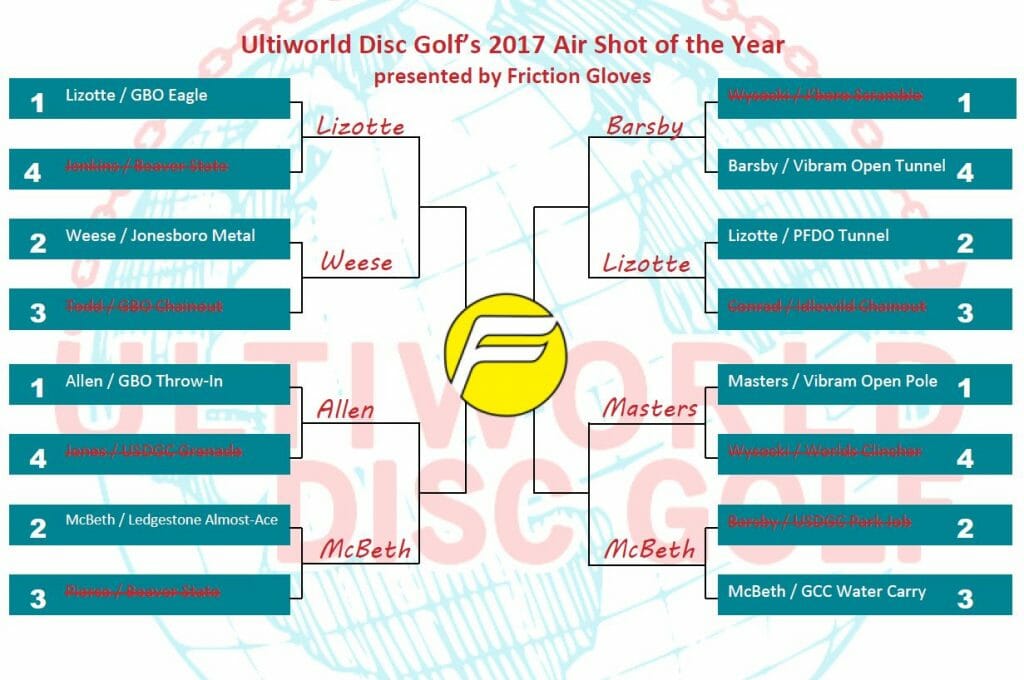 Ultiworld Disc Golf's 2017 Shot of the Year voting is presented by Friction Gloves; all opinions are those of the author. Check out our review of Friction's DG Gloves here.
The field for our 2017 Air Shot of the Year has been halved, with nary an upset to the bracket. Indeed, only Gregg Barsby managed an opening round surprise, coming from the fourth seed with his Vibram Open tunnel shot to knock off a miraculous, but less loved scramble from Ricky Wysocki at the Jonesboro Open.
Looking at the quarterfinals, then, we find that  Simon Lizotte and Paul McBeth are in the driver's seat, as both have two opportunities to make it to the semis. Are we destined for a final round showdown between a pair of disc golf titans, or can an upstart make a move?
As always, much appreciation to  Jomez Productions, Central Coast Disc Golf, The SpinTV, SmashboxxTV, and Disc Golf Examiner for capturing these clips. Dial in those votes, and come back for more on Wednesday!
1) Lizotte vs. Weese
After a round one romp that saw him rack up nearly 1,800 votes, Lizotte's Glass Blown Open smash for a tap-in eagle remains the front-runner:
But can Jessica Weese somehow surprise with this tee shot that nearly cashed at the Jonesboro Open?
Jessica Weese Jonesboro Metal GIF
2) Allen vs. McBeth
A smooth 250-footer along a hillside? No big deal for Jennifer Allen, who provided yet another highlight from the GBO:
Jennifer Allen GBO Throw-In GIF
Two inches higher and this one is headed to the Ace of the Year bracket. Instead, McBeth was left shaking his head in disbelief at the Ledgestone Insurance Open:
McBeth Ledgestone Almost-Ace GIF
3) Barsby vs. Lizotte
The technicality required on this Barsby shot at the Vibram Open is rivaled by few:
But Lizotte also shows he can handle the woods, too — 500-plus feet of them, no less:
4) Masters vs. McBeth
Downhill. Putter. Pole. Nicholas Masters was a pleasant surprise at the Vibram Open:
Add another huge drive to McBeth's résumé, as he tried in vain to run down Ricky Wysocki during the final round of the Gentlemen's Club Challenge: