Sexton never yields in closing out USDGC triumph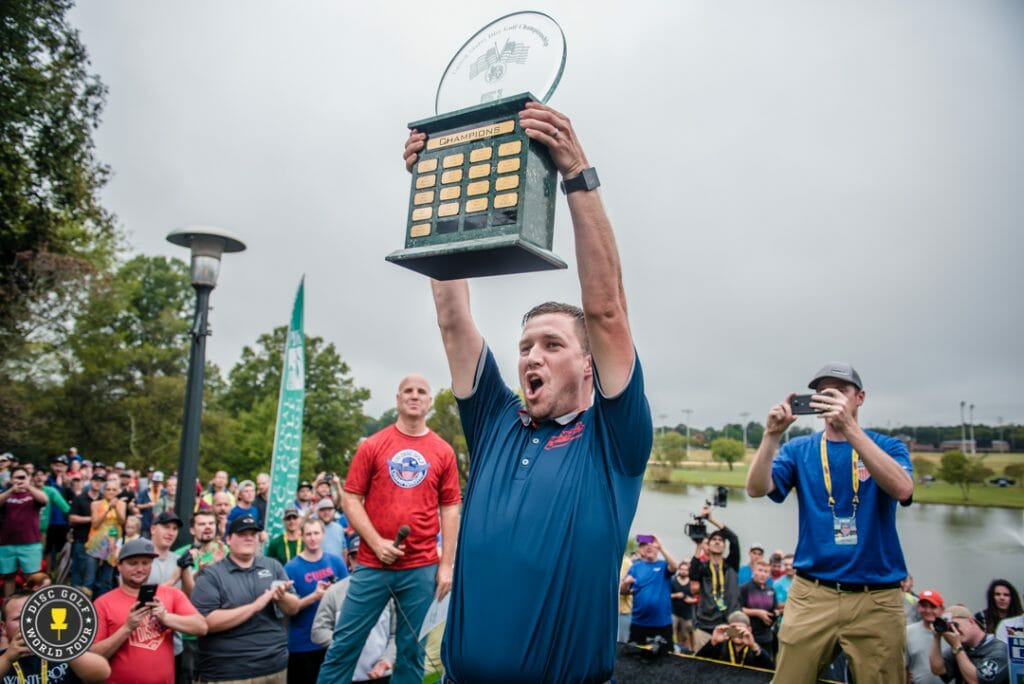 Ultiworld Disc Golf's coverage of the 2017 United States Disc Golf Championship is presented by Savage Apparel Co.; all opinions are those of the authors. Please support the brands that make Ultiworld Disc Golf possible and shop at Savage!
ROCK HILL, S.C. — Looking out over an adoring crowd as he was introduced for the first time at the United States Disc Golf Champion, Nate Sexton reflected on his 2015 showing here and, really, his entire career leading up to Saturday. After a day when he had controlled every shot and every emotion, one small crack in his armor finally showed, as his voice caught ever so slightly and he interrupted his own train of thought.
"It's something I knew I — actually, I didn't even know I was capable of winning a tournament like this," he said. "I wanted to believe that I was capable.
"And I guess I am."
Sexton was masterful for the final 18 holes at Winthrop Gold, rarely making a mistake and correcting on miscues from prior rounds en route to the USDGC victory and the first Major title of his career. The Oregon native's 1060-rated 8-under par 58 secured a five-shot win with a 34-under par 232 total. Ricky Wysocki's final round 6-under par 60 left him in second place with a 29-under par 237, while Paul McBeth went down swinging with a 1079-rated 11-under par 55 to move up to third place with a 27-under par 239.
RELATED — Here Are The Payouts For The $63,550 USDGC Purse
Though Sexton had long been on the verge of a breakthrough win, the significance of the title hadn't yet sunk in later in the day as he stood on the deck overlooking Winthrop Lake. Instead, he took the same calm, collected approach that got him through four rounds of golf in the 50s at one of the sport's most menacing tracks.
"It's awesome. And in a way, it's less earth-shatteringly transformative than maybe I thought it was going to be, because it's just another day, really," Sexton said. "It was just another tournament. Coming down the stretch it didn't really feel that different from a lot of tournaments I won, because I was able to position myself with such a lead."
Indeed, it only took one hole for Sexton's margin to grow from the three strokes he entered play with to a comfortable handful. With a slow drizzle falling from the sky, Sexton launched a signature forehand Firebird shot inside the circle on the 256-foot opener — "Like butter on a hot roll!" one enthusiastic spectator shouted — to net an easy birdie. Wysocki, who was the lead card contender best-positioned to overtake Sexton, tossed a forehand of his own that skipped left and down the slope from the pin. He missed his circle's edge attempt for the deuce, and it hit the top band and rolled away into the shrubs. Forced to take an awkward stance, he nicked chains on the comebacker and carded a bogey for an early two-stroke swing.
Hole 2 found Sexton adjusting his line from round three, keeping a forehand low enough to escape the wrath of the low-hanging canopy. He was in place to get on the green in two, but his second shot — whether due to moisture, nerves, or some combination of both — slipped out early and faded right. "Grip's gonna be an issue," Sexton said as he walked toward his lie. "Felt like I had a handful of clams." He pitched to the green for par, but Wysocki could not capitalize on the miscue: He left his Harp approach too high, and it clipped some leaves and faded to 40 feet along the fence. Left with another odd lie, he aimed his putt around the pillars and, for the second hole in a row, it tickled the chains before falling to the ground.
"The hardest part is just starting out the way I did," Wysocki said. "That's the worst start I had all weekend. It was definitely a tough climb up to try and beat Nate. I knew I had to come out firing, and I just didn't."
Wysocki's struggles continued on hole 3, as he let his forehand scurry into the right-side hazard. With Sexton parked yet again, Wysocki failed to connect on his par save, and the round had its second two-shot swing in three holes.
"All of a sudden I look at the leaderboard, and I'm up seven," Sexton said. "And that's a whole different ballgame."
The gap held steady as the pair traded pars on the 448-foot 4th before a backup interrupted the rhythm on hole 5. Eager to take the tee, Sexton moved as soon as he got the green flag and left a forehand safe. Not needing to bite off too much, he again played safe second and third shots, but nearly canned his fourth and was left with a par from three feet. Wysocki played the hole more aggressively, putting a forehand over the lake to get him on the green in three before connecting from just inside the circle. The gap was back to six.
It remained that way on hole 6 as the lead card took a star frame, and Sexton still held the box when he parked the 284-foot 7th through the triple mandatory clown's mouth. Wysocki's drive also landed safely but skidded right, and he missed the connection off the top band. The uncharacteristic putting woes — it was his fifth miss on the front nine — put Sexton back up by seven.
Wysocki finally started to pick up some momentum on hole 8. His second shot, a forehand with a Felon, took a generous skip up toward the basket and he was left with a tap-in birdie. Sexton, sitting with an uphill birdie look from 40, missed low and ceded one shot from his cushion. Both competitors dissected the par 4 9th with easy forehands to card birdies, then Wysocki brought the fireworks on hole 10, running the green with an Enforcer and landing within 25 feet. Sexton took the same approach he did the whole tournament, playing a forehand to the left fairway, but it carried high and was smacked down by thick leaves. Knowing Wysocki could take two strokes, Sexton took control of the situation and threw a backhand Firebird that carried the OB and skipped toward the base of the basket. Wysocki would still take one stroke with his eagle conversion, but Sexton had stopped any possible bleeding.
"I knew that that was a moment where I could lose the tournament if I don't execute that upshot, because Ricky's got an eagle basically assured," Sexton said. "And I knew that if I shorted that backhand and let my backhand be nervous and short that shot…After you miss that shot, that's when the wave of dizziness hits you. I've done it before. I did it in 2015, where you're just like, 'How could I have just done that?'"
"That's Nate golf — he doesn't make too many mistakes," Wysocki said. "He's the type of person that, when he has a big lead like that, it doesn't matter who you are. It's gonna be really hard to gain chunks of strokes…He's an experienced player, and he knows exactly what he's doing. Even though he's never won a big tournament like this, he still knows how to play and how to win. He makes it tough to make any sort of comeback."
Still, Wysocki tried everything he could. With the margin still at five strokes, the rain began to abate as players teed on hole 11. Wysocki took the box and threw a dangerous roller up the right side that flirted with the hazard line before curling back in bounds. With the grass soaked, Sexton, who in previous rounds had rolled through the hazard, took forehand air shots in station-to-station fashion. Wysocki's forehand approach put him just up the hill from the pin, and he connected for the birdie, while Sexton lost a stroke for the second hole in a row as he played for par.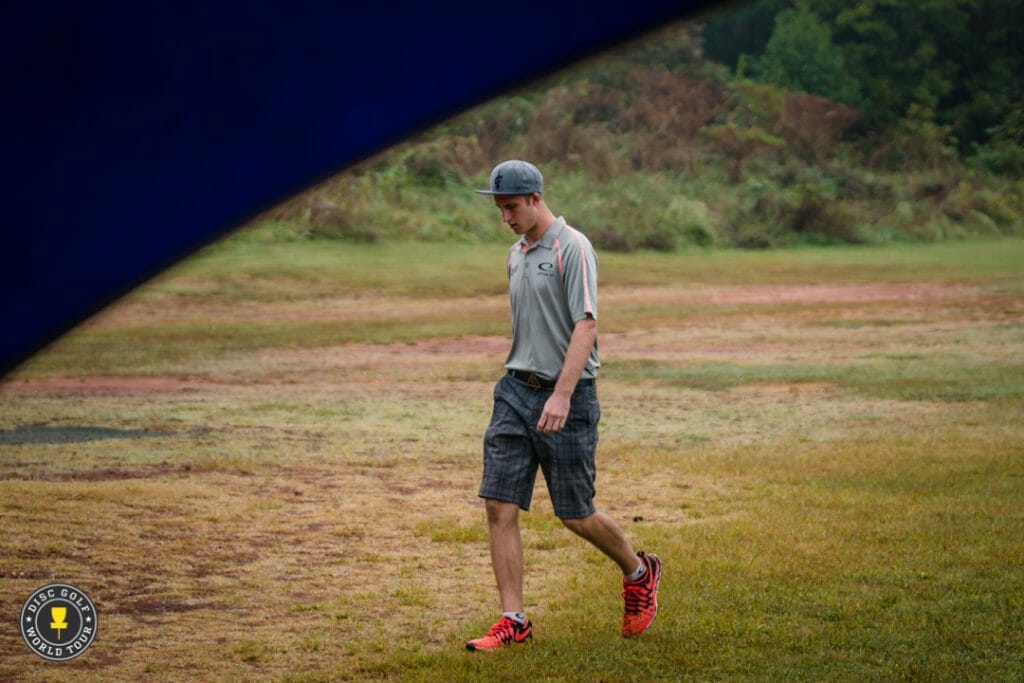 Still, Sexton never showed any outward signs of cracking. Even when his backhand drive on 12 again slipped out early, he remained poised. Wysocki, meanwhile, continued to push the pace, but his accuracy — or lack thereof — was his undoing. His tee shot stayed too low and smacked into a stand of hay bales down the fairway. His second shot then appeared to hook on his finger and sailed grossly offline, veering toward spectators and into the street. The mistake cost him yet another stroke and sapped the energy he had built through his previous hot streak. And even as Sexton was able to take a par, he said the timing of Wysocki's errant throw came right as he was worried about his own shots.
"I felt nerves," Sexton admitted. "My backhand sorta — it didn't quite go out of bounds, but it started failing me toward the end a little bit. I was early releasing. My legs felt kinda like jello. I couldn't really get the drive I was looking for. Luckily, this course finishes all sidearm. So I was able to just lean into my sidearm, and that's a shot that doesn't feel nerves in the same way that my backhand does."
That Sexton signature played most significantly after yet another early release backhand on the 999-foot 13th left him short of his desired landing zone. With Wysocki in place to aim for another eagle, Sexton — who after round three said that he rejected the narrative that he is a cautious player — dialed up a 400-foot forehand that perfectly split the left side gap, then faded right around the trees and clear of the OB. He was left with another forehand approach and tapped in for birdie, while Wysocki was 100 feet out and could not convert for the 3.
"That shot on 13 was the shot of the day for me," Sexton said.
Wysocki brought the gap back to four yet again with a birdie on hole 14, as Sexton settled for par after missing a long uphill bid. Heading into hole 15, Sexton said he was still not confident in his backhand, so he went forehand for the first time all week just to be sure he would make the triple mandatory. He did, then got a friendly tree kick on his approach that put him inside 10 feet. Wysocki's upshot got caught in the guardian trees around the pin, then his attempt at the birdie caromed off another tree. Every time he tried to gain on Sexton, the leader simply closed the door.
After the pair traded park job pars on the forehand-friendly 16th, Sexton took that same five shot lead into hole 17. Infamous for its ability to derail championships, Sexton said he had discussed laying-up that morning with his wife. But he hadn't practiced that approach, and, more importantly, he was too confident in his own ability to park the shot.
"I'm way too good to be scared of that hole," he said.
He proved it by putting a Firebird safely on the right side of the island, and high-fived his competitors, stone-faced, as he walked back to his bag. He half ran his birdie putt off the cage and took a par, but Wysocki did the same, and the victory was secure.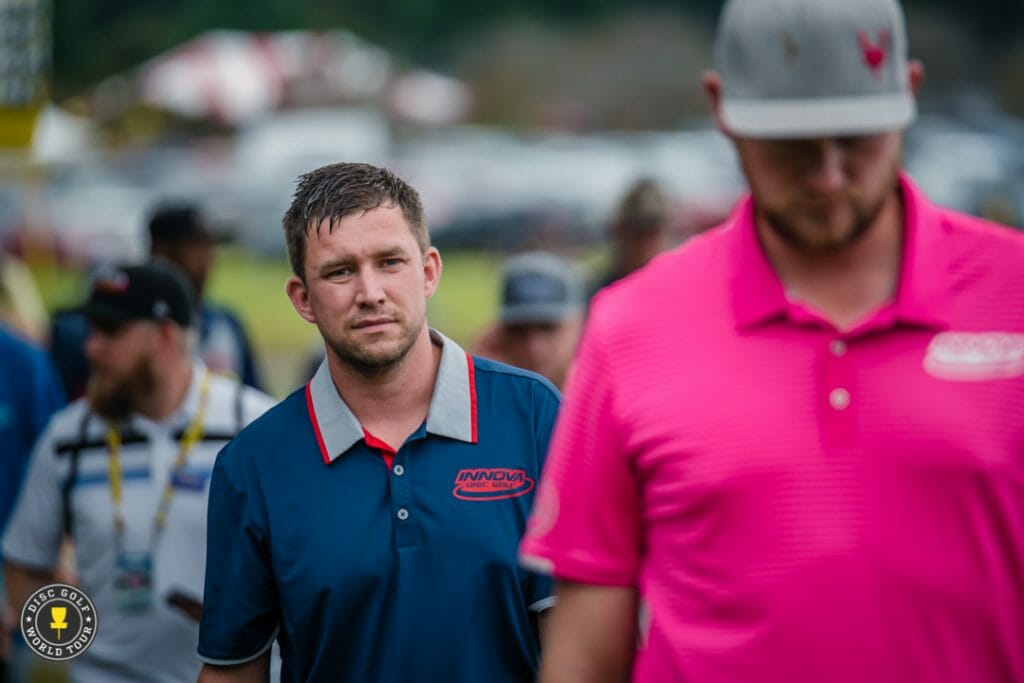 Still, as Sexton stood on the teepad of hole 18, he remained unflappable. He never once cracked a smile or breathed a sigh of relief. After watching Wysocki sail his drive OB and Jeremy Koling come close to doing the same, he put one clean in the middle of the fairway and walked, still determined, to his lie.
"I was thinking about the Minnesota Majestic. I was thinking about times when I have come up short," Sexton said. "And I was thinking about — there was no way I was gonna let this one get away."
He made sure by laying up his putt from 40 feet and gently placing his putter in the basket. He then thrust his fists into the air and let out all of the emotion he'd been bottling up throughout the round, a triumphant scream drowned out by cheering spectators. He was mobbed by his fellow players, then kissed his wife and three-month-old daughter before lifting the newborn high into the air. It was the perfect scene to close a perfect moment.
"I've got my beautiful, supportive wife, and my new baby daughter here," Sexton said during the awards ceremony. "I think, plus this trophy I'm about to pick up, in this moment I think I have everything I've ever wanted."
One card ahead of Sexton, McBeth put on another final round show that moved him four places up the leaderboard. He carded only two birdies through the first eight holes but feasted late, going eight strokes under par over the next six frames on the back of consecutive eagles on 9 and 10. It was the highest rated performance of the event, but McBeth left knowing he still had plenty of room to improve.
"I just need to work on my putt a lot," he said. "Took that time off after GMC, and that definitely affected my putting more than anything."
Gregg Barsby notched his highest career USDGC finish with his fourth place tie, starting with a 6-under par front nine before succumbing to bogeys down the stretch. He ended the tournament like he did the European Open, hitting an outside the circle putt to leave a better taste in his mouth, but he was still disappointed to come up short.
"I was coming out so hot out of the front that I felt like, if something happened with Nate, that I really did have a chance, and just didn't convert," Barsby said. "Probably left a handful of strokes there late."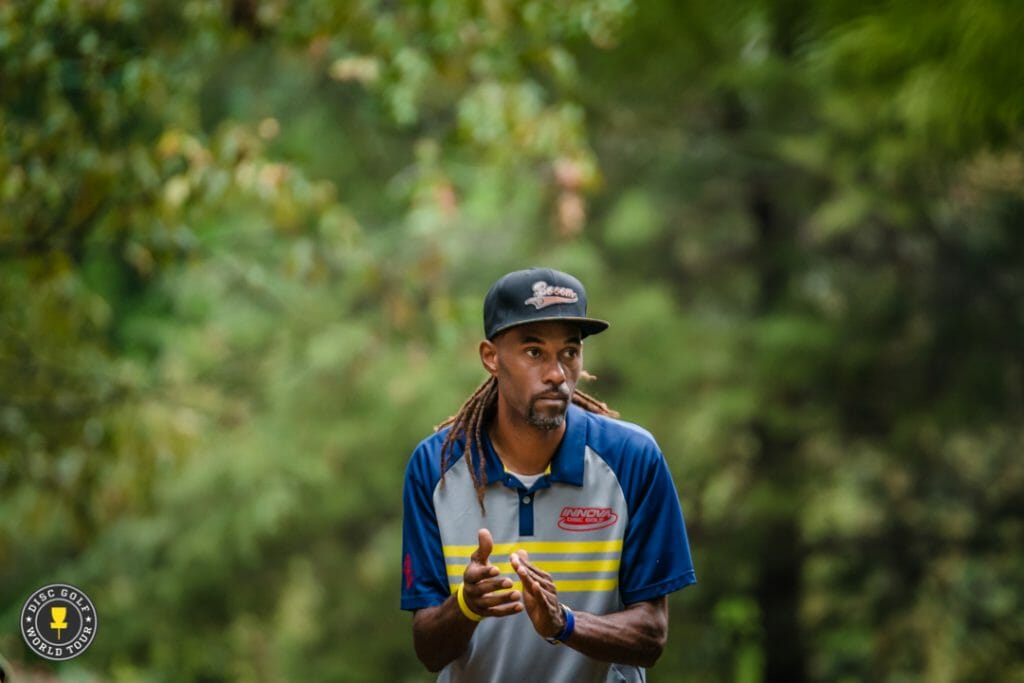 Philo Brathwaite, who also logged a USDGC career best finish, started the day in third place and fell one spot after some early difficulty. He said he does not like playing in the rain, and it affected his mindset early. He loosened up around hole 7, though, and embraced the moment, high-fiving fans between holes and finishing the event by dancing in front of cameras.
"I was a little bit too excited and anxious for the day, maybe," Brathwaite said. "I tried not to get too much inside my head, you know, but it's hard when you make it to the show. I know it was a tough environment to play in, but I had to remember to enjoy it. It's not often that I'm gonna find myself in the position that I have, so I gotta just enjoy it. I know I can play this game. I can play this course."
The rest of the top 10 was comprised of stalwart veterans and an up-and-coming pro. Seppo Paju put together a 7-under par closer to take sixth place with a 23-under par 243, while three-time USDGC winner Barry Schultz took seventh place with his 20-under par 246. 2008 U.S Champion Nate Doss tied with Paul Ulibarri for eighth place at 19-under, while Devan Owens and Chris Dickerson shared 10th place with 18-under par 248s. 2016 U.S. Champion Koling struggled mightily on the lead card, slipping to 12th place after a 3-over par final round.
As the sun set over South Carolina and Sexton pondered a low-key celebration, he was already carrying the confidence that comes with the title of United States Disc Golf Champion. After all, he'd been wearing navy blue and red all day.
"Looking back on it, it felt like a lot of drama to me. But it really wasn't," he said.
"I really didn't even let them sniff it."