Wysocki again three back heading into final round tilt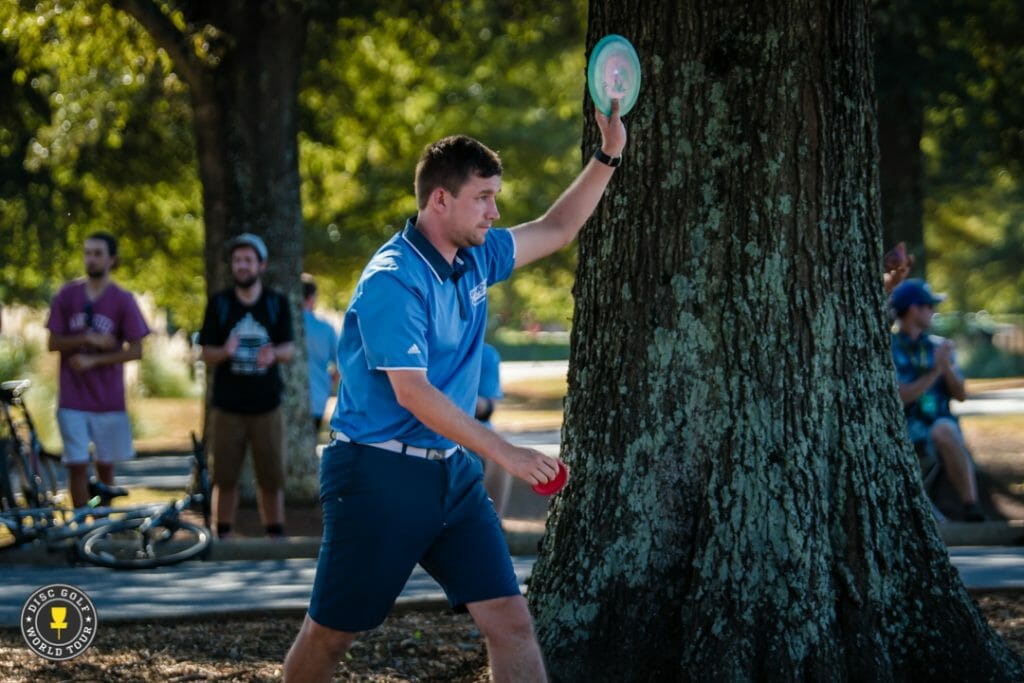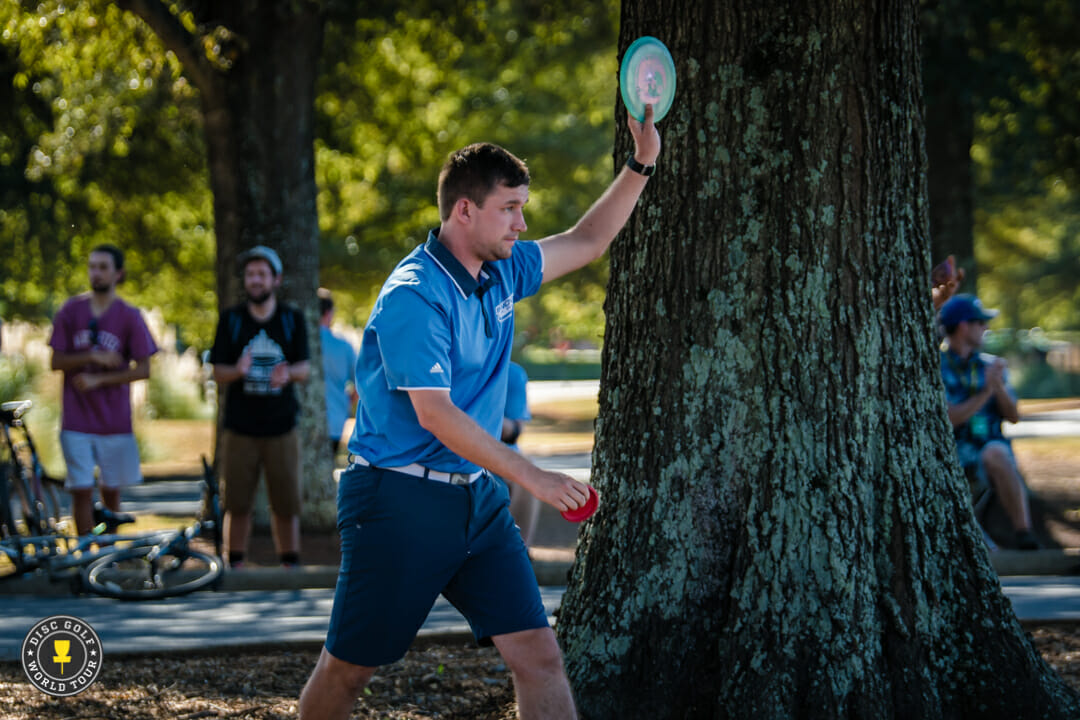 Ultiworld Disc Golf's coverage of the 2017 United States Disc Golf Championship is presented by Savage Apparel Co.; all opinions are those of the authors. Please support the brands that make Ultiworld Disc Golf possible and shop at Savage!
ROCK HILL, S.C. — In 2015, Nate Sexton entered the final round of the United States Disc Golf Championship on the cusp of his first career Major victory. Nursing a three-shot lead and being chased by Ricky Wysocki and Paul McBeth, he ultimately succumbed to the elements before faltering to a fourth place finish.
This year, the fan favorite is getting a do-over.
Sexton again takes a three-shot lead over Wysocki into today's USDGC final, and again there is a possibility that poor conditions loom. But after a day in which he threw his second straight hot round at Winthrop Gold and added to his cushion over the field, Sexton was quick to highlight the differences — however few they might be — in the scenarios.
"The weather's supposed to be a little better this time, and there's not as many people right behind me I think — I think it's spread out a little more," Sexton said. "I think I'm in better position now than I was then, and I think the weather hopefully won't play such a big factor. I would love it if we could play another straight-up round with some decent conditions. Win or lose, I feel I'm playing great, and I feel like I can do everything I did today again tomorrow."
That would mean a repeat of his 1062-rated 10-under par 57, a showing that brought his three-day total to a 26-under par 174. Wysocki matched that clip to move into second place with a 23-under par 177, while Philo Brathwaite's 8-under par 59 found him jumping from sixth place to third with a 20-under par 180. Jeremy Koling had trouble keeping it between the lines during his 4-under par round and dropped to fourth place with a 19-under par 181, while Gregg Barsby logged an inconsistent back nine to fall to fifth place with a 5-under par showing that brought his 72-hole total to an 18-under par 182.
Sexton played 16 virtually flawless holes of golf on another scorching fall day. He kicked off the affair with a tap-in birdie on hole 1's elevated basket, but slipped up with pars on holes 2 and 3, the latter of which came after his drive found the shrubs to the right of the green. He got back on track with a birdie on the 448-foot 4th, canning a putt from a knee after his upshot rolled into the woods, then proceeded to rattle off seven more birdies in a row to go 9-down through 11.
The streak was all execution, with Sexton dissecting the course with his forehand and rarely needing to make a putt from longer than 20 feet. The workmanlike show played into the commonly held notion that Sexton's style is more careful than combative — a notion the Oregon native strongly disagrees with.
"I think that whole narrative is — sometimes I play safe, sure. I play my game. But I reject that entire narrative that I'm like a conservative, cautious player," Sexton said. "I think I'm a smart player. I think I play to my strengths. But I think I'm trying to birdie basically 16 or so holes out here or something, so you can't try to birdie 16 out of 18 holes at Winthrop Gold and not be aggressive. I have to go over OB with almost every shot I throw."
Or, in some cases, through it. Sexton's drive on hole 11 served as one of the less subtle highlights of his round, as he crushed a roller that entered the left side hazard area on the 734-foot par 4 and — perhaps assisted by eager onlookers imploring it to "GO!" — emerged safely on the other side. Sexton said that, with OB along the right side of the fairway, he thought the roller provided a better scoring opportunity.
"I just feel like attacking on that hole," he said. "That's the first one I've put in bounds. So far I've gone par with a penalty, bogey with a penalty, and now birdie, so I'm even [par] playing it aggressive, and I'm hopefully gonna birdie it again tomorrow."
After a par on 12, which he said he was happy with considering he was out of position on his second shot, Sexton sustained his momentum after a 25-minute backup with birdies holes 13 and 14. He took only his fourth par of the day after leaving his upshot on 15 too short, but still held a clean sheet heading into the 391-foot 16th. His forehand driver knifed into the earth roughly 40 feet from the pin, and he connected with authority — fist pump and all — for his longest putt of the day to move to 12-under for the round.
"I was feeling good," Sexton said. "I told myself, 'I'm gonna make this putt' as I was lining it up, and then I let it go and I knew it was in. So I figured I'd give the crowd a little fist pump, even though it's only day three — it's not really quite time for fist pumps. I was feeling good. I felt very confident that I would get in bounds on 17 and make my putt and move to 13-under, and then I was always gonna play 18 for a 4."
Half of that sequence, though, failed to go according to plan. Sexton was first on the box on 17, the notorious 254-foot island hole that has derailed many a championship march. He lofted a forehand with his Firebird, and the disc plummeted short, just outside the hay bales. He landed safely on his second try, but missed his putt low and took his first double bogey of the tournament.
"That was a stupid shot," Sexton said. "I was thinking about that shot for a long time, way before, like, 'I'm gonna have to commit on 17, gotta commit.' And I almost did, but just barely short. It's a tough balance — you wanna park the thing. It's hard."
While Sexton did his work on the lead card, Wysocki turned on the afterburners on the chase in signature fashion: with big putts. His 30-footer on hole 1 set the tone, and he followed it with another birdie make through the pillars that guard hole 2's pin. He recovered from a hole 3 bogey with a putt out of the woods on hole 4, then it was off to the races. By the time he connected on an outside-the-circle eagle on the 554-foot 10th he was at 8-under for the round.
Wysocki pushed that to 11-under with a turkey on holes 12 through 14, then — much like Sexton — found his first adversity after his approach on hole 15 sailed too high and was batted down by trees. He scolded himself for the error and carried that energy to hole 16, where he torqued his forehand into the hazard. He nearly canned the par save, but it skimmed off the top, and he bogeyed heading into 17.
That's where he stopped the bleeding, though, parking the island with his Harp. Though he closed the round with a bogey after his second shot buzzed the gallery and fell out-of-bounds, he placed himself in striking distance heading into the final round for the third straight year.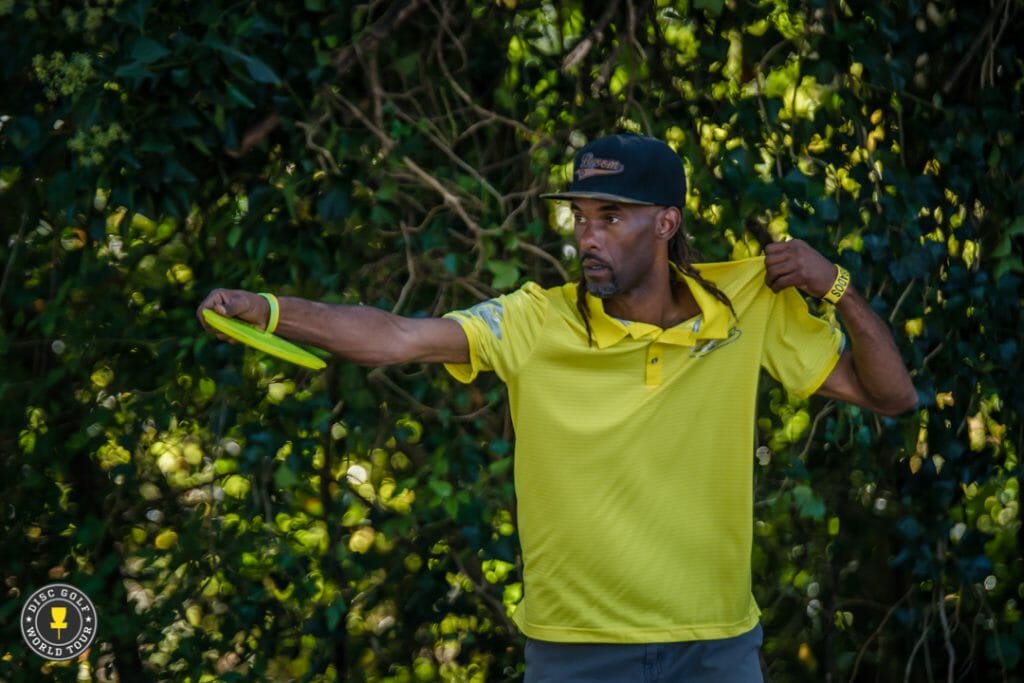 Brathwaite, meanwhile, didn't bring flashy eagles or long putts during his best round of the tournament, but relied on accuracy and smart, tactical golf. He parked his drive on the beach on the 371-foot 6th, for example, and perfectly executed the triple mandatory on hole 15 for the only birdie on the card.
"I don't have a lot of power to overwhelm the holes and impose my will on it, if you will," Brathwaite said. "So I just chose the holes I felt like I could attack and then I played a really smart play off the tee and then go from there. And if I should make my mistake on the second shot, then so be it. But I'm not gonna give up those strokes off the tee."
Brathwaite is now in prime position to improve on his career best USDGC finish, a 19th place showing he recorded in 2007 at his second appearance in Rock Hill.
"It's the first time I've played this tournament in 11 years that I've kept it together this long," Brathwaite said. "I've had brief stretches of clean holes, but I've practically played a clean tournament."
Faced with the rare prospect of playing on the fifth card, Paul McBeth did his best to take advantage of moving day. He started inconsistently, but then logged an eagle-eagle-birdie-birdie stretch that had him at 8-under par through 12. He laughed when he looked at the live scoring during that hole 13 backup, though, and saw that Sexton had not yielded any ground.
"It's nice to see when people are playing well, but it sucks at the same time," McBeth said.
That stoppage in play — there were four cards stacked up on the 1,111-footer — curbed McBeth's hot streak, and he went even par through the rest of the round as his putter went cold. Now 10 shots off the lead, he knew it would take a superhuman effort to win his second USDGC.
"I'm not playing for anything else besides first," McBeth said. "I'm not playing for third or second or fourth, so why not go for everything and see where it puts me? What's a 10th place finish compared to a second? I feel like they're the same."
With a $12,000 first place bounty on the line and 20th place receiving a hefty $1,000, though, a small slip in the rankings can mean a big drop in a potential payday. One player who put himself in line to cash in was Eagle McMahon, who rebounded from 3-over par second round with a 9-under yesterday to move into 19th place.
"Obviously I came into this event thinking that I had a very good chance of being up near the top, and the first two rounds I just never got the ball rolling and this round it all came together once again," McMahon said. "Maybe just a few shots from me shooting 12 or 13 [under], but definitely felt nice."
Though she is currently tied for 81st place, Paige Pierce made history during her 5-under par round: The 1031-rated showing is now the top performance by a woman in the USDGC Open Flight, surpassing Juliana Korver's twin 1003-rated rounds in 2001.
If Sexton manages to keep his lead, the victory will serve as a career milestone. Though he has 81 wins to his name, he has never hoisted a championship trophy at anything higher than an A-Tier. Even in those events, he has only notched six victories over 13-plus seasons, with his most recent coming at the 2015 Ft. Steilacoom Open.
Additional reporting by Charlie Eisenhood