A nice payday for Nate Sexton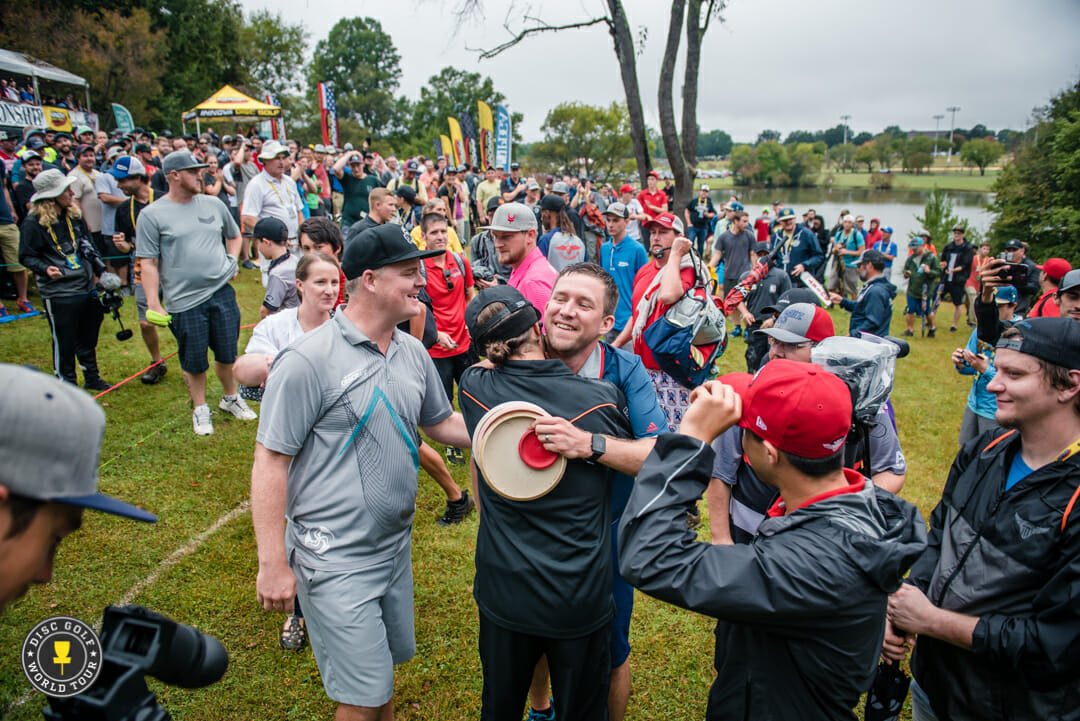 Ultiworld Disc Golf's coverage of the 2017 United States Disc Golf Championship is presented by Savage Apparel Co.; all opinions are those of the authors. Please support the brands that make Ultiworld Disc Golf possible and shop at Savage!
Below is the final leaderboard for the USDGC, featuring the prize money earned for a top 40 finish. This year's purse was $63,550, which included $33,850 of added cash. It was a 24% increase over last year's purse of $51,180.
With a $12,000 payout for first place, it matches the biggest winner's prize at any event this year (Pro Worlds also paid out $12,000 for first place). The last two players to cash — Adam Hammes and Dustin Perry — each received $610. Last year, the tournament paid out the same number of players, but the last to cash only got $75.
Here's the full list of prizes:
| Place | Name | Par | Rd. 1 | Rd. 2 | Rd. 3 | Rd. 4 | Total | Prize |
| --- | --- | --- | --- | --- | --- | --- | --- | --- |
| 1 | Nathan Sexton | -34 | 59 | 58 | 57 | 58 | 232 | $12,000 |
| 2 | Richard Wysocki | -29 | 58 | 62 | 57 | 60 | 237 | $6,000 |
| 3 | Paul McBeth | -27 | 60 | 65 | 59 | 55 | 239 | $4,000 |
| 4 | Gregg Barsby | -24 | 60 | 60 | 62 | 60 | 242 | $2,500 |
| 4 | Philo Brathwaite | -24 | 60 | 61 | 59 | 62 | 242 | $2,500 |
| 6 | Seppo Paju | -23 | 62 | 61 | 61 | 59 | 243 | $1,900 |
| 7 | Barry Schultz | -20 | 61 | 62 | 67 | 56 | 246 | $1,800 |
| 8 | Paul Ulibarri | -19 | 63 | 61 | 65 | 58 | 247 | $1,650 |
| 8 | Nathan Doss | -19 | 60 | 62 | 63 | 62 | 247 | $1,650 |
| 10 | Chris Dickerson | -18 | 62 | 61 | 63 | 62 | 248 | $1,475 |
| 10 | Devan Owens | -18 | 60 | 60 | 64 | 64 | 248 | $1,475 |
| 12 | Grady Shue | -16 | 60 | 64 | 63 | 63 | 250 | $1,350 |
| 12 | Zackeriath Johnson | -16 | 62 | 63 | 59 | 66 | 250 | $1,350 |
| 12 | Jeremy Koling | -16 | 57 | 61 | 63 | 69 | 250 | $1,350 |
| 15 | Cameron Todd | -15 | 63 | 65 | 59 | 64 | 251 | $1,250 |
| 16 | Alex Geisinger | -14 | 66 | 59 | 64 | 63 | 252 | $1,200 |
| 17 | Max Nichols | -13 | 64 | 61 | 58 | 70 | 253 | $1,150 |
| 18 | Zach Melton | -12 | 63 | 66 | 62 | 63 | 254 | $1,075 |
| 18 | Kevin Jones | -12 | 58 | 65 | 63 | 68 | 254 | $1,075 |
| 20 | Simon Lizotte | -11 | 64 | 64 | 65 | 62 | 255 | $970 |
| 20 | Eagle Wynne McMahon | -11 | 62 | 70 | 58 | 65 | 255 | $970 |
| 20 | Chris Clemons | -11 | 67 | 61 | 62 | 65 | 255 | $970 |
| 20 | Joshua Anthon | -11 | 61 | 63 | 65 | 66 | 255 | $970 |
| 24 | Scott Withers | -10 | 64 | 65 | 62 | 65 | 256 | $920 |
| 25 | Dutch Napier | -9 | 69 | 62 | 64 | 62 | 257 | $900 |
| 26 | Teemu Nissinen | -8 | 65 | 69 | 64 | 60 | 258 | $870 |
| 26 | Steve Brinster | -8 | 66 | 62 | 62 | 68 | 258 | $870 |
| 28 | Michael Johansen | -6 | 68 | 63 | 67 | 62 | 260 | $820 |
| 28 | Austin Turner | -6 | 65 | 62 | 68 | 65 | 260 | $820 |
| 28 | David Feldberg | -6 | 63 | 63 | 68 | 66 | 260 | $820 |
| 31 | Anthony Barela | -5 | 68 | 64 | 60 | 69 | 261 | $780 |
| 32 | Eric Oakley | -4 | 63 | 66 | 65 | 68 | 262 | $750 |
| 32 | Terry Rothlisberger | -4 | 61 | 67 | 64 | 70 | 262 | $750 |
| 34 | Leo Piironen | -3 | 67 | 67 | 65 | 64 | 263 | $710 |
| 34 | Karl Johan Nybo | -3 | 71 | 65 | 62 | 65 | 263 | $710 |
| 36 | Väinö Mäkelä | -2 | 73 | 66 | 61 | 64 | 264 | $660 |
| 36 | Drew Gibson | -2 | 72 | 60 | 67 | 65 | 264 | $660 |
| 36 | Bo Tillman | -2 | 67 | 66 | 62 | 69 | 264 | $660 |
| 39 | Adam Hammes | -1 | 73 | 66 | 63 | 63 | 265 | $610 |
| 39 | Dustin Perry | -1 | 69 | 67 | 62 | 67 | 265 | $610 |