A deep field means it's anyone's ballgame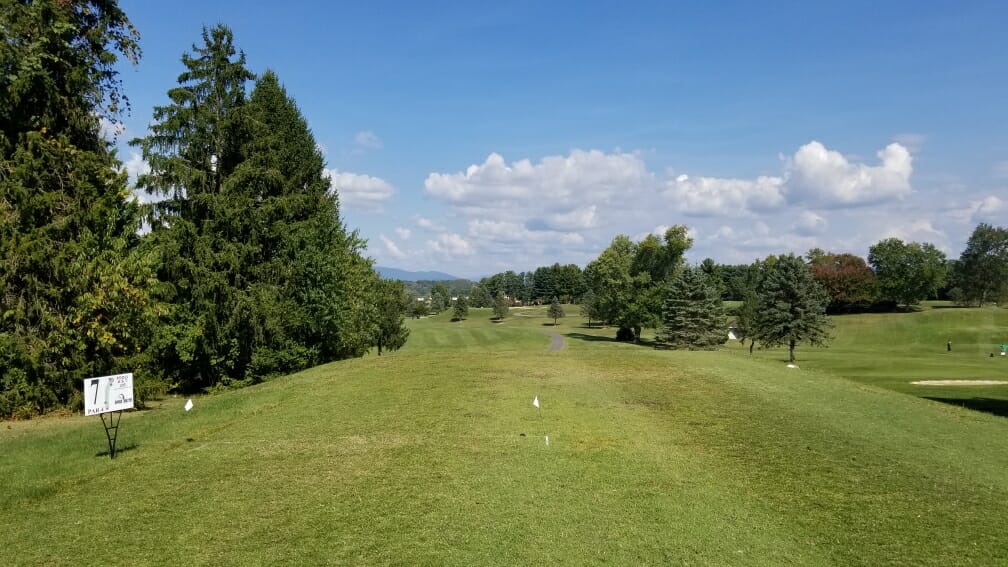 Ultiworld Disc Golf's coverage of the 2017 United States Women's Disc Golf Championship is presented by DUDE Clothing; all opinions are those of the authors. Learn more about the Australian brand's offerings and player ambassadors here.
The 18th United States Women's Disc Golf Championship begins today in Johnson City, Tennessee, boasting a 158-player field that sets a new record for attendance at the event. The 36-player Open field begins with a shotgun start at the city's Winged Deer Park, the first of three courses over four rounds this weekend.
Storylines
If there's one thing we've learned over the past month, it's that finishes in the Open Women's division have been rather unpredictable. Valarie Jenkins and Sarah Hokom were leading at the Vibram Open and Green Mountain Championship, respectively, only to be overtaken by Paige Pierce after she threw scorching, 1000-plus rated final rounds in both events.
Close finishes, like the ones at the aforementioned premier events, have been par for the course at recent USWDGCs: The last five have been decided by three, one, three, two, and one stroke, often with multiple players in contention down the stretch. The 2012 iteration was settled by a playoff between Pierce and Catrina Allen.
Not only have recent USWDGCs been exceptionally close, but these large, competitive fields have only produced two multi-time champions in the last 10 years. Jenkins went back-to-back in 2010 and 2011, and Hokom's win last year gave was her second in a decade.
Additionally, the USWDGC hasn't been friendly to prohibitive favorites entering the event in recent years. In 2015 Pierce was having one of the better seasons of her career, but ultimately lost on the last hole to Hannah Leatherman. Last year Allen was having one of the best seasons in recent memory, and after faltering at Pro Worlds again got tripped up in the woods of Maine in her only other bid at a PDGA Major.
At first glance, the three courses on display this year appear to set up well for 2016 USWDGC winner Hokom in her attempt to become the first repeat winner since Jenkins. But, they also appear to set up well for perhaps another final day comeback from Pierce, as Sunday's round will be played at Pine Oaks Golf Course, a track which is wide open compared to Winged Deer Park and Harmon Hills. Pierce could put her superior distance on display to make a run at the win, should she find herself down late like she has as this season winds to a close.
Courses
Winged Deer Park – (Open: Friday): 18 Holes, Par 57, 5,558 feet. Average hole length: 309 feet. – The first course on the schedule for the Open Women is a classic, heavily wooded park-style course. It's the shortest of the three to be played, and 12 of its 18 holes are under 300 feet in length. A significant number of that dozen feature narrow, tree-lined fairways. Given its location in east Tennessee, and the surrounding Appalachian Mountains, there is at least some elevation change on every hole. Additionally, new teepads were installed at the course for the USWDGC.
Harmon Hills – (Open: Saturday): 18 Holes, Par 67, 7,960 feet. Average hole length: 442 feet. – Harmon Hills will host the Open field for two rounds on Saturday. It's the longest course and shares characteristics with each of the other two courses in play during this event. Harmon Hills is a private course located on an old farm just west of Johnson City, and as a result plays in and out of stands of old-growth deciduous trees and wide open grassland with both gradual and more intense elevation changes. Only two holes on the course are less than 300 feet long, and there are four over 500 feet. As such, there are 11 par 4s and one par 5.
Pine Oaks Golf Course – (Open: Sunday): 18 Holes, Par 62, 6,902 feet. Average hole length: 383 feet – In stark contrast to the first two courses, Pine Oaks is a temporary course designed by tournament director Tim Barr that sits on a ball golf course and is relatively open. While the venue lacks densely wooded fairways, it does use the significant elevation change and trees on the course to its advantage. As players tee off on the final hole of the day, they will be treated to views of the Appalachian Mountains in the distance. When they reach the green on hole 18, they will have to navigate a number of magnolia trees in hopes of having a clean putt.
Video of all three courses to be played in and around the Johnson City, Tennessee, area can be seen on the 2017 USWDGC website.
Past Winners
Along with the PDGA Pro World Championships and the United States Disc Golf Championship, the USWDGC is one of the longest running annual PDGA Majors, now in its 18th year. It began in 2000 in Rock Hill, South Carolina, but grew into the annual end-of-season mainstay it is today between 2002 and 2007. During those years it was held in Peoria, Illinois, where the size and stature of the event grew precipitously. In 2008 the tournament became a traveling Major, and has since trekked to numerous locations.
| Year | FPO Champion |
| --- | --- |
| 2022 | Hailey King |
| 2021 | Paige Pierce |
| 2020 | Paige Pierce |
| 2019 | Kristin Tattar |
| 2018 | Paige Pierce |
| 2017 | Paige Pierce |
| 2016 | Sarah Hokom |
| 2015 | Hannah Leatherman |
| 2014 | Paige Pierce |
| 2013 | Sarah Hokom |
| 2012 | Catrina Allen |
| 2011 | Valarie Jenkins |
| 2010 | Valarie Jenkins |
| 2009 | Sarah Cunningham |
| 2008 | Angela Tschiggfrie |
| 2007 | Elaine King |
| 2006 | Angela Tschiggfrie |
| 2005 | Elaine King |
| 2004 | Des Reading |
| 2003 | Des Reading |
| 2002 | Des Reading |
| 2001 | Lesli Todd |
| 2000 | Lesli Todd |
| 1999 | Juliana Korver |
Extended Forecast
Conditions will be hot throughout the course of the tournament. The weather pattern will be typical of summer, meaning there will be very little day-to-day differences in the elements. Although the rain chance is low, summer air mass showers and thunderstorms may be possible, especially given the close proximity to the Appalachian Mountains. Overall, the wind should remain calm throughout the duration of the tournament.
Friday: The main story will be the afternoon heat. High pressure across the eastern United States will make conditions feel a lot like summer should. Isolated showers or storms may be possible during the heat of the day. Temperatures will top out around 85°.
10 a.m.: Partly cloudy with a temperature around 70°. Calm wind expected.
1 p.m.: Partly cloudy with a temperature around 81°. Calm wind expected.
Saturday: High pressure will intensify some on Saturday. This will lead to slightly hotter conditions, as well as a slightly better chance of isolated showers and storms. It looks like the best chance of rain will be during the afternoon round. Afternoon highs will top out around 87°.
9 a.m.: Partly cloudy with a temperature around 65°. Calm wind expected.
2 p.m.: Partly cloudy and isolated rain possible. Temperatures will be around 85°. Light northerly breeze possible.
Sunday: Same weather story with a different day. A bit more moisture may work into the region, but the best rain coverage may be to south of the region. Isolated showers and storms will once again be possible during the afternoon. Afternoon temperatures will top out around 87° once again.
9 a.m.: Partly cloudy with a temperature around 63°. Calm wind expected.
2 p.m.: Partly cloudy with a temperature around 80°. Calm wind expected.
How To Follow
Action from the feature and lead cards from all four rounds will be produced by Prodigy Disc Video and TheDiscGolfGuy. PDGA Live will provide Twitter updates and live scoring, while Ultiworld Disc Golf will have news and recaps after each of the event's four rounds.