Walker closes season on a high note with second place finish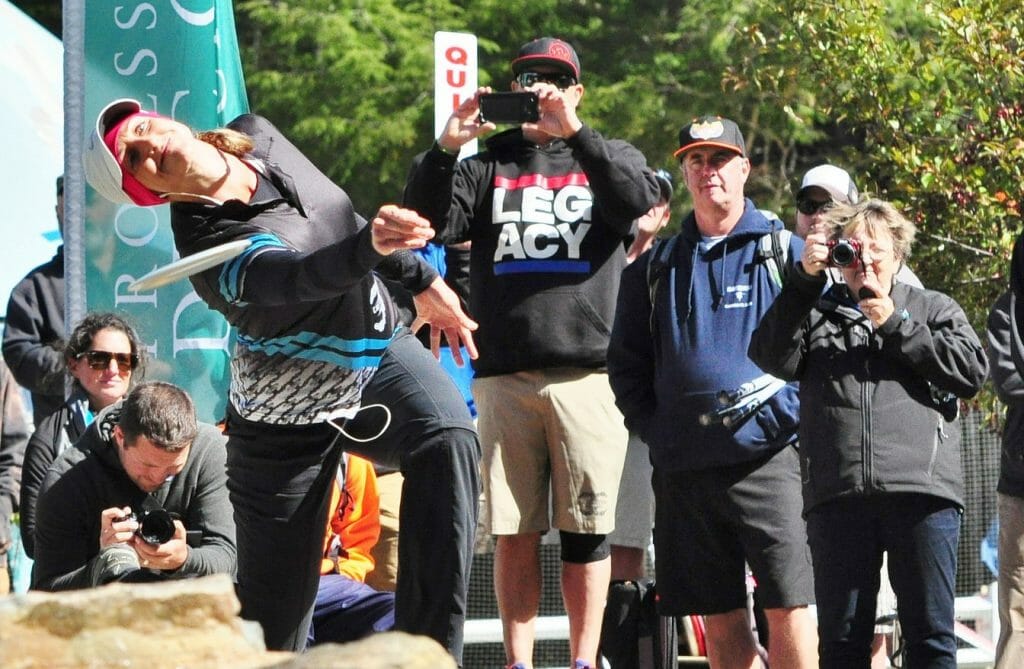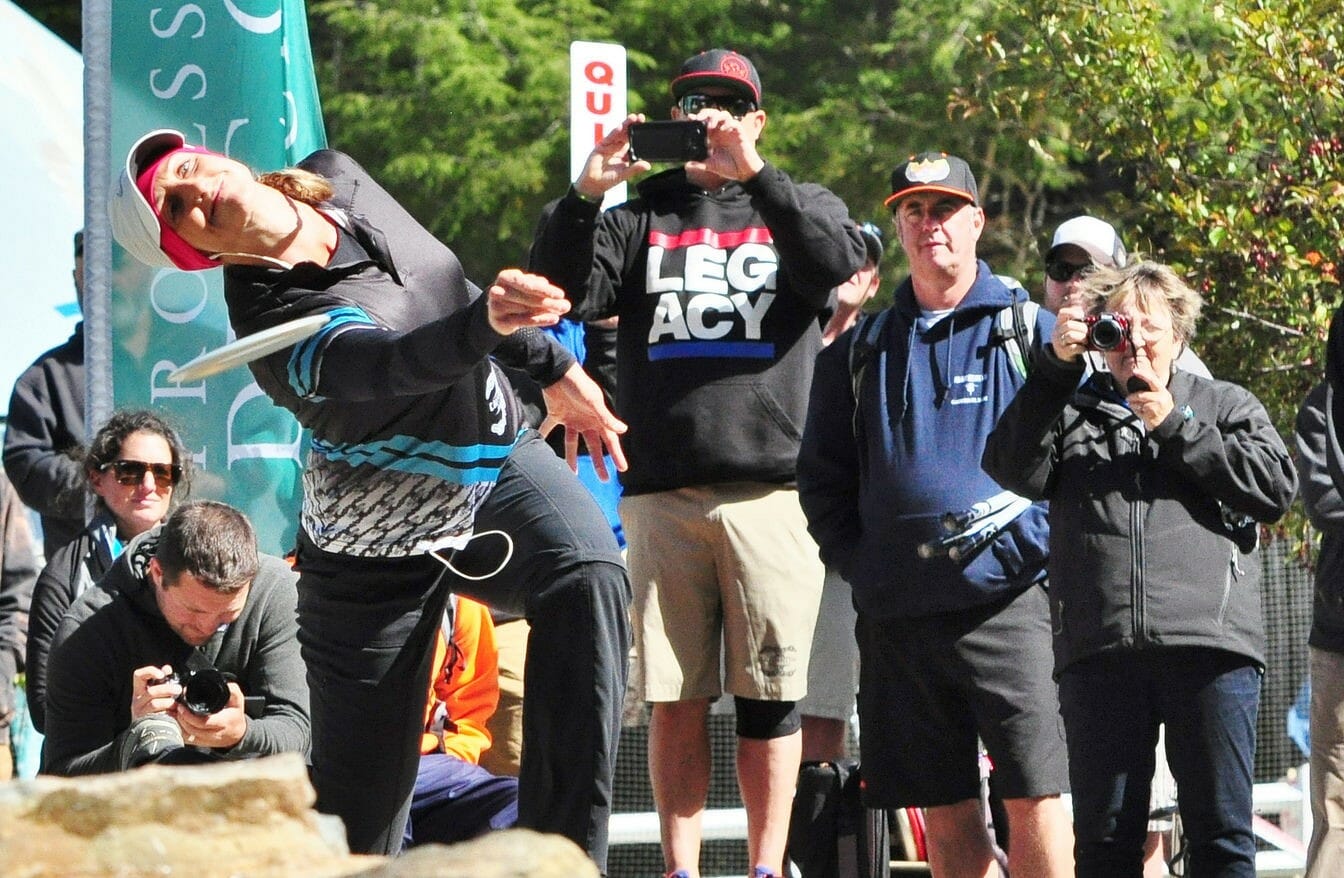 After three runner-up finishes in 2015, Sarah Hokom was always just so close to winning her first PDGA Major since 2013.
She finally got over the hump this weekend, leading from start to finish en route to her second United States Women's Disc Golf Championship and her first Major victory since winning the same event three years ago.
Hokom's 3-under par 241 over four rounds in Sabattus, Maine, not only bested Madison Walker's even-par 244, but also netted her $1,325 in prize money. Paige Pierce's 1-over par 245 found her in third place, while Holly Finley and Catrina Allen tied for fourth with 7-over par 251s.
After all of the close calls in 2015 and a shoulder injury that sidelined her for three months early this year, Hokom was elated to close the season with another USWDGC title.
"It just felt unreal," Hokom said. "You work so hard at everything and then, you know, sometimes it works out and sometimes it doesn't. So for it to finally come together – it's been three years since my last Major – it was just icing on the cake of the season."
Hokom entered Sunday's final round with a four stroke lead over Walker, but that margin quickly evaporated as players tackled the Sabattus Disc Golf Complex's long, technical Eagle course. After trading bogey-par volleys for the first few holes, Walker cut the lead in half by carding a birdie on hole 4 to Hokom's bogey. Hokom then took a double-bogey 6 on hole 6, while Walker took a par to tie the score.
The two broke their stalemate on hole 9, where Hokom took back the lead with a par to Walker's bogey. Walker evened the score again on hole 12 with a birdie, but then fell behind on holes 14 and 15, where Hokom carded consecutive birdies to open up another two-shot lead.
Hokom said that, while she didn't know the specific numbers, she could feel the tension of the back and forth battle.
"I don't really focus too much on the score, but I knew that it was close," Hokom said. "Madison was playing really well, getting a bunch of birdies, and I knew that I had struggled right at the beginning and through the middle of the round before I started to make putts."
Hole 16 found Walker taking back one more stroke, but Hokom's birdie on 17 was enough to salt away the win. When both players tapped in for bogey on hole 18, Hokom walked away with her seventh win of the season.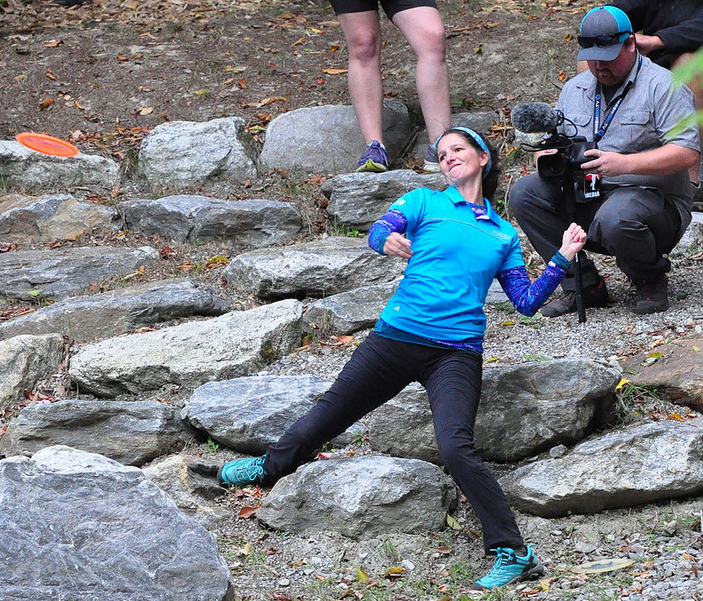 "It was a struggle the whole time – it always is in a tournament like that – just to keep yourself where you need to be mentally and physically, you know?" Hokom said. "There's a huge crowd, so you're tightening up a little bit, then you're trying to focus on the task at hand and not get wrapped up in what could and could not happen and if you do well in the situation or not. There's just so many things that can derail you, so it really was a struggle the whole time. So I'm just so happy that it worked out the way it did."
Despite tying the score early, Walker said – much to the chagrin of those close to her – she does not watch the scoreboard and did not know how close she was to taking the lead.
"I had no idea where I was sitting, I literally had no idea about anything until after my final putt went in the basket," Walker said. "I try to take it stroke by stroke. I don't ever compare myself to any of the other golfers because I don't feel like that adds anything to your game, so I just kind of take it shot by shot."
The performance signified a confidence boost for the Pensacola, Florida, product, as she – like Hokom – also suffered physical woes this season.
"Earlier this year I kind of struggled with an elbow injury, so it was nice to finally have an event where I felt like I played smoothly and my elbow felt really great all weekend," Walker said. "This is the first event I've been able to put together some solid rounds – I'd do one or two a weekend, but I never felt like I put them together, like string them together. Now that I've done that this weekend it brings back the love for the sport and kind of the end of the year grind, where you get tired, it kind of makes that go away and makes me want to go play more events."
Walker now heads into the offseason looking to build on the lessons she has learned over two years on the road, particularly when it comes to the ups and downs in the mental game.
"From start to finish it's kind of weird, because I feel like I started out in the sport with the best mental game of anyone because I was just playing for fun and didn't care, and it made my play really awesome," Walker said. "Then you start playing for a while and it kind of goes down the tube and you get a little pressure, you get a little expectation, so I feel I kind of digressed. Now I feel like my mental game is so much better. I finally reached through the barrier where I feel like my mental game is strong. I don't let the bad shots affect me as much as they were even three months ago."
Hokom echoed similar sentiments and said she was buoyed by finishing the season atop the leaderboard.
"It definitely gives me a little bit of extra confidence going into the offseason and gives me just a little extra push to know that the hard work is paying off," Hokom said. "And [it] makes me want to work even harder."