The first newly minted MPO Elite Series winner of the season!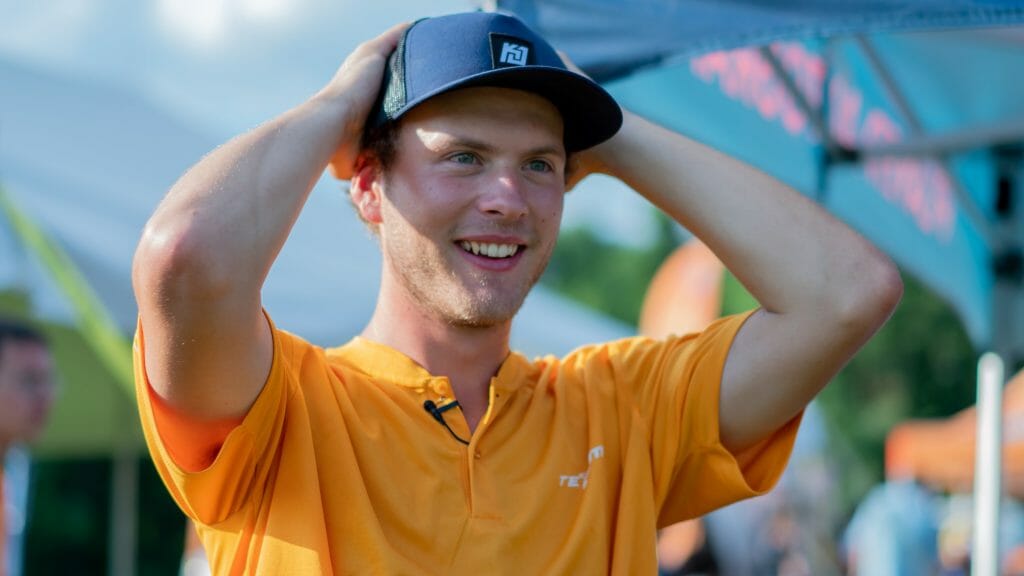 To this point in the 2022 Disc Golf Pro Tour season, the only real adverse conditions players have faced were heavy wind, especially earlier in the year. The weather in northern Kentucky this past weekend went from hot and humid during the practice rounds to rainy and muddy once the tournament kicked off on Friday. With the FPO division getting a lightning delay early in round one, rain proceeded to fall throughout the weekend and was heavy enough at times that some players wondered if play might be suspended due to unsafe footing. Early in round one, U.S. champion Hailey King tweaked her hamstring and was forced to drop out of the tournament. And on Saturday, Anthony Barela dropped from the tournament as well after slipping on a teepad and injuring his back.
As you might expect on a heavily wooded track, putting was very important in the MPO division with six different players making 100% of their C1X putts in all three rounds. Of those six players, five of them finished inside the top 15. Putting did not play as big of a factor in the FPO division, where only two of the top six players in strokes gained putting finished inside the top 10. More important was getting through the woods and up to the greens; the top 3 MPO players from tee to green were also the top 3 finishers at the event. And in the FPO division, the top 6 players from tee to green all finished in the top 10 at the event.
Isaac Robinson
Simon Lizotte said that Isaac Robinson's performance at Idlewild might be the most impressive thing he's seen this season, after Robinson averaged 11-under par across three rounds in brutal conditions. The stats back up just how impressive Robinson played: he led the event in strokes gained putting with 100% C1X and connecting on 9-of-18 from C2. He carded just one bogey in each round and had five more birdies on the week than second-best Chris Dickerson. Isaac was also 3rd in strokes gained tee to green and led the tournament in OB rate with only two penalty strokes against him. Averaging the highest event rating of his career at 1064, Robinson now has three top 5s on the Elite Series in just four events played this year. Jumping on tour and performing the way Isaac has to this point should have raised some eyebrows, but winning in dominant fashion on a tough course with adverse conditions should garner the attention of everybody in the sport.
Chris Dickerson
Dickerson did enough to win on most weeks: he averaged eight points higher than last year's winner and carded five more birdies than the next closest competitor. He also led the tournament in strokes gained tee to green and was 2nd in strokes gained putting. If Chris had a downfall this weekend, it was the OB strokes — he carded 5 more than Robinson and ranked 40th in the event. Though Dickerson came up short, he earned his 5th straight ES top 10 finish in just 6 events played this year.
Kyle Klein
The 2021 Idlewild champion led the tournament in holes parked, dropping in for birdie on 16-of-54 holes. Even with a poor second round, Klein did not play much worse than last year, only averaging 3 points worse this time around. After what many considered a slow start for Kyle, he now has back-to-back podium finishes and was 2nd best this weekend in strokes gained tee to green. While he was 31st in strokes gained putting, the stats themselves were good enough to compete at the top level on a weekly basis. But when more than a handful of players go perfect from C1X, it makes 88% look somewhat pedestrian in comparison.
Gannon Buhr
Now with 12 top 10 finishes on the season and an amazing 11 in a row, Gannon Buhr has become a staple on top of the leaderboard. While he has climbed all the way up to a 1039 player rating, he should soon enter the elusive 1040-club, as he has averaged 1042 in his rounds this year. Finishing 3rd in SG putting, Buhr led all players from C2 by going 12-of-18 on the weekend. Gannon played excellent golf in the opening two rounds of the event, going bogey-free with zero OB strokes but succumbed to poor bounces and ill-timed errors in the final round, where he put up four OB strokes, a bogey, and a triple bogey. On the triple bogey hole, Buhr missed three C2 putts in a row after only missing three to that point in the tournament. He also had the 2nd best scramble rate but finished just 34th in strokes gained tee to green. His 1000-rated final round is the lowest rated ES round that Gannon has shot all year long.
Chris Clemons
One of the members of the 100% C1X club, Clemons finished the event 4th in strokes gained putting. Playing his patented brand of clean golf, Chris carded just three bogeys and one double bogey during the tournament. He took just 5 OB strokes on the weekend, no surprise for the 2021 pro tour leader in OB rate. After having zero ES top 5 finishes in the 2021 and 2020 seasons, Clemons has now earned his second of the year after taking home a podium finish in Waco.
Paul McBeth
In similar fashion to the Champions Cup, McBeth was well out of contention on the final day but shot a course record to move way up the leaderboard. His final round was the highest rated round Paul has shot in the past three months, though his Idlewild curse continues to plague him. McBeth has now recorded a 1010 or lower rated round the past three years at this event, and his 1005 rated second round matches the lowest he's ever shot at Idlewild. On Saturday, Paul only got a C1 look for birdie on four of the eighteen holes, and ended the day with his worst round since the Dynamic Discs Open. He was still the 6th best player from tee to green and had good putting statistics. McBeth finished outside the top 5 on the Disc Golf Pro Tour a record six times last season, and to this point in the year, he has already missed that mark five times.
Alden Harris
Alden matched the best ES finish of his career and brought in his second top 10 finish of the season at Idlewild. While Harris didn't miss any C1X putts, he went just 3-of-13 from C2 which ranked 52nd in the field. When Alden got a birdie look, however, he was often close to the basket. Finishing with just a 45th best C2 in regulation percentage, Harris was 9th best getting to C1 in regulation, and parked the 8th most holes. Alden has now played nine ES events this season, the same number he participated in last year. His average finish has jumped from 40th place in 2021 up to 29th this year.
Matthew Orum
Matty O played solid complimentary golf in Kentucky, finishing 11th in strokes gained tee to green and 10th in strokes gained putting. Orum had several highlight plays as well, most notably notching two throw-ins during the second round and a 60 foot anhyzer putt around a tree on Sunday. Contrary to Harris, Orum had some issues getting close to the basket on his approaches. Though he had the 19th best C2 in regulation, he finished just 28th getting to C1 in regulation and parked just four holes all weekend. The 6th place finish however matches his best of the season, and he has been inside the top 15 at all four ES events he has played.
Austin Hannum
Finishing 4th in strokes gained tee to green, Hannum cracked the top 25 for just the second time this year to match his best finish of the season. Unfortunately, Austin lost strokes to the field on the putting green. Starting out 3-of-4 on C2 putts, he would go on to miss his next 12 and finish 68th best. Hannum's biggest accomplishment was carding an eagle on hole 8 in all three rounds; Andrew Marwede was the only other player to eagle it more than once.
Adam Hammes
Very quietly earning his third ES top 10 finish in a row, Hammes now has four on the season and is looking more and more like the player he was in 2021. Adam was also one of the players to make all of their C1X putts on the weekend, finishing the event 5th in strokes gained putting. Though he finished tied for 9th, Hammes actually had the 3rd most birdies in the tournament. He was unable to convert half of his scramble attempts and ended the week with seven bogeys and a double bogey.
Jeremy Koling
If there was any real weakness for Big Jerm in Burlington, it was missing the fairways a bit too often. Despite having the 4th best C1 in regulation and holes parked percentages, Jerm was only 56th best in fairway hits and had to scramble eight times in the final round. Otherwise, he played quite well in both aspects of the game, Koling was 16th in both strokes gained tee to green and strokes gained putting. The result was his second top 10 finish on the ES this season, and he tied his highest career event rating at Idlewild.
Paul Ulibarri
While the stats are nothing to gawk at, Uli returned from injury last week and had played just one round of disc golf since the Dynamic Discs Open. Matching his Jomez commentary partner, he converted 12-of-18 scramble attempts, but unlike Jerm, found himself off the fairway less and less as the tournament went on. Uli shot a 1036 rated final round, which is his 2nd highest round rating at an ES event this season. In that round, he took no OB strokes and carded just one bogey. He also made 80% of his C1X putts and 75% of his C2 putts to tie the 13th best score of the day. Considering where his game was prior to taking time off and how little he had played since, the LWS Open at Idlewild was hopefully the first stepping stone Paul needed to get his game back to his standard.
Catrina Allen
Taking home her 11th career win on the Disc Golf Pro Tour, Catrina led the event in strokes gained tee to green while having the 31st best C1X putting percentage at 69%. She was the event leader in holes parked, C1 in regulation and scramble rate, converting on 10-of-16 attempts. Cat has won big events all over the World, and after losing to Paige Pierce during a playoff in 2019 finally gets to add Idlewild to her resume. This weekend definitely didn't seem like hers from the start, Allen was sitting at 7-over par after the first 8 holes of the tournament. But after a lightning delay, Catrina would go on to shoot 5-under the rest of the way and was the only player to record multiple rounds under par.
Missy Gannon
Missy has now finished as the runner-up in back-to-back DGPT events — and in consecutive years at Idlewild. Gannon had to play some really nice woods golf to be in contention: she was 4th in strokes gained tee to green, 2nd in scrambles, and led the field in OB rate with just three penalties on her scorecard. Despite only carding the 7th most birdies in the field, making as few mistakes as possible gave Missy an opportunity to chase this one down on Sunday.
Ohn Scoggins
Now with podium finishes at four of her last five events and a Match Play Championship sandwiched in between, Ohn is an ES win away from having a season far beyond expectations. While it isn't too surprising to see her finish 2nd in strokes gained putting and the leader in C2 putting, Scoggins was also the 6th best player getting from tee to green. If anything held her back this week, it was forcing a few too many putts as she parked zero holes, despite having the 2nd best C1 in regulation. She also went just 1-of-10 scrambling in the first two rounds — that low of a conversion rate just won't cut it in the woods.
Alexis Mandujano
Tying the best ES finish of her career, Alexis finished the LWS Open in the top 10 for a third consecutive year. Mandujano led the event in C1X putting at 94%, and now has the 2nd best C1X putting percentage this year behind Scoggins. Alexis also went 0-for-15 putting from C2 despite having some nice weekends from long distance earlier this year. She also converted just 4 scrambles on 17 attempts. The putter certainly helped Mandujano tie Catrina Allen's birdie rate, but unfortunately she also took a few more big numbers to go along with the low ones.
Madison Walker
Madison is another player who has always performed above average at this event, never finishing worse than 11th at Idlewild. Walker played very consistently, carding three birdies and taking the exact same score in all three rounds. Earning her second top 10 finish this year and her best ES finish since the 2019 Idlewild Open, Madison finished the week with the 3rd highest ES event rating of her career. The $1,450 she earned is the largest payday of her career, aside from the $2,500 minimum payout she received at the 2021 Disc Golf Pro Tour championship.
Paige Pierce
Averaging her 8th lowest event rating on the pro tour, Pierce managed to salvage a top 10 finish despite taking bogey or worse on 20-of-54 holes. The 4-time winner of this event actually led the field in birdies, but a 3rd worst 16 OB strokes took away any chance of making a run for a 5th title. Coming off a terrible showing at the USWDGC, Pierce will be heading to Europe on the heels of the worst back-to-back finishes of her entire career. It's almost impressive that a player could do so much good, and so much bad consistently over a three round tournament. On Sunday, Paige carded 7 birdies and still finished the round 7-over par. The only time she has taken more OB strokes on this course was back in 2020 when she carded 17 and lost to Ellen Widboom.