Reigning PDGA World Champion lands improbable win from the chase card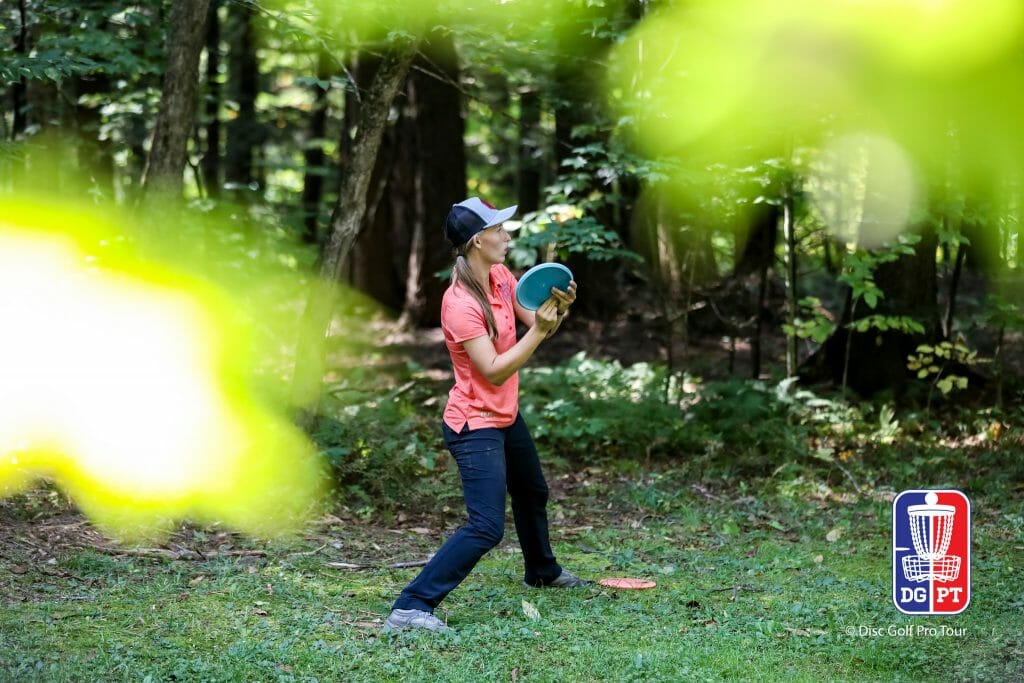 Ultiworld Disc Golf's coverage of the 2017 Green Mountain Championship is presented by Smugglers' Notch Resort; all opinions are those of the authors. With three disc golf courses on site, plus a fun zone and numerous outdoor activities, Smugglers' Notch has staked its claim as "America's Family Resort." Learn more about the facility and book your next vacation here.
It's not often that Paige Pierce trails by six strokes heading into the last round of a tournament. It's even less often that she's relegated to the chase card for the final day.
Yet that's exactly where Pierce found herself Saturday before the Green Mountain Championship finale. After scampering through the woods of Brewster Ridge, though, she made her way home to the top of the podium, notching an unlikely come-from-behind victory.
"It feels awesome," Pierce said. "I definitely wasn't expecting it — so many emotions, for sure, today. I didn't really have any expectations, because six strokes to Sarah Hokom in the woods is not an easy feat. So honestly, I knew it would take me playing great and her playing not so great."
Pierce's final round 5-under par 55 was indeed great. The 1001-rated effort was her 19th  four-digit round this season and brought her total to a 5-under par 239. Hokom dropped two strokes during the final day in her attempt to hang on to the lead, and her 2-over par 62 took her to a 4-under par 240 overall. Valarie Jenkins finished strong, birdieing the final two holes to finish in third place with a 3-under par 241. Jessica Weese tossed a 1-under par 59 final round to take fourth place with a 2-under par 242.
The comeback was Pierce's second straight for a victory on the Disc Golf Pro Tour and was her sixth win on the season-long circuit. She's taken first at 19 events in 2017.
While Pierce and Hokom ended up within one stroke by the end, it took until one third of the way through the round for the gap to begin to close. Hokom failed to pad her lead through the opening six holes, settling for par on each after missing four putts — two attempts from inside circle 1, and two from outside – during that stretch. Still, Pierce couldn't gain any ground after alternating birdies and bogeys through the first four frames. After three missed putts turned a birdie bid into a bogey on hole 4, Pierce said she had to regain her focus.
"After that putt I told myself, 'Just commit on these baskets,'" Pierce said. "'They're Mach Xs, they catch everything. Hit it in the heart, hit it hard.' And yeah, I didn't miss a putt from there on."
Pierce then began her charge to the front on the 225-foot 6th, a hole that gave her trouble on day two. This time her drive stayed low, made the tight gap in the trees, and landed mere feet from the pin for an easy birdie. She followed that up with another deuce with a putt from 27 feet on the 365-foot 7th. The run helped Pierce pick up three strokes on Hokom, who bogeyed hole 7 after missing a par bid from circle 2.
Pierce credited a more aggressive approach from the tee for her improved accuracy in the final round. Indeed, compared to her Thursday performance at Brewster Ridge, which she said she "royally screwed up" with an off release point and timing issues, her drives in the final round saw her reaching the green in regulation with much higher frequency.
"I think I was just ready to play my game," Pierce said. "I hadn't really played my game at all this week. I saw a glimpse of it on the back nine [in round three], so I just wanted to keep that going. I think the type of player I am, I'm more confident when I'm throwing harder. I just told myself to commit on each teepad. I was able to capitalize on some good tee shots and it left me in good position to score, and kind of left the ball in [Hokom's] court."
Pierce turned up the heat on the back nine and began closing the gap in earnest. She connected on back-to-back birdies on holes 10 and 11 with putts from 27 feet, and though she hadn't checked the live scoring, she admitted to knowing she was playing well.
"It got more and more apparent," Pierce said. "I started to know on hole 11. I struggled there big-time in our first round [at Brewster Ridge]. I asked Tina [Stanaitis], who was caddying for me, 'Should I throw the same disc and just correct [how I played the hole in round two], or change my disc?' She goes, 'No, you weren't throwing well the other day. You're throwing well today, trust it.' And, I just trusted it and I got way, way, way down there. Super easy 3, and that's all I can really ask for. I knew I was going to pick up at least one stroke on that hole."
Pierce still didn't want to look at the scores, but did ask Stanaitis and Zach Melton if she was still in contention. They responded with a yes, and Pierce said the answer upped her aggressiveness.
"I know Sarah doesn't look at the scores when she plays — that's just the type of player she is," Pierce said. "She's in her own game. If she throws her shot, she throws her shot. I knew it was on me to make the move. I knew she wasn't going to — basically, I knew that if I wanted it, I had to earn it."
And that's exactly what Pierce went about doing, canning birdie and par putts each from nearly 40 feet on holes 12 and 13. Two more birdies followed on 14 and 16, with a lone bogey sandwiched in between. Pierce took a par on 17, and after a short drive on 18 she was left without a look at the basket, as low-hanging branches obstructed her path. She laid up for an easy tap-in to close out her day with a par, and the lead.
That's when the waiting began.
Pierce's chase card finished the round nearly an hour before the lead card, and she had a one-stroke advantage as Hokom completed the 555-foot 13th. Hokom had dropped two strokes to Pierce earlier with bogeys on 7 and 9, and all Pierce could do was be patient as Hokom tried to make up the deficit over the final five holes.
"That was absolutely insane — I haven't had that experience," Pierce said. "For one, you don't really find yourself on the chase card shooting that hot, that often. For two, them being an hour behind us, and being the leader in the clubhouse — that's something that happens in ball golf, but we don't really experience that.
"For the first 30 minutes I was just pacing back and forth," Pierce continued. "People were updating me as to what she was getting on the holes, but I was just restless, unsure of what the outcome was going to be and not knowing how to feel. I knew I felt good about my score. I just threw one of my best rounds I've thrown in a long time. But there was a whole other element: Was it going to be good enough for the win?"
Hokom tied Pierce on the 260-foot 14th with a birdie putt from 15 feet, then found trouble on hole 15 after her drive hit early and kicked left. With no look to get up and down to the pin, Hokom attempted a forehand roller that made it halfway to the green but caught a tree and kicked left again. After an upshot that went long past the pin, her putt from 35 feet fell short and she carded a double bogey 5.
Hokom quickly took a stroke back with a birdie on the 400-foot 16th. That's when Pierce went from pacing to practicing.
"After 16 it said she got a 2, which, I called it — 'She's gonna 2 [hole] 16,'" Pierce said. "So if she gets a birdie on 17 or 18, then we're going to a playoff. So when I had that realization, I started putting and warming back up."
Pierce wouldn't need to do that for long. Hokom carded a par on 17, scrambling from the rough after an off-target drive. Her forehand drive on 18 came up just inside circle 2 with a clean look at the basket. She then tossed her putter under the pin and carded a par.
"When I heard that she missed, I mean, I just — it was incredible, incredible," Pierce said. "I never — it was an emotion I haven't felt for sure, in a while. Very unique."
As the final event of the Disc Golf Pro Tour before its Tour Championship in mid-October, the GMC was the final opportunity for competitors to sort out the season-long points standings that determine seeding for the finale. Pierce, Hokom, and Allen secured byes to the semifinal round, while Weese, Melody Waibel, and Lisa Fajkus locked up byes to the quarterfinal round.
With the remaining nine competitors in the top 15 in tour points clinching berths to the Championship  in Jacksonville, the only player to crack the top 15 due to her GMC finish was Nicole Dionisio, who gained 44 points and the 13th seed. Despite eighth and ninth place finishes in Vermont, neither Zoe Andyke nor Vanessa Van Dyken accumulated enough points through their three DGPT events to break into the tournament.
Pierce, Hokom, and much of the rest of the Open Women's field now head to Johnson City, Tennessee for the United States Women's Disc Golf Championship, a PDGA Major. The annual event routinely features one of the largest Open Women's fields on the calendar, and 2017's edition is being hailed as the single largest women's disc golf event ever with 159 players currently registered in 15 different professional and amateur divisions.
For her part, Pierce was going to do her best to be prepared, despite the short lead time between events.
"I don't think anyone is gonna get as much practice as they want," Pierce said. "We're playing three courses, and two of them are 27 holes and we have four days until the tournament starts. It's gonna be a madhouse."