How did Paige Pierce's USWDGC final stack up to her other rounds on golf courses?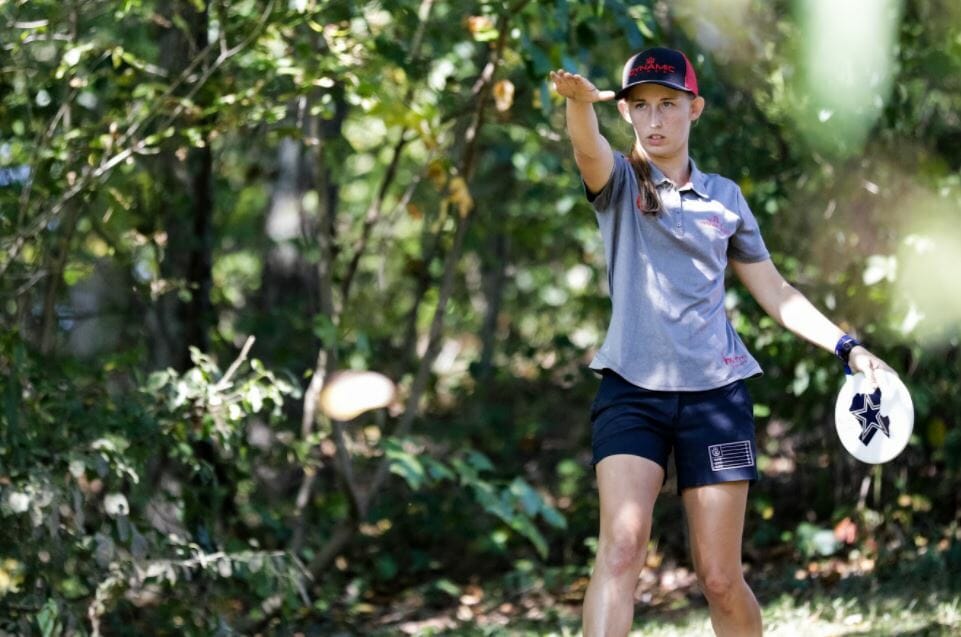 Ultiworld Disc Golf's coverage of the 2017 United States Women's Disc Golf Championship is presented by DUDE Clothing; all opinions are those of the authors. Learn more about the Australian brand's offerings and player ambassadors here.
Paige Pierce's 1015-rated final round at Pine Oaks Golf Course last Sunday — her 20th four-digit round of 2017 — provided an impressive statement as she pulled away from the field to win her second career United States Women's Disc Golf Championship.
Even more impressive?
"I played that golf course blind, actually," Pierce said. "It was a short turnaround. The past few weeks has been very, very hectic…I just had to get away and take some time away, so I didn't even play but one practice round."
That's right, Pierce threw a bogey-free 14-under par during the final round to win a PDGA Major without ever having set foot on the course before.
Wow.
In an interview after the event, Pierce said she was resolute to play "very, very, very aggressive" golf, in part because Pine Oaks had relatively little OB compared to other golf course courses on tour this year. "I had five strokes to play with, so I kinda just — I thought about hitting cruise control and just kinda playing for par," she said. "But like I said, that's not when I'm playing my best golf, so I just kept on it. I'm glad I did, because everybody played so good today."
The march around Pine Oaks was Pierce's 16th round at a hybrid golf/disc golf course this season, and it got us thinking: Given that Pierce is in the midst of what will likely end up being one of the best seasons ever in the Open Women's division, and with an increasing number of events holding rounds at golf courses, how has Pierce fared on those grounds in 2017?
Of course, not all hybrid courses are created equal, and aggressive play can yield a wide variety of results. Pierce has collected a 32.6 percent birdie rate compared to a 21 percent bogey rate through 270 holes on golf courses. Through those 16 rounds, her ratings run the gamut from 928 to 1058, putting her average round rating on hybrid courses at 989. Six of her 16 rounds were rated over 1000, while 12 were rated over 980.
The one downside to analyzing Pierce's golf course play is the lack of other, non-ratings-based statistics: Only four of those rounds were played during Disc Golf Pro Tour events, where UDisc Live collects that extra information. But we can compare the statistics for those four rounds to her total 2017 DGPT numbers to get a sense of how her aggressive style of play translates to hybrid courses.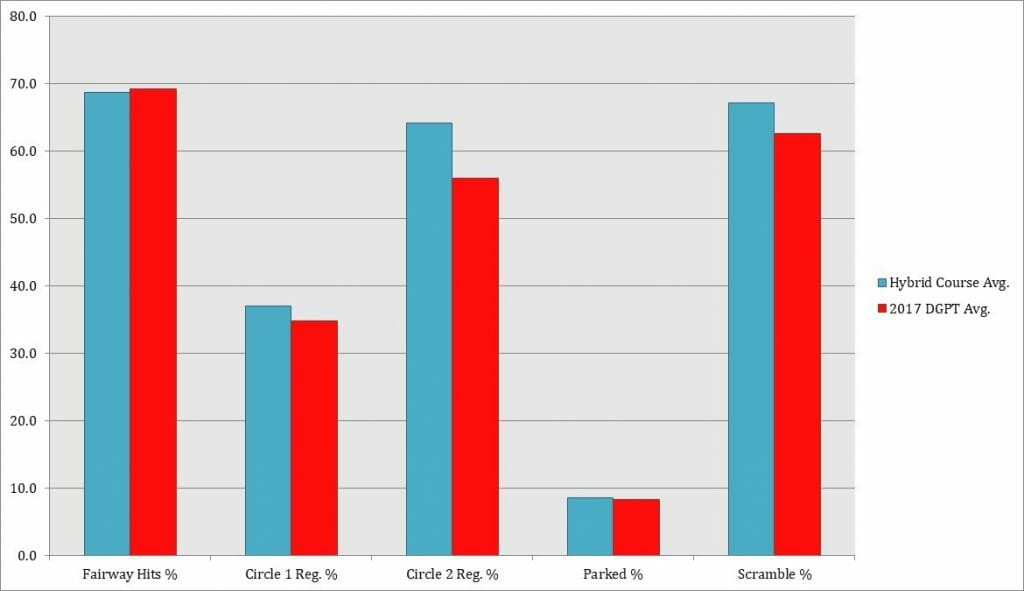 Interestingly, Pierce's fairway hits and parked rates in the four rounds on hybrid courses were nearly identical to her season-long numbers, only diverging by a fraction of a percent, while circle 1 in regulation and scramble rates each improved on hybrid courses by a few percentage points. But the biggest changes were in reaching circle 2 in regulation, which moved from 56 percent during the whole season to 64 percent at golf courses, and her OB rate, which jumped from .109 for the whole season to .185 at hybrid courses.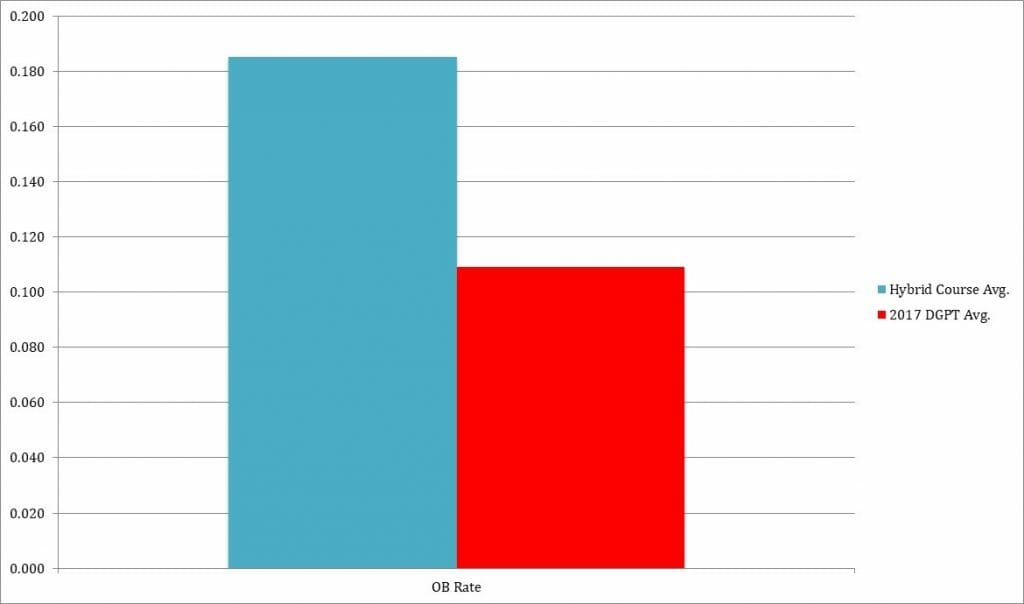 The improvement in reaching circle 2 in regulation and regression in OB rate should not surprise, as Pierce's aggressive play can simultaneously increase her scoring opportunities while bringing in an added risk of penalty strokes. This bears out when comparing her birdie and bogey rates through 270 holes of hybrid courses to her season-long DGPT birdie and bogey rates, which are both lower (birdie percentage: 28; bogey percentage: 19).
So why was she so successful at Pine Oaks? With little OB danger at that venue, Pierce was able to get the most out of her distance and push for long jump putt eagle looks on nearly every par 4 on the course. With so many runs at eagle, Pierce was often putting for birdie from no more than 20 feet. As a result, it was her first round at a hybrid course this season without recording any strokes over par, which is yet another accolade to add to Pierce's ever-growing collection.