Allen lurks one stroke behind heading into today's final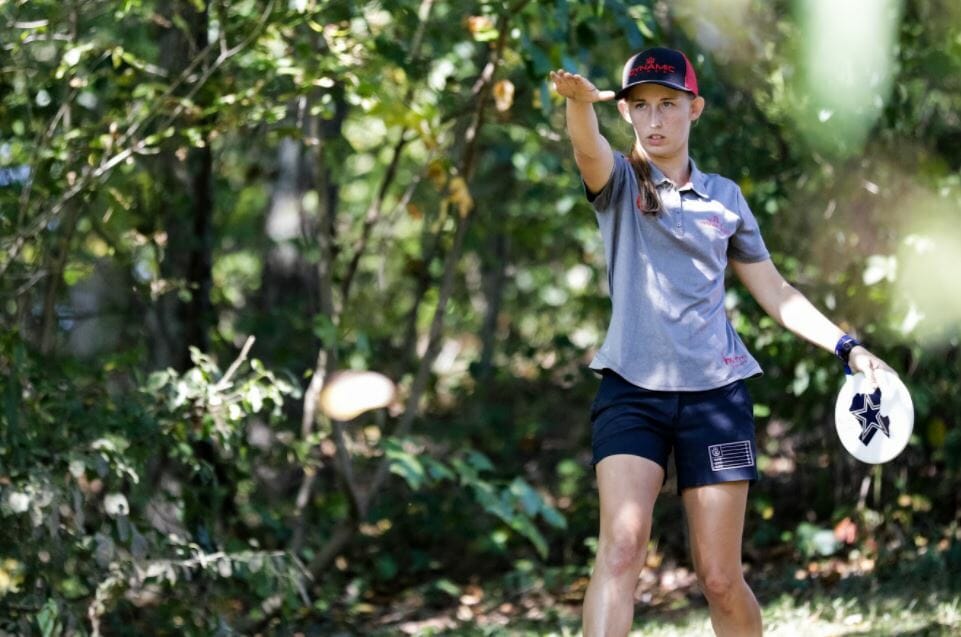 A long second day of the United States Women's Disc Golf Championship that featured two rounds at Harmon Hills is in the books, and there's a new leader. After Catrina Allen took sole position of the lead during the morning round, Paige Pierce took advantage of the afternoon session and jumped up from third place and into first with just 18 holes to play.
Pierce's 985-rated 6-under par 61 brought her leading score to a 12-under par 179. Allen managed a 1-under par 66 during round three, which dropped her to second place with an 11-under par 180. Sarah Hokom now sits in third place with 9-under par 182 after her 4-under par 63 third round, while Jessica Weese's 2-under par 65 has her in fourth place with an 8-under par 183. Lisa Fajkus, who shared first place with Allen after Friday's opener, rounds out the top 5 after an even-par 67 kept her total at 7-under par 184.
Going into the final six frames of the day it appeared as if the status quo would be maintained: Allen at the top with her three-shot lead, followed closely by Fajkus, Pierce, and  Weese all just a few strokes back, with Hokom trying to crack the top 3. Indeed, neither Allen nor Hokom had bogeyed through 12 holes during their second go at Harmon Hills on the day. Pierce had and Fajkus had taken just one, Weese only had two, and all five contenders had collected numerous birdies. But it wasn't to last.
Trouble began on hole 13 as Pierce, Allen, and Weese all found early trees off the tee, advancing little more than 100 feet. After some forehand roller approaches and resulting long par putts, all three settled for bogey 5. Hokom took a birdie on 13 from the chase card, and as a result it appeared she was in prime position to take the lead down the stretch. She then grabbed another stroke with a birdie on the 431-foot hole 15.
All the while Allen's grasp on the lead continued to erode. She took back-to-back bogeys on 15 and 16 to allow the field to get closer, but it wasn't Hokom who ultimately capitalized.
Instead, Pierce took a birdie on the 211-foot 16th, then another on the par 4 17th. This was where Hokom found difficulty for the second round in a row, as she carded a double bogey 6 to follow up her round two bogey on the 573-foot par 4. With Allen and Hokom fading, Pierce got her third birdie in a row to close out the round with a one-shot lead.
For Pierce, the performance represented a four-shot improvement over her morning round at Harmon. She took two of those strokes by carding a par on the 747-foot 6th, where she earlier scrawled a double bogey 7 on the scorecard. The turkey to close play was also instrumental, as she only managed a hole 16 birdie on that stretch during round two.
Further down the leaderboard, three more players are currently under par before today's final. Valarie Jenkins is in sixth place with a 4-under par 187, while Estonia's Kristin Tattar is in seventh with a 3-under par 188. Holly Finley sits in eighth place after throwing the second-best score of the third round, as her bogey-free 5-under par 62 brought her 54-hole total to a 2-under par 189.
The strong finish put Pierce in a rather unfamiliar position — at least compared to recent tournaments — heading into the final day. At both the Vibram Open and the Green Mountain Championship, she trailed the leader by six strokes with 18 holes left to play. Now she'll have a one-stroke cushion to accompnay a change of scenery, as the field moves to the relatively open Pine Oaks Golf Course.
The final round begins at 9:00 a.m. local time, with PDGA Live providing updates throughout the day.