Victory gives her three PDGA Majors in 2017; Weese, Hokom take second and third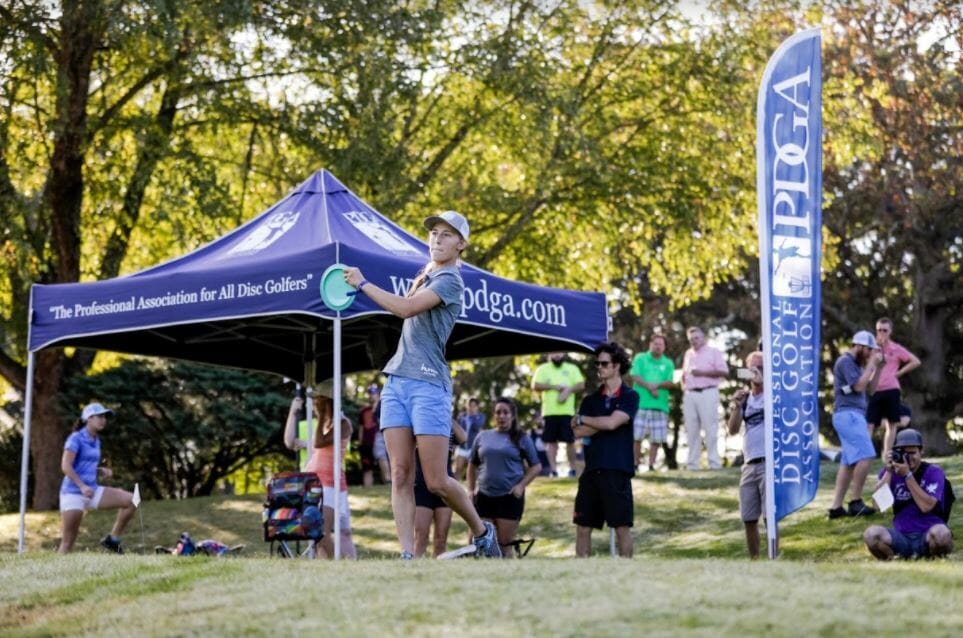 Ultiworld Disc Golf's coverage of the 2017 United States Women's Disc Golf Championship is presented by DUDE Clothing; all opinions are those of the authors. Learn more about the Australian brand's offerings and player ambassadors here.
After two straight premier events where she needed to rally for the victory, Paige Pierce took a different road at this weekend's United States Women's Disc Golf Championship:
Foot on the gas, no looking back.
Pierce pulled away from the field yesterday in Johnson City, Tennessee, with a 1015-rated final round — her 20th round rated over 1000 this season — to win her second career USWDGC. Pierce's final round 14-under par 48 brought her winning total to a 26-under par 227, netting her $2,200 in prize money and her third PDGA Major title of 2017.
Jessica Weese moved up to second place with a 12-under par 50 final round that resulted in a 20-under par 233 total. Hokom finished in third with a 19-under par 234 after her 10-under par 52 Sunday, while Allen and Lisa Fajkus shared fourth place with 17-under par 236s. Valarie Jenkins closed out the top 5 with a bogey-free 12-under par 50, which took her 72-hole total to 16-under par 237.
Pierce is now one of six women to lay claim to two USWDGC titles, joining such elite company as Elaine King, Jenkins, Hokom, Lesli Todd and Angela Tschiggfrie. Des Reading is the only player who has won three.
Pierce jumped out of the blocks quickly on the final day at Pine Oaks Golf Course. She opened the round with two straight birdies and then, after a par on hole 3, rattled off six more in quick succession. She said her strong start could actually be traced back to how her third round at Harmon Hills ended the prior evening. She had difficulty finding a rhythm throughout the day and said that, even when she was throwing well during the afternoon round, she often still had to scramble to find the green.
"Nothing was going right, basically," Pierce said. "And my caddie Nate [Perkins] told me if I go two, three, three [to close out] that I was gonna have the hot round and be in the lead [entering the final round]. And I was like, 'No way. There's no possible way.'"
Perkins was right, though, as the rest of the lead card found trouble and the turkey provided Pierce with a one-stroke lead and a much-needed boost of positive energy for the final.
"I think it just gave me a little bit of confidence I was lacking just through 40-something holes," Pierce said. "…Just to still be in it after what I thought were only three good holes [on Saturday] — 16, 17 and 18. Those were the only holes I thought I got out of clean from the teebox to tapping out. I thought I only had three good holes to that point in the tournament, so it was just reassuring and kinda motivating. [I was thinking] if I just get my act together, I can win the tournament."
And that's exactly what Pierce did, largely avoiding the OB on Pine Oaks' hybrid golf/disc golf layout.
"I was definitely unsure about how today was going to go score-wise, but I knew I was going to keep it in bounds," Pierce said. "I just told myself to play more confidently today and see what happens, so I didn't really throw any shots timidly today. I played very, very, very aggressive, and it just reminded me that's when I'm playing my best golf."
Both Hokom and Weese made a move from just a few strokes back, with Hokom birdieing the first seven holes and Weese going 7-under par on the front nine to put some pressure on Pierce's lead.
"I pushed pretty hard at the beginning, and then got a little—I went off the back of the island green [on hole 8] and bogeyed," Hokom said. "You can't really bogey out there. It was my only bogey, but it definitely cost me the momentum. And Paige shot a really solid round."
Weese carded her first bogey on hole 10, and Hokom's trouble on the green on holes 11 and 12 gave Pierce some breathing room.
"We were all playing really good, and then on the back nine I kept it rolling and Hokom missed two putts, so that was a two-stroke swing right there," Pierce said. "Then I had five strokes to play with, so I kinda just — I thought about hitting cruise control and just kinda playing for par. But like I said, that's not when I'm playing my best golf, so I just kept on it. I'm glad I did, because everybody played so good today."
With Pierce refusing to let up, her six birdies down the stretch sealed the win. Weese recovered from her lone bogey with six birdies of her own to catch Hokom for second place, which is Weese's career best finish in a PDGA Major. Still, Hokom took some positives from her third place showing.
"Overall it was a really good round, and I think the film will show us battling and it was great to have both the lead card and chase card filmed most of the weekend," Hokom said. "We had a ton of spectators out there and a lot of support from the locals."
Pierce's closing run served to secure more than just the win: It also helped her toward some long-range goals.
"I definitely do care about ratings, for sure," Pierce said. "I think that's another reason I don't pump the brakes even when I know I've won, just because I really want to get my rating back up as I high as I can go, of course. I think I had my highest rating ever in, like, 2015, middle of the year, and it went down every rating since then until this year. So I just want to get it back up to there, and my longest term goal is [to be] 1000-rated."
With a 36-player Open field and 156 total competitors in Tennessee, the 2017 USWDGC was the largest iteration of the event to date, which meant there was plenty of action even further down the leaderboard. Kristin Tattar, Estonia's highest-rated female professional, made her North American debut, and her final round 7-under par secured her seventh place finish with a 10-under par 243. Cincinnati native Rebecca Cox, in her first year of extended touring, finished in eighth place with a 6-under par 247 total. Wisconsin pro Holly Finley took ninth place with a 5-under par 248, while Melody Waibel rebounded from a difficult start — her first round was rated at just 862, but she went off in the final with a 994-rated 12-under par — to finish in 10th place.
With the size of the field and the competitive golf on display throughout the weekend, Hokom hoped the event — which saw players blissfully enjoying a trampoline and busting out mini-Twister during backups — would continue to grow in both numbers and spirit.
"The camaraderie was really strong and the energy was really strong," Hokom said. "You could see everyone had smiles on their faces and it was just great to see that many women together there playing, and I hope we can build on that."
While much of the professional women's field will not compete again until the Ed Headrick Disc Golf Hall of Fame Classic in mid-October, Pierce will trade in the trampoline-jumping for a practice basket in preparation for the United States Disc Golf Championship in Rock Hill, South Carolina, in just two weeks.
"My putting had been really bad the past three weeks, so that is my biggest motivation right now, to fix that," Pierce said. "I think if I keep it in bounds I'll do a lot better than I even think I can. I think a lot of players at USDGC try too hard, and all you really gotta do is keep it in bounds and you can put up a decent score. So I'm just gonna try to do that, and do it four rounds in a row and see where that puts me. I don't really have an expectation or a goal. I'm just curious, mostly, to see how I can end up if I play girl golf and see if the girls can beat the guys."
While in past years the USWDGC was a relative endpoint to the season, Pierce still has her eyes on the National Tour finale and the Disc Golf Pro Tour Championship to wrap up a memorable 2017.
"It's definitely the best season I've ever had, and regardless of if I lose the last two tournaments, it doesn't really matter — it will still be the best season I've had," Pierce said. "Obviously, I'm still going to try to win them. I hope I can, I believe I can. But either way, I'm more than happy with how my season has gone regardless, and I think it's going to be hard to match it next year. So I'm just soaking this year up right now."