How did Maple Hill mix up our big board?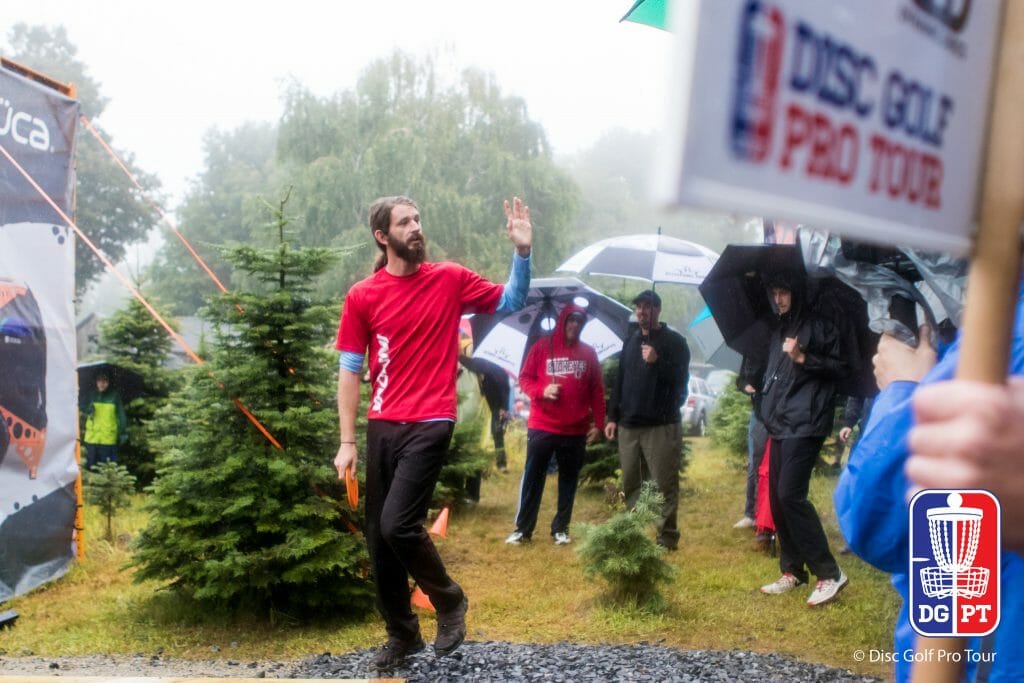 Can we talk about James Conrad for a minute?
Sure, we spilled some pixels on the Virginia pro after his Idlewild Open win, and there's no doubt he's been the surprise of the 2017 season's second half. But did anyone ever expect him to take over the number three spot in the Power Rankings? He's been there two weeks running, and he continues to make himself at home.
We made a change to our rankings system, opening the voting to our growing staff. That growing staff is all in on Conrad, and can you blame us? He notched another top 5 showing at the Vibram Open, and while his driving may not have been as accurate last week as it was in Kentucky, or even Pittsburgh, he found another way to keep himself in contention: a Ricky Wysocki-like penchant for long putts. Through four rounds at Maple Hill, Conrad hit from 74 feet; 38; 38; 83; 49; 60; and 38. That's a tee shot's worth of putting at 380 total feet, and we didn't even count all of the long bids that hit off the cage.
Put it all together, and Conrad is the total package. He's got one of the longest arms on tour, an incredible ability to carve lines with knife-through-butter-like ease, and magnetic abilities once he gets within 100 feet. And with more woods on the upcoming schedule, we don't expect him to relinquish his hold on his current standing without a fight.
MPO Power Rankings:
Rank
Player
Change
Prior
Dropped from rankings:

Geoff Bennett

(14),

Philo Brathwaite

(17),

Barry Schultz

(18),

Charlie Goodpasture

(20)
1

Paul McBeth

-
1
2

Ricky Wysocki

+3
5
3

James Conrad

-
3
4

Simon Lizotte

-2
2
5

Chris Dickerson

+1
6
6

Eagle McMahon

+3
9
7

Gregg Barsby

+3
10
8

Nate Doss

-
8
9

Nate Sexton

+6
15
10

Cale Leiviska

+6
16
11

Michael Johansen

-7
4
12

Josh Anthon

+1
13
13

Seppo Paju

+6
19
14

Paul Ulibarri

-7
7
15

Jeremy Koling

-3
12
16

Austin Turner

-5
11
17

Nikko Locastro

-
18

Drew Gibson

+3
21
19

Matt Orum

-
20

Grady Shue

-
A late comeback and a slim margin of victory made our staff keep Paul McBeth over Ricky Wysocki this week…Chris Dickerson averaged 1041-rated golf to win the Music City Open…A couple more clutch putts down the stretch at Vibram might have Nate Sexton a bit higher…Some surprise struggles for Michael Johansen after a second place finish there in 2016… Our voters cut Paul Ulibarri some slack, with his recent play offsetting a 38th place showing at Maple Hill…Nikko Locastro returns to the list after some lead card time in Massachusetts…Grady Shue? Grady Shue. The kid can sling it. Discmania has stocked some up-and-comers…Nicholas Masters garnered consideration from our staff after his time in the Vibram spotlight, but ultimately slipped out of the Top 20.
FPO Power Rankings:
Rank
Player
Change
Prior
Dropped from rankings:

Ragna Bygde Lewis

(8),

Henna Blomroos

(10)
1

Paige Pierce

-
1
2

Valarie Jenkins

+1
3
3

Catrina Allen

-1
2
4

Vanessa Van Dyken

-
5

Lisa Fajkus

-1
4
6

Jessica Weese

-
6
7

Sarah Hokom

-2
5
8

Melody Waibel

-1
7
9

Eveliina Salonen

-
9
10

Zoe Andyke

-
Even after a couple weeks without a win, it's still Paige Pierce's world in the women's division…Despite the tough final round at Vibram, Valarie Jenkins continues to prove she is a threat each and every week…Lisa Fajkus gets the bump over Jessica Weese after a strong VO finish…Eveliina Salonen continues to smash overseas.