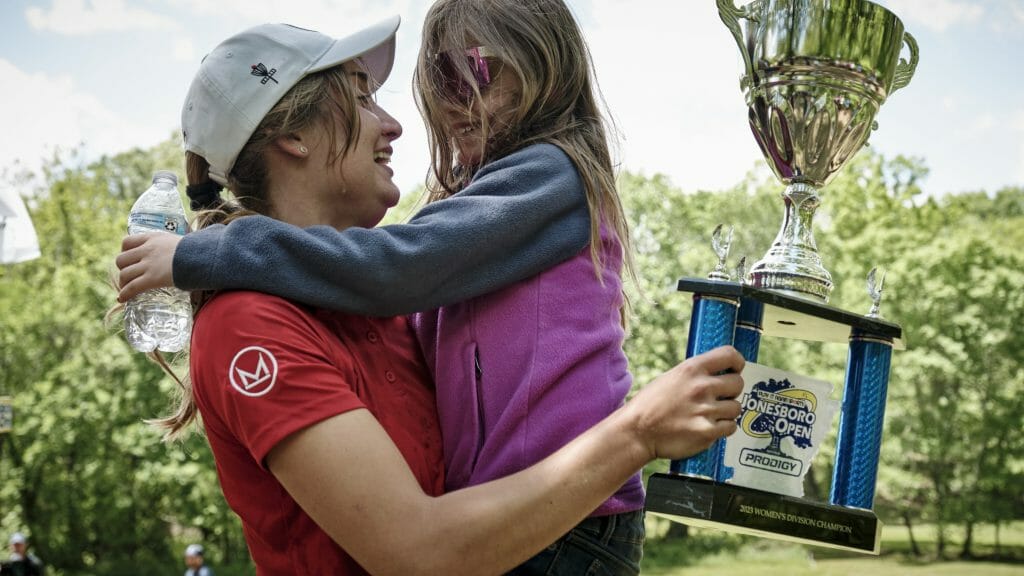 "Have compassion for everyone you meet, even if they don't want it. What appears bad manners, an ill temper, or cynicism is always a sign of things no ears have heard, no eyes have seen. You do not know what wars are going on down there where the spirit meets the bone."  — Miller Williams, Arkansas poet
It might be because disc golf is still young. Perhaps it is because the sport tends to welcome folk with open arms, picking up stragglers from all walks of life. Or maybe because a large part of the flying disc culture still exists on the fringe. Who knows? I do know that when I heard Kat Mertsch say "disc golf saved me" in a disarmingly frank Jomez Pro profile piece, it felt like she was speaking for many people. 
There might come a day when the rising tide of professionalism in our sport picks up the flotsam of image consultants, media coaches, and PR firms. Players might speak in carefully crafted quotes designed to offend no sponsor and appeal to the broadest demographic. Last Thursday's pre-tournament press conference wasn't that day. Mertsch fronted the press in an orange bandana and mirror shades, channelling Randy 'Macho Man' Savage, offering sound bites that will echo through social media for the rest of the season and beyond, like the confidence Mertsch said she was "was trying to channel every single week of my life until I die."
"I think if you think you have a home state advantage you might have a mistake, you might overcompensate for something," she said. "I think you've got to come out here and tear it up every weekend. You gotta believe in yourself. In all seriousness, that's the first step in success. Knowing that you can do this. I'm just going to come out here and try to shred to the best of my abilities. If it's great, it's good; if it's not, I learn."
After round one, Mertsch was one throw back from Hailey King and one throw ahead of Texan Aria Castruita, the same three that would share the podium two days later. Mertsch's only blemish for the day was a bogey on hole-8 when she attempted a left-handed shot that was released high and early. King, who has credited working with strength coach Dr. Derek Wilcox for her recent improvement, had 13 birdies to go with 2 bogeys to card 11-under-par. 
"I don't want to say the course is soft," King said after the round. "But I felt like I missed the first seven holes. To shoot 11 down still felt pretty good." When asked about her newfound strength, she simply said, "I feel amazing."
Fourth placed Missy Gannon echoed a familiar theme after her round. "The pressure to score is everywhere," she said. "Every hole is gettable, and you are going to see low scores across the field. So, when you start adding bogeys and double bogeys into the equation you feel like you are losing strokes to a lot of people." 
The rain came early in round two and the top order flipped. Hailey King's four bogeys in the first seven holes dropped her to fourth behind Mertsch, Castruita, and Gannon. Heading into the final round, there were five players within four strokes of the lead and with the northwest wind finally visiting the Disc Side of Heaven Course after two almost completely still days, it was anyone's tournament. 
"I'm just going to chillax, hang out with my dog, my cat and my man, watch trailer park boys, and have a good night," said Mertsch, after her round, keeping it loose and very Arkansas. 
Some shaky putting by Gannon (she managed 38% inside the circle for the round) had her out of contention by midway through Sunday, and with seven holes to play it was Castruita with a one stroke lead over King and Mertsch. Castruita let the nose-angle lift her disc into the headwind on hole 12, though, her disc sailing high and wide out of bounds. This, coupled with a layup that rolled away, gave Castruita a double bogey and a two-throw swing that she could never reel back in. 
On hole 15, King sank a 50-foot downhill putt into a gusty crosswind for birdie, erasing the one-stroke lead that Mertsch had gained on hole 13. King was forced to lay up and give herself a line to clear the water on 16, giving a one throw lead to Mertsch. King then took the stroke back with two perfect forehand throws and a birdie on hole 17 while Mertsch scrambled to save par. Mertsch didn't make the daunting gap on hole 18, hitting the left side and dropping into the rough. King couldn't capitalize, though, and both players fought their way up the long sloping fairway for par and a date for a playoff.  
Both players threw their drives on the playoff hole short of where they would have liked: King to the right and Mertsch to the left. Crucially, though, this gave Mertsch a better angle to attack the green and she laid her forehand approach to within five feet. King tried to thread a jump putt through the rough that was knocked down 30 feet short of the basket. Her attempt to extend the playoff sailed high and too far down the hill for her to do anything but concede. 
Mertsch tapped in and was swamped by her inner circle. Then she let out a roar so primal it momentarily broke up the group hug. She laughed, sobbed, danced a little jig, hugged her Mom, and then, along with everyone watching without a stone for a heart, cried some more. After a podium finish in this tournament last year and the Champions Cup the week before, it was Kat Mertsch's time. 
Calvin's Second Home
I say that all those folks criticizing the Disc Side of Heaven for being too easy have no poet in their soul. The complete absence of wind that had Disc Golf Network commentator Nate Doss commenting that it "was like playing indoors" certainly lead to some low scoring.  Calvin Heimburg and Eagle McMahon shared the lead after round one at 13-under par. 10-under par for the first round only got you a share of 15th place. But, with the best players in the game, playing an honest-to-goodness disc golf course in perfect conditions led to some amazing shot making. Fairway drivers and midranges were shaped and snaked through the trees instead of the wind-fighting, over-stable, hyzer-bombing that dominates much of the pro tour.   
Eagle McMahon put it best when he said, "Today, you were the artist, and you could paint whatever you wanted."  
While we compare playing disc golf to art, the 17-under-par, 1101 PDGA-rated 47 by James Conrad in round two was the masterpiece of the tournament and easily the best round of the year. Conrad's score consisted of fifteen birdies, an eagle, and two pars.
"That was wild," said Conrad as he walked off the course. "I was kind of locked in. In the zone. I was able to park hole one and the throw felt good, the putts were feeling really good, and we had really good energy on the card. I really enjoyed playing with those guys and I felt like they were behind me all the way. They were trying to do their best, but I felt like after a certain point they were cheering me on too." 
Conrad's round was enough to lift him from 20th place to 3rd. Calvin Heimburg and Eagle McMahon matched each other's scores again in round two, both shooting a pair of 51s to share a one stroke lead over Conrad with Corey Ellis one more stroke back. It wasn't quite the large chasing pack that we've seen for much of the DGPT this year, but with just championship Sunday to play, there were still 14 players within 7 strokes of the lead. 
The wind finally arrived for the last day, blowing 10-20 miles per hour out of the northwest. Over the undulating Disc Side of Heaven terrain, it created little high- and low-pressure zones, sucking discs down into the OB areas, blowing drives high and wide, ripping through channels between the trees and blowing putts off-line. The wind seemed to affect the players who had torn the still conditions to shreds in the first two rounds. The lead card scored an average of 11 strokes worse in the last round, with master painter James Conrad fairing the worst, throwing 16 more shots than in round two. 21 players eagled hole 16 the day before; in the final round, that number was three. 
As a tournament moves towards the business end, it seems that three elements decide proceedings. The first of these are easy to describe – mistakes and luck. Corey Ellis pulling his drive into the right side of the gap on hole nine, beginning a run of three bogeys that would take him out of contention. Or James Conrad flying past the basket downhill on hole's 14 and 15; on 14, he was able to save par with an uphill comebacker. On 15, he couldn't. When thinking of luck, Corey Ellis's circle one birdie putt hitting dead center chains on hole 11, held up by the wind funneling in through the gap in the trees, spitting out and then rolling down and away to circle two was perhaps the cruelest example. 
Then, on hole 16, while holding a one-stroke lead over Calvin Heimburg, Eagle McMahon combined both elements in what lead to the tournament's decisive moment. Pulling his drive too far right off the tee, McMahon was forced to lay up to the gap. Rather than throw his disc near to where Heimburg's drive had landed, McMahon inexplicably lobbed his putter into the rough on the right side. It was a head scratching mistake. Luckily, the disc landed to the front of the row of trees, and he was able to fashion a stand-still shot from his lie. He cleared the water with his approach, hit a tree guarding the left side of the entrance to the fairway and instead of deflecting back into the water, glanced to almost under the basket. McMahon's good luck and bad mistake cancelled each other out and he got a birdie four.  
The final element is harder to describe but might be summed up by the UK Special Air Service motto: "Who Dares Wins." While McMahon missed the drive, lobbed, and glanced his way to under the basket on hole 16, Heimburg had made the green in two with a solid drive and a high, stalling shot over the trees to the high side of the green. 60-feet out, and above the basket with water behind, Heimburg's tournament was over if he missed. He gave the putt plenty of height so the disc could glide the full distance and it dove into the chains at the right moment. His eagle, only the third of the day on the hole, drew him level with McMahon with two holes to play. 
Both players drove off the fairway and scrambled for their par on hole 17. On 18, Heimburg hit the gap off the tee, the drive turning to the right, fighting through some branches, and finishing with an open hyzer second shot up the fairway. McMahon, as he'd been doing all tournament, threw a high spike hyzer shot around the first obstacle. This time his disc flipped up flat and flew out of bounds on the right side. Heimburg played two easy shots to tap in and become a three-time winner at Jonesboro, and only the third player to have won the same Elite Series event three times.  
"I didn't think five-under-par would do it," said Heimburg after the tournament. "But nobody really got going today. The wind made putting difficult. I'm pretty thankful for it. It seemed like some of my aggressive play early and late might have bit me, but it didn't. I came into the day thinking 'play aggressive' and I stuck to that all day, whether it bit me or not. Jonesboro feels like a second home. I seem to play well here."
The tour heads west now. Next stop: Stockton, California, for the OTB Open.