Power, accuracy, and precision putting were all on display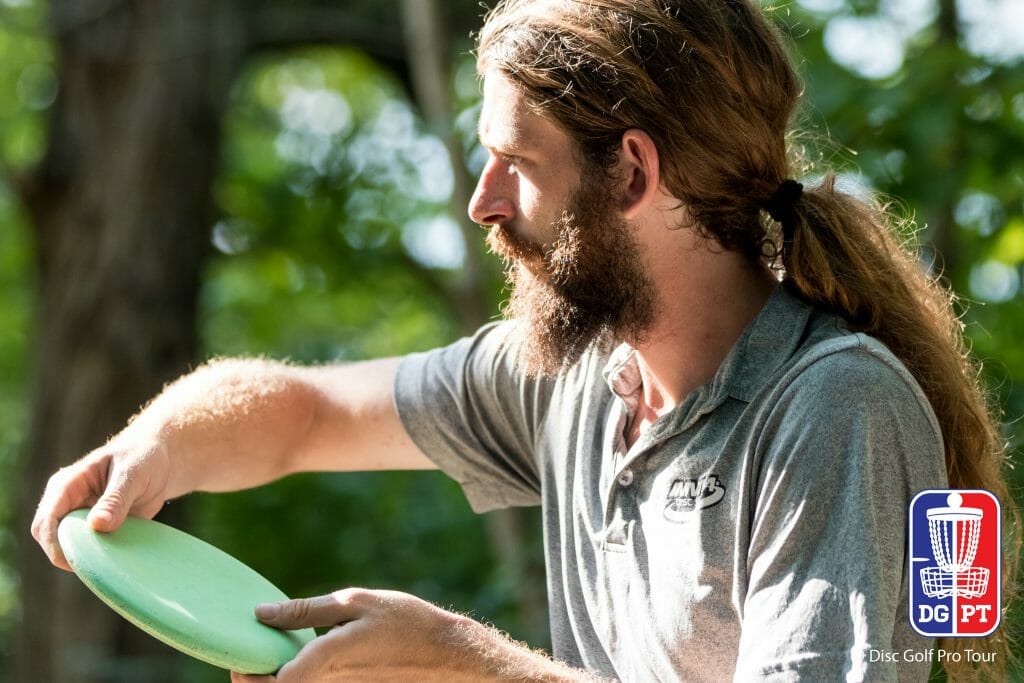 James Conrad secured what he described as his "biggest win to date" at last weekend's Idlewild Open. The win was the 25th of his career and fifth in 2017, and the $2,500 payday was the most he's collected at one time in his stint as a professional.
To further put the win in perspective, the field boasted 22 other Open players rated over 1000, and he had to beat out four-time PDGA World Champion Paul McBeth to do it. It was only the third time someone other than Ricky Wysocki accomplished that feat this season, after Eagle McMahon did it in Australia and Josh Anthon cruised at the Ledgestone Insurance Open.
So, how did Conrad do it? Luckily for disc golf fans, all three of Conrad's rounds were captured on video: rounds one and three by Jomez Productions, and round two by Prodigy Disc Video. And the tape shows that he sliced and diced his way through Idlewild with a well-rounded game – even if he eschews the forehand.
If there were two things anyone who watched the tournament noticed about the course, it's that there was a lot of OB, meaning that saving birdies and pars was tough. Conrad, though, didn't have much trouble in the recovery department, going big on his second shot on the monster, 969-foot par 5 hole 16, after his tee shot went just feet past the OB line during round one:
Conrad Idlewild Round 1 Hole 16
Yeah, that's a 550-foot shot landing just outside the circle, avoiding the OB creek to leave him with a look to save birdie. Speaking of his look to save birdie:
Conrad Idlewild Round 1 Hole 16 Putt
The rare Idlewild birdie save, complete with a Slomez replay. Money.
Conrad picked up right where he left off in round two, tossing long shots and hitting putts to jump-start his Friday:
Conrad Idlewild Round 2 Hole 1 Drive
Wow, a crush. That was one of just six eagles on hole 1, which is 638 feet and has a steep, sloping green behind the basket.
While Conrad showed off plenty of his distance and putting skills, Idlewild is known more so for its dense, tree-lined fairways. Conrad was throwing his JK Aviar on those holes, and almost avoiding having to putt at all here on hole 9:
Conrad Idlewild Round 2 Hole 9
Conrad took a three-shot lead into the final round, but McBeth applied pressure early, eagling hole 1 and going 8-under par through the first seven holes. In order to keep pace, Conrad had his putting dialed in. Here are perhaps his two best hits, both from well outside the circle: on hole 3 to grab a birdie, and on 9 to save par.
Conrad Idlewild Round 3 Hole 3
Conrad Idlewild Round 3 Hole 9
He was plenty focused from the tee, too. Clean lines make all the difference on Idlewild's heavily wooded back 9, and on holes 10 and 14 — which both played nearly half a stroke over par for the field — he kept it squeaky.
Conrad Idlewild Round 3 Hole 10
Hole 10 saw just an 11 percent fairway hit rate, and Conrad was the only player of 87 in round three to reach circle 1 off the tee.
Conrad Idlewild Round 3 Hole 14
Conrad was still showing off his distance in round three, especially on hole 16. Just like he did in round one, Conrad was going for the green and the eagle look, testing the OB despite the close battle with McBeth:
Conrad Idlewild Round 3 Hole 16 Drive
His long look at eagle was just a bit low, but no matter: the drop-in birdie was huge with just two holes to play. And, for one last highlight, here's Conrad on 18 after his tee shot hit early left and he was forced to pitch out. He had this approach left to get up and down for the par:
Conrad Idlewild Round 3 Hole 18 Approach
That precisely executed turnover gave him a close look at the putt, which he made after McBeth birdied from just inside the circle.
Considering how well Conrad plays in the woods, and his ability to throw Destroyers well over 500 feet, the next three high-profile events on the calendar — the Pittsburgh Flying Disc Open, Vibram Open, and Green Mountain Championship — should be a treat.