A tour favorite serves as a perfect warm-up heading into Worlds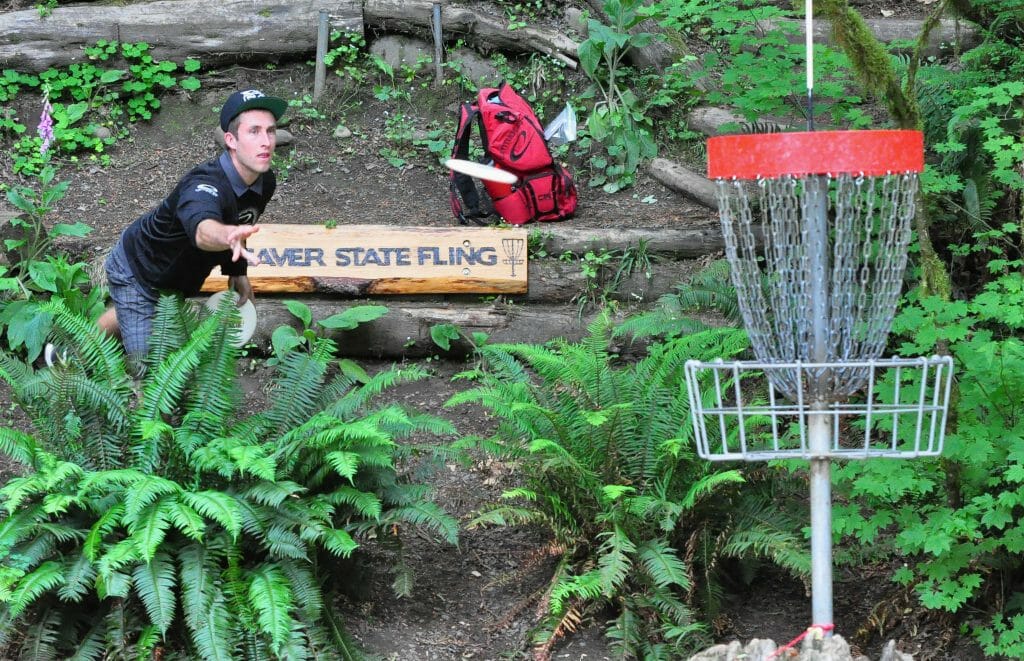 Squared on the professional touring schedule less than two weeks before the PDGA Professional Disc Golf World Championships, this weekend's Beaver State Fling amounts to a perfect opportunity for players to gather…Oh, what's that word again? Let's see…
*Paging Ricky Wysocki to the white courtesy phone.*
Momentum. Right, got it. A top 5 performance — and no doubt, a win — in Oregon will go a long way toward fueling the fire across the country to Georgia come Monday morning.
But before that, there are 72 holes of golf to be played — kicking off with two shotgun start rounds today — at one of the sport's most scenic, beloved venues. With some of the touring mainstays back in action, and some weather in store, it should make for an exciting precursor to the disc golf world's most prestigious event.
Storylines
It's been more than a decade since someone took home the BSF title two years in a row. With that in mind, Wysocki either has a chance to start a new trend as a repeat champion, or stick to his other trend that has been running since 2016, in which he's followed up a second place finish with a victory 90 percent of the time. With Worlds coming next on the schedule, he'd likely be content being the runner-up this weekend.
So who are the rest of the contenders? Paul McBeth is the obvious favorite, especially since he is the only Open player in attendance who has won the event more than once. And though the event is sans a few high-profile names — Nate Sexton and Simon Lizotte are at home, while Jeremy Koling and Austin Turner decided to cut the Worlds travel in half by playing the Kansas City Wide Open — there are plenty of intriguing names.
Eagle McMahon is returning to the touring scene skipping the Masters Cup and the Utah Open for some rest and relaxation in Colorado. If he is as rejuvenated as his YouTube videos let on, this could be a chance for him to recover from some low finishes and experience another coming out party of sorts.
Josh Anthon comes into the event after a Utah Open performance that saw his rating trend upwards in each round. He hasn't played Beaver State since an eighth place finish in 2011, but his rating was also 15 points lower at the time.
This will be Kyle Crabtree's seventh career Fling, with his high finish of fifth place coming back in 2011. Still, he took third place at the Masters Cup and makes his home in the Pacific Northwest. With some wet weather on tap this weekend, he may have a slight advantage when it comes to tolerating the conditions.
The intrigue doesn't only lie in the Open division. On the women's side, Jessica Weese enters the event on a high after her Utah Open playoff victory. Add to that her experience at Milo — she won the Fling in 2015 — and her desire to string together what she called a "triple nugget" of victories, and she adds to an always competitive division. Valarie Jenkins, meanwhile, also brings a strong history in Oregon, and Catrina Allen and Paige Pierce needed a 73rd hole to settle their battle for Beaver State last season.
One last note: The last five Flings have been decided by an average of 1.6 strokes in Open and 4 strokes in Open Women (with Jenkins' 11-shot margin in 2011 skewing the math). Simply put, don't expect anyone to just run away with the win on either side.
Venue and Courses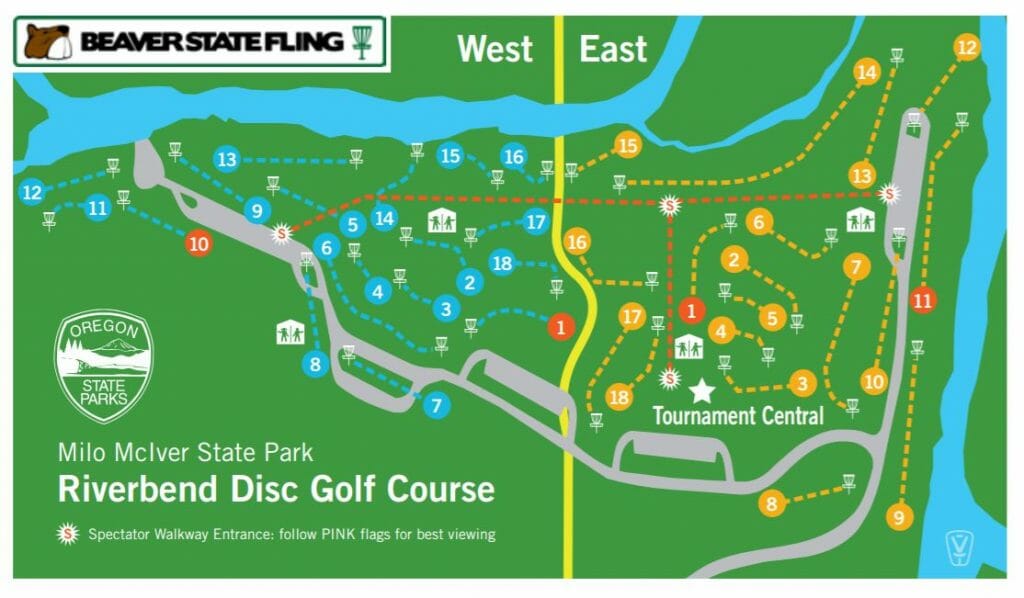 The Beaver State Fling takes place on the Riverbend Disc Golf Courses at Milo McIver State Park, a stunning locale on the banks of the Clackamas River, about 25 miles southeast of Portland. Tall firs and manicured meadows mix with subtle elevation changes to provide for breathtaking views and throws.
Riverbend West (Friday and Saturday): 18 holes, par 61, 8,511 feet — Sporting five par 4s and one par 5, Riverbend West clocks in only a hair shorter than its big brother. There are birdies to be had to get scorecards smoking on the beginning stretch, and last year the course hosted disc golf's most historic shot: Philo Brathwaite's viral albatross.
Philo Brathwaite Albatross Video
Riverbend East (Friday and Sunday): 18 holes, par 61, 8,696 feet — Riverbend East gets the honor of hosting the final round. With four par 4s and two par 5s, length off the tee is well served, especially on the 1,196-foot 14th, aka the "Monster Hole." The "Genius Hole," the 585-foot, par 4 9th, also registers as one of the venue's most iconic spots.
RELATED — The Local Route: Milo McIver State Park
Past Winners
| | PDGA Tier | Open | Open Women |
| --- | --- | --- | --- |
| 2018 | NT | Eagle McMahon | Catrina Allen |
| 2017 | NT | Ricky Wysocki | Paige Pierce |
| 2016 | NT | Ricky Wysocki | Catrina Allen |
| 2015 | NT | Paul McBeth | Jessica Weese |
| 2014 | B | Nate Sexton | Valarie Jenkins |
| 2013 | NT | Will Schusterick | Paige Pierce |
| 2012 | NT | Cale Leiviska | Catrina Allen |
| 2011 | B | Paul McBeth | Valarie Jenkins |
| 2010 | NT | Christian Dietrich | Liz Carr |
| 2009 | NT | Ken Climo | Des Reading |
| 2008 | A | Steve Rico | Kathy Manley |
| 2007 | NT | Nate Doss | Valarie Jenkins |
| 2006 | NT | Barry Schultz | Des Reading |
| 2005 | NT | Barry Schultz | Des Reading |
| 2004 | NT | Barry Schultz | Ruth Steele |
| 2003 | B | Aaron Kirschling | N/A |
| 2002 | C | Erik Smith | N/A |
Extended Forecast
Friday: An upper level trough will bring widespread divergence across the northwest United States on Friday, providing lift to create showers and thunderstorms across the region. Under almost constant cloud cover, temperatures will struggle into the low 60s, which runs about 10 degrees below the climatological average for early June. If showers and thunderstorms do move into the region, look for wind speeds to kick up some during the afternoon hours.
8:00 a.m.: Mostly cloudy and 52°F. Light southwest wind.
2:00 p.m.: Scattered showers and thunderstorms, with a temperature around 59°F. Southwest wind around 5-10 mph, gusts as high as 15-20 mph possible.
Holes To Watch: Hole 7 on the East Course may be tricky for the Open field. Hole 7 is a 585-foot par 4, which features a dogleg left off the tee, and most right-handed players will elect to throw a backhand hyzer off the tee that fades into the dogleg. With southwest wind in play during the afternoon, a headwind may cause trouble on the uphill upshot.
Hole 9 on the West Course may challenge the Open Women. Hole 9 is a 689-foot par 4, and the wind during the afternoon may be a left-to-right off the tee. This will likely push down any hyzer shots, but may also turn over players looking to bite off a long distance shot. A road to the left plays as out-of-bounds, as well.
Saturday: While the divergence associated with the trough should move well east of the region on Saturday, a pesky upper level low pressure system will settle into the area. This will lead to cool temperatures and continued rain chances. Wind should remain fairly calm on Saturday, but if isolated showers or storms form during the afternoon, some enhanced wind gusts may be possible.
8:00 a.m.: Mostly cloudy and 51°F. Calm wind.
2:00 p.m.: Mostly cloudy with isolated showers and storms possible. Temperatures around 61°F. Calm wind expected unless a thunderstorm moves over.
Hole To Watch: Calm winds means there won't be too many weather-based considerations as players embark on round three. However, the wind may pick up if thunderstorms and showers form during the afternoon.
Sunday: The upper level low will slowly drift south on Sunday, which will lead to stabilizing conditions for most of the region, as convergence aloft is noted. A few isolated showers may be possible in the afternoon, but it does look like Sunday will provide the lowest chance of rain. Highs will still struggle a bit as they reach the mid 60s.
8:00 a.m.: Partly cloudy and 52°F. Light northwest wind.
2:00 a.m.: Mostly cloudy with isolated showers possible. Temperatures around 61°F. West wind around 5-10 mph.
Hole To Watch: Who wants to see some big distance shots? Unfortunately, that might not happen on hole 14 on the East course. The longest hole of the tournament — and possibly one of the longest, if not the longest, hole all tour — this par 5 measures in at just under 1,200 feet. Players may be faced with a headwind during the last day of the tournament. If 1,200 feet wasn't far enough, how about a nice headwind to navigate?
How To Follow
With gorgeous scenery comes one major drawback: Cell coverage at Milo is notoriously poor, meaning no live streaming coverage of the Fling. PDGA Media will be on hand providing live scoring and updates on Twitter, and Central Coast Disc Golf (Open feature/lead card), the Disc Golf Guy (Open chase card) and Jomez Productions (Open Women's lead card) will be producing next-day edited videos. In the meantime, Ultiworld Disc Golf will be your home for written recaps of all the action from the Pacific Northwest.