A smaller field brings a chance for some upheaval in the Disc Golf Pro Tour points standings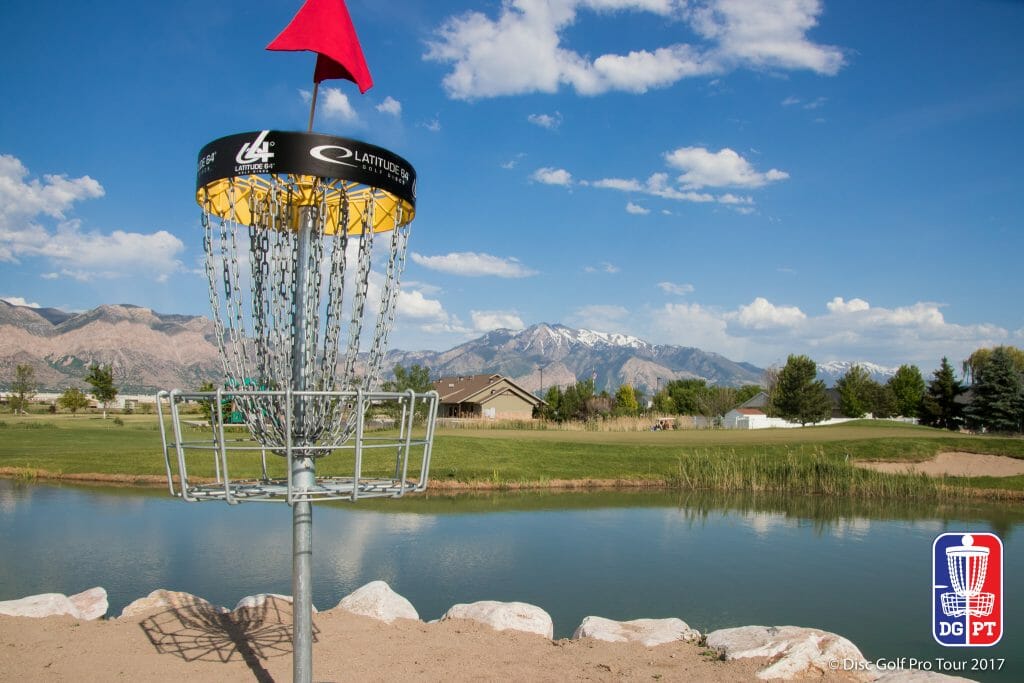 We now interrupt your regularly scheduled programming of McBeth vs. Wysocki to bring you something a little different.
After a brief hiatus, the Disc Golf Pro Tour resumes today through Saturday at the Utah Open just outside Ogden, Utah. After two years as an unsanctioned event, the Utah Open joined the Disc Golf Pro Tour as a PDGA B-Tier, and with that sanctioning level – and its location on the schedule sandwiched between two National Tour events and right before the PDGA Pro World Championships — the field is the smallest of any DGPT stop in 2017.
Storylines
That said, a slimmed down field doesn't necessarily mean the competition will be any less fierce. True, the drool-worthy marquee matchup of the sport's top two players won't be happening, but Ricky Wysocki will be in attendance, and Ricky Wysocki coming off a loss is generally a sight to behold. In fact, dating back to the beginning of the 2016 season, Wysocki has followed up a second place finish with a victory eight times, making him the odds on favorite to take this one home and pad his lead in the Disc Golf Pro Tour points standings.
And those standings are also where viewers should have their eyes affixed this weekend, as they're set to be upset. Five of the top eight men's players in DGPT points are not in Utah, making for a golden opportunity for a player like Drew Gibson. He's currently in ninth place in the standings — one slot out of a bye straight to the DGPT semifinals if the season ended today — and finished in third place at last year's Utah Open after entering the final round with the lead. He'll no doubt be looking for redemption and a chance to leapfrog some competitors at the DGPT's midpoint. Austin Turner — who is a Utah newcomer but tied for seventh place two weeks ago at the Masters Cup — also stands to make a jump from his current 15th place standing, as does Patrick Brown, who is currently in 25th.
While the women's division brings less intrigue in the standings, it does put the spotlight back on the Paige Pierce/Catrina Allen rivalry, which has been fairly one-sided this season. While Pierce has racked up a dozen victories in 2017, Allen has struggled through bouts of inconsistency and comes off two straight fourth place showings, her lowest consecutive finishes since 2011. She won this event last year, though, making it a prime location to regain her dominant 2016 form just in time for a crucial stretch heading into Worlds.
Course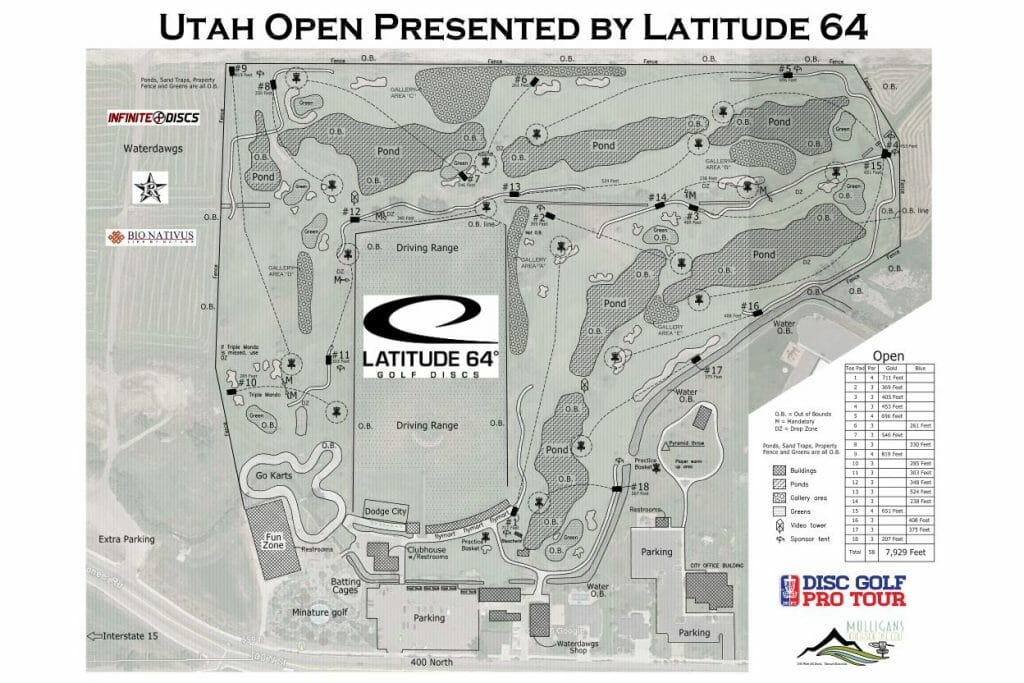 Mulligan's Creekside Disc Golf Course: 18 Holes, Par 58, 7,929-feet — The Utah Open is the seventh high-level tournament this year that's included one or more round at a golf course, this one playing through a 9-hole track replete with views of the Wasatch Mountains to the east. The course is at elevation — 4,240 feet above sea level, to be precise — and competitors will not only have to battle added disc stability, but also the fast, low cut fairways; baskets perched on small mounds; water hazards on almost every hole; and plenty of OB. In an added wrinkle, the bunkers play as hazards that incur a one-stroke penalty, but players play the disc where it lies.
Holes 7 and 9 highlight the flat, wide open course. Hole 7 is a 546-foot par 3 that is a reachable if the pros want to test the out-of-bounds hazards left and long of the green. Hole 9 is a two-shot, 819-foot par 4 that features a green guarded by a number of trees, one of the only holes on the course to feature any foliage.
Past Utah Open Winners
Extended Forecast
Thursday: Slightly warmer weather than expected for Utah. Under an upper level ridge for most of the tournament, temperatures should easily top out in the mid-80s. Windy conditions are expected, which may make things interesting.
10 AM: Partly cloudy and 70°F. Easterly wind around 10 mph.
2 PM: Isolated thunderstorms and 80°F. Easterly wind between 10 and 15 mph.
Hole To Watch: With a fairly strong easterly wind expected throughout the day, hole 12 may create some issues for players. The 348-foot par 3 should play right into a headwind on Thursday, which could cause some discs to turn over early into the fence that separates the driving range from the rest of the course.
Friday: The upper level ridge should get a bit stronger on Friday. This should lead to slightly cooler conditions, as well as very little chance of precipitation. Overall, a very nice day for disc golf should shape up with light winds out of the west.
10 AM: Mostly sunny, calm, and 64°F.
2 PM: Sunny and 79°F. West wind should remain below 10 mph.
Hole To Watch: The wind may gust up some in the afternoon from the west, which may lead to a headwind on hole 4. Hole 4 is a 453-foot par 3 that plays over a pond. The lead card may have to chuck their overstable plastic over the water to keep it from turning over. Another option is to lay up to the right off the tee to avoid water altogether.
Saturday: The ridge will continue to hold strong on Saturday, thus similar weather conditions can be expected as Friday. The only thing that will be different is the temperature. Temperatures should rise into the upper 80s once again.
10 AM: Mostly sunny and 70°F. Easterly wind around 5-10 mph.
2 PM: Sunny and 83°F. Westerly wind around 5-10 mph.
Hole To Watch: Westerly wind may also cause some trouble on the OB-ridden hole 17. With OB lining both sides of the fairway, as well as water behind the basket, players will need to either commit to the green or the lay up. With a headwind, this 375-foot par 3 will grow a few more teeth.
How To Follow
With the Disc Golf Pro Tour back that means this event will be broadcast live via SmashboxxTV. The lead Open card will be featured on the live broadcast in each of the three rounds, teeing off at 4:30p.m. eastern time. Expect footage from the Women's Open lead card to be prerecorded and added in to the live broadcast. Additionally, all three of the sport's top post-production teams – Jomez Productions, Central Coast Disc Golf, and Prodigy Disc Video – will be on hand.
The round one feature card in the Open division stars Wysocki, Jeremy Koling, Paul Ulibarri, and Josh Anthon, while the Open Women's card features Pierce, Allen, and Jessica Weese. You can follow along with the real-time scoring and statistics at UDisc Live and check in here at Ultiworld Disc Golf for recaps of each round.