A couple veterans return to the board after the third PDGA National Tour stop of the season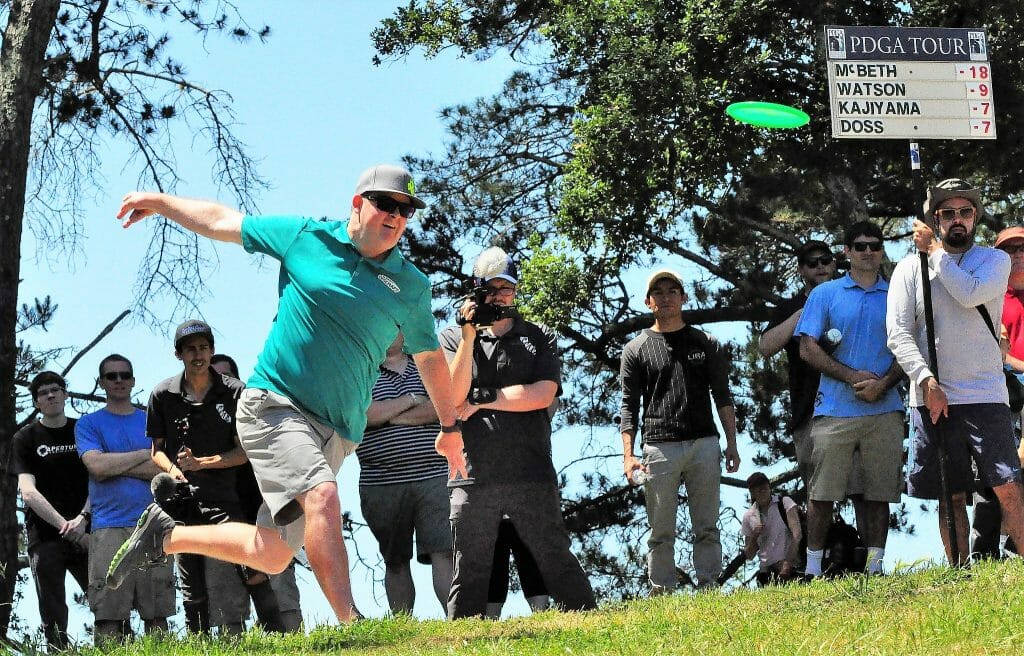 Welcome back, Mr. Consistent.
After a quiet start to the season, Nate Doss returned to his Santa Cruz stomping grounds last week to tie for fourth place at the Masters Cup. After a 1049-rated first round at the Delaveaga Disc Golf Course that vaulted him onto the lead card for day two, Doss took a slight tumble to 10th place after a second round 70 held him in check. But then, it was time for redemption.
Looking to make up for a final round 62 during the 2016 Masters Cup that saw him fall to 12th place while playing on the lead card, Doss came out to the DeLaveaga Golf Course with hopes of exorcising some demons. And while it took a little bit for him to heat up — he went 1-under par through the first six holes — he closed hot, logging a bogey-free, 7-under par final 12 to give him a share of fourth place alongside Jeremy Koling.
Now comes the fun part. Though it seems like Doss hasn't played much in 2017, he was quick to point out that he was on track for a similar schedule to 2016. Indeed, last year's Masters Cup was only his fifth event, while this year it was his third. And if that pace from last year is any indication, the 2011 PDGA World Champion is poised for liftoff: After his stop off in Santa Cruz last season, Doss rattled off eight straight top 10 finishes, including a sixth place finish at the PDGA Professional Disc Golf World Championships.
Sometimes you just need a little home cookin'. For Doss, that quick dose of comfort could be a turning point in another excellent season.
1) A blowout win at the Masters Cup offsets Paul McBeth's second place showing at the Konopiste Open.
2) Ricky Wysocki needed a couple more bounces to go his way at the DeLaveaga Disc Golf Course, but absolutely crushed the golf course.
3) Nate Sexton's top 5 streak came to an end, and he'll be off now for a few months for paternity leave.
4) If Jeremy Koling keeps his putter hot until Worlds, look out.
5) Ditto for Simon Lizotte.
6) Third place at the Masters Cup didn't come out of nowhere for Kyle Crabtree. He's a 1039-rated pro with 46 career wins.
7) Easing into the season may have yet-to-be seen benefits for Nate Doss, if his top 5 showing at the Masters Cup is any indication.
8) Cale Leiviska took down the C-Tier Acorn Open and has been keeping it close to home.
9) Austin Turner is very quietly in fifth place in the PDGA National Tour's points standings.
10) Road warrior Nikko Locastro took third place the 303 Open, then a hometown tourney, on the way to a 12th place tie in Santa Cruz.
11) Instead of playing the Masters Cup, James Conrad won the C-Tier Sunnyside Championship in Virginia with a 1050-rated final round.
12) JohnE McCray took a week off of Open play and won the Masters division at the Madisonville Open in Kentucky. His performance would have earned him third place in Open.
13) After a fifth place showing at the Konopiste Open, Seppo Paju broke a course record and almost came back to win the Tali Open in Finland.
14) Philo Brathwaite played all three rounds of the Masters Cup at or above his rating.
15) Eagle McMahon scrapped most of his plastic and started fresh with a second place showing at a one day event in Colorado. He's decided to play the Beaver State Fling after initially backing out.
16) NorCal product Christopher Watson displayed he had all of the shots capable of hanging with the big boys on the National Tour stage.
17) Gregg Barsby has been holding clinics and winning smaller events in the south the last few weeks.
18) Jalle Stoor went from 15th place at Konopiste to the top of the podium at the Tali Open.
19) Drew Gibson's 16th place Masters Cup finish was a five-slot improvement over his play there in 2016, but still down from his 9th place in 2015.
20) Devan Owens proves he's a top player when he shows up, but he hasn't logged any finishes since GBO.
On the bubble: Miles Seaborn took down the Z Boaz Open in Fort Worth, Texas…Manabu Kajiyama, Josh Anthon, and Scott Withers were all in the conversation after their ninth place Masters Cup tie.
1) Paige Pierce continues to roll, as the Masters Cup win marks her 12th of the season.
2) After winning the KC Diva Spring Feeva the week before by averaging 970 rated golf, Jennifer Allen kept the momentum going in Santa Cruz to finish second.
3) Between the Masters Cup and Daisy Chains, Valarie Jenkins had an excellent two weeks of golf. She averaged 967 play over six rounds, highlighted by her 995-rated final round at the Delaveaga Golf Course.
4) After a 975-rated second round put Catrina Allen in position to make a run at the Masters Cup win, her final round was plagued by too many bogeys.
5) Sarah Hokom had a consistent, if unspectacular, weekend at the Masters Cup after tying for third at the Daisy Chains the week prior.
6) A come from behind, sudden death playoff win at the Konopiště Open is enough to get Vanessa Van Dyken into the top 10.
7) After giving up the lead in Konopiště and losing in a playoff, Eveliina Salonen was back to her winning ways in Finland with a comeback win in the third round of the Tali Open.
8) NorCal-based pro Nicole Bradley backed up a solid Daisy Chains performance with a sixth place finish at the Masters Cup.
9) Lisa Fajkus took the win at the Norman Pro/Am in Oklahoma, throwing two rounds over 950. Since this one was just an A-Tier with a smaller field, she slides down the rankings a bit.
10) After taking a share of the win at the rain-shortened Glass Blown Open, Hannah Leatherman gets DeLa'd down to the last slot of our list after a ninth place tie in Santa Cruz.
On the bubble: Zoe Andyke's strong Daisy Chains and hot final round at the Masters Cup have her on the cusp…Elaine King just keeps winning, this time at the NC Ladies Championship in Charlotte.