Wysocki secures second place with the day's hot round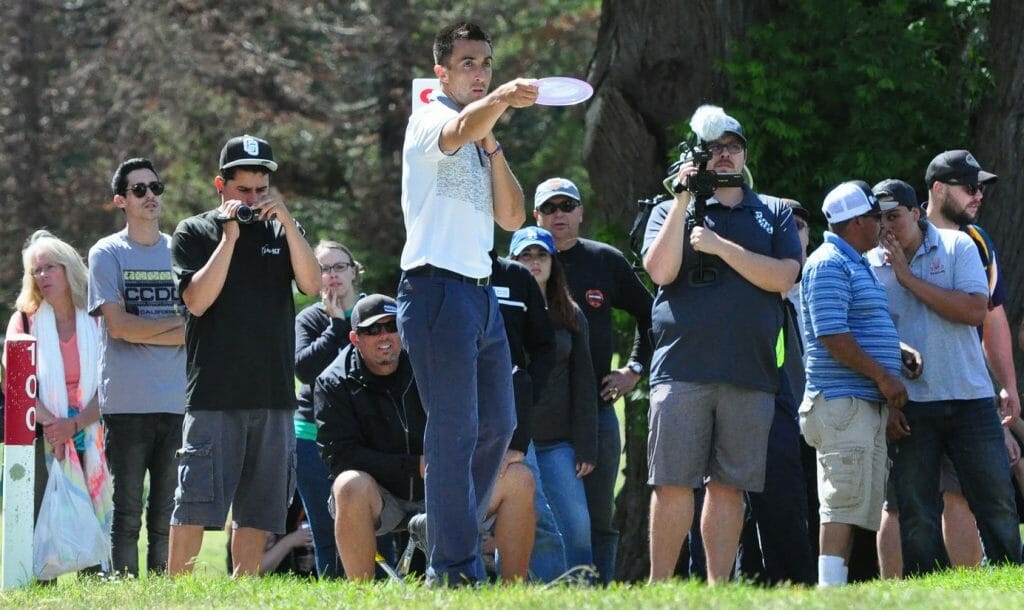 It wasn't the 17-shot victory he predicted, but it didn't need to be.
Paul McBeth's 8-under par 52 yesterday at the DeLaveaga Golf Course was more than enough to salt away his fifth Masters Cup win in six years, as his 34-under par 170 resulted in a 10-stroke win over Ricky Wysocki. The victory lap gave McBeth not only his sixth win of the 2017 season, but also his 18th career PDGA National Tour victory.
Though he was far behind McBeth's overall pace, Wysocki secured second place with a flourish, tossing an 11-under par 49 to notch the day's hot round. The 1080-rated finish kept him five shots clear of Kyle Crabtree, whose 8-under par 52 saw him climb into third place with a 19-under par 185 total. Nate Doss and Jeremy Koling tied for fourth place with 17-under par 187 totals, while Nate Sexton moved into sixth place after throwing his own 8-under par round to vault five spots up the leaderboard.
True to his statement that his massive lead after the second round afforded him the luxury to do "whatever I want," McBeth decided to test the waters by spending the first half of yesterday's final using the standard putting stance he abandoned earlier this season. After hitting some early struggles, including bogeys on holes 5 and 8, he decided to scrap the experiment and return to the straddle he's been using most of the year.
"I tried that, and that's why it kinda got shaky a lot at the beginning," McBeth said. "Then I switched back at the end, so you can see the difference between the two…That didn't work out, so I was like, 'Alright, let's put on a show and get some birdies and show how I got here.'"
That play was successful, as he cleaned up with a bogey-free back nine that included six birdies to put a cap on his 1056-rated round. And even if he didn't need to put the pedal to the metal early, McBeth still put a highlight reel shot in the can with an eagle on the 606-foot hole 4.
"I just drove it straight, pin high, and I was probably about 100 feet right because it kinda curves around these trees, and just jump-putted it right in," McBeth said. "Just a straight, 100-foot jump putt and clean. That's all I can say — clean for eagle."
Wysocki, meanwhile, bested McBeth's back nine by collecting eight birdies to close play. And though he was disappointed with his finish, he had come to accept it after McBeth's sterling first two rounds at DeLa.
"I think that me not winning the tournament already sunk in after the second day," Wysocki said. "The tournament was basically won and lost, for me, on the first two days, so today I just wanted to go out there and play a good round. All in all, I still have a lot of confidence. I haven't lost any of that because of this."
Per McBeth's player page on the PDGA website, the victory is the 100th of his career. But in true McBeth fashion, he isn't counting the milestone yet and instead goes by his own personal record-keeping that shows this as his 94th win.
"People have been saying that [it's my 100th win], but it's like with amateur tournaments and stuff like that," McBeth said. "I don't really count amateur stuff."
What isn't up for debate is McBeth's resurgent play after a 2016 campaign that found some questioning if his game had fallen off. Instead, he has yet to log a finish outside the top 3 this season, but is waiting a couple more weeks to truly answer his detractors.
"I guess Worlds will be the real message," McBeth said. "It's just — they're gonna say what they're gonna say, even though I'm probably having one of the best years ever right now, minus the one Major at the beginning of the year. They're gonna say what they want to say, but I think Worlds is what's really gonna determine how far back I've come."
Before that, though, the National Tour will head to Oregon for the Beaver State Fling on June 9. Sexton will miss that event — as well as Worlds — as he awaits the birth of his first child, so the Masters Cup served as a mini farewell for the longtime pro. He said he played well on Sunday, but he was dismayed that he was one shot away from continuing his 2017 streak of top 5 finishes.
"That's a little annoying because it was kind of cool being able to say I hadn't finished outside the top 5," Sexton admitted. "But now I just can say I haven't finished outside the top 6."
Though he came up just shy of his goal, he did throw what he called "one of the shots of my life, probably" when his roller on the par 4, 720-foot hole 3 landed in tap-in range for eagle.
"The basket's right in between the out-of-bounds green and the hazard sand trap," Sexton said. "When we got up there it was like 10 to 12 feet past the basket — an absolute drop-in, 730-foot roller to a park job. Pretty cool. Probably the farthest hole that I've ever twoed without a throw-in or some insane putt or anything. It was just totally parked from over 700 feet away, so that was pretty cool."
Hometown hero Doss was celebrating what he thought was his 20th Masters Cup — "We'll have the verify that," he said — and was especially happy with his strong performance on the golf course, which represented a 10-shot improvement over his score there in 2016.
"Today's round was sort of a vindication round, a round that — I shot pretty bad last year on the lead card," Doss said. "I was sort of an afterthought on that group. I wanted to come back today with a strong performance, and I'm happy that I did and ultimately it was definitely a good weekend for me."
While Doss has only played three high-profile events this season, he was quick to point out that the Spring schedule was much busier than in years past. As a result, he said he and wife Valarie Jenkins, who came in third place in the Open Women's division at the Masters Cup, are well-positioned heading into the next few tournaments.
"To be honest with you, Val and I both feel like we're pretty much on par with our season," Doss said. "Not only that, I think we're both right in the perfect spot to really come up in these next three or four big events, which are the most important of the season."
The professional circuits now take a weekend off before the Disc Golf Pro Tour resumes June 1 at the Utah Open. Wysocki, for one, was looking forward to a little bit of downtime.
"It's probably been like 12 or 13 tournaments in a row in 14 weekends, so it's been a lot," Wysocki said. "Obviously this is what I do, so I'm not gonna say it's too hard. But it's nice to take a break this week and kinda regroup and do some other stuff to take my mind off it for a bit. Re-light the fire and get back the drive to finish the season strong."