Koling jumps up to lead card after 10-under par round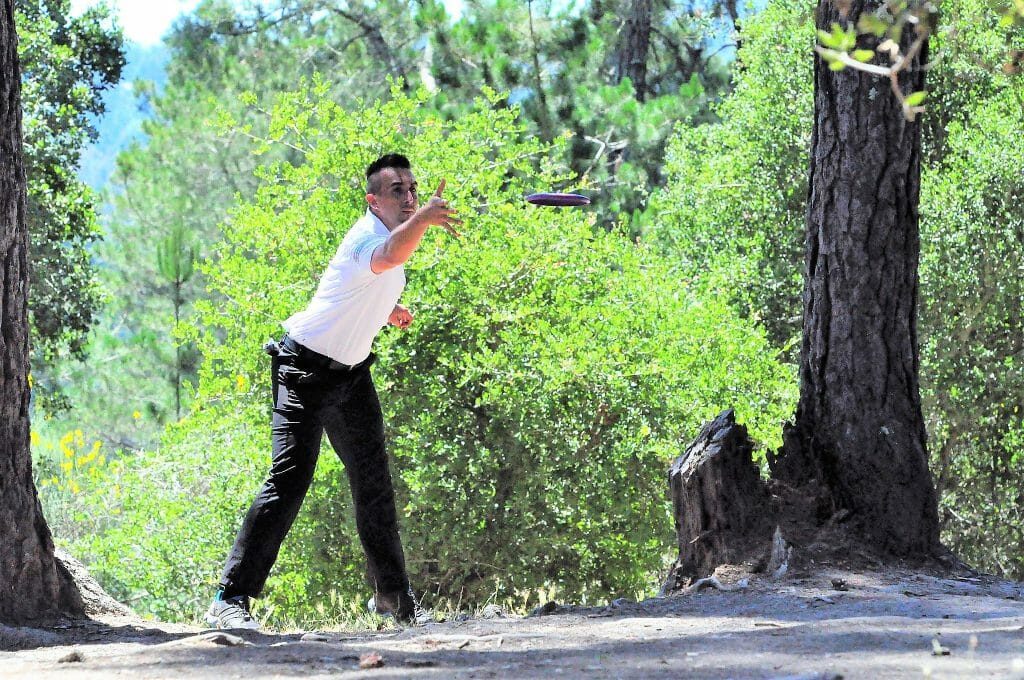 After another Santa Cruz scorcher left him with a whopping 13-shot advantage heading into the final 18 holes of the Masters Cup, it's fair to wonder how Paul McBeth will stay motivated for today's round as play moves down the hill to the DeLaveaga Golf Course.
Luckily, he has a plan.
"Try to win by 17," McBeth said.
At this rate, is there any doubt that will happen? McBeth's 11-under par 61 yesterday at the DeLaveaga Disc Golf Course served to extend his lead by six and bring him to a 26-under par 118 total for the event. He leads Ricky Wysocki, whose 7-under par 65 saw him climb into second place with a 13-under par 131 total, and Jeremy Koling, who logged a 10-under par 62 round to come all the way from 23rd place and into third with a 12-under par 132 total. Christopher Watson held on to the last spot on the lead card with another solid round, his 4-under par 68 keeping him even with Koling.
McBeth achieved the goal he set for himself after round one — a second day of double digits below par — and the final round now finds him trying to play the role of Nostradamus, as he said he called a victory before the event.
"I didn't tell you this yesterday, but I told Nate [Sexton]," McBeth said. "I said, 'Hey Nate, be ready because I'm gonna win this tournament by 17.' I told him that yesterday, or the day before the tournament, and he laughed at me."
But why an arbitrary number like 17?
"I don't know, it just popped in my head," McBeth said. "I just felt 17 was what was gonna happen."
That knack for feel has served him well at DeLa. Although his score was off from his course record-setting performance on Friday, in which he tossed 17 birdies and two bogeys, he managed to go bogey-free on the way to his 1072-rated second round.
"I didn't make as many of those 40-plus-footers, but overall it was the exact same round," McBeth said. "A little cleaner."
Wysocki and Koling both managed to go bogey-free, as well, but could not collect as many 2s as McBeth. Koling sprinkled in his 10 birdies intermittently, only once going on a three-birdie streak, while Wysocki's round was marked by a stretch of 11 straight holes in which he merely settled for par. Indeed, Wysocki said his rounds have felt good at DeLa, but it's not translating to success on the scorecard.
"I've been throwing a lot of good drives, but a lot of times when I feel like I had momentum going DeLa kicks in and just squashes that," Wysocki said. "I feel like I'm really close to throwing good rounds, I was at DeLa. I threw about a 10 or 12-under, but I scored about a 6 or 7-under both times…I'm not really disappointed with the way I'm throwing. I'm definitely disappointed with the way I'm scoring, because there's a big difference there."
Koling said yesterday marked a personal best at DeLa, and that it was also his first time going bogey-free on the course. As opposed to Wysocki, he said he was the beneficiary of some better breaks.
"To escape two rounds in a row at DeLa without a two-meter penalty and without a roll away is pretty impressive," Koling said. "I didn't shoot lights out [Friday] in terms of score, but I did throw a lot of great shots that didn't quite get rewarded. Today the DeLa gods were a bit nicer to me, and I made a lot of putts."
Elsewhere on the course, Northern California native James Proctor matched McBeth's hot round with his own 11-under to move into a tie for seventh place. Kyle Crabtree moved up to fifth place after a 6-under par round, while Philo Brathwaite, Nate Sexton, and Dustin Keegan all used Saturday to move up to 11th place.
McBeth now enters the final with a double-digit lead for the first time since the 2015 PDGA Professional Disc Golf World Championships in Pittsburgh. Though he could easily take his foot off the gas pedal — "I have such a cushion, I could do whatever I want, I think," he admitted — he's trying to improve on the 1058-rated final round he threw last year at the DeLaveaga Golf Course.
"I mean, I want to play well," McBeth said. "I'm averaging 1088 [for the tournament] right now. Why not bump that up to the 90s?"
Wysocki, meanwhile, all but admitted that he will be playing for second place, as the golf course doesn't present as many drastic scoring opportunities as its less refined older brother.
"I never really want to tell myself I'm completely out of it," Wysocki said. "I'm still gonna play aggressive and I'm still gonna play as if I was within a handful of strokes. My gameplan's not gonna change, I'm still gonna be aggressive, [but] I'm not gonna be overly aggressive. Thirteen strokes — it's pretty unrealistic."
Koling agreed with that assessment, but also said his goal is never to go into a tournament or a round thinking that he has to win. He's just focused on playing the best he can, and he's also breathing a sigh of relief as the event moves to the golf course's more friendly confines.
"We just came from two consecutive days of basically throwing a shot, and then once it's out of your hand you're like, 'Please, please, just do what it's supposed to do,' to tomorrow where you can actually throw the disc and be a little bit — I don't want to say carefree, but you get to watch the disc fly, and that's great," Koling said. "You get to actually appreciate the full flight of a full shot without worrying that it's gonna hit something you just can't see, or clip and roll…So it's nice to have a little bit of the noose loosened around the neck."
Both Koling and McBeth praised tournament organizers for making alterations to the golf course layout this year and were looking forward to ending the event on a high note.
"I was really pleased with the way they designed it last year, and they made some changes this year and made it even better, in my opinion," Koling said. "I'm really happy to be going over there any playing a completely different style of golf. I really like this event now more than ever, having those two different, contrasting styles of disc golf in the same event."
Wysocki also complimented Watson, a 983-rated professional who has averaged 1040 golf throughout the event.
"Clearly he's got skill, he's got game," Wysocki said. "It's cool to see a new player at the top. Usually it's pretty similar lead groups and stuff, so it's really cool to see him pull it through and have another good round today…It's cool to see him not get too nervous and continue to play well."
The lead card tees off at 2:00 p.m. Pacific time, with real-time scoring and highlights available on PDGA Live.