Record-breaking round puts him up by seven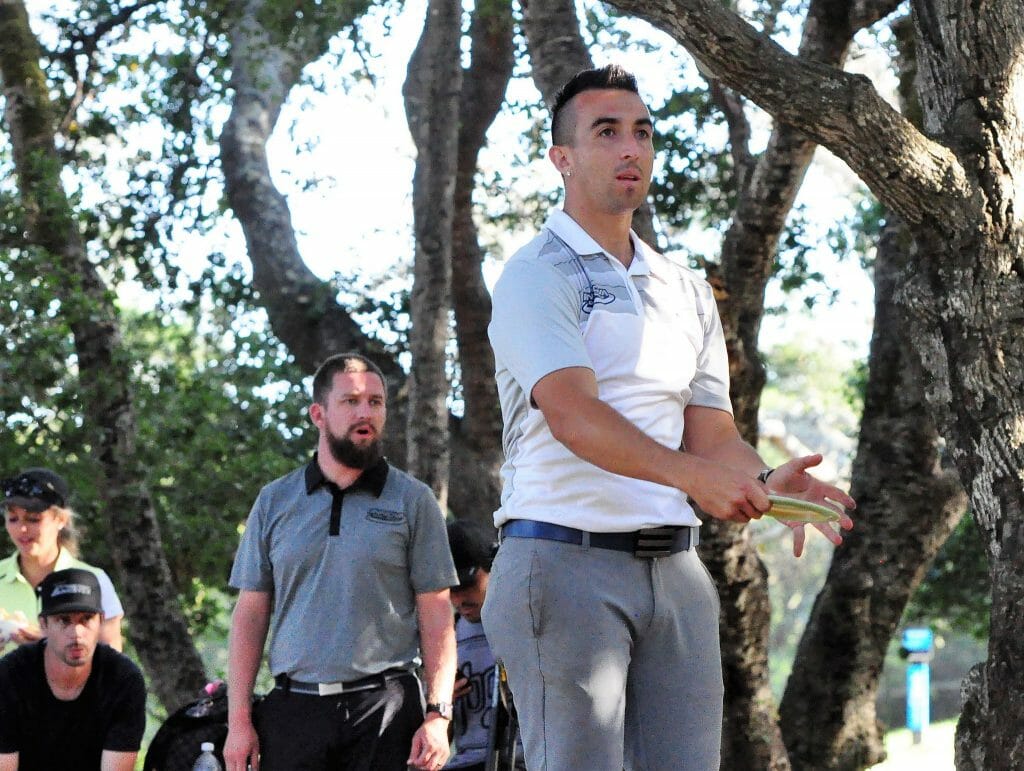 We're running out of superlatives to describe Paul McBeth.
The four-time PDGA World Champion posted a gem during yesterday's opening round of the Masters Cup with a historic 15-under par 57 on the hallowed grounds of DeLaveaga. The course record-breaking performance is currently rated at 1104 and shattered the previous best round at the event, a distinction McBeth held with his 1085-rated third round at the 2012 Masters Cup. It's the second 1100-rated round of the 2017 season — Ricky Wysocki logged an 1104 at the Aussie Open — and the fourth of McBeth's career.
The four-time Masters Cup Champion now holds a seven-shot lead at the event, as Northern California pro Christopher Watson tossed an 8-under par 64 to end the round in second place. Manabu Kajiyama and Nate Doss both threw 7-under par 65s to tie for third place and land on today's lead card, while six players — including defending Masters Cup Champion Wysocki and Josh Anthon, in his first National Tour event back after a prison sentence — are tied for fifth place with 6-under par 66s.
Despite the tremendous showing, McBeth wasn't allowing himself to get too excited about the heroic feat.
"I know, but it's just the first round," he demurred.
Still, it was a first round that featured a whopping 17 birdies out of this PDGA National Tour event's 24-hole layout. After not carding his first one until hole 3 and then giving it back with a bogey on 4, McBeth caught fire through the course's midsection. He went on runs of six straight and four straight birdies, peppering in six putts from outside the 10-meter circle with a combination of jump putts and long shots from both his standard and straddle stances.
"It was a mixture of everything going well," McBeth said. "Then I had two 4s in there, so it's not like I played the whole round great. I had some shakes early in the round, but other than that pretty smooth. Drive, putt, drive, putt."
The round came on the heels of a Konopiste Open final in which McBeth entered with the lead and left the Czech Republic as the runner up. Determined to put that showing behind him, he said he came to Santa Cruz with a slightly unorthodox mindset.
"To be honest, it's playing this week with the confidence of I just won a tournament, even though I know I didn't, obviously, and I didn't play that well," McBeth said. "But the round before that — when I shot 15 under at Konopiste — it was all confidence. And then going into the final round a lot of things happened. It was disappointing, but I knew it wasn't me. I knew that that's not my game and it wasn't normal."
What has become normal, though, is the routine effort with which McBeth vanquishes the DeLaveaga course. He said he attributes his continued success there to his ability to control the landing speed and angle of his discs, which comes in handy on the track's tumultuous terrain.
"And then on top of that, putting confidence," McBeth said. "With the cliffs behind [the baskets] or the drop offs behind them, it's such a course that you need a lot of confidence on."
Further down the leaderboard, McBeth's scorcher has left many top names in a deep hole. Peter McBride, Austin Turner, and Kyle Crabtree are all tied for 11th place after their 5-under par 67s, while Nate Sexton and Nikko Locastro are tied for 14th place with 4-under par 68s. Philo Brathwaite is in a 17th place logjam after his 3-under par 69, while Jeremy Koling's 2-under par 70 finds him in a four-way tie for 23rd.
McBeth said he is now looking to add to his lead with another day of double digits under par. He'll aim for that goal while battling some poison oak on his legs that he got from the DeLaveaga Golf Course — "I was wearing pants every day," he said — and with a chasing pack that will need to make big moves to close the gap. And while he has his ankles wrapped to keep the poison oak under control, he didn't seem to mind the target on his back.
"I feel like it's always there," McBeth said. "So I wouldn't say it's any different than before."
The lead card tees off for round two at 1:10 p.m. Pacific time, with live scoring and updates available on PDGA Live.