How to sort through the mess and make sure your lineup doesn't get "DeLa'd"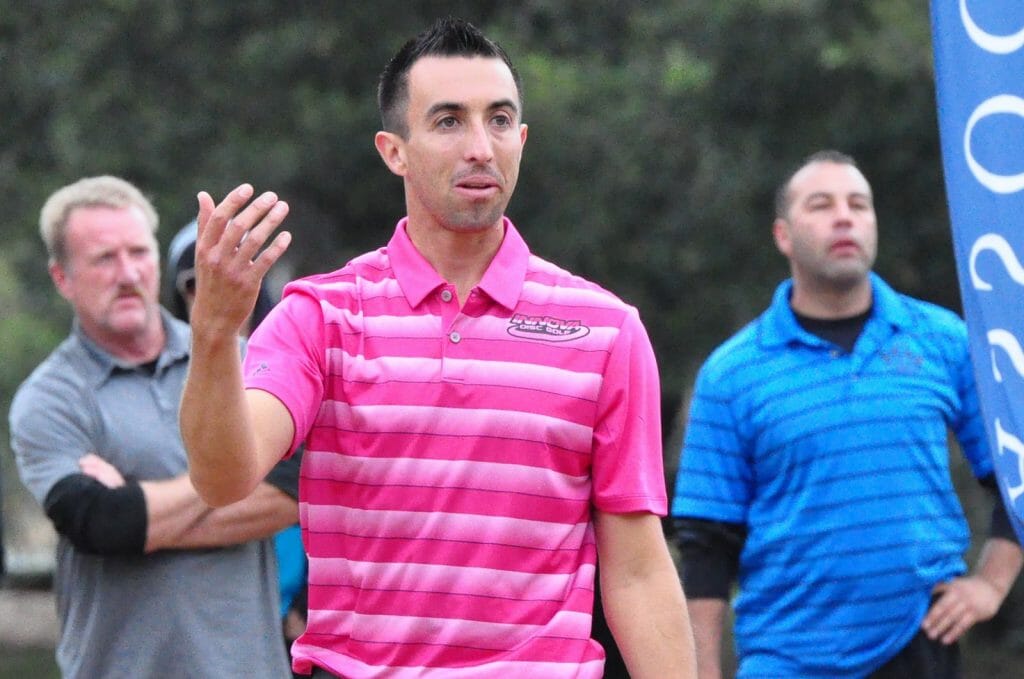 Come join our fantasy disc golf league at SkipAce.com and play against Ricky Wysocki and Paul Ulibarri! Need to sign up? Click here for more details.
Masters Cup Outlook
When you're constructing a fantasy lineup, typically you will want to choose players based on two criteria: 1) how well a player has placed in the event or at the course in the past, and 2) how well a player has been playing lately, especially in events of similar size and scale. Given that the Masters Cup is a National Tour event, it shouldn't be that hard to build a lineup of players who fit at least one — if not both — of those criteria and fall within the constraints of the ratings caps, right?
Well, first let's look at the first of the two criteria presented above. Of all the players who finished in the top 10 at last year's Masters Cup, only four are even registered for this year's event, and two of them are Paul McBeth and Ricky Wysocki — who, of course, will both be at the top of everyone's lineups anyway. Peter McBride and Jeremy Koling are the two others (indications on this week's Smashboxx podcast are that Steve Rico, who is currently registered, may not actually be playing).
Maybe the second criteria can ease the decision making process? McBeth and Wysocki are both playing great, but we knew that already. Looking at everyone else in the field rated over 1020 doesn't necessarily inspire much fantasy confidence, at least in terms of solidly checking off either of the two criteria.
Nate Sexton has been his usual consistent self all season, but in the last five years of the Masters Cup as a National Tour stop, he's only finished inside the top 10 once — way back in 2012. From one Nate to another, Nate Doss is often a favorite for success at the Masters Cup, but he hasn't been touring much this season and struggled on the DeLaveaga Golf Course, which again hosts the final round this year, in 2016.
Nikko Locastro has had success in Santa Cruz before — and has had moments of brilliance to this point in 2017 — but is coming off a 28th place finish at the last National Tour stop, the Glass Blown Open. Philo Brathwaite is in the same boat: some past success at the Masters Cup, but he's finished outside the top 20 at times this season.
Manabu Kajiyama, Kyle Crabtree, and Josh Anthon are all intriguing choices, but there's no good way to spin them to fit either criteria. Kajiyama last played in the Masters Cup in 2008, ending with a respectable 15th place finish, and he played great at the Aussie Open earlier this year. But what are the chances he can duplicate that performance with a deeper field here?
For Crabtree, there's no question he can put excellent rounds together — he's one on a short list of players to throw a round rated over 1065 this season — but he doesn't play larger events all that often. And for Anthon — with the exception of one event two months ago — it's literally been years since he played in a field this deep. Besides, both of their player ratings are so high it's difficult to justify the price when you still have to pick at least one of the top women and not punt your fourth men's pick into the depths after choosing between McBeth and Wysocki.
The question of what to do with your second and third men's spots with so many unknowns in the 1020 to 1040 range — where you would typically look to fill these spots — is not an easy one with so many question marks littering the field.
Lineup Building Strategies
1) Avoid the Mess
We exhausted the fantasy conundrum that the Masters Cup presents up above, so what are the alternatives to wading through that mess of questions? Just pick both McBeth and Wysocki and choose from the list of players who fulfill at least one of criteria we detailed in the introduction. Since you can easily figure one out for the 6,025-point leagues, here is one option for the more challenging 6,000-point leagues:
McBeth/Wysocki/McBride/Oakley/or/Risley/Pierce/Bjerkaas — Total: 5,996
Koling and McBride both work in terms of their success at last year's Masters Cup and experience at DeLaveaga. Oakley and Risley have both put together enough quality tournament performances in 2017 to be played with confidence. Bjerkaas finished fourth at last year's Masters Cup.
You can get out of this one without having to escape down a garbage chute.
2) 931 in the 831
With play going on in the 831 area code this weekend, you only need 100 more ratings points to get two quality women's players who can help anchor your lineup and save some valuable lineup coin. Hannah Leatherman comes off her Glass Blown Open victory and has six other wins on the season. Jennifer Allen, meanwhile, can smash, and if she can handle the woods of DeLa the first two days will be well-positioned to capitalize at the golf course on Sunday.
Optimal Lineups
6,000-Point Leagues
| Steve's Picks | | Alex's Picks | | |
| --- | --- | --- | --- | --- |
| Player | Rating | Player | Rating | |
| Paul McBeth | 1052 | Paul McBeth | 1052 | |
| Ricky Wysocki | 1051 | Jeremy Koling | 1025 | |
| Philo Brathwaite | 1023 | Scott Withers | 1020 | |
| Austin Turner | 1012 | Peter McBride | 1017 | |
| Hannah Leatherman | 931 | Paige Pierce | 966 | |
| Jennifer Allen | 931 | Melodie Bailey | 921 | |
| Total | 6,000 | Total | 5,999 | |
6,025-Point Leagues
| Steve's Picks | | Alex's Picks | | |
| --- | --- | --- | --- | --- |
| Player | Rating | Player | Rating | |
| Paul McBeth | 1052 | Paul McBeth | 1052 | |
| Ricky Wysocki | 1051 | Ricky Wysocki | 1051 | |
| Philo Brathwaite | 1023 | Jeremy Koling | 1025 | |
| Dustin Keegan | 1015 | Peter McBride | 1017 | |
| Paige Pierce | 966 | Paige Pierce | 966 | |
| Paige Bjerkaas | 915 | Paige Bjerkaas | 915 | |
| Total | 6,022 | Total | 6,024 | |
Value Plays
Scott Withers (1020) – Withers finished in the top 20 at the first National Tour event of the season, but more importantly ended up 12th at last year's Masters Cup after a 1051-rated round on the DeLa Golf Course.
Dustin Keegan (1015) – Keegan has logged top 5 finishes at his last three events and took ninth place at last year's MC. He's not overly flashy, but he has sneaky distance and was on the lead card for round 2 last year.
Deep Sleepers
Ray Johnson (1008) – Johnson knows his way around DeLaveaga, having finished 12th last year, and could be a good choice in the fourth men's spot.
Mike Sale (996) – Don't let the sub-1000 rating and relative lack of exposure fool you: Sale can sling it. He's notched top 20 performances in relatively deep fields around Californina, and he holds two disc golf endurance records. He should be someone to keep an eye on this weekend.
Nicole Bradley (930) – A Tahoe-area pro, Bradley thrives on wooded tracks. And while she finished outside the top 10 at the Gentlemen's Club Challenge – which was heavy on golf courses – she tied for fourth place at last year's Masters Cup by tying for the fourth best score on the DeLaveaga Golf Course.
Shy Away From
Steve Rico (1018) – Though he's performed well at the Masters Cup in the past, word on Smashboxx this week was he might be out of the event. Even if he plays, his finishes this year have been inconsistent.
Final Thoughts
It looks to be a rather tricky weekend after the somewhat bland choices we had for the Konopiště Open. But that's one of the fun challenges of fantasy disc golf that we're finding: Every week is a little different. Good luck out there, and just make sure you have a plan for getting out.