The Disc Golf World Tour returns to the Czech Republic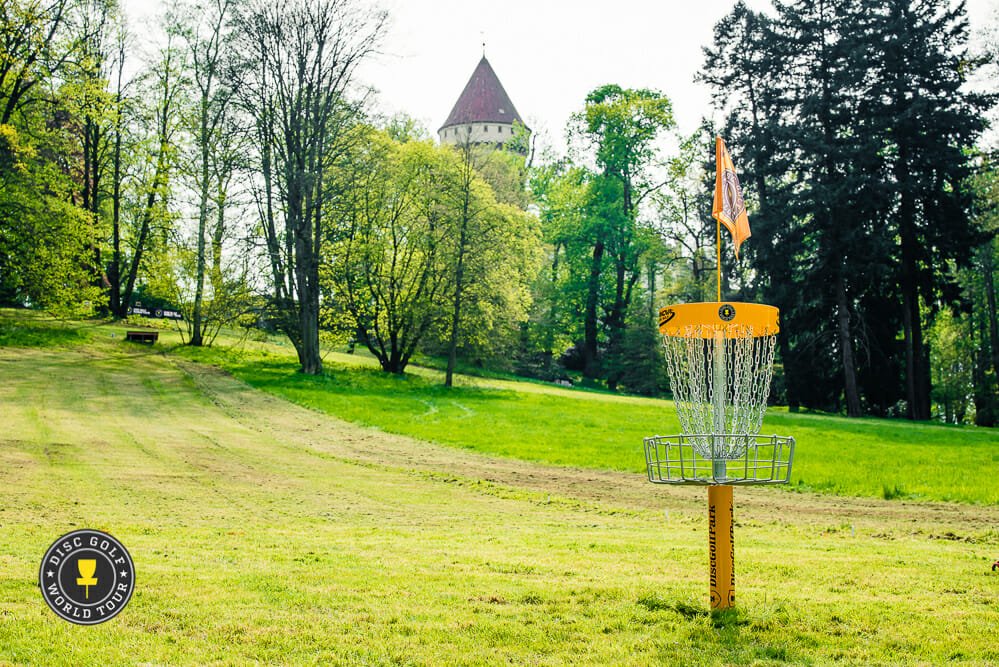 After a three-month hibernation, the Disc Golf World Tour is back at the scene of the series' most exciting 2016 finish: the Konopiště Open in Benesov, Czech Republic. With three rounds running from Friday through Sunday, this PDGA A-Tier finds some of the United States' best players and Europe's top pros colliding on a media-rich stage.
Storylines
The manicured fairways. The wooded rough. That castle. The Konopiště Castle Park Disc Golf Course is one of Europe's crown jewels, and six of the PDGA's top 10 rated players are set to tackle the track over three rounds this week. And with those players comes plenty of drama.
Flashback to last year: A three-way playoff between Simon Lizotte, K.J. Nybo, and Paul McBeth ended with a Lizotte victory, one of the finest of his young career. A late throw-in eagle highlighted his play, and there is no doubt McBeth — who went 7-down through the front nine of the final round last year — and Nybo are looking to make up for their shortcomings. With Nybo playing at his highest career rating since 2014 — and coming off a win in Denmark that saw him post a stunning 1080-rated final nine — he's a strong bet for his fourth top 5 finish on the World Tour.
Looking to stop that trio, though, will be two Konopiště newcomers in Eagle McMahon and Ricky Wysocki. Though McMahon is coming off a season-worst 36th place finish at the Glass Blown Open, his last foray on the DGWT stage at the Aussie Open proved to be one of the best performances of the season as he averaged better than 1060 golf through the event. With a course that rewards power, there is no doubt he will contend. Wysocki, meanwhile, likely comes in with a chip on his shoulder after the GBO was cut short by severe weather. And given that Wysocki won the Aussie Open (which came after the truncated 2016 United States Disc Golf Championship) and the Texas State Disc Golf Championship (the first event after the shortened Nick Hyde Memorial), we've seen what he's capable of when he's had time to stew on what could have been. Add to that a course that plays to his forehand, and it's game on.
All of this, and we haven't even touched on Nate Sexton — who was two shots away from victory at the GBO and came in fifth at last year's Konopiště Open — and the bevy of strong European contenders taking the course. With names like Seppo Paju, Leo Piironen, and Juho Parviainen giving chase — plus strong female pros in Eveliina Salonen, Katka Bodova, and ace-hunting Kristin Tattar — and we're in for an exciting weekend of top notch golf.
Venue and Courses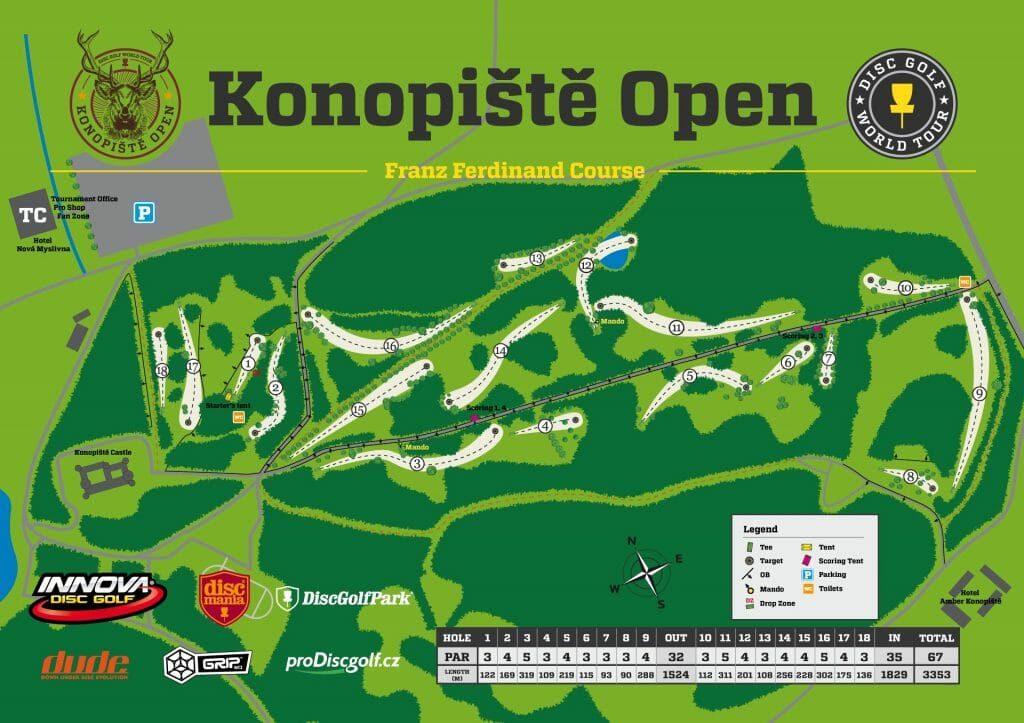 Franz Ferdinand Course in Konopiště Castle Park (All three rounds): Par 67, 11,013 feet – The long, picturesque Franz Ferdinand course that plays through the hills south of Prague will host all three rounds of the fifth Konopiště Open. It's the second year in a row that the event is a PDGA A-Tier and part of the Disc Golf World Tour.
The course features three par 5s and seven par 4s, spanning tree lined fairways and elevation change on nearly every hole. Of the par 5s, the 1020-foot hole 11 is the most eagleable on the course. At last year's event, the hole was eagled seven times.
Perhaps the toughest stretch on the course comes on the back nine. Holes 14 through 16—a stretch with two par 4s and a par 5—total 2,578 feet. Each hole tests different skills off the tee.
On 14, players have to throw a big hyzer around a corner to set up an approach to the green for a birdie look. The fairway on 15 slopes right to left, forcing players to pay attention the angle on which their disc is landing hundreds of feet away from the teepad.
Finally, hole 16's initial fairway forces a hard left to right tee shot around a corner guarded by tall trees and a thick grass rough. Making the corner with a clean lie for your second shot is paramount, specifically because accuracy and distance are necessary in order to progress down the narrowing fairway with a chance at birdie from here.
You can see how last year's final round lead card of Lizotte, McBeth, Nybo, and Sexton played those holes and the rest here.
Past Konopiště Open Winners
| | PDGA Tier | Open | Open Women |
| --- | --- | --- | --- |
| 2017 | A-Tier/World Tour | Ricky Wysocki | Vanessa Van Dyken |
| 2016 | A-Tier/World Tour | Simon Lizotte | N/A |
| 2015 | B-Tier | Karl-Johan Nybo | Natalie Hollokoi |
| 2014 | B-Tier | Lukas Jedicka | Katharina Gusenbauer |
| 2013 | C-Tier | Otfried Derschmidt | Wiltrud Derschmidt |
Extended Forecast
Friday: An upper level ridge will be in place across the region. This will mean more stable atmospheric conditions can be expected. With that being said, a few afternoon showers may be possible. Highs should top out around 20°C.
8:00: Mostly cloudy and 13°C. Light west wind.
14:00: Partly cloudy and 19°C. West wind around 8-15 kph.
Hole To Watch: Westerly wind could spell trouble for one of the two must-get holes on the course. Hole 10 may play directly into a headwind. A popular shot last year was a forehand hyzer or backhand anhyzer as players attacked the 112-meter left to right hole.
Saturday: As the ridge continues to build, Konopiště will be near the apex of the ridge. This means that temperature and moisture will be on the climb. This will lead to an influx of instability to the region. Partly cloudy skies may give way to isolated showers and thunderstorms in the heat of the day. Highs should be around 21°C.
8:00: Partly cloudy and 14°C. Light west wind.
14:00: Mostly cloudy with isolated storms possible. Temperatures around 20°C. Northwest wind around 15 kph with gusts as high as 20 kph.
Hole To Watch: With a bit stronger northwest winds in play during the afternoon, hole 16's upshot may be pretty tough. The 302-meter par 5 demands an accurate shot off the tee to ensure a clean upshot to the basket. That upshot may play right into a headwind, though, threatening a chance to turn the disc over into the rough on the right side of the fairway.
Sunday: A trough will begin to move west of the region. This will lead to support in the upper levels for a bit more widespread rainfall. Instability will also be greatest at this time, so thunderstorms are definitely not out of the question. However, confidence in this part of the forecast is low. Highs will once again reach the low 20s.
8:00: Partly cloudy and 14°C. Calm wind.
14:00: Mostly cloudy with isolated storms possible. Temperatures around 21°C. West wind around 10 kph.
The wind will be a bit subdued on Sunday. However, the bigger story might be the potential for afternoon thunderstorms. Again, confidence is lacking in this aspect of the forecast. However, another cancellation might be in the back of players' minds.
How To Follow
Jomez Productions is on hand in the Czech Republic filming each of the Open lead cards, and their footage will be released on The SpinTV channel. Additionally, edited feature card and final round footage of the Open Women's division will also be featured on The SpinTV, and live scoring and statistics can be tracked at the Disc Golf World Tour website when the event begins Friday at 8 a.m. local time (here's a handy time zone converter, for those who want to stay on the ball). Follow along here at Ultiworld Disc Golf for updates and recaps from all three rounds.