Numerous options on the table as players, event organizers weigh in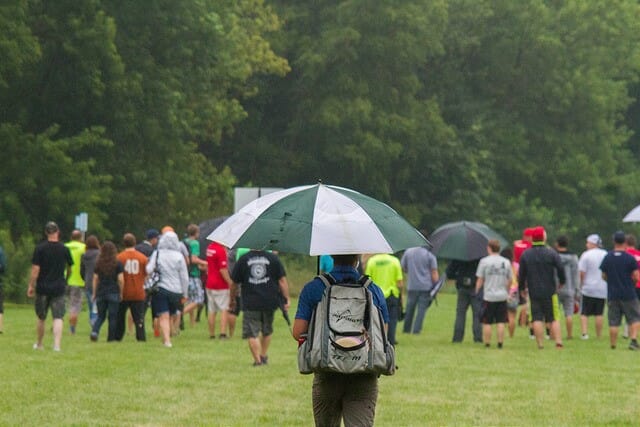 The PDGA Competition Committee is set to discuss the recent spate of weather-shortened tournaments on a conference call next week, committee chair Jay Reading said Tuesday, with a goal of putting a proper protocol in place that will allow tournament directors to address the issue.
Reading said the committee has been discussing an enhanced severe weather protocol since the final round of the United States Disc Golf Championship was canceled in October 2016, but that the conversation has been "expedited" in the wake of additional cancellations at the Nick Hyde Memorial and the Dynamic Discs Glass Blown Open.
An emphasis of the committee will be to give tournament directors "options" for handling severe weather.
"One of the PDGA's things that it's done over the years — and this is the board of directors — they've wanted to give the tournament directors the ability run their events how they see fit, which is the way to go," Reading said. "Now that there's more money involved, there's more time involved, the courses are longer and more involved — the sport has progressed. Yep, it's absolutely time to take a look at these."
'A Squeaky Wheel'
The current iteration of the PDGA Competition Manual for Disc Golf Events allows for events to be considered complete after 18 or 36 holes depending on if they were initially scheduled for 54 or 72 holes, respectively. That means that all of the recent events that have been cut short have done so within PDGA guidelines, and Reading said he was pleased with how tournament directors placed safety above all else.
"The fact that we've got people who are really putting player safety in the forefront makes me happy," Reading said. "The outcomes, as far as a competition standard — no one's satisfied with that. Even the winners of those shared titles aren't happy with how they went down."
With the three cancellations coming in relatively quick succession, the idea of an enhanced protocol that might allow for play to be completed was welcomed with open arms by Disc Golf Pro Tour Director Steve Dodge.
"In some ways, it's good that it happened again at GBO so that it put the bee in the bonnet," Dodge said. "It made this a squeaky wheel, and once you resolve it, then you're good to go and you know how you're going to proceed. As a sport, we don't yet know what that is."
Indeed, the options on the table are about as varied as the opinions surrounding them. Reading said he has heard numerous ideas — adding extra days to events, cutting field sizes, and adding tiebreakers were all on the list — but could not offer specifics about the committee's direction before its meeting.
"I don't think there's gonna be a 'one size fits all' [solution] because all the courses are different, all the storms are different," Reading said. "There are so many different things in here."
In that vein, players and other stakeholders in the game all see multiple ways to address the issue. Paul McBeth, who won both the shortened Nick Hyde Memorial and Glass Blown Open, said he expected the weather to continue to be a factor given that disc golf is an outdoor sport. He was hesitant to say that a different protocol was needed, but did say that the amount of players at an event can sometimes be a drawback.
"If you're gonna have your tournament in this time frame, with the potential of bad weather, you're probably gonna have to cut down your field sizes," McBeth said. "Have some open time and some open slots."
Reading, speaking as a 20-year veteran of the game, also mentioned how field sizes have grown along with the sport. As disc golf has evolved and more people have turned to competitive play, tournament directors have found additional ways to include more players, which leaves little wiggle room when severe weather hits.
"The tournament directors are trying to accommodate their constituents and their participants," Reading said. "…Obviously what we've seen in these other two events [Nick Hyde and GBO] is when you cram the course from sun-up to sundown with tee times, any more than one or two delays, then people are going to have to make decisions."
One fix to that problem could involve scrapping tee times in favor of shotgun starts. A.J. Risley, who tied for 28th place at the GBO and is the assistant tournament director at a Southern California B-Tier this weekend, said it might be the best way to complete an event, even if it took away from some of the pomp and circumstance that accompanies tee times.
"Obviously the tournaments choose to go by tee times for a reason, because they either have a really good finishing hole or they like the drama and suspense of everyone knowing where they're at, so you have that excitement going into it," Risley said. "But I feel like switching to a shotgun start would be a good solution."
Paige Pierce, who tied for first place at the Glass Blown Open and was one shot out of first at the Nick Hyde Memorial, said she would like to see cuts to the field — or even the number of holes played — addressed in relation to how long delays persist.
"Option A — if there's a rain delay between 30 minutes and two hours, do Option A," Pierce said. "Option B is for any time that's a two-hour delay to three-hour delay. Option C – and you know, Option A can be just delay, Option B can be cut the field, Option C can be cut the course because you only have to have 14 holes."
Pierce's position at these truncated events, meanwhile, was at the forefront of Reading's mind as an issue for the committee to address sooner than later.
"The real disturbing occurrence has been the ties, and I think everybody knows that," Reading said.
Which Tiers Apply?
An integral component of any changes to the PDGA Competition Manual will likely have to address the governing body's sanctioning tiers and which levels will be covered by any new procedures. And that's where opinions diverge even more sharply.
2016 PDGA World Champion Ricky Wysocki has been in third place or better — and no more than five shots out of the lead — at each of the weather-marred tournaments of the last seven months. He said his desire to see tournaments played to completion trumps all, and that he thinks A-Tier events and higher should be subject to any new standards.
"There's no other sport that, first of all, ends in a tie," Wysocki said. "You don't tie for first — that's not even a thing…You either win or you lose. There's no co-leader, co-whatever they're calling it."
Pierce and PDGA Events Manager Mike Downes were also among those who suggested that A-Tiers and higher be evaluated for new weather protocols, but Nate Sexton, who came in second place at the GBO — a mere two shots behind McBeth after two rounds — took a different line on the situation. He said that any additional protocols should be reserved for only the most prestigious events in the sport.
"I think this is a freak thing and hopefully it doesn't happen again, and the only tournaments that need to have contingency plans are USDGC and the Worlds," Sexton said.
Further complicating the issue is the emergence of the Disc Golf Pro Tour and Disc Golf World Tour, both of which offer a variety of sanctioning levels but ultimately aim to be upper echelon events, both from a financial and media perspective. Dodge said that he anticipated the Pro Tour would roll out a severe weather procedure in time for the Utah Open on June 1 and that "hopefully it will align" with anything the PDGA develops in the interim. He also said he would like Pro Tour and World Tour events included among any that are subject to new procedures, regardless of their PDGA sanctioning level.
"At this point, I do think that it is important that a policy be developed," Dodge said. "And it is important that people who play in premier events — which is my catch-all — in premier events know how severe weather or severe weather delays are going to be handled."
The Extra Day Dilemma
A suggestion that Downes has heard is also one that has been popular in conversation since the USDGC was canceled: adding an extra day on to tournaments in case of severe weather. So, using the GBO as an example, players would know in advance that the event was scheduled for Thursday through Saturday, with Sunday used on an "if needed" basis. Downes suggested a scenario where players could check a box on registration forms indicating their willingness to participate.
Wysocki, for his part, endorsed a similar plan.
"It's [about] finishing the tournament — that's the only possibility," Wysocki said. "Protocol has to include finishing the tournament no matter what. So that way, if you're planning on a tournament, you know you could be playing on Sunday or Monday, so don't book your flight out."
It's a system similar to ball golf, but one that many stakeholders said disc golf was not yet prepared to handle.
"Boy, that's the question," Glass Blown Open Tournament Director Doug Bjerkaas said. "Is it the cart before the horse, the horse before the cart? The chicken before the egg, the egg before the chicken? I don't think that it makes sense right now…For the professional part of our sport, I don't know if it makes sense to require our players — who several of them are going from weekend to weekend, check to check, it's a grind — for them to actually require them to plan an extra day that potentially could be a day where they could not gain revenue."
USDGC Event Director Jonathan Poole shared Bjerkaas' sentiments and highlighted the difficulty an international player like K.J. Nybo might have with the arrangement.
"Let's say he's in the top 20 on Saturday and — even if he did stay and played the best round of his life, it would probably put him in a situation to where he would have no choice but to lose money just to be able to do it," Poole said.
Still, there are players who would make the sacrifice. Eric Oakley, who finished one stroke above last cash at the GBO, said adding an extra day could be feasible if players got used to it — and if that extra day were used to somehow sweeten the pot.
"We're not there yet, but if people know to schedule their travel plans around it, then it's fine and we do so," Oakley said. "What it can be is now you start to run events on that Sunday if we don't use them. You use that for a doubles round, or distance competitions, putting competitions. You find ways to make it so if the weather is good you still make use of that day so the players don't feel stranded."
Reading, though he expressed hesitation that the sport was ready for such a move, was amenable to the suggestion of only the most high-profile events building in the extra day.
"To me, I think we're gonna have to come up with some better ways to, say, break ties, because that is too much financial burden for players these days," Reading said. "Majors I would think could be in consideration for something like that, but personally I think that's as far as we go."
Sexton, meanwhile, highlighted the significance of winning a Major as reason to consider the extended schedule for those events as opposed to anything at a lower sanctioning level.
"Being Glass Blown Open Champion, that's cool, but that doesn't mean anything," Sexton said. "No one [outside the sport] understands what that means. Only the U.S. Champion and the World Champion have a title that actually, like, goes on a disc and changes your life."
Still, there are other factors that come into play that might not make adding an extra day to an event an easy reality. Poole mentioned that the USDGC would have to consider the fact that it takes place on a university campus when addressing the need for enhanced scheduling, while Bjerkaas said there are scores of volunteers who pitch-in at the GBO who would need to alter their schedules.
"We had close to 100 volunteers work this tournament," Bjerkaas said. "We had course TDs coming in from Canada, Pennsylvania, Texas, Florida, Colorado — I'm sure I missed some states. But we had folks who came in to work this event, and they're not getting paid…The challenge there is if there is a rain out and we need to come back Sunday and we need eight spotters on six different courses, should I as a tournament director — do I need to make sure that I have volunteers who are gonna give up their time for free to do that type of stuff?"
Poole said that, regardless of the outcome, any new standards would need to be communicated to players and staff well in advance. He also noted the specific need for the PDGA to enact and enforce the standard. With so many tournaments largely funded by manufacturers — the GBO is produced by Dynamic Discs, while Poole's employer, Innova Discs, puts on the USDGC — he was concerned at the perception of impropriety that might accompany any decisions.
"We called it and that gave Jeremy [Koling], a Prodigy player, the win," Poole said. "Had no problem with that at all, but that should not have been my decision or Innova's decision."
Still, given a hypothetical in which the USDGC were again faced with inclement weather, Poole said he would likely make the same call he did in 2016. And he said that, if players knew that possibility of any round being canceled existed when they signed up — a possibility that is already covered by the Competition Manual — making that call would be fair.
"Your best bet is to know that, if for some reason we can't tee it up and we've gotta go to three rounds, you know that going in, so you better bring your A-game from the very first shot you throw," Poole said. "Which you should be doing anyway."