The Disc Golf Pro Tour's third stop should provide plenty of intrigue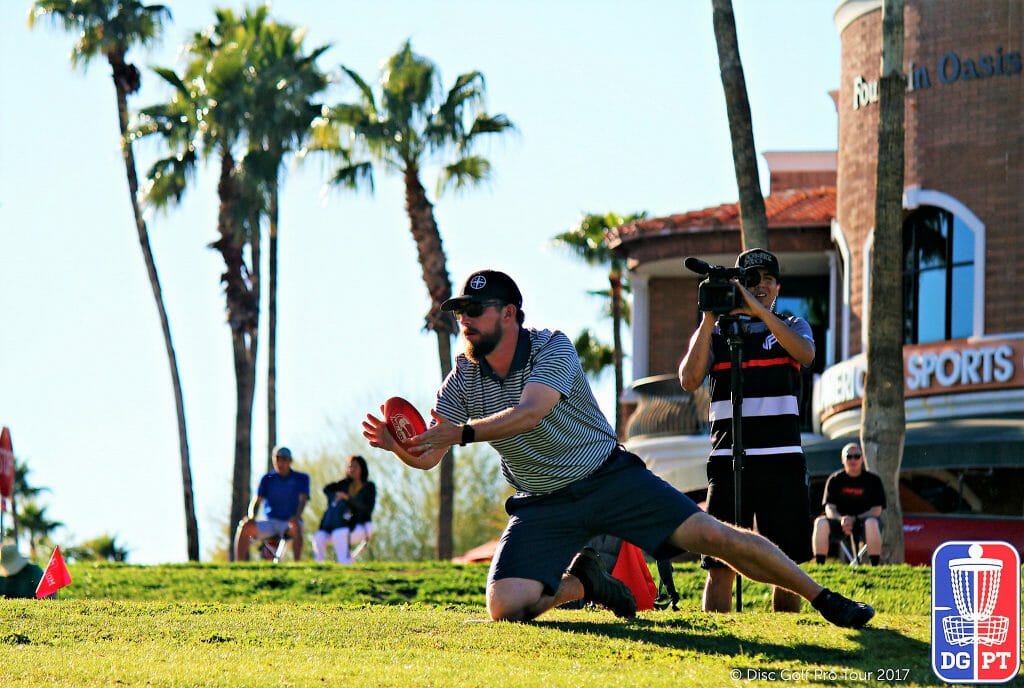 This weekend's Nick Hyde Memorial in Rockwall, Texas, marks the third stop of the Disc Golf Pro Tour's 10-event season. While there hasn't been much change in round one feature cards in prior tournaments due to fans voting for similar players, this time around we get to see some new faces to go with last year's winners of the event.
On the Open feature card, Simon Lizotte gets the nod as the 2016 champion, and he'll be joined by last week's Nick Hyde Memorial Men's Amateur Champion Alex Ferreira. Two-time PDGA World Champion Barry Schultz, who is making his DGPT debut, and Dallas-area professional Jesse Dalton round out the action.
Paige Pierce headlines the Open Women's feature card as the 2016 Nick Hyde Memorial winner and is joined by 2015 United States Women's Disc Golf Champion Hannah Leatherman. Completing the foursome are Texas professional Lisa Fajkus and Portland, Oregon, pro Melody Waibel.
Storylines
Everyone remembers Pierce's much-discussed, confident statements following her Memorial Championship win last month: She did not expect to lose this season unless she beat herself or the course did her in. Well, after winning six tournaments in a row to start the season, she was finally bested last weekend at the Open at Temple by Catrina Allen (no word yet on if it was Pierce or the course who aided in the defeat, though).
Pierce has a great opportunity to turn things again in a hurry. She's the two-time defending champion of the Nick Hyde Memorial, and whatever advantage playing close to home brings, this is as near as any large event gets to her stomping grounds of Plano.
While Pierce ran away with the win last year, Lizotte, Paul McBeth and Nate Sexton had to settle things in a playoff, and they provide plenty of intrigue again entering this weekend.
All three pros spent much of 2016 at the top of the leaderboard. And though Ricky Wysocki came away with many of the titles, Lizotte and McBeth were two on a short list outside of the PDGA World Champion to rack up some wins. Sexton, on the other hand, was unable to snag that elusive signature victory he's been hunting for almost two years now.
Still, there have been plenty of close calls for the fan favorite. At the 2016 Memorial Championship, Sexton led McBeth by one stroke heading into the final round. The two were locked in a duel to the finish, with Sexton coming up two strokes short. At last year's Nick Hyde, Sexton was in the lead through much of the back nine, only to be caught by Lizotte and McBeth on the final hole. He eventually took second to Lizotte after a one-hole playoff. Later in the season, Sexton again went into a playoff looking for the win, and this time it lasted six holes before he was outdone by Wysocki at The Majestic.
Going back to the end of 2015, Sexton led the United States Disc Golf Championship going into the final round before faltering to a fourth place finish. While he hasn't won a National Tour event, or a PDGA Major, the last A-Tier where he took the win was the 2015 Fort Steilacoom Open, and before that the Spike Hyzer Invitational in 2014. You have to go all the way back to 2011 for the next one: the Zoo Town Open in Missoula, Montana.
He's been on the cusp of a significant win on tour for a while now, but when you travel with a four-time world champion and only play in the largest scale events, that makes the big one harder to come by. His consistency and ability to play within himself — and to his strengths — will always keep him near the top, and one day, one would think, help him break through to come out on top. Perhaps he snags the win this weekend, and makes it a redemption story by putting last year's playoff loss in the rear view for good.
Venue and Course
Harry Myers Disc Golf Course (Friday, Saturday & Sunday): Par 63, 7,821 feet – All three rounds of the event will be played at Harry Myers Disc Golf Course, which sports a design by the esteemed John Houck. This is the third year in a row that the event has maintained PDGA A-Tier status and drawn a sizeable professional field from all across the U.S., and the first season it has been part of the DGPT.
The general course layout is not dissimilar from what we saw at the last DGPT stop in Waco. There are a number of longer par 4s and 5s, with par 3s accented with trees and fast greens to add some challenge. Two early holes, in particular, come replete with highlights.
Hole 3 is a 579-foot par 4 that is reachable for many of the top pros in the field, but only if they throw over all the trees on the right side of the fairway. Don't be surprised to see a handful of eagles there this weekend. Hole 4 plays as a par 5 at 882 feet, and has been described as one of the few truly challenging par 5s on tour by many players. Just like hole 3, the play off the tee on hole 4 is to throw a high anhyzer over everything before placing an upshot through the trees to the green.
Check out how players tackled those holes in our Tournament Throwback post, which spotlights last year's Open final round and playoff.
Past Nick Hyde Memorial Winners
| | Open | Open Women | | |
| --- | --- | --- | --- | --- |
| 2016 | Simon Lizotte | Paige Pierce | | |
| 2015 | Paul McBeth | Paige Pierce | | |
Extended Forecast
Friday: The Nick Hyde Memorial's opening day looks like a good one. Sunny skies are expected, with perhaps a few clouds possible in the afternoon. Southerly winds will likely increase throughout the day, starting around 10 mph in the morning to around 20 mph in the afternoon. Wind gusts up to 25 mph will be possible. Highs will top out around 83°.
7 a.m.: Sunny and 53°. Southeasterly wind speeds around 7 mph likely.
10 a.m.: Sunny and 63°. Southerly winds around 10 mph likely.
1 p.m.: Mostly sunny and 77°. Southerly winds around 15 mph likely.
4 p.m.: Mostly sunny and 83°. Southerly winds around 20 mph likely, gusting to 25 mph possible.
Hole to Watch: With southerly winds expected for the first day of the event, hole 10 may provide players with some trouble. Hole 10 is a 724 foot par 4 that demands an accurate shot off the tee to navigate a tight gap before opening up to a landing zone. With a headwind expected, don't expect to see many players taking the "Big Arm Route," which is basically just to throw a big anhyzer over everything.
Saturday: A tough forecast is in store for Saturday, as timing differences between weather models leads to decreased confidence. Some models say storms are possible, while others say storms will be more to the west of the region. If thunderstorms do form, they'll be in an environment conducive to severe weather development, especially in the late afternoon and early evening. As of now, thunderstorms shouldn't be an issue until maybe the evening hours. Outside of potential thunderstorms, partly cloudy skies can be expected, with south to southeasterly winds around 5 to 15 mph. Highs will be around 79°.
7 a.m.: Partly cloudy with temperatures around 60°. Southeasterly winds around 7 mph likely.
10 a.m.: Partly cloudy with temperatures around 67°. Southeasterly winds around 12 mph likely.
1 p.m.: Partly cloudy with a temperature around 75°. Southeasterly winds around 15 mph possible, with gusts up to 25 mph.
4 p.m.: Mostly cloudy and isolated storms with a temperature around 79°. Southeasterly winds around 15 mph possible, with gusts up to 25 mph.
Hole to Watch: Winds out of the southeast on Saturday means players will face a headwind on the already difficult hole 16. Hole 16 is a 990-foot par 5 that allows players to air out two shots before throwing their approach shots for the chance at a birdie 4. It will be interesting to see how much these players try to bite off in a headwind.
Sunday: Championship Sunday should bring the best chance for showers and thunderstorms. A cold front will be pushing through central and eastern Texas, bringing the potential for widespread showers and thunderstorms. This will limit highs to the low 70s, with shifting winds of 5 to 10 mph likely.
7 a.m.: Mostly cloudy with showers and storms possible. Temperatures will be around 62°. Southeast winds around 5 mph likely.
10 a.m.: Mostly cloudy with showers and storms possible. Temperatures will be around 67°. Easterly winds around 7 mph likely.
1 p.m.: Mostly cloudy with showers and storms possible. Temperatures will be around 70°. Northeasterly winds around 10 mph likely.
4 p.m.: Mostly cloudy with isolated showers possible. Temperatures will be around 72°. Northeasterly winds around 10 mph likely.
Hole to Watch: Although winds should be a bit subdued as the rain begins to fall, some wind could cause some trouble on hole 2. Hole 2 is a 579-foot par 4 that allows players the option of taking a wide hyzer or a shot up the middle. From the landing zone, it's a simple approach to the green.
It should be noted that wind forecasts do not take into account the local topography of Harry Myers Park. If there is quite a bit of elevation change some swirling of the wind is possible. However, given the prevailing wind direction, a good guess could be placed on holes that may see troublesome winds.
How To Follow
You can follow along with the live coverage on the Disc Golf Pro Tour YouTube channel at 5:00 p.m. EST for all three Open feature/lead card rounds, Friday through Sunday. SmashboxxTV will be producing the live coverage, and expect them to continue interspersing footage from the Open Women's feature and lead cards into the broadcast. Additionally, Jomez Productions will provide next-day post-production, with live scoring and statistics available via UDisc Live.