Sexton's missed putt in overtime leaves the door open; Hokom downs Allen for second consecutive Disc Golf Pro Tour victory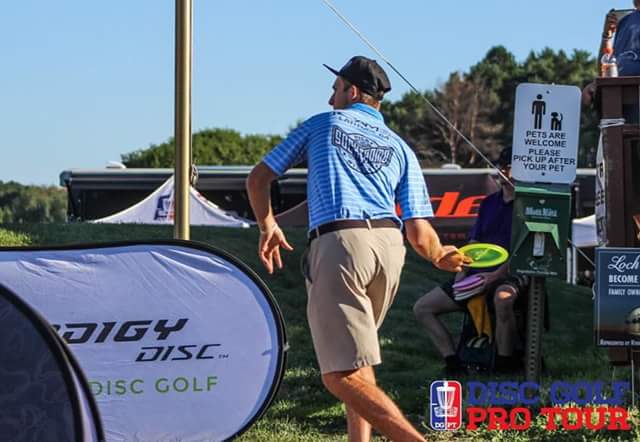 Through 66 holes of regulation play at The Majestic, Ricky Wysocki only led once: After Hole 14 of the final round, when he scored a birdie to Nate Sexton's par.
It took another 14 holes for Wysocki to recapture the lead again, but it was worth the wait, as he canned another signature long putt to outlast Sexton in a six hole playoff and walk away with his fourth consecutive victory.
The sudden death heroics brought Wysocki to a 41-under par 197 for the weekend to pocket $2,200, while Sexton's second place 40-under finish netted him $1,890. Nate Doss surged from the chase card with a 13-under par final round to tie Cale Leiviska for third place at 32-under, while Alex Geisinger – who proposed to his girlfriend in front of the gallery on Blue Ribbon Pines' last green – came in fifth overall at 30-under par.
In the Open Women's division, Catrina Allen came back from a six throw deficit to tie Sarah Hokom, but was assessed a two shot penalty due to incorrectly playing an out-of-bounds shot during Round Two. As a result, Hokom took home her second straight Disc Golf Pro Tour win.
For Wysocki, it was another strong performance that saw him buckle down at the end of regulation with three straight birdies to send the action to overtime. And with he and Sexton trading birdies for the first three extra holes – and the playoff being comprised of a repeating sequence of Holes 1 and 22 until the stalemate was settled – it looked as if spectators were in for a long night.
Then Wysocki sailed his drive left and out of bounds on the third go at the island green on 22, and Sexton was within 15 feet for what looked like an easy victory.
"I kind of thought I was done," Wysocki said. "…Honestly all I thought was if I made that putt I put the pressure on him to make his putt."
Wysocki did his job, converting for a penalty 3 on the scorecard, but Sexton was so close to the pin that it was a virtual certainty Wysocki's winning streak – which started last month at the Silver Cup and included victories in Estonia and Sweden – would come to an end.
Wysocki, however, wasn't so certain.
"As soon as I made it, I had kind of a weird feeling that [Sexton] was going to miss," Wysocki said. "I hate to say that, but it was something I feel like just naturally – I don't know what it was, I can't really explain it. After I made it I had a weird feeling that he was going to miss and the playoff was going to continue even before he putted."
Wysocki's feeling came to fruition, as Sexton clanged the potential winner low off the cage, eliciting strained groans from the gallery. It was an uncharacteristic break on a weekend in which he drained 92 percent of his putts from 30 feet and in.
"There's always things that can change, but you have the 15-footer for the outright win, you've got to make it," Sexton said. "But I unfortunately didn't make it so we went on for a few more holes."
Sexton said he had a similar close putt earlier in the round that spit out due to a headwind, which played into his mentality with the win on the line.
"I let that get in my head a little bit and I was thinking, like, 'You can't jam it too hard because the last one came right back out. Just put it in low, just get it over the rim,'" Sexton said. "I'm sure it was kind of herky jerky. I just let the moment get a little too big, I guess."
Wysocki, meanwhile, was left licking his chops.
"After he missed it, then I was really pumped," Wysocki said. "That's when I was really like, 'Alright, I've got another life,' and I wanted to take advantage of it."
Play continued, with the pair trudging back to play Hole 1 for a third time, where they both carded birdies. With Wysocki still first on the tee due to his strong finish in regulation, he drove first as the playoff continued on Hole 22. This time, instead of having his drive fade out to the left, Wysocki said he was overcompensating for the prior shot and yanked his drive too far right, which caused it to hit some trees and land out of bounds.
Looking at another opportunity to close Wysocki out, Sexton also went O.B., but his lie was significantly closer to the basket. As a result, Wysocki was first to putt from roughly 70 feet out.
"I thought it was going to be another push if I made it," Wysocki said. "I was thinking in my head, 'Alright, I have to hit this no matter what.' I have to count him as making it, so that's all I knew. I said, 'I've got to make this, or I'm going to lose.'"
And make it he did, drilling a line drive up over the moat surrounding the green and into the chains. The crowd erupted, Wysocki sprinted to the basket, and it looked like the marathon playoff would grow longer.
"I just convinced myself, and my last thought was positive before I made it," Wysocki said. "And that's what really triggered me to making it."
Sexton, though, still had a chance as he was looking at a 25-footer to keep his hopes alive. After a few signature flips of his putter, he tossed it to the right side of the target, where it kissed the chains, then bounced off the cage and to the ground. Wysocki was the winner.
Despite the disappointing finish, Sexton said he was satisfied with his tournament on the whole.
"There's a lot of places worse than second, for sure," Sexton said. "Frustrating way to do it, but overall clearly a positive weekend for me. Some crazy stuff happening, but it was fun. I'm glad I was here, I'm glad I got that experience to go toe-to-toe with Rick. It was fun."
He also praised Wysocki's continued performances in big moments, which has seen him win multiple tournaments this season on the final hole or in a playoff.
"He's got that awesome ability in the clutch, which is something that I'm still learning and working on, apparently," Sexton said. "I need to be able to step up and hit those shots, so I admire him for how well he's been able to perform in those do-or-die situations."
Wysocki heads into next week's PDGA Professional Disc Golf World Championships as the hottest player in the game. He's won 11 events this season and continues to lead the Disc Golf Pro Tour's points standings.
"There's always stuff to be cleaned up, but my momentum is so big with me," Wysocki said. "This is the moment I've been looking for all year. These tournaments I've been playing and winning is great, and obviously I'm pumped with my success this year, but I'm just looking forward to carrying this momentum into the one tournament I've really wanted to win my whole career."