Some new names on the big board this week!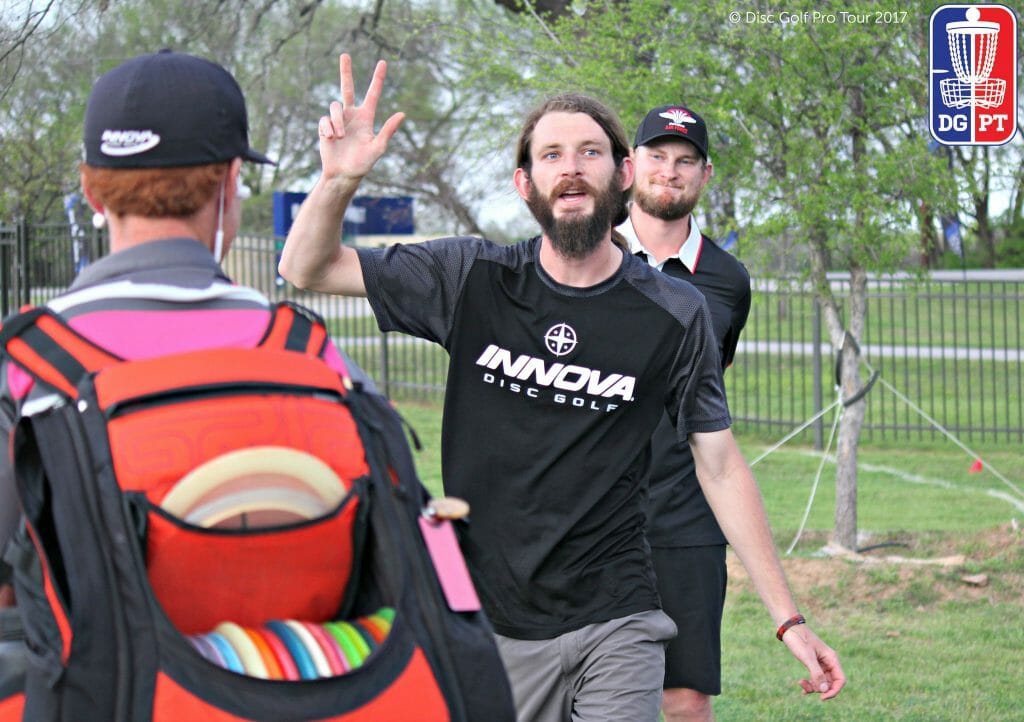 Last weekend's split in the field didn't do much to split the top of our Power Rankings list.
With Paul McBeth racking up another win, and Ricky Wysocki hanging close in Texas, those two stay put at the top. A couple other players also received a minor bump up the board, but the biggest movement was in the 10-20 range, where hot performances at the Waco Annual Charity Open brought some new names to the list. Additionally, let's give some love to a couple young guns: Chris Dickerson is absolutely smoking this first quarter of 2017 and will be a name to keep an eye on when he finally hits a bigger stage at the Nick Hyde Memorial next weekend. Additionally, Austin Turner continues to impress, taking third place out in Florida last week.
Like the men's side, the women's division lacks any big surprises this week, as well. There's a clear one-two punch, but after that it's anyone's game. Without further ado…
1) Paul McBeth took the Throw Down The Mountain V with a sterling 1077-rated final round.
2) Ricky Wysocki didn't lose more than two consecutive events last season, meaning he's due at the Nick Hyde Memorial.
3) A steady top 5 player last season, Nate Sexton is looking to make that a steady top 3.
4) Another strong putting performance by Simon Lizotte at the WACO was offset by accuracy woes off the tee. Once he gets his release angles dialed back in, he'll be more dangerous than he already is.
5) After finally putting together a consistent tournament, Jeremy Koling looked like the player he was late last season en route to the WACO win.
6) Eight penalty strokes caused Eagle McMahon to slip from a potential tie for third place at the WACO to a tie for 12th.
7) Cale Leiviska played below his rating this weekend at a one-day tournament in Wisconsin but still managed second place. We'll see how his status changes on the list as he plays smaller events before the Glass Blown Open.
8) James Conrad was a couple OB throws away from a huge win at the WACO, but his chase card surge on Saturday was still tremendously entertaining. Should be fun to see how he responds to the spotlight in the coming weeks.
9) Chris Dickerson now has seven wins in 2017. There have only been 11 weekends so far in 2017.
10) Dave Feldberg struggled as the WACO went on, and it'll be interesting to see if the early season crush of events results in continued fatigue as he continues his recovery from neck surgery.
11) JohnE McCray continues to hang with the young guns.
12) Austin Turner isn't going to have that 1010 rating much longer if he keeps tossing 1068 rounds. He's an easy early-season favorite for Rookie of the Year.
13) Come back, K.J. Nybo.
14) After putting well at the Memorial, Philo Brathwaite cooled off in Texas, coming in 52nd place in circle 1 putting percentage.
15) Devan Owens has rebounded from his 96th place finish at the Gentlemen's Club Challenge with 11th and 9th place finishes since.
16) Conrad wasn't the only one providing the fireworks from the chase card: Miles Seaborn tossed a 14-under round and vaulted into fifth place overall.
17) In addition to sharing fifth place at the WACO with Seaborn, Gregg Barsby also took the B-Tier Crush on the Concho the weekend before.
18) Drew Gibson has had a penchant for strong final rounds, but needs to start faster.
19) In his first event back after serving a prison sentence, Josh Anthon won the St. Patrick's Classic with 1047 golf over three rounds.
20) Nikko Locastro came out hot after a car accident caused him to be late for the WACO's first round, resulting in 16 penalty strokes. He finished one shot out of the cash, but still put on a show.
On the bubble: Dustin Keegan took sixth at the St. Patrick's Classic…Will Schusterick has quietly put together back-to-back top 20 showings…Nate Doss isn't playing as much, but we expect him back on the list as soon as he hits the course.
1) Paige Pierce is six for six on the season now, and four of her next five events are in her home state of Texas.
2) Sarah Hokom is the only one who has consistently pushed Pierce during her early season run.
3) Catrina Allen fought back for a top five 5 finish at the WACO, but is still figuring out how to get her game in order.
4) After a tough start to the WACO, Madison Walker fought her way back to fourth place with two 1-over par rounds.
5) Jessica Weese averaged 971 golf in a blowout win at the St. Patrick's Classic. That, combined with a 13-stroke win, moves her up this list.
6) Valarie Jenkins drops only because she did not play.
7) A third place finish at the WACO puts Texas local Stephanie Vincent in the top 10. If she'd been closer to the top two she might have been higher here.
8) Lisa Fajkus started out hot at the WACO, but dropped back as the event went on.
9) Jennifer Allen is currently playing right around her 924 rating, which is good enough to keep her on this list, but not enough to keep her moving up it.
10) Elaine King took the win at the Throw Down the Mountain by 15 strokes.
On the bubble: Hannah Leatherman should be a good bet to return to the top 10 after the Nick Hyde Memorial.