There's already a shuffle at the top!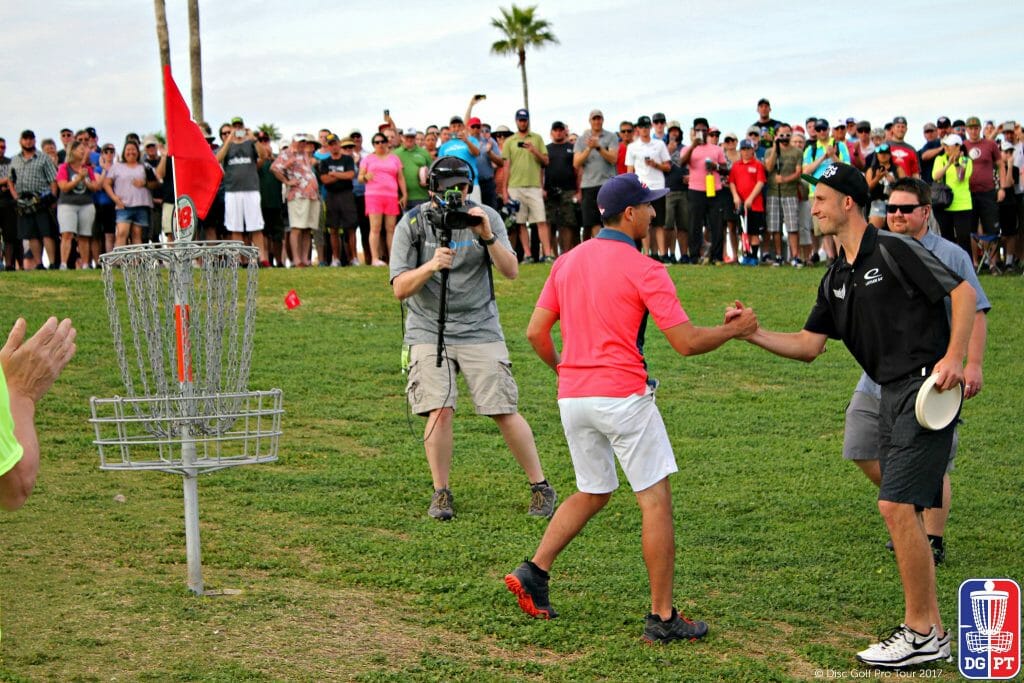 Boasting a deeper field than the prior week's Gentlemen's Club Challenge, the Memorial Championship treated us to some top notch golf and a return to form by a couple veterans.. As a result, we have some new entries to the big board: Simon Lizotte, who, admittedly, should have been on the list after his 16th place tie at GCC (but who we omitted due to some other players starting the season off stronger); and Dave Feldberg, who, in his first foray into the Open division since spinal fusion surgery, tied for third place at his de facto home track. Not bad. Not bad, at all.
The women's field also saw a longtime pro come out of hibernation and make a splash. Valarie Jenkins, in her first tournament playing for Discraft, steadily improved throughout the event, culminating in a 975-rated final round to move her into third place.
As for the rest of the list, we saw a shuffle at the top of the men's division and a new number two in women's. Think we've missed the mark on any of these? Sound off in the comments. We're always up for friendly debate.
1) Paul McBeth's round ratings going full straddle putt (one at GCC, three at Memorial): 1077, 1086, 1075, 1055.
2) A scorecard error doomed Ricky Wysocki at the Memorial — twice. How he rebounds at the coming Waco Annual Charity Open will be instructive.
3) Cale Leiviska has been one of the most steady players to start the season, but he won't be at another upper echelon event until the Glass Blown Open in April.
4) He may be number four in our rankings, but we'd rate Nate Sexton as number one when it comes to players as commentators.
5) Eagle McMahon cooled off after he started the Memorial with a 1067-rated round, but he was battling a head cold and a lacerated finger during the event.
6) Welcome back, Simon Lizotte. We're happy to have you here.
7) Same to Dave Feldberg, who makes his Power Rankings debut (he was already out last season when we debuted this feature).
8) Philo Brathwaite got the putter going at the Memorial en route to a tie for seventh place.
9) Let's take a moment to reflect on the fact that K.J. Nybo winters in Denmark, works a full-time job, and still comes out and performs at the top end of the field every year in Arizona.
10) Jeremy Koling's Memorial was similar to his GCC: flashes of brilliance (hello, 1075-rated final round), but still some inconsistency in his game (980 opening day, womp womp). Like McMahon, though, he was also nursing an injury to his throwing hand due to the recent dry conditions. What's the official moisturizer of the Pro Tour? Someone get on this.
11) Chris Dickerson won again last weekend with 1030 and 1041-rated rounds. We're anxiously awaiting his Pro Tour debut in three weeks.
12) JohnE McCray will join McBeth, Sexton, and Austin Turner as players on this list who will skip Waco in favor of the Throw Down The Mountain tournament next weekend in Brooksville, Florida.
13) Count Steve Brinster as another one of those guys who can show up at any big event.
14) Looks like Jalle Stoor is headed back overseas and won't play again until the Konopiste Open in May.
15) Dustin Keegan: T-19 in Vegas, T-12 in Arizona. Just a steady player.
16) Nate Doss' 12th place Memorial finish gets him on the list, but his schedule is pretty bare for the early part of the season.
17) Drew Gibson got hot late at the Memorial to climb into a 15th place tie. We'll see if he brings that momentum to Waco.
18) Bobby Musick stays on the list due to his NT showing, but likely won't last long as he heads back to California.
19) Devan Owens rebounded from a rough start at GCC and snuck into 11th place at the Memorial.
20) Austin Turner clings to the list after a T-21 in Arizona. We'll see how he fares at Throw Down The Mountain.
On the bubble: Paul Ulibarri struggled on his home track…Michael Johansen DNF'd over the weekend in Tennessee…Seppo Paju performed well at the Wintertime Open and took 18th at the Memorial, but that GCC skip keeps him off the list.
1) We absolutely would not be surprised if Paige Pierce's bold prediction comes true.
2) That said, it's early, and Sarah Hokom is playing with some fire.
3) Plus, Catrina Allen has been off her game. If she rounds back into form she'll also push for the top.
4) Valarie Jenkins out here proving the old "archer not the arrow" adage to be true.
5) Madison Walker was headed for a solid finish at the Memorial but had to drop due to illness. Nonetheless, that 1001-rated round keeps her well inside the top 10.
6) Jessica Weese played stronger in the middle rounds of the Memorial. With increased consistency, she'll be a strong contender.
7) Eveliina Salonen improved each round throughout the Memorial, but finished a few spots back of her GCC pace.
8) Historically a strong bet at the Memorial, Jennifer Allen struggled early and finished in 8th overall.
9) Lisa Fajkus topped out with a 973-rated second round at the Memorial, but struggled compared to her rating the rest of the way. As the tour heads to her home state of Texas, look for her to potentially make a move up the board.
10) Hannah Leatherman took last week off, but is still undefeated in 2017. She makes her Pro Tour debut this season at the Nick Hyde Memorial.
On the Bubble: Zoe Andkye and Vanessa Van Dyken tied for 9th place at the Memorial…Melody Waibel will be back on the scene at the Nick Hyde.