Let the games begin!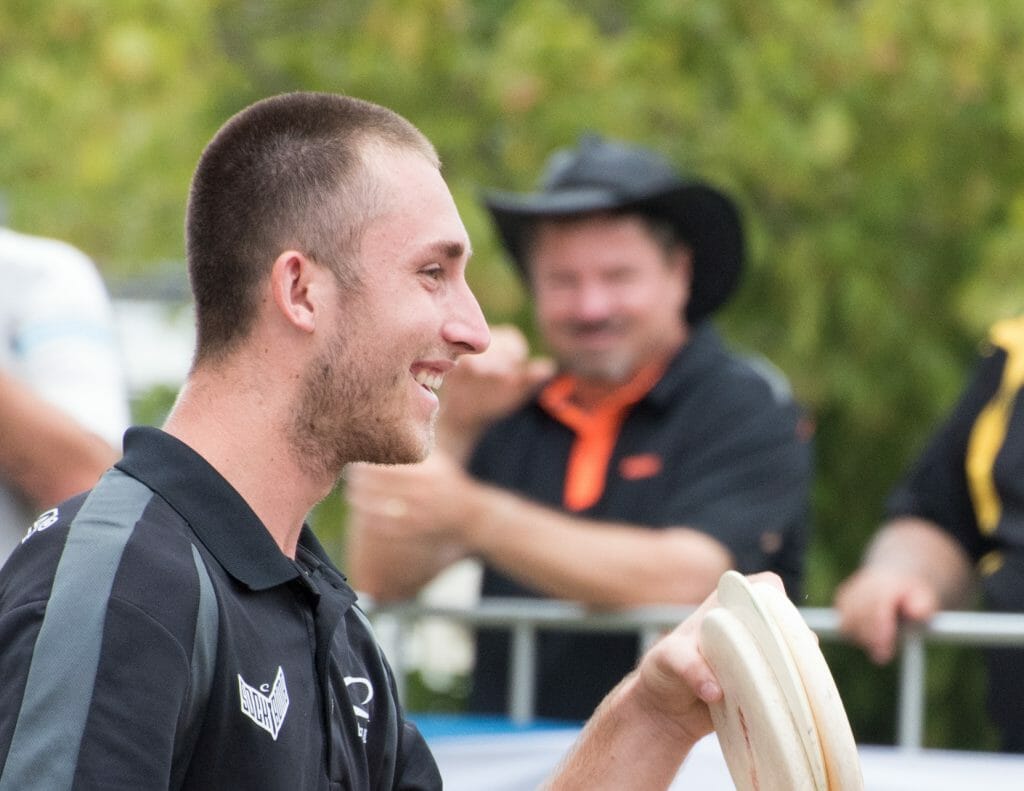 Our first Power Rankings of 2017 are here! We got a much better picture of where things stand after last weekend's Gentlemen's Club Challenge — it helped us settle the number two and three spots in the men's division, for example — but that wasn't the only tournament we took into account here. That's why you'll see a couple names on the list, like Chris Dickerson and Hannah Leatherman, who weren't in Vegas but have still had plenty of impact so far this season. We also used early season participation to settle ties
We'll be updating these rankings after every big event this season, so we'll be sure to see even more crystallization in some slots and big shake ups in others. Think we're way off or left someone out? Make your case in the comments!
1) Ricky Wysocki is the best player in the world. Duh.
2) His Wintertime Open win and a scorching GCC finish gave Paul McBeth the nod for number two.
3) That doesn't mean the spot couldn't have gone to Eagle McMahon, especially after leading for nearly all of the Aussie Open and rebounding well in Vegas.
4) Sure, it looks obvious to have JohnE McCray here, given his fourth place GCC finish. But he cemented his position with three other B-Tier wins so far this year. He loves the early season.
5) Fifth at the Fade Station Open. Fifth at the GCC. So, Cale Leiviska is fifth in the rankings. Easy.
6) Mr. Consistent, aka Nate Sexton, finished well in the desert and only loses a spot here because Leiviska has competed more early in 2017.
7) Would it be fair to say we hope Jalle has more in Stoor for this season? We'll see ourselves out.
8) Mark it down: Austin Turner has all the talent to be a top 5 player this season, especially as he learns the tricks of the road while touring with Jeremy Koling.
9) The smooth throwing Japanese champion Manabu Kajiyama followed up his fourth place Aussie Open finish with a third place at the New Zealand Disc Golf National Championship.
10) Southern California stalwart Bobby Musick gets a bump over Ulibarri here due to his third place finish at the Wintertime Open.
11) Paul Ulibarri battled through a knee injury all offseason, the re-aggravated it early at GCC. He rebounded, but his play tapered off toward the end of the tournament.
12) 2015 PDGA Rookie of the Year Chris Dickerson has played 11 of 16 rounds above his rating this year and has won five of the six events he's started.
13) After winning the New Zealand Championship, Jeremy Koling bookended his Gentlemen's Club Challenge with rounds in the 900s.
14) For Pasi Koivu, a similar GCC story to that of Ulibarri: strong start, slow finish. Same at Aussie.
15) In addition to his 12th place GCC showing, Matt Orum won a C-Tier in Mississippi in early February.
16) Michael Johansen has already logged two wins on the east coast this season.
17) Philo Brathwaite showed well with a fifth place at the Aussie Open and fourth at the Wintertime Open, but struggled to 26th in Vegas.
18) Bearded wonder Zach Melton closed the GCC by shooting 26 points above his rating.
19) K.J. Nybo heads into the Memorial after winning the Open de España with ease.
20) Josh Childs has notched a victory and multiple top 5 finishes to start his season in the South.
1) Paige Pierce has won both big events to start the season and is playing with renewed confidence.
2) Right there with her the whole way has been Jennifer Allen.
3) Catrina Allen got off to a rough start at the GCC, but closed it out with a division-best 1003-rated final round.
4) After struggling inside the circle during round three of the GCC, Sarah Hokom cleaned it up to get back in the top 4.
5) Eveliina Salonen did not disappoint in her stateside debut.
6) Madison Walker placed third in Australia and logged some quality finishes on the east coast during January and February.
7) Hannah Leatherman's 2017 so far: five tournaments, five victories.
8) Five-time PDGA World Champion Elaine King used precision and finesse to hang with the longer-throwing women on her card during the GCC.
9) After winning the CSUMB Otter Open, Jessica Weese returned to the PDGA National Tour and finished in seventh place in Vegas.
10) Des Reading followed up her fourth place finish at the Aussie Open with a victory at the New Zealand Championship.