A weird start and a thrilling finish!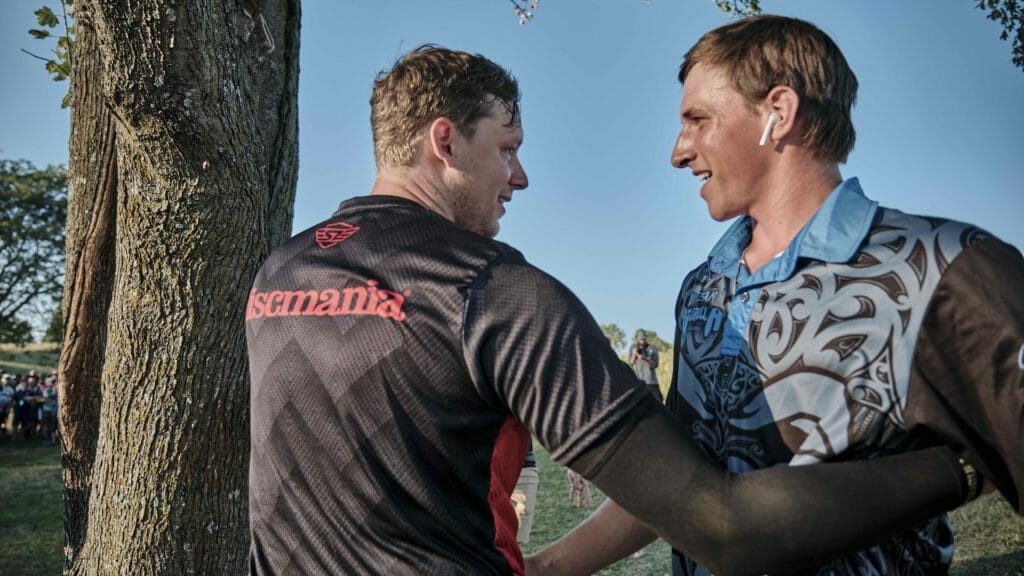 The Disc Golf Pro Tour Elite Series regular season is officially in the books, but the Des Moines Challenge was far from a typical event. The FPO division had a fairly standard week, with Kristin Tattar claiming her 3rd win of the season in a wire-to-wire victory that began with her setting a course record and shooting the highest rated round of the year in round 1. The MPO division, however, featured lightning delays, a double-header, no-name leaders, and a thrilling playoff conclusion.
After thunderstorms led to a stoppage of play on Friday, much of the field was forced to play two rounds on Saturday. The early morning conditions were not as favorable as they had been on Friday, with heavier winds and slippery teepads. Only 8 of the 43 players on cards 1 through 11 finished round 1 at or above their player rating. Compare that to 52 of the 76 players on cards 12 through 30 who finished round 1 at or above their player rating. Simon Lizotte would ultimately come out on top after a four hole playoff with 2021 U.S. Amateur Champion Robert Burridge.
Simon Lizotte
Re-entering the Player of the Year conversation, Simon Lizotte earned his 3rd Elite Series win of the season to tie Ricky Wysocki for the most wins in 2022. Lizotte finished 4th in strokes gained tee to green and 8th in strokes gained putting, going 100% inside C1X. Lizotte kept the scorecard pretty clean with just four OB strokes, two bogeys, and one double bogey in the event. One of those OB strokes came during a very complicated missed mandatory situation on hole 12 on Sunday: Simon got stroked by the new mando rule which incurs a penalty for crossing the restricted space, even if the mandatory was initially made before a kick or rollaway. He eventually fought back to force a playoff with Robert Burridge, and then hit a Circle 2 putt on hole 4 to claim the victory. The win ties his highest event rating of the season at 1057 and moves him into solo 5th place for all-time MPO wins on the Disc Golf Pro Tour.
Robert Burridge
Everybody watching the action on Sunday surely had the same thought: who the heck is Robert Burridge? At 1009 rated, he is the 2021 U.S. Amateur Champion and the 2022 College Disc Golf Singles National Champion. Robert came to Indianola with just three ES events under his belt and nearly did the unimaginable. Burridge actually had a putt to win on the first playoff hole but missed it wide. And had it not been for an unfortunate skip off a tree stump on the final playoff hole, things may have played out differently. Burridge just won his first A-tier back in May of this year, and his best finish on the ES prior to Des Moines was 42nd at DGLO. He averaged the highest event rating of his career at 1057, finished 5th in strokes gained putting, and only carded three bogeys on the weekend. His play was impressive all-around, and most importantly he did it under extreme pressure on Sunday. Had he earned the victory, Robert would have been the lowest rated MPO player ever to win a Disc Golf Pro Tour event.
Emerson Keith
In Des Moines, Emerson was able to claim his first and only ES podium finish since the 2020 Dynamic Discs Open. He finished 3rd in holes parked, 3rd in C1 in regulation, and gained the 7th most strokes from tee to green. Keith also parked the very difficult hole 3 for birdie in two out of the three rounds; no other player was able to park it more than once. If there's a downside to his performance, it's that he made zero C2 putts in ten attempts, a skill that has become critical in order to win at the elite level.
Kevin Jones
A little resurgence for #JumpPuttJones, whose C2 putting has continued to fall off since his excellent 2020 season. At Des Moines, Jones led the field putting from C2 at 60%; his C1X putting however ranked 101st at 74%. A 6th best strokes gained tee to green paired with the long range putts helped Kevin earn his 2nd ES podium finish this season and his 3rd highest ES event rating. He has now moved into 7th place in the Disc Golf Pro Tour standings — remaining in the top 8 would earn him a bye to the semifinals at the DGPT championship.
Joel Freeman
Joel is a very solid all-around player and his stats from Des Moines reflect that: nothing jumps out as exceptional but there's no glaringly weak aspect to his performance either. Limiting OB strokes and bogeys is usually a recipe for success, and Joel did a great job of that. He just didn't have that one big hot round to put himself in winning contention. As one of the four players who finished tied for 3rd place, Freeman earned his 6th career podium finish on the ES and his 2nd of the season. Similar to Jones, he also jumped up into 8th place in the DGPT standings and would earn a two round bye if he's able to hold that spot.
Evan Smith
Another relatively unknown player, Evan Smith went into the final round as the outright leader in just his 5th career ES event. In those events, his best finish came last week at Ledgestone, where he finished in 20th. Evan struggled a bit on the final day, going OB four times and carding a bogey with each of those mistakes. He finished the tournament 11th in strokes gained putting and 15th in strokes gained tee to green. Smith currently finds himself 46th in the DGPT standings and should earn an invite to at least the first playoff event. However, that standing will likely take a bit of a hit as he is not registered for the World Championships.
Kyle Klein
Arguably the most consistent player on tour over the last couple of months, Klein now has five consecutive top 7 finishes on the ES. Kyle led Des Moines in strokes gained tee to green, but finished 102nd in strokes gained putting. His C1X putting this weekend was 15% below his season average, and he was 5% below his season average from C2. Incredibly, he shot a clean 10-under par final round that included five missed putts. He's yet to put the tee to green game and putting game together on the same weekend, but he continues to show that he's capable of doing both.
Matt Orum
Speaking of consecutive top 7 finishes on the ES, Orum now has three in a row and has an average finish of 8.33 this season. MattyO shot a course record on Friday, carding 11 birdies in a 13 hole stretch. Unfortunately he came out flat on Saturday shooting just even par, but was able to put together a nice final round. Orum finished the week 100% putting from C1X and carded just three penalty strokes on the tournament.
Andrew Presnell
With his first top 10 finish on the ES since the 2021 Green Mountain Championship, Prez earned his best finish of the season in Indianola. Similar to Freeman, Presnell played really solid all-around without any big strengths or weaknesses. Most notably he was 6th in scramble percentage, 8th in fairway hits and carded just three OB strokes. Andrew now finds himself sitting in 28th place in the Pro Tour standings, which would qualify him for the Tour Championship. While the work is far from over, he has never finished worse than 7th at the GMC, which will host the first playoff event in a few weeks.
Mason Ford
Mason Ford threw the disc great at Des Moines, parking the 6th most holes and finishing 3rd in strokes gained tee to green. While his putting game left a little to be desired at 67th best, Mason tied for the best scramble percentage and only carded one bogey in each round. In his best finish since winning the 2021 Music City Open, Ford earned his first top 10 of the year and moved into 17th place in the pro tour standings. Mason has never played the Green Mountain Championship or the MVP Open, but with solid finishes he could sneak into the top 16 and earn a one round bye at the tour championship.
Paul Ulibarri
This was a much needed result for Uli who sat out a good portion of the year with an injury. Not only did he earn his best ES finish since the 2021 Music City Open, he had yet to qualify for the USDGC until this past weekend. Ulibarri only missed one C1X putt during the tournament and was able to birdie the tough hole 3 in two out of three rounds.
Cale Leiviska
Cale Leiviska won the Des Moines Challenge three consecutive years from 2013-2015, going back to its days as an A-Tier. Unfortunately this weekend was a tale of two phases for Cale, leading the event in C1 in regulation while finishing 110th best in strokes gained putting. He parked the 3rd most holes and finished 5th in strokes gained tee to green, but without getting the putter in the basket it's hard to capitalize on those opportunities. Cale was still able to move up to 50th place in the DGPT standings, however, and with solid play at worlds, GMC, and MVP, he still has a shot to make the Championship.
Kristin Tattar
It's fitting that, like Lizotte, Kristin Tattar also won her 5th career ES event and 3rd of the season, because this was the first Disc Golf Pro Tour event to crown two European winners. Kristin shot a blistering 9-under par course record on Friday and in turn the highest rated round of her career (and of the 2022 season) at 1033. She led the field in strokes gained tee to green, fairway hits, holes parked, and C2 in regulation. In 14 career ES events, her average finish is now 1.86, and she has averaged a 1000 rating or better in three of those wins. Tattar now sits in 6th place in the DGPT standings and has an excellent chance to move into the top 4 and earn a bye.
Eveliina Salonen
Statistically speaking, Eveliina's putting at Des Moines wasn't all that great, and yet she had a few confident strokes that made it feel a bit less shaky than it's been at times this season. She finished 2nd in strokes gained tee to green behind Kristin and carded a bogey-free final round. Once again, she led the field in scramble percentage, which speaks volumes to how good her scramble shots are when you consider the sub-par putting. The difference maker ended up being the difficult hole 3, which Salonen played five strokes worse than Tattar over three rounds. Eveliina now sits right on the play-in bubble at 15th, and she should easily break into the top 14 before the tour championship comes around. Despite coming up short, she still earned her first podium on the ES this season and her highest-rated ES event since winning the 2020 Waco Annual Charity Open.
Macie Velediaz
Finishing 5th in strokes gained tee to green and posting a career-high 979 event rating, Macie has now moved to 17th in the DGPT standings. While this is her 3rd career podium finish at an ES event, it is actually her first at a Disc Golf Pro Tour event.1 Macie has never played the GMC or MVP Open, but if she makes the trip, she could easily move into the top 14 and secure a spot at the tour championship.
Erika Stinchcomb
A tournament-low single OB stroke helped Erika earn her second career top 5 finish on the ES and post the highest-rated event of her career at 966. Her only other top 5 finish came at the 2021 Jonesboro Open, which features a course that many pros were comparing to Pickard Park. Stinchcomb's putting was essential to her success — she finished 5th in strokes gained, aided by the 2nd best C1X percentage in the field. At 34th place, Erika should make the GMC but will need good finishes there and at the World Championships if she wants an invite to the MVP Open.
Paige Pierce
It was just not a great showing from Paige Pierce, who led the field in birdies but racked up 10 bogeys, 3 doubles, a triple, and 9 OB strokes. Paige led the field in C1 in regulation, was 2nd in fairway hits and 3rd in C2 in regulation. She finished just 21st in putting and was only able to convert on 4-of-15 scramble attempts. This is now Pierce's 7th missed podium on the ES, more than any other season in her career.
Kona Panis
Kona earned her best ES finish since the 2021 Music City Open this past weekend, and her 2nd top 10 finish of the season. With a clean 6-under par round on Sunday, Panis shot the 2nd hottest round of the tournament and earned her highest event rating since the 2021 Throw Pink Women's Disc Golf Championship. Unfortunately, the C1X putting was still far from impressive at 41st best, and two top 10 finishes pales in comparison to the 11 she had last season.
---
The other two came on the former PDGA National Tour ↩