The disc golf gods can't curse the event, no matter how hard they try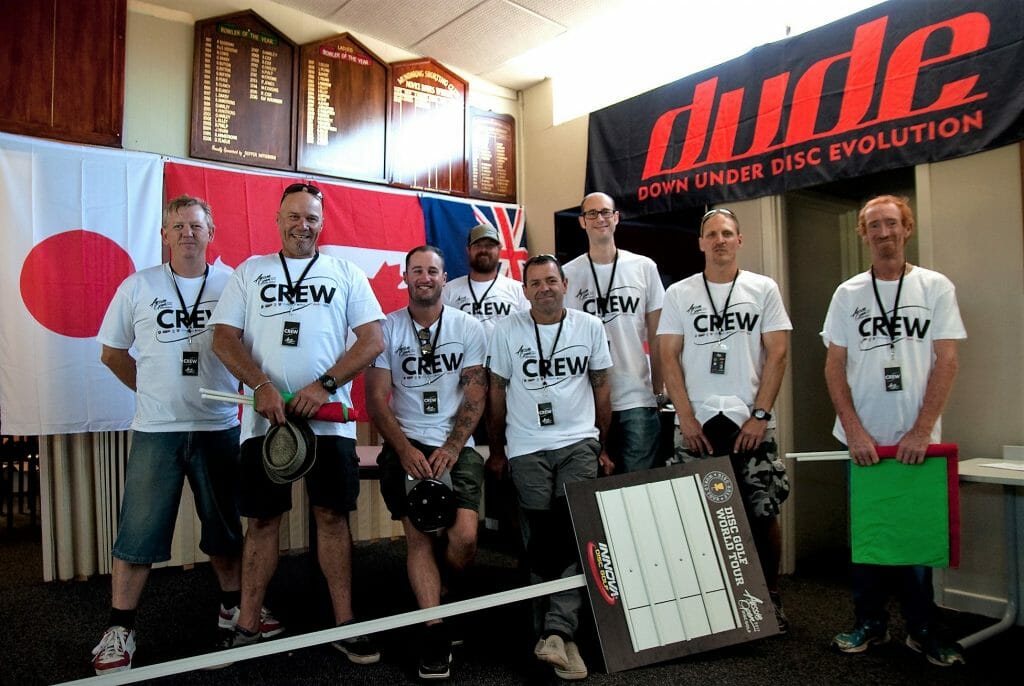 PERTH, Australia — My late Uncle Bob was captured at the fall of Singapore. He spent World War II in a concentration camp and working on the Burma railway. His wife, my Auntie Phyllis, waited at home, on rations, volunteering for the war effort and under constant threat of invasion, never knowing if he was alive or dead. Before she died, Aunty Phil told me that those were the best years of their lives. When I asked her why, she said it was because people worked together. There was no pettiness or jealousy, just people pitching in for a cause.
As one of the few people who have been lucky enough to play in the USDGC, my lasting memory of that event is not the pros or the high-level competition. It's of the volunteers, people like Rock Searle and Tom Usselman who go there every year and put in huge hours making sure that giant undertaking keeps moving. The volunteers always seemed to have this glow about them, a benevolence and kindness that made the tension, nerves, and sometimes sheer terror of playing that event all the easier. To me, it's the army of volunteers who create the soul of an event, turning a mere tournament into something more. I think it's the magic of serving something that's larger than yourself.
This second edition of the Aussie Open has started to gather some of that same culture. Thirty people have volunteered this year, putting in long days under the fierce sun to keep the whole show going. There is no "me," just "we." The respect and love between them all is palpable, and I suspect they'll be like my Aunty Phil, looking back on this as one of the finest times of their lives.
***
The setting: a small pub in Bassendean, Western Australia. The first meeting of the Jennifer Allen fan club is in full session, and those gathered are trying to express themselves.
"She's just so…"
"It's like she's…"
"I see her throwing and I just think…"
Then someone said it.
"She's a warrior." And every head in the room nodded.
During the opening ceremony performance by the Wadumbah dance troupe, the leader referred to himself and his group as "Noongar Warriors." He touched his hand to his heart each time he said it. The idea of a warrior in the Noongar culture extends way beyond "someone who wages war." It refers to a person with courage and heart; who lives life; and who loves their family and their tribe fiercely.
Allen has had that impact on everyone who's crossed her path this weekend. By that definition, she's a warrior indeed.
Meanwhile, across the room, the Paige Pierce appreciation society was engaged in a robust debate about biomechanics, trying to figure out how someone with such small levers throws a disc with the relaxed, smooth pop of someone with much longer levers. For someone of her size and weight to throw it as far as she does, you'd expect her to have to give the disc an almighty thrashing. Instead, it's ejected from her grip with a smooth control that looks almost supernatural.
I left the group once they started talking angular momentum and summation of forces.
My last stop of the night was the Ricky Wysocki glee club, where everyone was noting how well-mannered and genteel he was. "He's been raised well, that boy," I heard someone say. "Such a lovely young man."
I had some personal experience with the Wysocki effect when I introduced him to a young player from my home club in Western Australia who was almost vibrating with excitement to meet his hero. Wysocki disarmed the nervous young boy immediately, asked him about himself, and generally cemented a fan for life.
These three are not the only pros who have left their mark in this far corner of the world. The term "ambassador for the sport" has always been a cliché to me, but not anymore. Role models and heroes can provide a compass setting for life to impressionable young people. The impact of these great athletes on a generation of young disc golfers will be lasting.
***
It's not fair to say the event has been "cursed," because even though it's only day two, it's pretty clear that Aussie Open 2 is becoming a resounding success. Local crowds are up, and the awareness of the event among the non-disc-golfing public is much higher than it was two years ago.
But it's not been for a lack of trying by Obie, the god of screwing with disc golf tournaments. There was the 99 percent travel fiasco; wombat flu-gate; players having visa issues; and the weather turning the course into a 10,000-foot fry-pan. And then, last night, when the players had gathered in Applecross to watch the Australia Day fireworks show, someone crashed their float-plane into the middle of the Swan river, causing the cancellation of the event.
Ah, Obie? Nice try mate. You're not stopping us. This whole tournament is a warrior.