His 12-under par performance sets the pace; Kajiyama currently in second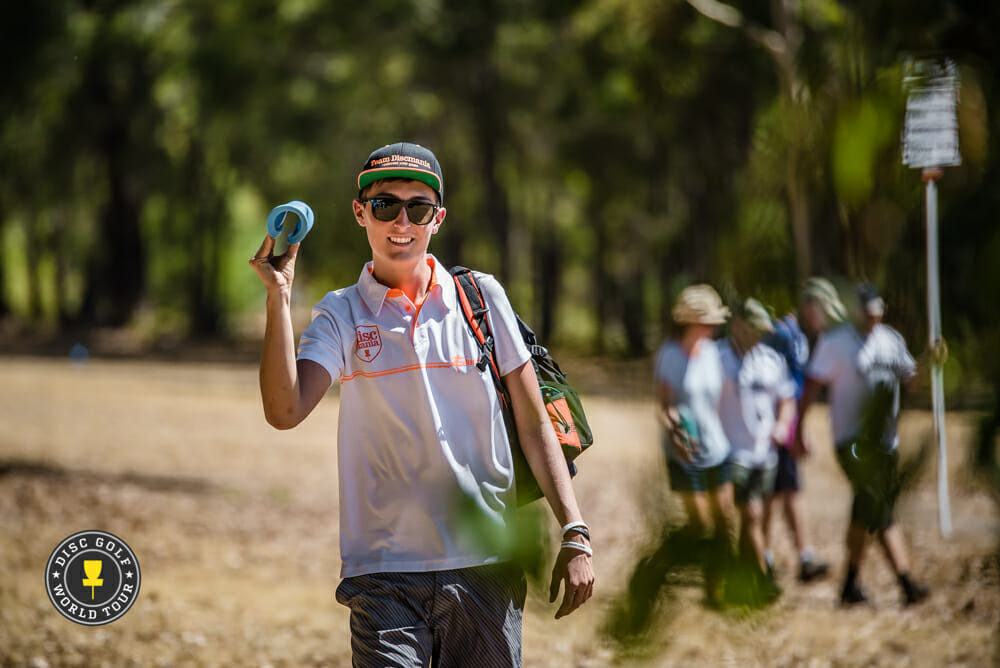 As the mercury soared and temperatures in Perth crested the triple digits, the top contenders' scores at the Aussie Open defied the elements and continued to drop lower. Each hole played in lockstep served as a reminder that the first PDGA Major of the season was going to be a marathon, a grueling feat of endurance to be both survived and conquered.
It was little surprise, then, that the youngest competitor in the field found success early, as Eagle McMahon tossed a 12-under par 53 to take an early two stroke lead after one day of play at Mundaring DiscGolfPark. Manabu Kajiyama finished the day in second place after a 10-under par 55 showing, while Ricky Wysocki and Paul McBeth enter round two tied for third place with 8-under par 57s.
RELATED: Pierce Dominates Aussie Open's First Round
The Australian summer heat was something McMahon, a Colorado native, had been preparing for. He spent time in California prior to flying overseas, then was one of the earliest top players to arrive in Perth. The extra time allowed him to fit in seven practice rounds and tune his game in to the course's nuances.
That didn't mean there weren't adjustments to make, though.
"My [Discmania] KC-P2 [putter], which normally is hard as a rock, was like a Blowfly almost," McMahon said. "That was the one thing I had to adjust to. Other than that, I felt really good out there."
It took a few minutes to show, though. Starting out on the stacked feature card alongside McBeth and Wysocki, the trio all carded penalty strokes with out-of-bounds throws on the tournament's opening hole. McMahon then settled down, carding consecutive birdies and stringing together a bogey-free run that lasted until hole 12.
Using a mix of backhand power and controlled forehand placement shots, McMahon displayed the poise of someone who had spent a thorough amount of time scouting the terrain. At times, it was almost as if he were still in practice mode.
"The biggest difference was I looked over and saw Paul and Ricky at my side, and I felt like I was playing a final round," McMahon said. "So I felt some of that pressure to start off."
Once that evaporated, he continued his assault on the course. After that hole 12 bogey – which featured a Lizotte-esque line off the tee – McMahon closed the day with six straight birdies and a 100 percent accuracy rate on putts inside the circle.
"I feel like me practicing has kinda given me a good idea of where I need to be on every hole," McMahon said. "Having that knowledge — knowing where to place my shots before stepping up to tee — it's a little bit of a security."
His counterparts at the top of the leaderboard, while slightly less successful, each brought their strengths to the table. Kajiyama, a nine-time Japanese National Champion, thrived on accuracy, his 67 percent greens-in-regulation rate pacing the field. McBeth and Wysocki both brought their putting game, with the former excelling from inside 10 meters and the latter hitting his signature long putts. Manabu's edge over McBeth and Wysocki, though, came in keeping it between the lines: Manabu took zero penalty strokes, while McBeth took three and Wysocki took four.
While McMahon was pleased that all of his preparation had delivered results, he knew the mental challenges of a four-round tournament would be the biggest obstacle standing in his way of a victory.
"Today, once I got past the initial first Major of the year jitters – really first tournament of the year jitters — I was fine," McMahon said. "I felt like I was just playing disc golf again. If I can just stay out of my own head, it should be nice and easy."
Further down the leaderboard, Philo Brathwaite threw a 7-under par 58 to put himself in fifth place heading into round two. He'll be joined on the chase card by Pasi Koivu and Patrick Robinson, who notched matching 6-under par 59s, and Gregg Barsby, who sits in eighth place after 4-under par 61 start. Lead card action again tees off at 11:40 a.m. local time.