Texas native holds a six shot lead over Walker heading into round two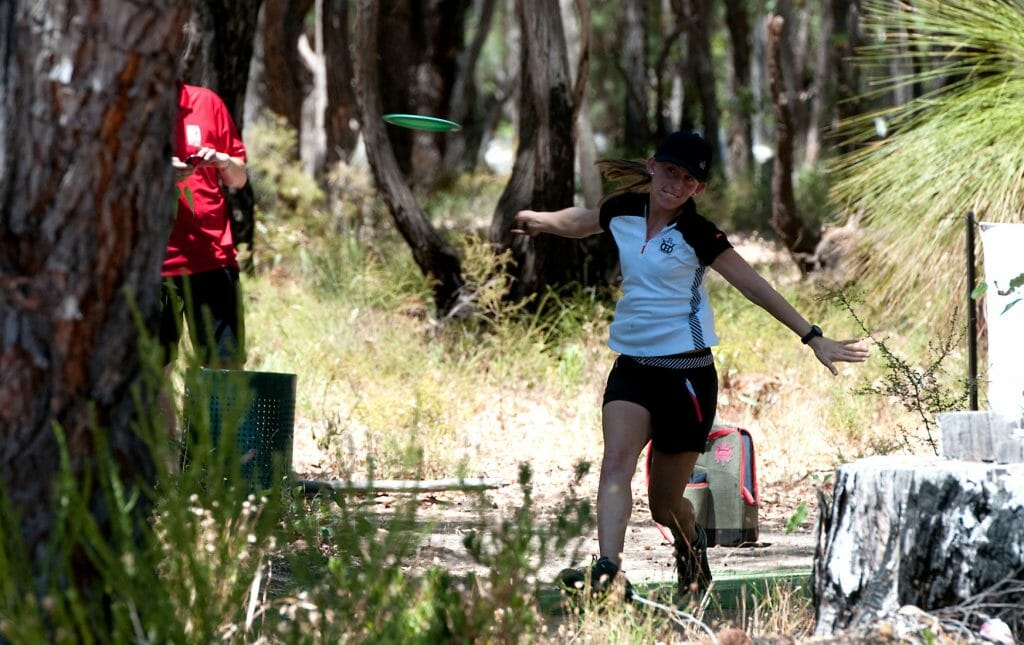 PERTH, Australia — On a day that reached 104 degrees, Paige Pierce was unaffected by conditions that brought many players unstuck at the Aussie Open. Enjoying the long holes, open fairways, fast greens, and Texas-style heat, she shot a dominant 3-under par 62 to lead the Open Women's field by six throws over Madison Walker, who sits in second place after a 3-over par 68 opening round. Jennifer Allen's 6-over par 71 put her in third place heading into tomorrow's second round, while Des Reading's 7-over par 72 finds her in fourth.
Pierce impressed on the longer Mundaring DiscGolfPark holes that are designed to test the power and precision of the bigger arms in the Open field. She birdied holes 6, 7 , 9 and 11, the same holes that wrought havoc on the entire field. Her 62 is currently the eighth best score for the entire tournament.
"I threw some good shots," Pierce said. "There were a couple that went OB, but I'll play those holes differently tomorrow. Otherwise, it was OK. I think anywhere between 60 and 65 is a good score for me on this course."
RELATED: McMahon Takes Aussie Open Lead After First Round Scorcher
Walker was also satisfied with her round. Still feeling the effects of jet lag, she sourced a local caddy to spare her legs and played uncomplicated golf.
"I didn't really have to putt," Walker said. "I just kept it in the middle, avoided the OB, stayed relaxed and threw good upshots. In some ways, I think it's harder to putt in the baking sun than in the wind and the cold, so I was happy to not have to spend too much time in the circle."
Allen was less satisfied with her opening performance.
"I just started rough and couldn't get anything going," she said.
Allen pointed to a lack of tournament seasoning that builds mental strength as the reason for her struggles. Her frustration with some bad form, and a run of bad luck that included a couple of tree-hit OB's, showed on the walk down the long hole 16 fairway.
"I just want to go back and play another round right now," Allen said. "I can't wait for tomorrow."
Reading carded a 4th best 72, 6 throws ahead of Naoyo Yoshida, who was happy with a round of 78 that was 3 throws better than anything she'd done in practice. Especially since this included a 6 on the par-3 hole eight where she three putted from the drop zone after going OB.
Australian National Champion Cassie Sweetten was satisfied with her sixth place 14-over par 79, despite an untidy finish.
"I bogeyed the last three holes, all from missed putts," Sweetten said. "But otherwise I hit all my lines. I hope to sharpen up my short game tomorrow."
Despite the dominant nature of her performance and the seemingly untroubled way she dealt with holes that challenged other players more, it would be a mistake to say that Pierce has the win sewn up already. She acknowledged as much and pointed to past slip-ups as motivation for keeping the pedal down.
"I don't feel comfortable until the tournament's over, really," Pierce said. "I've given up eight strokes in a Final 9 before, so to have three rounds left is not by any means over, even if I had a 20 stroke lead."
Additional reporting by Ultiworld Disc Golf Editor Steve Hill