You can still prepare, even when you can't play practice rounds.
A few months ago, I was chatting with The Upshot podcast host Josh Mansfield about a particularly challenging part of tournament play. "I play a lot of tournaments that are around 2 to 3 hours away and can't get extra time off work for practice rounds so I often play the course blind," Josh wrote. "Any advice for playing competitive rounds without having played the course before?"
As you might guess from reading these articles for the past year, I like to approach tournament play like the Allies' approached the invasion of France: meticulous planning, lots of practice, and a dedication to preparing for any possible variable. A previous article on this topic described how to get ready for every aspect of tournament play from packing rain gear to planning your meals. In that article, I spent a lot of time talking about how to get the most out of your practice rounds.
But sometimes you have to play blind. You may find out about a tournament at the last minute, or even show up to try a new course and find out a tournament is about to start. Sometimes you just can't get out to a course to play a practice round but still want to play the event. If you can't prepare as thoroughly as you want, do you tee it up or pass?
Too many times, I've passed. I regret that because we will all miss out on a lot of great events if we only play tournaments that we can approach like the Normandy invasion. So, if you aren't going to be on the course until the day of – how do you play your best?
What's the best way to fly blind?
When You Have Some Lead Time
Sometimes you have plenty of time before an event, you just won't be able to play any practice rounds on the course. Given social media and technology, there is a lot of preparation you can do even if you are never within 100 miles of the course.
The best place to start is with some internet stalking. Lots of courses have scorecards or photos online. Reviews of the course from Disc Golf Course Review (DGCR) can help. Even if it isn't a well-known course, look for filmed rounds on YouTube. These are almost always available if the course has hosted a significant pro tournament, but lots of amateurs also film casual rounds. You can always go to the course website or the Facebook pages of nearby clubs and ask local players if they have any advice about how to approach the course. It's not as helpful as playing it, of course, but you can often still put together a solid game plan from what is available online or from others in the disc golf community.
You want to get an idea of the kind of course it is. Is it long – will distance be crucial – or is it wooded? Is it in an area with a lot of wind? Are there lots of elevated baskets? Is there a lot of water? If so, what kinds of extra discs do you need to bring? Is water near the baskets – making it crucial to get your approaches and upshots to stop quick? Is it at elevation or very hilly? Some of this information will change the discs you bring but, more importantly, help you prepare mentally for the challenge you will face.
While great courses present a wide variety of challenges, many courses ask you to do the same kinds of things over and over during a round. Long courses stress distance, wooded courses put a premium on throwing straight and hitting tight lines, and parkland courses require you to shape your shots both directions through gaps and around obstacles. Knowing the course you are going to play is hilly, windy, or has lots of water can help you prepare to play.
If you have a lot of lead time, you can use this knowledge to change your practice before the event. When guys from our local club and I were going to go out to the Glass Blown Open for the first time in 2017, we did research on the courses and saw that they were much, much longer than the courses we usually played. In response, we set up safari courses that would help us get used to throwing 310-foot upshots on par 4s. We also, looking at the winds howling in YouTube videos from GBO, started preparing ourselves mentally and getting very comfortable with our most overstable discs.
As a case study for breaking down a course, I am going to use Limona Disc Golf Course in Brandon, Florida. It is a course that is near where I grew up, and playing it is always a highlight when I go home to visit family. It is also JohnE McCray's home course (we grew up in the same town). It is an interesting course with some quirky elements that could challenge a player walking onto it for the first time. It presents a good example of the kinds of things you might want to look for before you play a course blind.
Looking Limona up on DGCR, you can get a good sense of the course. It is relatively short, well-manicured, and uses nine baskets with two sets of teepads. It has a small pond on the property that is in play on four holes and several mandos that add a degree of difficulty. It is also a great example of many courses in central Florida – sandy soil, thick ferns, and beautiful old oaks covered in Spanish moss.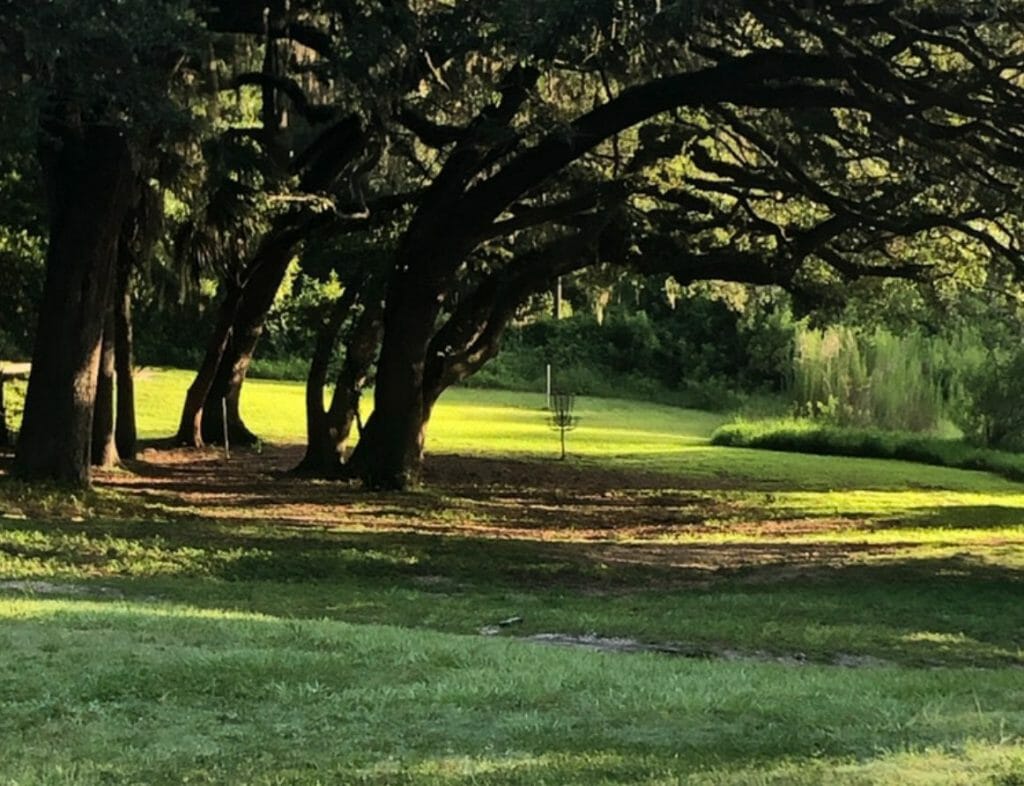 A review by pmay5 on DGCR gives a good sense of the challenges. The course is short but requires a lot of shot shaping. The lines aren't overly tight – it is not densely wooded – but you must control the flight and height of your disc. It is a parkland course that is going to force you to work the disc both ways. There is also some elevation and a few holes that are more challenging because of water, mandos, and OB along the property line.
A quick look on YouTube reveals several videos, one a review and another featuring a couple of players throwing a putter-only round. These kinds of videos are incredibly helpful when you are planning to play at a course you have never seen. Paired with the scorecard on DGCR, it is an easy way to get great intel on a course. Given the explosion of disc golf videos on YouTube, footage of local courses is increasingly common.
These videos show that Limona's two sets of nines are very different in their scorability. The front 9 holes tend to be shorter and offer more birdie opportunities, while the distance and dangers increase on the back 9. For example, hole 4 is a straightforward 275-foot throw over the pond, but hole 13, playing to the same basket, moves the tee back to 403 feet and tucks it in a narrow shoot of trees with a low ceiling. Several of the holes on the second nine follow this pattern, moving the tees back and adding mandos or more exposure to OB.
The overall flow of a course is important to know because it can help you build a rough gameplan of when to play aggressively and when to accept that par is a likely outcome. If the tournament has a shotgun start, you may begin on the hardest stretch of holes – if so, it is helpful to know not to panic if you have a slow start. If you understand the flow of the course, you can play smart through the toughest part of the track knowing that birdie holes are just ahead.
Your research should give you a rough sense of which holes are dangerous and which ones are your best chance to score. This isn't set in stone — the conditions may change or a hole that looked very challenging on video may fit your eye in person, but you should have a sense of which holes should be approached carefully. It is helpful to know if a course has an "Amen Corner" or a "Horrible Horseshoe" of difficult holes.
If You Are Truly Flying Blind
Sometimes, however, you don't even have the luxury of research on a course before you play. If you are going to pull up the morning of an event at course you haven't seen before, change your warmup. Take a few discs and get out on the course. Don't worry about playing full holes, throw a few shots and putt some as you go, but try and see as much of the course as you can to spot the obvious traps and challenges.
For example, at Limona, one of the first things that strikes you is the way that the oaks – and the Spanish moss – produce very low ceilings on several holes. Many of the short, scorable holes are going to require careful navigation where the height is as important as the line. And many of these shots require moving the disc left to right – so throw a few low forehands in your warmup and plan to throw some faster discs than the distance might indicate. There are also several holes where subtle slopes threaten to take your disc into OB – controlling the landing of the disc is going to be important.
Make sure to look back from every basket towards the tee to get another perspective on the hole. A lot of times, you will see that gaps that look narrow off the tee are much larger than they appear. Also, note whether there are hidden landing areas or hazards like thick bushes or thorns you want to make sure to avoid.
Nothing is more frustrating than landing a shot just past the pin and then watching it roll 35 feet away down into the water, so give special attention to the greens. Does the green fall away directly behind a basket or slope towards OB? Are the greens soft sand or thick grass, meaning that you can fly the disc all the way to the hole, or are they hardpan, meaning that shots that come in with speed will get big skips? These are things that will help you visualize your shots.
Limona, because the property is small, has several holes that require shots to maneuver around mandos, even a double mando. Although there are some holes over 400 feet, that power must usually be paired with being able to hit precise lines, steer clear of trouble, and control the height of your shot. It is not a course to recklessly grip and rip.
Sometimes, all these factors come together in a single hole. For example, hole 15 is a 345-foot left-to-right hole with a mando on the right side, a low ceiling, and an elevated basket. It is certainly gettable, but there are dangers lurking on every side.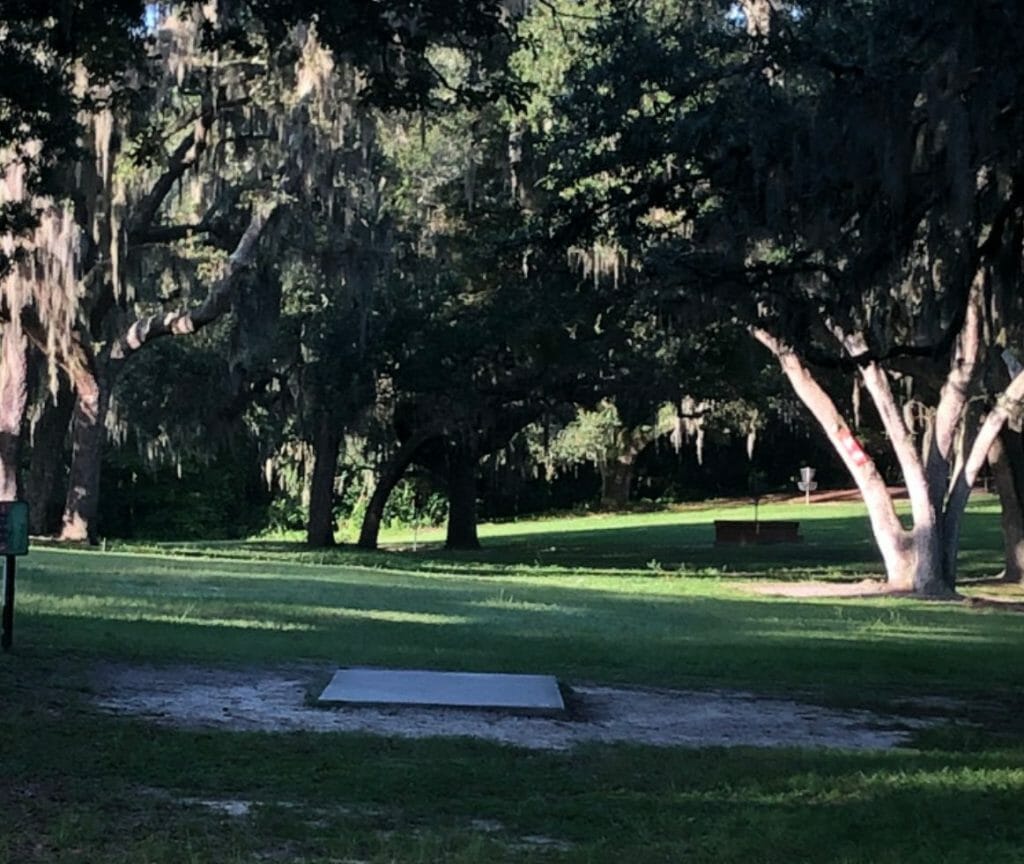 If it is a two-round tournament, use the first round to help cement your sense of the course. It's always good to be careful about taking risks that can result in immediate penalty strokes, but even more important when you don't know the layout. Limona is a course where even short holes can set up a cascade of missed mandos or OB shots that can wreck your scorecard, so it's crucial to make sure you don't give away strokes or put yourself in the position to make big numbers.
This means managing the course and playing smart golf around doglegs and corners. There have been several Tuesday Tips articles that encourage this kind of course management, some of them are here, here, and especially here.
Sometimes this means not chasing local routes that require you to thread needles on holes you have never played. It also means not throwing shots you aren't comfortable throwing, even when everyone on the card says that the "only" shot is a thumber over the corner of the pond. If those aren't shots you usually throw or the line looks too tight for you, throw the shot you can trust. Local routes aren't always cheat codes, especially if you've never taken them before.
Pick Your Trouble
Especially when playing blind, you need to set realistic expectations for your scoring. Never run into big mistakes while trying to avoid little ones. This means understanding "phantom hazards" – that is, trouble on a golf course that looks like it will cost you strokes but doesn't actually affect your score. On some holes, something may look bad off the tee, but your score will probably be the same whether you run into it or not. Course designers often use these kinds of visually intimidating hazards to scare you into trying to avoid them, knowing that trying to dodge them will often get you into spots that lead to much bigger scores.
A clear example of this kind of "phantom hazard" is hole 18 at Limona. It is a 443-foot par 3 that turns slightly to the left and travels uphill to a basket that is shielded by the branches of several huge oak trees. On the right side of the hole is another massive tree that reaches over into the fairway.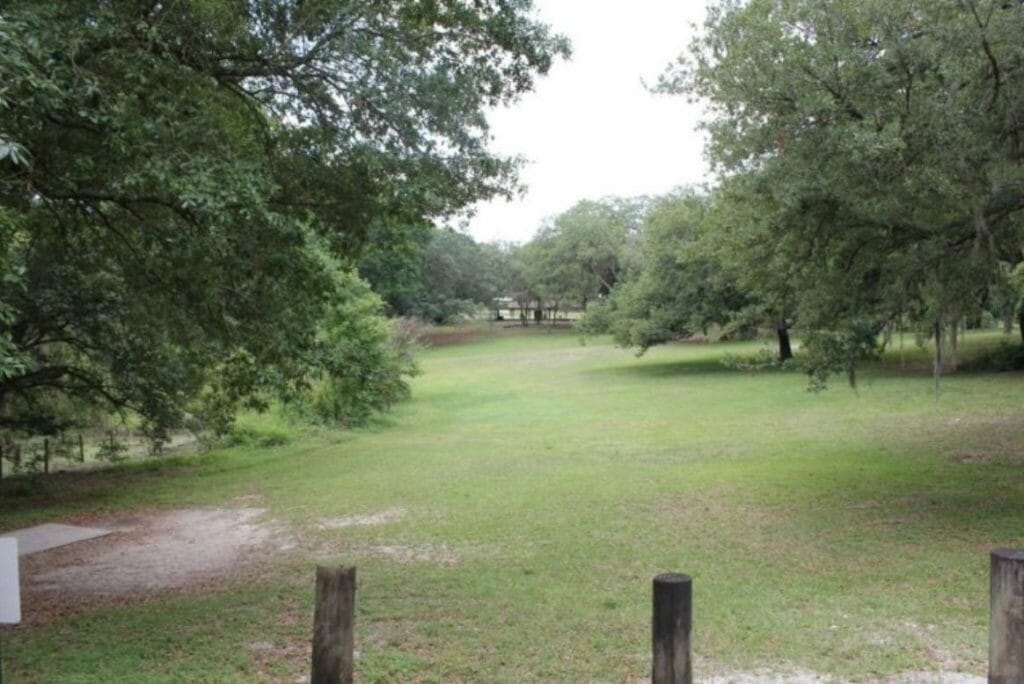 The natural tendency is to try and avoid that tree on the right side. However, any shot that drifts on hyzer into the middle of the fairway will land on a slope that runs down towards the thick rough, pond, and OB on the left side. The degree of slope, and the edge of the property, is hidden from the tee by the trees on the left side. Even if you avoid the OB, throwing an approach from the left side requires a much tougher shot to the green.
This hole is a nearly impossible birdie for most average players. It requires a big drive that has nearly 500 feet of power, misses the tree, doesn't hyzer OB, and then gets under the canopy of trees that protects the basket. This hole is, even with many players' best drive, still probably a par. And it is also probably a par if you hit the tree on the right side of the fairway, which sets you up for a straightforward approach. In most cases, hitting this tree has no effect on your score – but trying to avoid it can lead to a huge number.
On tough holes, especially on an unfamiliar course, pay attention to which hazards you must miss, and which ones are more visually intimidating than a real danger to your score. There is no need to take extra risk on long holes where birdie is already out of reach.
Compare that to the trouble you can find on some of the short holes with low ceilings. Many people approach short holes without OB casually, but a likely birdie on a 240-foot hole can disappear quickly if kicking off a low branch or catching some Spanish moss leaves you 90 feet from the hole. This is the kind of trouble you need recognize and avoid. Missing easy birdies can cost you a stroke just as easily as taking careless bogeys.
Conclusion
Playing blind requires you to learn as much as you can about the course – whether that is on the internet from your couch, as you walk the course before the first round, or when you stand on the first tee. Not knowing the course puts even more pressure on playing within yourself and avoiding the traps that the designer has set out for you. Setting good scoring expectations and making good decisions will set you up for success that you can build on in the second round or in the next tournament at the course.