Next shot.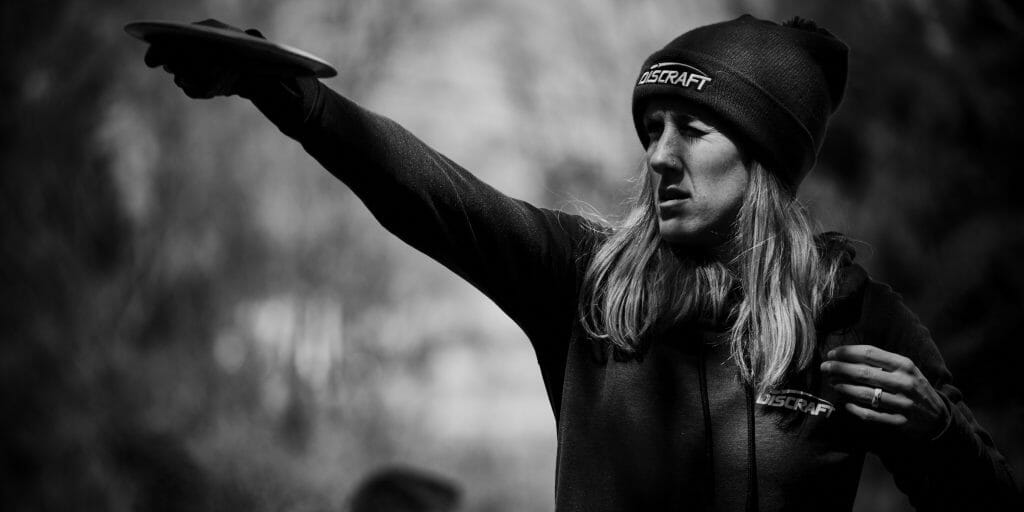 Usually, it creeps up on you. Maybe you have been practicing a lot and been feeling good about your game. It can happen when you are standing on the first teepad in a league round or at the start of a local tournament. You are chatting with your fellow competitors when it hits you: the strange and somewhat unsettling realization that you just might be the best player on your card.
On one hand, this is great news. You are the best; you should be excited to show your superior skills. Sometimes, however, you start to feel uneasy, especially if you sense that your fellow players also think you might be the superior player. Maybe one of them mentions you have the highest rating in the division or jokes that it might be time to move up. And, suddenly, that jolt of confidence transforms into a knot of pressure. Your excitement withers. You better bring it. That's okay, though, you're the best one here. Right?
The pressure to meet expectations doesn't just hit great players who carry a four-digit rating. It doesn't only happen in big tournaments. You can feel it when you are just bringing work friends out to try the game. If you've been telling everyone how much you love disc golf and are the only one carrying a special bag and a rangefinder, it's easy to feel that you better not lose to three dudes on their first day – who are borrowing your discs!
Having expectations that focus on outcome rather than process is always going to hurt the mental side of your game. It's even worse when you are carrying both your expectations and the expectations of competitors or spectators. Dwelling on what everyone must be thinking when you hit the cage from 12 feet is a shortcut to a mental meltdown whether it is in a casual round or the closing stretch of the USDGC.
This can be an unexpected downside to getting better. If you are going to keep improving, you need to be able to perform whether you are at the bottom of the division or one of the favorites. However, those challenges are different. Being able to get the best out of your game when you expect – or are expected – to perform well is one of the toughest mental challenges in golf.
Pressure is a Privilege
The first thing to remember is that feeling this pressure is a compliment and a sign of your talent and hard work. Being favored is like a two-shot lead: it adds extra pressure, but you would rather have it than not. Instead of seeing it as a burden, try and see it as a reward.
You also need to remember that no single round or tournament is a referendum on your talent or hard work. If you are favored but lose by 6, you are still the same player that deserved to be favored on the first tee. You earned it; one round doesn't change that. Every player can have a bad round or fade in tough conditions, even the best in the world. Paul McBeth had the hot round at the 2022 Texas States and then shot 12 strokes worse the next day. He's still Paul McBeth.
There are some players that feed on thinking that they are only as good as their last round. If you know that mindset brings out your best play, then go for it. Otherwise, relax. Have fun. For most of us, seeing every round as the one that decides how good you really are – having your fundamental self-worth always on the line – adds unnecessary pressure. One rough round cannot undo the previous fifteen solid rounds that made you favored in the first place.
When You Have a Weapon
It is hard to feel sympathy for the longest thrower or best putter in your club, but these weapons come with their own kinds of challenges. There is a pressure to use a weapon if everyone knows you have it. If you are seen as the best player on the card, you might feel the need to show why. Sure, smashing a huge drive on the first tee can make everyone on your card think about how second place is still pretty good, but trying to show off can lead to taking unnecessary risks. Players who are supposed to be great putters might be tempted to run long putts they should lay up and power players might try to throw over trees when a safe midrange to the center of the fairway is the smarter play.
This temptation can strike whether you are the top-rated player in an A-tier or the best player on your rec card. Focus on seeing your game clearly: don't worry about how your game looks through the eyes of your cardmates. If your game impresses them, that's great. If you are thinking about impressing them, however, you aren't paying attention to what matters – your game.
Don't get drawn into justifying your game or being concerned about playing to someone else's expectations. A cardmate who says "I'm shocked you didn't try to carry the water" or "I never thought you'd miss a short one" is thinking about your game. That's great. For you. Don't let your competitors become an audience that you want to please or let them make you second-guess your game plan. Don't panic, don't explain.
Trust Your Stuff
Many players start with an expected score or a feeling that they should dominate. At the first sign of trouble, this can easily become perfectionism and a crippling sense that their game, even if they are playing okay, is somehow letting them down. Feeling that you are underperforming some imagined metric can poison a player's enjoyment of the game – even when they are playing well. Most mental advice for golf centers on staying in the moment, and this is especially true when you are wrestling with the pressure of high expectations. The most corrosive thoughts you can have are sometimes "I should be 3 under by now" or "I should be beating these guys by 6."
These kinds of thoughts are both profoundly disrespectful to your playing partners and amp up the pressure with no upside. Only being able to feel that you are playing well if you spot your cardmates two handfuls of strokes is perfectionist poison. I have seen players come completely unglued because they don't birdie the first hole. I have seen great players fall apart on the fourth hole of a two-round tournament because of a slow start.
You can only throw one shot at a time. You can't play your best if you are constantly thinking ahead to the final number – especially if thinking ahead makes you feel like you are already falling behind some self-imposed pace. If you are favored, then take care of your business and focus on what you can control. Often, the difference between good players and weaker ones is not the quality of their best shots but the consistency with which they play. Even bad players can throw good shots; playing well is about how often you can throw them. I made an 80-foot putt last week in league but I'm not Ricky Wysocki.
Also, the crucial factor in golf is not always how great your good shots are. The more important question is: how bad are your misses? The bad throws of good players are usually still in bounds; missed putts result in tap-ins instead of three-putts. Great scores often rest on saving pars from bad spots and being able to fight for bogeys when you are looking at triples. There are lots of 890 players that are three bad holes a round from being 960. Be prepared to battle through a bad stretch and, most importantly, trust your skills.
Every player can throw great shots and come out of the gate hot or you may be three shots down after four holes. But, like the odds in a casino, the advantages of being a stronger player usually accumulate over time. This is why better golfers tend to rise to the top when tournaments have more rounds (and why the world championships used to be 9 rounds long – followed by a final 9!). Don't panic if you aren't dominating from the first hole, it sometimes takes time for the leverage of being a better golfer to reveal itself.
A few years ago, I was on a card with Paul Oman. He was the only true touring pro in the field and the best player in the tournament. In the first round, on a course he had never seen before, he played a bit flat and shot 25 points under his rating. He never showed any frustration or any indication that he was stressed about his play. He took care of his business, was a great cardmate, and just played his game. After the first round, he was tied for the lead in MPO. And then in the second round shot 40 points better, and almost 20 points over his rating, to shoot the hot round of the day and win by 6.
Be the Opponent You Want to Play
However, patience doesn't always lead to victory. The reality of golf is that you can't always control the outcome. Not just because of freak rollaways and spit-outs, but because you can't do very much to affect how your opponents are playing. Golfers don't get to play defense, and the rules of golf etiquette are there precisely to limit the possibility of players unfairly influencing other golfers.
Sometimes you play great and lose. You can shoot the number you thought would win and lose by six to someone playing lights out. Or you can get more than your share of bad breaks. And, sometimes, you just play poorly.
The important thing to do when you are coming up short is to remember to be the opponent you want to play. Only you will remember that you played 40 points under your rating when someone shoots a career round. Unless you throw a temper tantrum and make someone else's best day all about you. Be gracious. Don't try to make someone feel guilty for playing their best. Act the way you hope your cardmates will act when it's your turn for everything to come together.
When you are not playing to your usual level, it's hard. Be gracious. You may feel embarrassed, or angry, or feel betrayed by your game. However, there is absolutely no upside to telling someone else how lucky they were today or how you normally play better or that they might be more comfortable playing in a higher division. None. You can scream in the car on the way home but collecting your victories and absorbing your defeats with the same grace can only help you play better.
One round does not define your game. Approach each round with openness and focus on the process that made you into a player who deserves to have high expectations.