The edge-of-your-seat moments that defined the season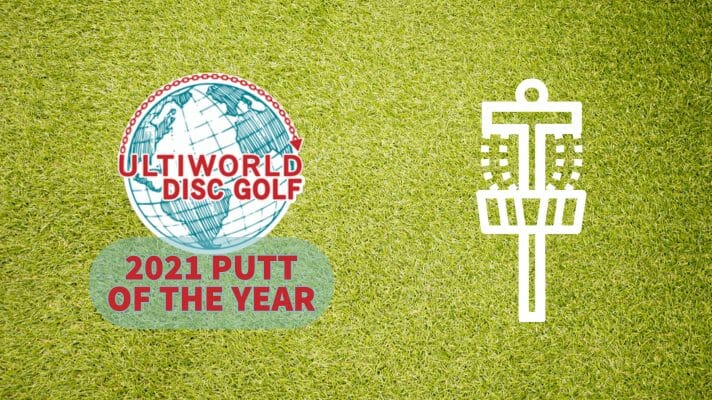 The 2021 professional season was filled with shots that caused us to pick our jaws up off the floor. And there were so many, we figured we'd enlist Ultiworld Disc Golf readers to help us decide on the season's best.
With that in mind, we are proud to present the fourth of four bracket challenges to close out the year. We've culled highlights from the sport's best media providers and broken them down into four categories: Putt of the Year, Ace of the Year, Roller of the Year, and Air Shot of the Year. After each bracket is decided, the winners will battle in a four-way face-off that will determine the 2021 Shot of the Year.
Pick up to two shots for Puttt of Year to make it to the finals. And if you're having fun with this, feel free to share the love on social media.
A special thanks to Jomez Productions, Central Coast Disc Golf, Disc Golf Pro Tour, GK Pro, Gatekeeper, Ace Run Pro, Soblue, Disc Golf Brah, and others for capturing these clips. And we're off!
---
eagle mcmahon hole 3 putt rnd 2 lvc
paul mcbeth hole 11 putt rnd 2 lvc
brodie smith hole 14 scoober rnd 1 lvc
anthony barela hole 15 putt memorial
nikko locastro hole 17 putt waco rnd 3
heather young hole 14 putt rnd 2 belton
paul mcbeth hole 8 putt rnd 1 jonesboro
paul mcbeth hole 17 putt rnd 1 jonesboro
ricky wysocki hole 16 putt rnd 4 ddo
macie walker hole 17 putt rnd 4 ddo
Calvin Heimburg putt on hole 12 during round 1. Masters
Kevin Jones putt on hole 13 during round 2. Masters
Adam Hammes comeback putt on hole 20 during round 3. Masters
paul mcbeth hole 18 putt portland
cole redalen putt hole 3 resistence
paige pierce hole 8 putt pro worlds
jeremy koling hole 7 pro worlds putt
emerson keith putt hole 10 pro worlds
kristin tattar hole 17 putt dglo
ricky wysocki hole 6 putt idlewild
kevin jones hole 6 putt idlewild
catrina allen hole 12 putt delaware
ricky wysocki hole 8 putt delaware
paige pierce hole 11 putt tpwdgc
paul mcbeth hole 17 putt usdgc
drew gibson putt hole 14 dgpt championship
drew gibson putt hole 16 dgpt championship