The new hole 5 at Toboggan is already getting rave reviews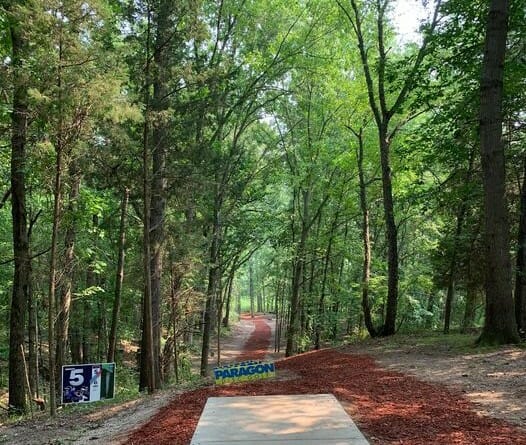 When Nate Heinold made a multiyear commitment to TD the Discraft Great Lakes Open, we knew to expect changes. As players have started to arrive in Milford, Michigan to practice for this weekend's DGLO, early feedback of the updates for 2021 have started rolling in.
"I knew that the first year was going to be fully focused on tee pads, some course changes, mapping out OB options, etc," said Heinold. As of April 22, 27 permanent concrete tee pads were installed on the temporary Toboggan course at the Kensington Metropark replacing the rubber teeing areas.
Heinold continued, "I met with [Discraft's] Bob Julio and Mike Wagner last fall and gave them a pretty large vision for some changes. They were pretty shocked that it included less OB, but that was my goal. The Toboggan course is one of the most beautiful pieces of land on tour, and in my opinion it doesn't need a bunch of artificial OB. We walked through the course several times and the three of us came up with a great plan." Heinold also TDs the Ledgestone Insurance Open in Peoria, Illinois, which includes a temporary course, Lake Eureka, infamous for its OB lines.
So far, the new hole 5 has gotten the seal of approval from touring pros such as Ricky Wysocki and Jordan Castro, who said it may have entered his top 10 favorite disc golf holes of all time. The new layout for hole 5 stays atop the hill after hole 4 and plays as a downhill, wooded 480-foot par 3 through the trees. Hole 6 will also be new, and plays back uphill through a gulley and the woods to the basket for the original hole 5 as a par 4.
Other changes include:
The old hole 6 will now become the new hole 7, and so on.
Hole 11 (old hole 10) will have a new tee that is about 20 feet to the left of the old tee.
Old hole 14 will be eliminated, and old holes 14 and 15 are being combined into an 850-foot, par 4 for MPO, while the FPO division will play from the short tee for the old hole 15.
A new tee was installed on hole 16 that will more directly line the basket up with the fairway.
For MPO only, a new tee on hole 17 has been installed about 120 feet behind the current tee.
For the DGLO layout, OB will not be utilized on the combined 14/15 (now hole 15), and there will not be OB on hole 8 (old hole 7). OB stakes will be utilized on holes 1, 3, 17 and 18.
"We couldn't be more excited about these changes and to debut the new layout," said Heinold. "Eliminating two of the weaker holes (holes 5 and 14) was incredibly important in our work, as was the idea of making sure that any new holes we created were much better than what we were getting rid of. We believe we have accomplished this."
See the entire caddy book for the 2021 Great Lakes Open.