The Team Captain goes into the dynamics of disc golf's professional sponsorship landscape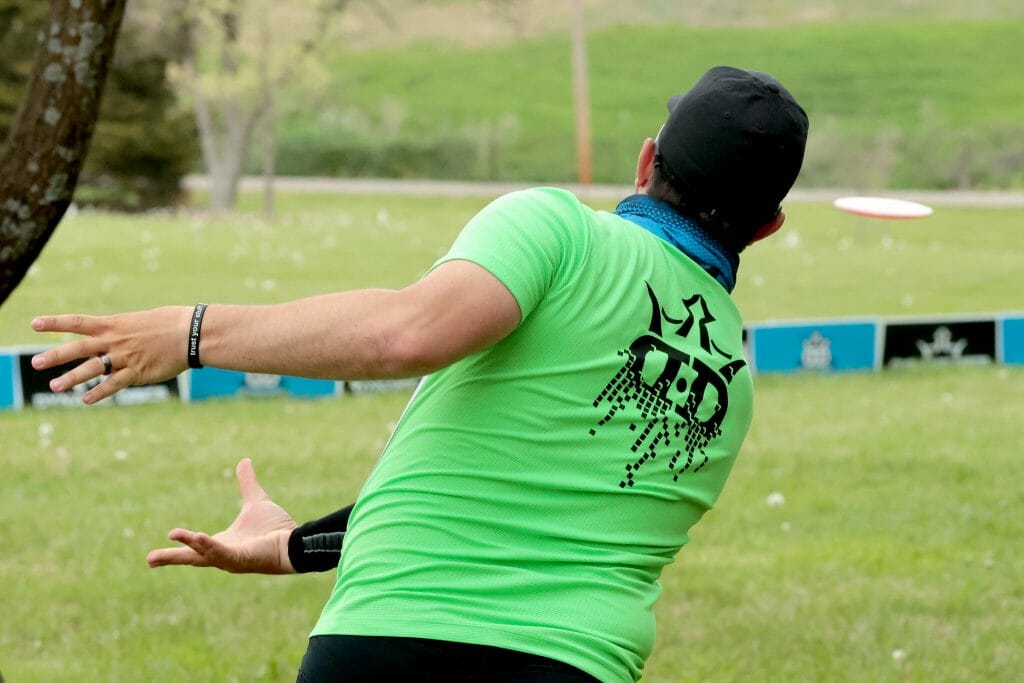 Following this year's DDO, my Stray Thoughts portion of the Tournament Talk column drew a strong reaction from fans, management, and team members at Dynamic Discs. In brief, I questioned DD's place in the professional sponsorship landscape.
In the aftermath, Eric Oakley invited me to chat about the full story about what is going on in Emporia, the rebuilding efforts, and how the team at Dynamic is hoping to be ready for the future. Oakley was joined by Chris Clemons for a frank, honest discussion of where DD is and where it is going.
Oakley serves as Team Captain for Dynamic Discs, and more than that, he is arguably the company's most popular, successful, and marketable Open player of the past several years. Oakley began his touring career as a member of Discmania's team and participated in the legendary Starter Pack Challenge, an all-time great piece of disc golf media. Since then, he has become a fan favorite, known for his snug pants, powerful sidearm, and JomezPro drone flight antics.
Clemons, a southpaw, is known for his elite sidearm and perennial strong showings at USDGC. Let's also not forget his 1100-rated flowing golden locks.
As I pointed out in my column, Clemons and Oakley have been the only members of the Dynamic Discs Tour Team, the manufacturers top level sponsorship team, on regular tour over the past two years. The other two American members of the Tour Team,  A.J. Risley and Zach Melton, have been kept off the main tour with injuries, and Jesse Nieminen has been in Europe unable to attend US events due to COVID-19. Paige Shue, a member of the World Champion team, has also been off tour as she gave birth in January 2021.
Essentially, Oakley and Clemons have been carrying the flag for team DD for the past two years.
"Chris and I being the only guys out there… it's going to be harder for us to stand out as team DD," said Oakley. "Where if you look at other companies they've sponsored everybody and their mother."
Oakley acknowledges that the team is thin right now, and that pulling triple duty as player, team captain, and recruiter hasn't always been easy.
"There were two players that we pushed incredibly hard for, offered very big bucks to — through incentives, through media opportunities, through financial things — they were very big contracts," said Oakley of DD's recent negotiations. "In doing so, I spent a ton of time in the offseason, probably pushing close to 18 to 24 hours worth of time, on the phone, going back and forth with these players to figure out ways to make them happy. To figure out ways of how to make the deal get done. And what happened was they weren't ready to leave. They weren't ready to make a change. And in doing so, that looks bad on us. Because we didn't make any signings, we held off on signing some other players because we have the opportunity to sign these bigger players."
"Now we have already in the early parts of 2021 started looking at what our team could look like in 2022 and beyond," continued Oakley. "We have already started to have small conversations with players just letting them know that we're here as an option; we would love to talk. When the time comes if they feel like they want to make a change. So we're putting ourselves out there. We have eyes on players, where we're looking at potential players that we can offer more like Macie Walker, on our current team, Ty Love, as players that we can build up."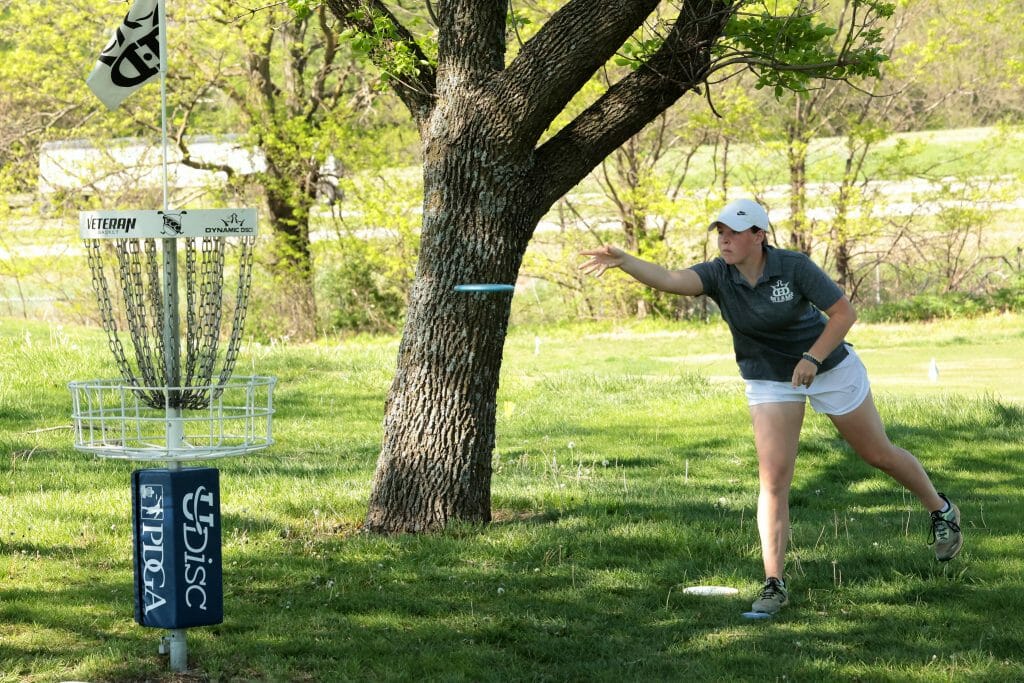 Dynamic Discs has long been active in recruiting, promoting, and expanding the youth side of the game. Sure enough, those efforts have been invaluable in helping introduce new players to the game, and showing young players that there is a future for them in the sport. A crucial part of that work, though, is making sure that those young players feel they have a home and partner in Dynamic Discs, even if they aren't able to outspend other manufacturers like Innova or Discraft.
"Chris and I, our main goal, and I might be speaking for him here, is that we're trying to make the Dynamic Discs team something that we're proud of and leaving it better than it was when we first joined," said Oakley. "We went to Emporia and we were there for a week where we did media, and we actually had a very important meeting with [Jeremy] Rusco and EMac [Eric McCabe], and [Gabe Diaz] Serrano, who's one of our team managers. And there were a lot of positives that came out of that meeting. We're working on ways for DD to be more appetizing towards touring players. So they see the things that Chris and I are getting, and they are more like, 'Wow, that's awesome, I could see myself being a part of that team,' outside of the things that we already offer."
"We're starting to pave the way for a new future of what our sponsorship looks like," Oakley said. "That is our goal. And the best part about it, in my opinion, is that [DD] is receptive to that, they are listening to us, they are 100% willing to work with us. They're not just sponsoring every player they can, because they're just throwing money around there, they're looking to actively take care of these players, provide and give this bigger opportunity that will eventually lead to us having an incredible tour team in the future."
Oakley adds, "I know for a fact that there's a lot of players who are not getting taken care of. Because they have so many players and so many touring players, there's not enough money to go around. And so, to me, I feel like we're trying to find ways to make that achievable."
Oakley acknowledges that the work of holding onto players once they get through the door is hard work, and something the company and players alike can improve on. As players evolve into businesses unto themselves rather than simply ambassadors for the brand, both sides need to evolve and improve how they approach the modern partnership.
"Robert McCall years ago preached to all of us, 'Make your own brand.' Make the name yours and make people want that. So they associate me with my brand, not that he plays for that manufacturer," said Oakley, adding that he thinks it's taken some other people in the company a little while longer to understand the changing culture. "EMac's an old school guy. I think Rusco understands that, and EMac is definitely understanding that now. It's definitely a philosophical change, and it's something that we spoke about. I think that a lot of companies are going to start realizing that."
In the winter of 2019, Paige Pierce announced she was leaving Dynamic Discs to join Discraft. Coupled with the departure of Ricky Wysocki from Trilogy family member Latitude 64 after the 2018 season, the DD cupboard was looking pretty bare of elite talent, and in interviews following her departure, Pierce was remarkably candid about why she left the team.
In interviews with Ultiworld Disc Golf, Smashboxx, and other outlets, Pierce described a situation where she did not feel properly supported in growing her brand. She stated that when she approached management for support in creating and selling Paige Pierce branded clothing and merchandise, Dynamic Discs management was slow to respond and gave little material support. Pierce said that she was wholly responsible for maintaining her own website, sales, and shipping, while also being expected to maintain excellence on the course. Pierce said that when she spoke with Discraft, they made it clear that they would handle all of that and throw in some signature line discs to boot. From Oakley's perspective, the experience was instructive for both players and ownership in how to improve.
"To touch on that, it has taught us… a big lesson of the importance of communication, on getting things done, and making things happen. Pushing the team and ourselves forward is huge," said Oakley. "It's really easy over the span of a season to lose contact with the higher ups from being in the mode of road life. You see it every month, players become unhappy with their current manufacturer or contract, from all companies, but they don't communicate that to them at all, and then they just grow unhappy. Eventually it gets to a breaking point. That's something that we have seen across the entire landscape of disc golf and touring. We're trying to remedy, and even better that, for our team specifically."
In terms of communication between team members, Oakley cites some concerns players have voiced to him about equipment from DD.
"We have some players on our team that don't believe that we have overstable enough discs. I've told them, you need to make a video and send it to Latitude 64,1 providing feedback of the type of disc that you're looking for," said Oakley. "When the Lucid-X Felon was being talked about, I told them that I want this to be a more overstable option. We had the old run Felons that were nice and overstable and were really good, but could beat up to be kind of straight and still kept their overstability. The current stock run that we had were kind of overstable out of the box, but you have to go very, very straight. They serve a different purpose. We were missing that really overstable, reliable Firebird type disc."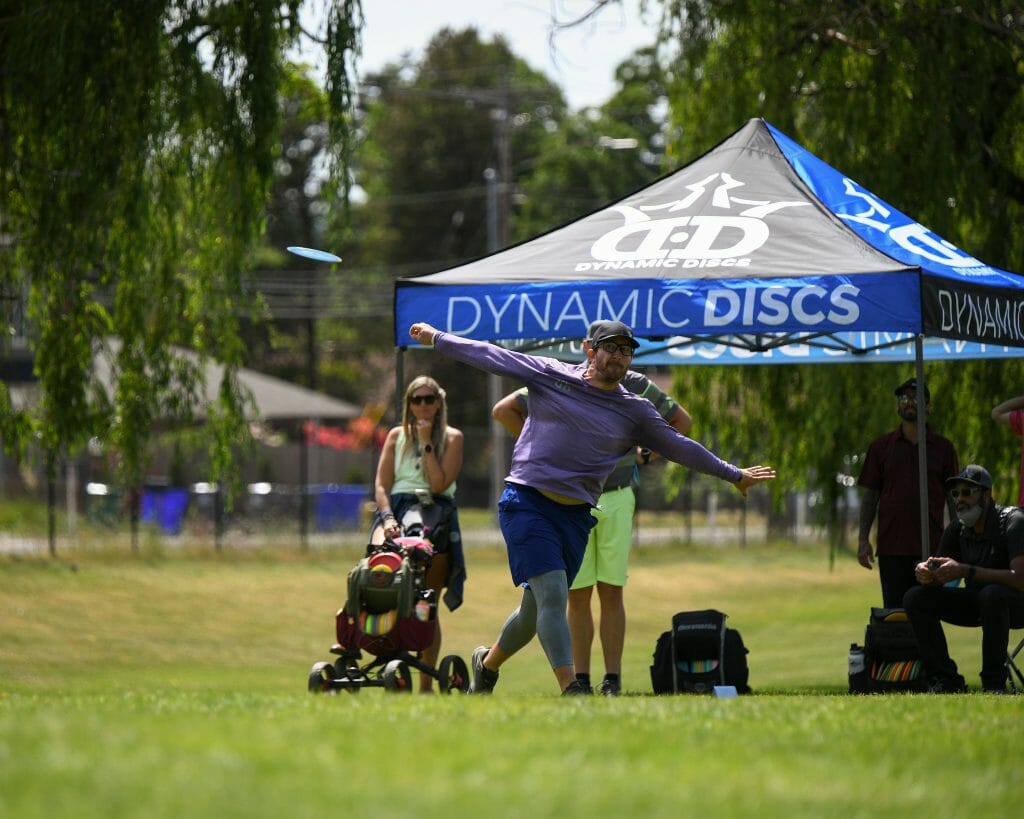 "I sent a video and I showed the shape difference of two different Felons, and showed the slight difference and what I was looking for," remembered Oakley. "Latitude took that information and has provided us with probably one of the best overstable fairway drivers options in the game across all the companies. If we're being honest, I'm a little biased in that statement, but I wholeheartedly believe that as a tool in my bag that has as probably won me more money than than most other discs. Chris is now doing the same with his Verdict for his fans and for his bag — he needs a flatter one so he's having the same conversation. There's the right avenue to make those things happen and that becomes this bigger process."
This type of direct feedback and response is what Oakley think can set DD apart from some of the other manufacturers.
"What isn't talked about, isn't well known, is that [DD is] willing to work with us," said Oakley. "They're willing to adapt and to change and to get out in front of the professional sponsorship. Do I think that all companies are doing that? No. I think a lot of companies are set in their ways, because they're paying so much money for these bigger players. DD is in a place where they have a better opportunity to grow and shape and mold what professional touring disc golfers look like."
Part of the case for DD that Oakley makes is that as a smaller company with a leaner team, there is more room for growth and development of a player's personal brand and profile, as well as a manufacturer that is responsive to the needs of players.
"I genuinely feel as a part of the company that my ceiling, of the amount of growth that I can gain is not even in sight," said Oakley. "At other companies that I've been a part of in the past, that feeling was reached very quickly."
There is, of course, the flip side of that coin. A smaller company will oftentimes simply not be able to throw its financial weight around like some others. Oakley notes that the team is caught in a bit of a vicious circle where it is difficult to raise their profile without a big name on the team, and it is difficult to draw a big name to the team without raising their profile.
"To be frank, I think one of the biggest things that's happening right now in our sport is that the rich continue to get richer," said Oakley. "The top players are treated much better than the players that are out there grinding just as hard. Yes, we're not having consistent top finishes, but that's what makes it more difficult for our content to be seen at times. What are the biggest media companies promoting the most? They're promoting certain players who don't need help promoting."
"This isn't a knock on anyone but we see the same 10 players on DGPT media days, you see the same 10 to 12 people on coverage, week-in week-out," said Oakley, citing opening round feature cards and press conferences. "That's not our choice, that's the DGPT's choice. They set up a way that they choose who gets on these cards. And then also Jomez, who are they going to choose? They're always going to choose Paul [McBeth]. It's not a wrong thing, and I want that to be known that their decisions are totally fine, but when you ask why it's difficult for us, it's partially because of that. There's no trickle down effect."
It is worth noting that while Dynamic Discs' Tour Team may be in a transitional period, the company as a whole is thriving, having recently built a new warehouse in Emporia. Additionally, it's decision to broadcast the 2020 Dynamic Discs Open on CBS Sports Network opened up larger media opportunities for the sport, including the 2020 DGPT Championship getting airtime on the ESPN family of networks. Dynamic Discs is often out in front of its peers in putting their name, logo, and product in front of an audience that's not native to the game. The town of Emporia has come to rely on Dynamic Discs as an employer and the DDO (formerly Glass Blown Open) is incredibly important to the town's economy. In speaking with a member of the Emporia Chamber of Commerce in 2020, the official estimated that the DDO alone infuses north of $2 million to the local economy every year.
As of publication, out of the top 10 ranked MPO players by 2021 DGPT points, Discraft, Innova, and Discmania2 lead the way. Seven of the top 10 represent those three companies. The other three are from each of three different companies: Kevin Jones (Prodigy), James Conrad (MVP), and Nikko Locastro (Westside — part of Trilogy). Of the top 20 players in MPO, only eight players are sponsored by companies not molded by Innova or Discraft, including Clemons at no. 15. In FPO, the disparity between manufacturers is even more stark. Only Catrina Allen for Prodigy, and Sarah Hokom with MVP are not sponsored by Innova or Discraft-manufactured teams. The Trilogy lineup does fare better in the 10-20 FPO field with Rebecca Cox, Cynthia Ricciotti, and Erika Stinchcomb representing Latitude 64, DD, and Westside, respectively. Still, Ricciotti is not a member of the top level Tour Team at DD, Rebecca Cox has stated that she is taking a hiatus from touring, and Stinchcomb only has a single top 10 finish at an Elite Series event so far this season.
What all of that means is that there is a significantly outsized chance for "free" advertising that Innova and Discraft are able to benefit from when their players make the feature card for either live or post-produced coverage. Forces, Destroyers, Lunas, Aviars, Buzzzes, and Firebirds simply get more airtime than Truths, Harps, and Ballista Pros.
A fair question to ask: is this current landscape — with Innova and Discraft acting out their own version of the Yankees vs Red Sox rivalry, where they flood the free agent market with big spending, leaving the smaller teams to pick over what's left — the way forward?
Will more players make the decision to move to more intimate teams where their feedback has a better chance of being heard, or will the "prestige" of being part of one of the big companies continue to outweigh the cons of a large squad?
---
Latitude 64 handles production and design for Dynamic Discs and Westside Discs, as well as its own brand ↩

Discmania's discs are manufactured by Innova, Latitude 64, and Yikun. ↩