Storylines galore coming out of Emporia.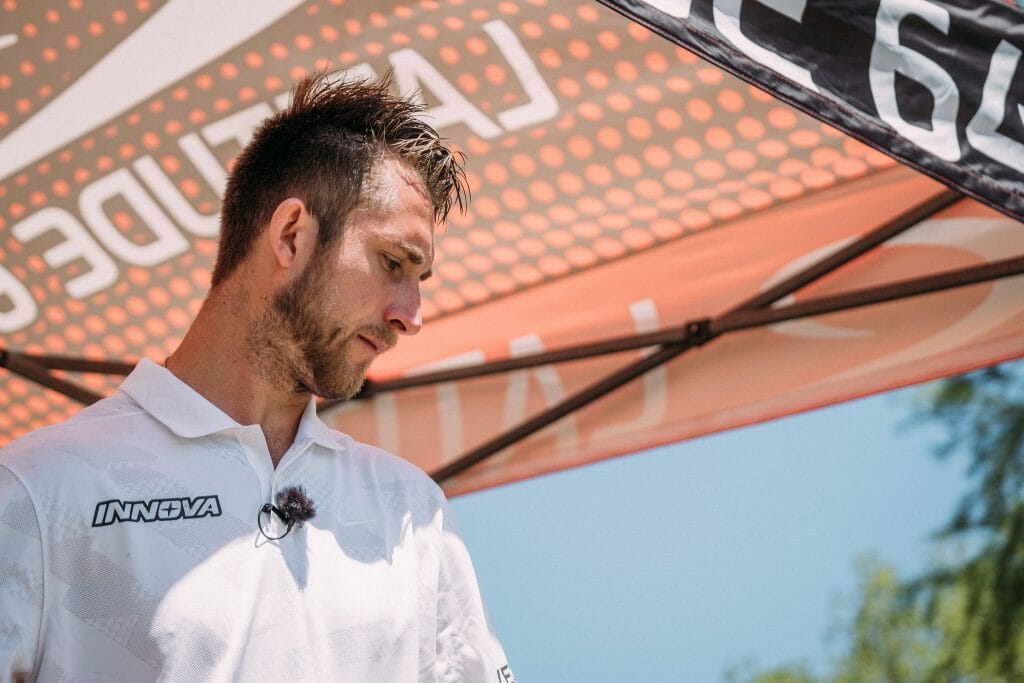 The largest1 event of the year may have produced the three of the biggest stories of the 2021 season: 
Paul McBeth gets his first Elite Series win of 2021

Hailey King bags her first Dynamic Discs Open win and second PDGA National Tour win of the year — and her career

The tragic passing of Ricky Wysocki's sister, Lauren, and his emotional and gutsy performance throughout the week. If you haven't already, rewatch the touching tribute JomezPro put together
On the course, Hailey King closed out perhaps the most convincing and important win of her career. King carded the hot round in rounds 2 and 3 and was never back more than three strokes of the hot round each day. Going into the final round, King was a single stroke ahead of Catrina Allen, and one might think that because of the big stage of Emporia, with the wily and hot-handed Allen right on her tail, her nerves might get to her. One would be wrong. After a bit of a rocky front nine, marred by a few bad missed putts (albeit in very tough putting conditions), King turned it around on the back nine and went 2-down, while Allen carded five bogeys. 
It was nervy play from King indeed, and she has now clearly secured her spot as one of the top three FPO players in the country, alongside Allen and Paige Pierce. As noted in her recent interview with Ultiworld Disc Golf, King is a cerebral player who generally doesn't let the moment get away from her. She never seems frazzled and is careful to surround herself with people she can lean on and learn from. Perhaps most notably, she had fellow up-and-comer Cynthia Ricciotti caddy for her during the 2020 DGPT Championship, and has recently had friend and Brian Earhart's partner, Lindsay, on the bag for her. In an "individual sport," having a support network and the maturity to be able and willing to take in advice from others could be what is helping King chase the throne. Sorry.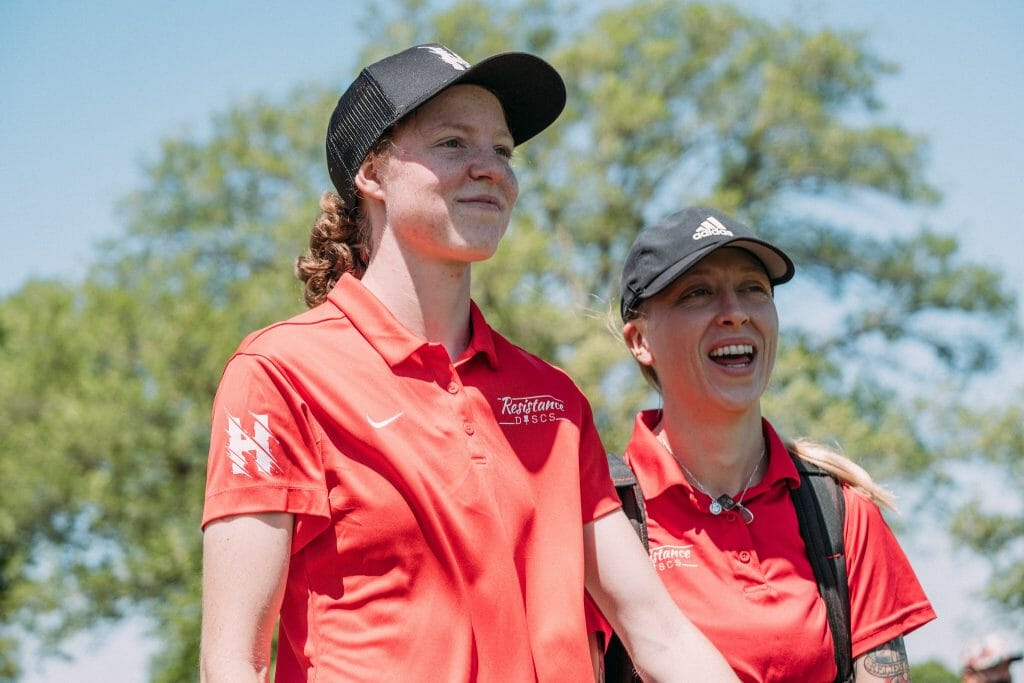 In a performance reminiscent of Isaiah Thomas' 50 point effort for the Celtics in 2016 following the death of his own sister, Wysocki shot a blistering 15-under par in the second round at Jones Gold, setting the course record. At times, Wysocki looked like a player of destiny, willed on by the crowd and raw emotions.
Following the round, Wysocki said, "I mean, a lot of emotions going on with my sister, and having to travel back to see her on Tuesday. It is awesome I got to see her before she passed away, but I didn't get much practice going into day one. I played blind, but it was obviously for a good cause. I got to see the course day one and made the adjustments for day two and was able to come out and shred…It's going to be an emotional week and it's good to have my sister looking down. I think she's got a great spirit and is looking out for the best for me."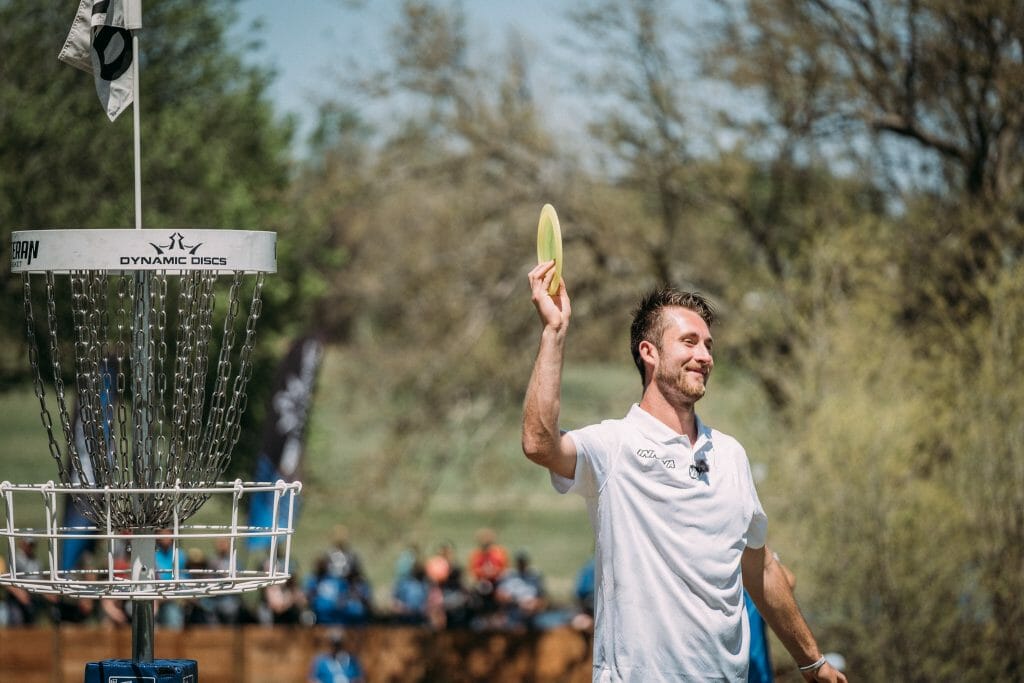 Over the first two rounds at Jones Gold, Wysocki looked positioned to continue his run of current dominance but seemed to run out of gas once things shifted to the Emporia Country Club, and had a disappointing final round and "settled" for second place, dropping five strokes to Paul McBeth. Wysocki did cap his weekend off on a high note, birdieing three of the last four holes, and saving par on the island 16 with a monstrous and inspired throw-in from the drop zone. If Ricky running down his putt through the crowds isn't a lasting image from this weekend, you were watching a different tournament than the rest of us. 
---
McBeth had one of those classic tournaments where he just lurked around in the top 10 of the leaderboard, biding his time and conserving his focused energy on the long courses and tough conditions until it was time to strike.
Strike he did. 
Going into the final round, McBeth was in a three-way tie for first with Calvin Heimburg and Eagle McMahon at 33-under par. Wysocki was right there too, at 32-under par. While Wysocki and McMahon each fell off the pace on the front nine due to OB throws, misfires off the tee, and some sketchy putting, Heimburg and McBeth were in a real battle on the first half of the course. 
Then the turn, and Heimburg fell off, going 4-over on the final nine, allowing McBeth to cruise to his first elite victory of the season, taking the W by six strokes. Maybe it seemed like a run-of-the-mill win, but according to McBeth, he had a switch of mentality during the final round on Saturday.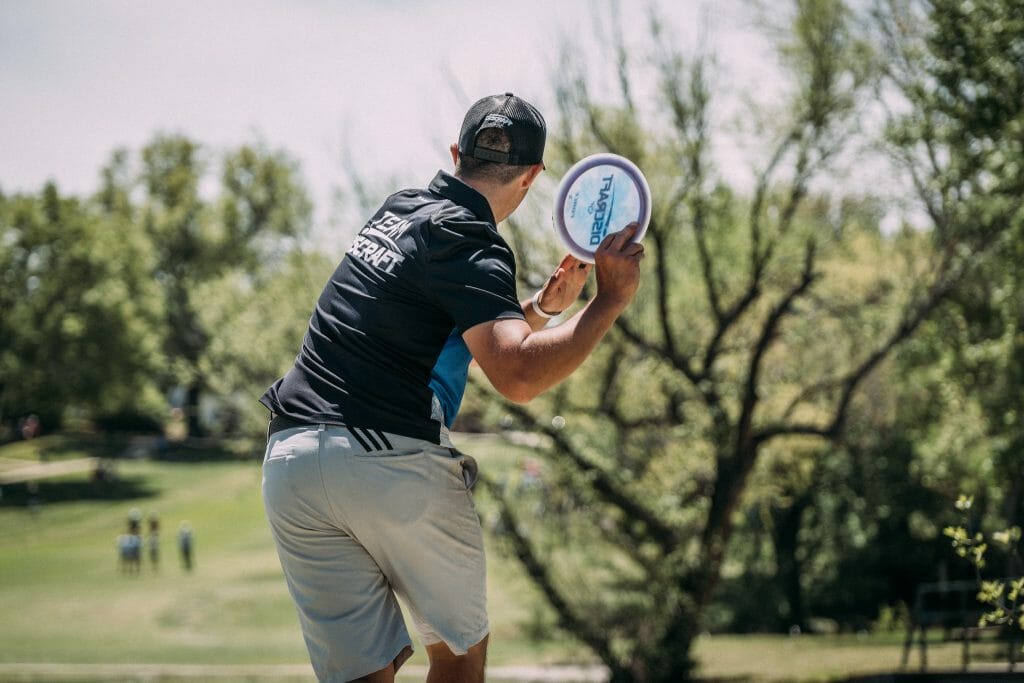 "I feel like I'm too nice out there sometimes," said McBeth after the round. "I need to go out there and attack, especially in a situation where there is a three way tie. I had to go out there and tell myself I'm not here for the friendships."
To hear a famed closer and decorated player such as McBeth say he hasn't been mentally dialed in is a bit of a wake-up call to the rest of the division. It's been clear his putting is a touch off, which he has been candid about, but this is the first we've heard from the usually brand-centric and execution-focused McBeth about his relationships with other players or personalities on tour impacting his play. Robotic is a term usually reserved for Chris Dickerson, but perhaps McBeth has been more deserving of it, at least in how carefully he manages his public persona. If this is what it looks like when McBeth is truly going to be shutting out the distractions, we're in for a fun summer.
---
We would be remiss to ignore Ben Callaway and Macie Walker's performances this weekend. Callaway, a former US Amateur champion, had himself quite the week in Emporia. He doesn't do a full tour or make his living playing disc golf like most of his cardmates do, but he absolutely shredded Jones Gold. Callaway went a combined 27-under over the first two rounds and was putting at a 89.5% clip with no bogeys, with just a single OB throw after which he was able to scramble for par. Like many others, his putter fell off once he got over to the country club and the wind picked up, but a sixth place finish is nothing to sneeze at, and it's the second consecutive big event that he's earned his way onto a lead card. The 33-year-old has been performing at a high level in the sport for more than a decade, yet he's still showing he has another gear.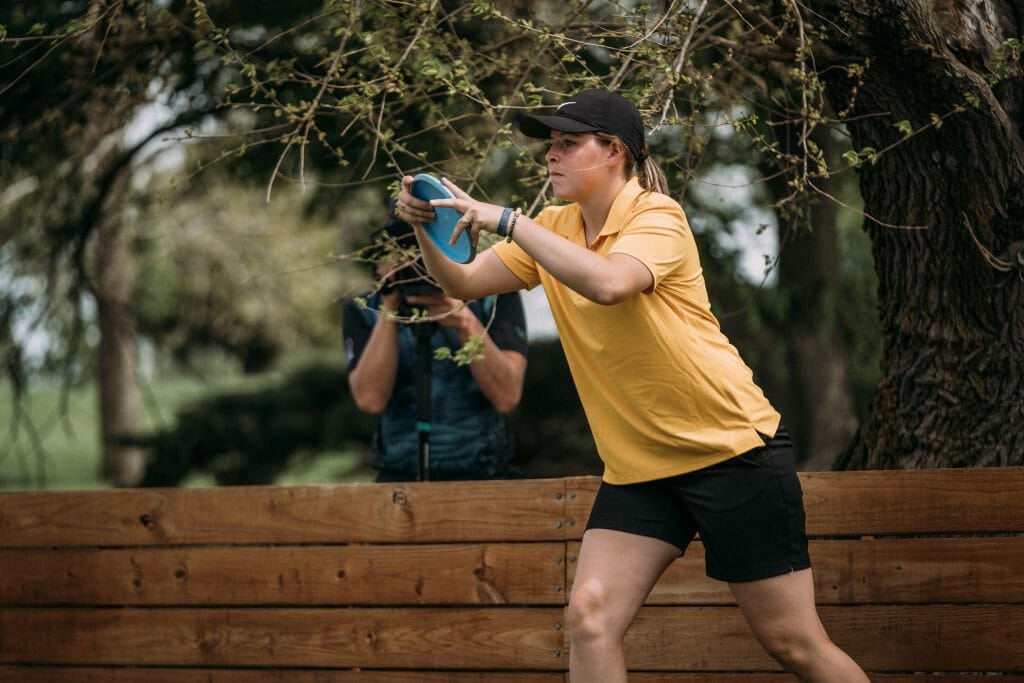 For her part, Macie Walker needs to be at more elite events in 2022 if this is what she's going to be showing us. Like Callaway, Walker followed up an unexpected performance at Jonesboro with a podium third place finish in Emporia alongside Heather Young. Walker shot well above her rating every round, including a 988-rated first round, the third highest-rated of her career if it stands. Walker gained 20.65 strokes on the field from tee-to-green, but couldn't quite convert consistently on green. We know she has that ability with her putter, though. She showed it as the tournament came down the stretch and she needed huge putts on holes 16, 17, and 18 to tie Young for third. The future of the American FPO continues to get brighter between her, King, Young, and the continued ascension of Kona Panis.
---
It wouldn't be a weekend in Emporia without some commentary on the course and conditions.
The addition, or return of, Jones Park was a welcome and refreshing one. As the major (both lower and uppercase M) four round tournaments like Pro Worlds, Green Mountain, and Ledgestone have adopted a two course model of open and wooded courses, Jones played the role of the wooded course this week. As I noted in my Jonesboro Tournament Talk, the addition of just a few more trees, which demanded more involved shot shaping, did wonders for the aesthetic aspects of the viewing experience, and for requiring a greater variety of shot shapes and approaches to each hole. 
Interestingly enough, the MPO field scored significantly better at Jones than at the Country Club, while the opposite was true of the FPO field. In the first two MPO rounds at Jones, there were 30 rounds total which cracked 10-under par. Not one MPO player cracked 10-under par at the Country Club. In FPO, there were only eight total rounds which went under par at Jones, and 12 total rounds under par at the Country Club. What does it mean, and what are the lessons to take away from this? I'll punt for now, but with the OTB Open and Challenge at Goat Hill coming up, it will be interesting to see how those two newer events can design a "bomber" course with FPO in mind.
Stray Thought
What is Dynamic Discs' place in disc golf right now? DD started as an equipment and lifestyle company before evolving into a disc manufacturer in partnership with Latitude 64. In past years, team DD was a force to be reckoned with on tour, and its tournament sponsorship profile was up there with the rest of the big manufacturers.
However, things have changed.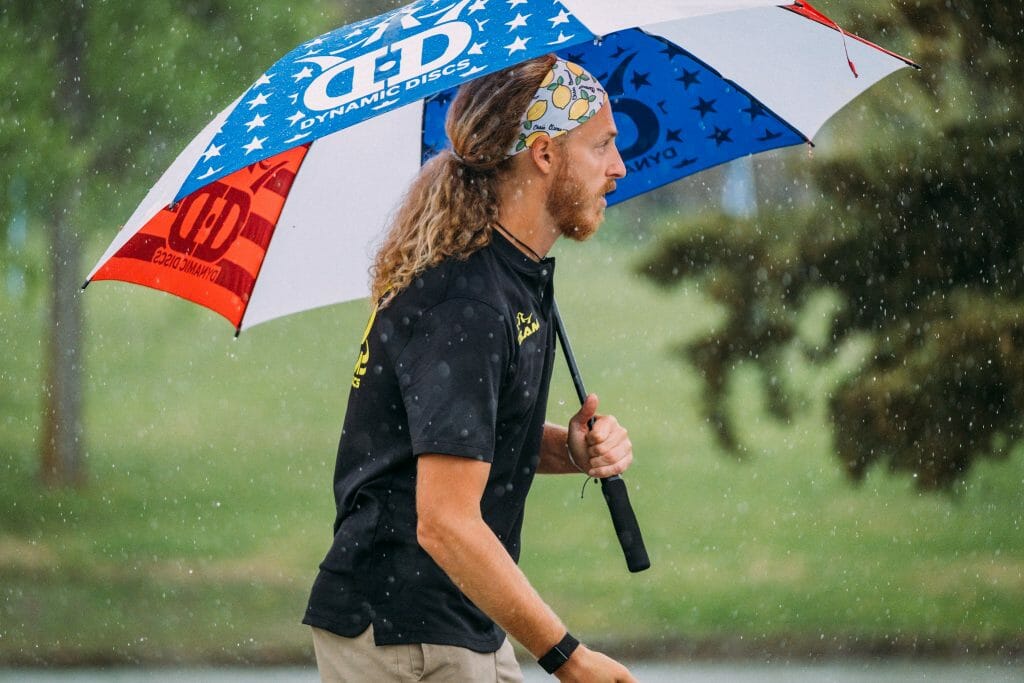 From a sponsorship standpoint, its touring team pales in size to other manufacturers. World champion Paige Shue has not been on the road much over the past year after giving birth in January, and only Chris Clemons and Miles Seaborn have top 10 MPO finishes at an Elite Series event this season. A.J. Risley hasn't played a sanctioned round since late July of 2020 due to injury, Jesse Nieminen is overseas, Zach Melton is coming back from knee surgery and hasn't finished better than 31st this season, and Eric Oakley has been consistently in the top 30, but that's not getting the DD logo on coverage. The addition of A.J. Carey and promotion of Jon Nicholson haven't moved the needle yet. 
Team Fuzion features a lot of potential in Cynthia Ricciotti and Macie Walker, who have bright futures ahead of them in FPO, but Walker has a limited tour schedule this year and Ricciotti is still chasing her first top 10 finish in 2021. DD has traditionally done well to recruit young talent — case in point, Ty Love — but recently has watched players such as Zach Arlinghaus move to other sponsors.
Bottom line: outside of their presenting sponsorships and some ads touting its store's customer service, you're hard pressed to hear anything about Dynamic Discs on coverage of any kind. 
Now, of course, losing players like Paige Pierce and Ricky Wysocki from the extended Trilogy2 family is going to leave a dent in your feature and lead card air time, but they didn't just lose those two. Missy Gannon, Jordan Castro, Dustin Keegan, Zoe Andyke, Matt Bell, Reid Frescura, and Drew Gibson all were major factors in getting the DD and Trilogy brands out there in front of eyeballs on social media and coverage, and all have moved on to new sponsors over the past couple of seasons. 
It's worth noting that Discraft was in a similar position not so long ago, as Discraft's disc golf team and business seemed to have at least one foot in the grave following the Prodigy-fueled exodus, but they have bounced back in a big way. The big difference is that Discraft had more or less cornered the market for ultimate frisbee, and could reasonably be assumed by the average Joe to be exclusively-focused on that aspect of their business. They were happy to let Nate Doss and Michael Johansen carry their brand. This is not the case for DD–they are exclusively a disc golf company and without top-level players wearing their logo, throwing their plastic, and carrying around their very cool looking bags, could it challenge sales long-term?
Unless they are either able to develop the next big name in a big hurry, or make a splash in free-agency, Team DD may slip from a top level to second tier gang. 
DD has always been good at getting people in the door with their branding, marketing, and strong social media presence. They have large youth and regional teams, and personalities like Danny Lindahl and Tina Oakley that will help keeping you thinking positive thoughts when you think about DD. It doesn't change the fact that DD has been losing top level players for the past several years.
There's a big gulf between the amateur and professional side of the Emporia company right now, and how they choose to navigate the path between the two in the future will be something to watch.
Correction: An earlier version of this article said that the only Dynamic Discs sponsored player to have a top 10 finish in MPO was Chris Clemons. That was incorrect: Miles Seaborn finished 9th at the Jonesboro Open.
---
attended ↩

DD, Latitude 64, Westside Discs ↩