How are players faring after making the transition?
Although this offseason featured more sponsorship contract extensions than big changes, there was still plenty of speculation as to how the largest free-agent movers would perform with their new plastic.
With the first two Disc Golf Pro Tour stops now behind us, we can examine the play of three top MPO free agent signings: Ezra Aderhold (unsponsored to Discraft), Thomas Gilbert (Innova to Prodigy), and, most notably, James Conrad (Innova to MVP).
Of course, it is still early in the year, but we will be giving grades based on the players' performance so far this year (at least in part relative to expectations). And always remember: it's the archer, not the arrows.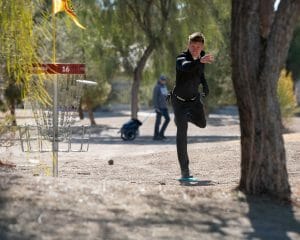 Ezra Aderhold
New Sponsor: Discraft
2021 Finishes: 2nd, 22nd, 27th, 67th
Grade: B+
Aderhold gets a B+ for his play so far, thanks primarily to his superb start to the year with a second place finish at the Las Vegas Challenge. As one of 2020's buzziest new names, Aderhold was expected to play well to start his season, but few could have expected such a potent start. He got a stranglehold on day 2's competition at the LVC, taking a -16 score into the clubhouse — the first 1099 rated round of the year. Although somewhat struggling on day 3, Aderhold dug in and finished on the podium, the first top three finish of his career at an Elite Series event.
Aderhold came into this past offseason in an interesting position, as he was the only player in the DGPT's top 32 with a mixed bag. But, with the help of Nate Perkins as his negotiator, Aderhold struck a 2-year deal with Discraft. The signing made sense in the minds of many, as Aderhold had secured spots for molds like the Nuke and the Zone as staples in his bag without Discraft's formal endorsement. It also goes without mentioning that Discraft's affinity for media-active players has created a lot of recent success for the Michigan-based company, and Aderhold's recent development of his YouTube and Instagram situated him as a popular target from manufacturers across the industry.
His play since LVC has been less impressive, pulling his grade down from what looked sure to be an A, and he missed cash at this weekend's Open at Belton, a DGPT Silver Series event, with two rounds rated well below 1000. But the raw tools are obvious, and getting a 2nd place finish at the year's first event is still going to outweigh a couple bumpy weekends.
Highlights of the Bag
Raptor: Although the Raptor is comparable to Innova's Firebird in terms of flight characteristics, Aderhold has said that this disc was one of his first ever, getting it from a player pack at one of his first tournaments. Similar to his FD3 from last season, it flies straight and finishes moderately when thrown with Aderhold's plus power.
Tour Series Nuke: When Aderhold announced his contract with Discraft, it was only a matter of time before this disc had his name on it. He had thrown the Nuke before making the signing, and the tour series plastic edition of this distance driver is best for Aderhold's "stock hyzer shot," according to the South Dakotan's bag-building series on his YouTube channel.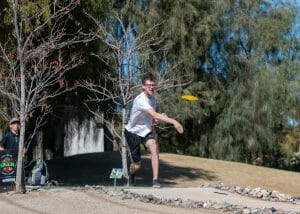 Thomas Gilbert
New Sponsor: Prodigy
2021 Finishes: 15th, 17th, 60th, 58th
Grade: B-
Gilbert earns a B- performance for his transition. Canada's top player moved from Innova to Prodigy, and the early returns are promising, as he tied his best career finish at the Las Vegas Challenge.
Gilbert told Ultiworld Disc Golf he had not originally planned on switching sponsors until the Prodigy reached out at the beginning of the offseason. "There were many reasons for the switch, but one of the main ones was how much support I was going to receive from Prodigy. Innova treated me well, but Prodigy, a somewhat smaller company in some ways, offered more to me as a player," he said.
He feels that his transition has been going well. His recent disappointing finishes in the past two events are, according to Gilbert, partially caused by a foot injury he suffered during the Waco Annual Charity Open. He hopes the west coast swing, his favorite part of the tour schedule, will help his confidence continue to build.
Highlights of the Bag
D2: Prodigy's high-speed distance driver, a bit less overstable than the D1, is a bomber appropriate for a player like Gilbert. Comparable to Innova's Destroyer.
FX2: Prodigy's fast fairway driver offers a straight flight with a strong finish. "Nothing has replaced my Sexton Firebirds yet, but I'm beating in some FX2s to fill in that slot," said Gilbert.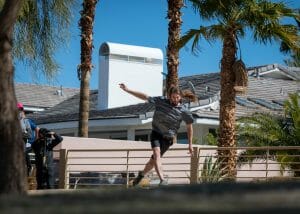 James Conrad
New Sponsor: MVP
2021 Finishes: 11th, 34th
Grade: B
James Conrad has earned a B for his efforts thus far. Conrad definitely gave his fans reason to worry after a bit of a struggle at the DGPT All-Star preseason event in Arizona, as his angle control, a strong suit of Conrad's game, was missing in action. However, Conrad played a consistent game and just missed the top 10 at LVC as the newest addition to Team Gyro, easily topping his previous best finish of 39th in 2019.
"I didn't have any preconceptions of MVP going into it, and everyone I know who throws their discs really enjoys them," he told Ultiworld Disc Golf. "So far I've been having a lot of fun with the switch."
At WACO, he finished in 34th after placing 4th in a COVID-shortened event in 2020. Woods finesse–long a potent part of Conrad's game–looks like it is still coming together with his transition away from specific heavily-used Innova molds.
Considering his style of play, that's not a big surprise. As he grows more comfortable with his new bag, the future looks bright for the 2019 USDGC Champion.
Highlights of the Bag
Envy: The Envy is MVP's breakthrough throwing putter under the Axiom label that has made a massive impact on the company's success. Conrad carries multiple of this mold, and the yellow and blue one (in Electron plastic) seems to appear frequently on his Instagram practice rounds and recent tournament coverage. Conrad is known for his buttery backhand putter shots, so this disc is sure to see lots of action this season. "I love the range of stabilities I can get with the Envy with the variety of plastics. My electron (baseline) ones are flippier, and I have a cosmic neutron (swirly premium) one that's pretty stable, so it took less time to get the variety of shots," said Conrad.
Tour Series Neutron Volt: MVP nailed the stamp for Conrad's first tour series disc. This straight fairway driver appears to bridge the gap between James's Innova Teebirds and Thunderbirds and is getting lots of play both from the Virginian and his fans. According to Conrad, "I have been able to trust the Volt, even early in the season. They feel really comfortable and I have a good idea of how they will fly when I throw them."
***
All three are competing in the 2021 Texas State Disc Golf Championship, the first stop on the PDGA National Tour, this weekend in Tyler, Texas.