3-year contract includes overall disc sales royalties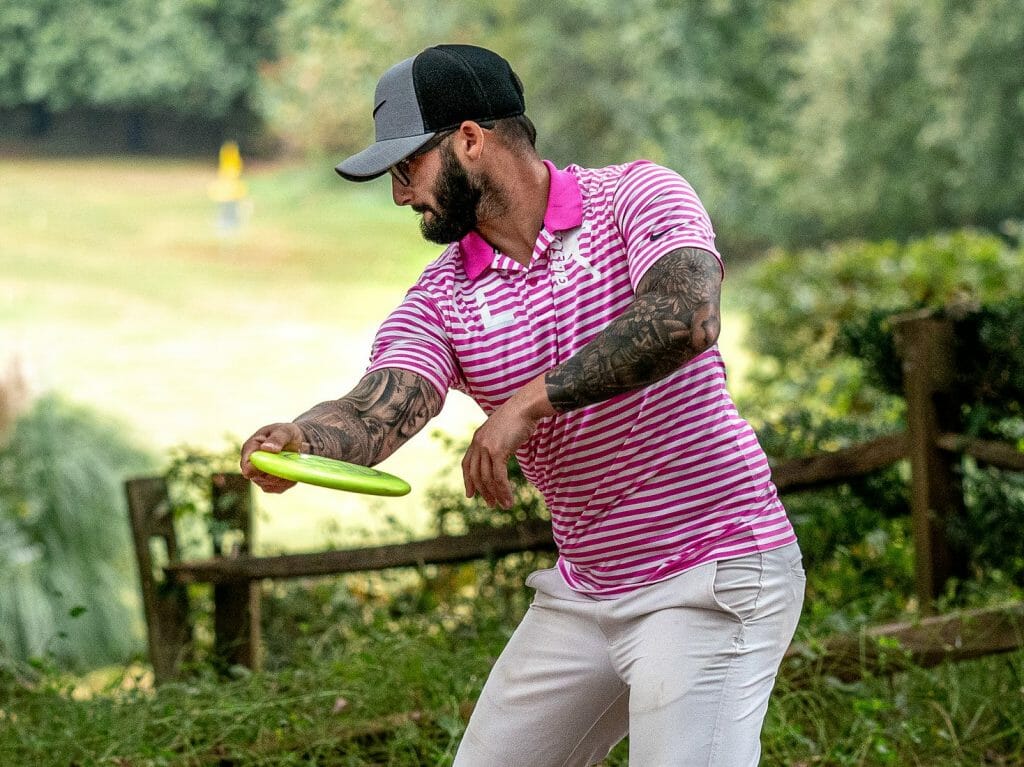 A new disc line will be getting a high-profile endorsement, as Drew Gibson has agreed to a putter-only sponsorship deal with EV-7, running three years through the 2023 season.
Gibson's deal guarantees the player an undisclosed salary, which will increase by 30% year-over-year, and a small royalty on all discs produced by EV-7. The new sponsorship does not alter Gibson's existing arrangement through Infinite Discs, which allows him to throw a mixed bag of discs from various manufacturers. EV-7 plans to wholesale with Infinite Discs. Its first disc to hit the market, the Penrose, went on presale today.
The Penrose will be Gibson's signature disc with the company and will be his primary putter during the 2021 season.
"This putter is weighted differently that a normal putter," said Gibson of the Penrose. "It's a masterpiece. It's designed different than a standard putter. You can feel the difference right away when you pick it up."
Besides the feel of the disc mold, Gibson said it was easy to commit to putting with the Penrose as it was a nice fit between the Discmania P2 and Discraft Challenger, the two putters he had most recently been using. He plans to bag the Penrose in OG Firm plastic; he does not traditionally throw the same mold of putter as he putts with.
EV-7 is the latest brainchild of Prodigy Disc co-founder Phil Arthur, who left Prodigy in 2020. Arthur describes EV-7 as focused on the putting and approach aspect of disc golf, the area most players struggle with and drop the most strokes. Discs will be available in one of four plastics, and Arthur is also open to developing and manufacturing discs for other brands, not unlike Discmania's current relationships with Innova, Latitude 64, and Yikun.
Arthur approached Gibson in relation to testing the Penrose for feedback about a month ago, and after about two weeks of back and forth, the contract came together rather quickly.
"Most people rated 1030 are sponsored, so he hadn't had anyone of my arm speed or caliber give him any thoughts," said Gibson. "Neither of us were even thinking sponsorship really. I tried it and said, 'I don't know what you did, but this putter's incredible.' I wanted to find a way to work them. Phil said he needed to run the numbers and he came back to me with the deal we agreed on."
Gibson finished second at the Shelly Sharpe Memorial in mid-January and is next registered for the DGPT opener in Las Vegas.