Inside: ambitious live plan, no Jomez, commentator insights.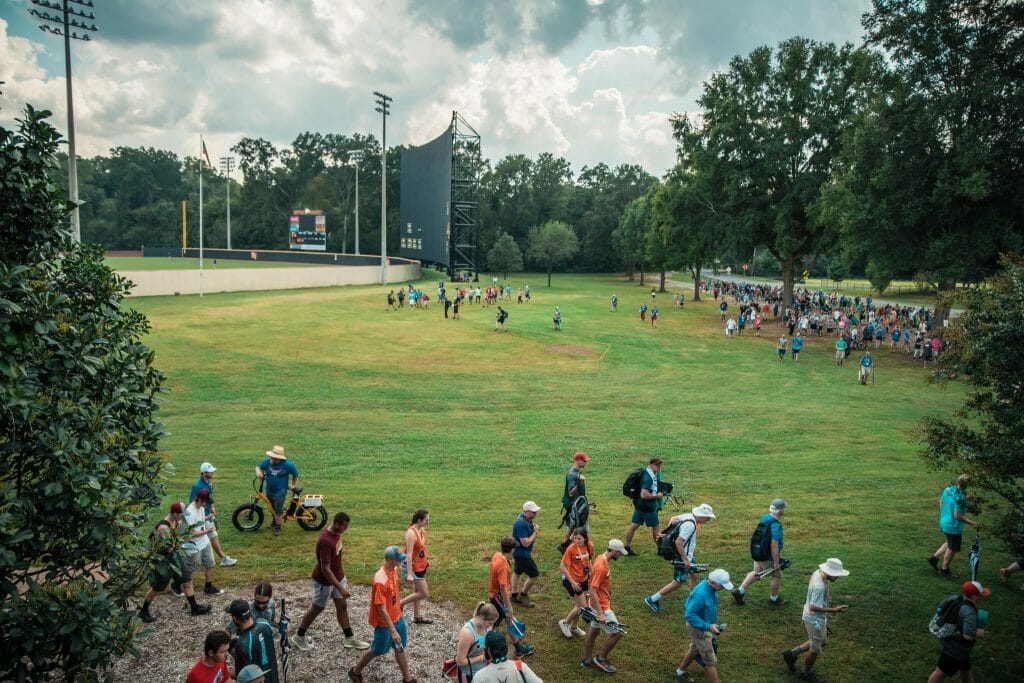 We're two weeks away from the first and only Majors of the year in disc golf: the United States Disc Golf Championship and the Women's National Championship, both set to be held on the Winthrop University campus in Rock Hill, SC.
With no spectators allowed on site, media coverage of the event is more important than ever. USDGC announced today the full media plan for the 2020 event.
There will be two separate livestreams for the USDGC and WNC, each produced by Fulcrum Media1 and available via pay-per-view starting at $19.99 for both events and all four rounds on the weekend. The USDGC coverage will be anchored by Ian Anderson (Central Coast) and Philo Brathwaite, who was qualified for the event as a top 10 finisher in last year's event but opted to commentate instead. The Women's National Championship coverage will be anchored by Hannah McBeth and Juliana Korver.
For the two weeks following the event, next-day post-produced coverage will only be available to those who purchase an All-Access pass ($29.99) or a Gold Pass ($39.99), the latter of which comes with a commemorative USDGC disc and a $5 coupon for the USDGC online store.
After two weeks, the post-produced coverage will be made available via the Central Coast Disc Golf YouTube channel and, eventually, on a forthcoming USDGC YouTube channel that will house the coverage of all past events going back to 1999.
Inside The Live Coverage
The production plan for this year's media coverage is the most ambitious to date. The live coverage will feature six cameras out on the course — three on the lead card, two on the chase card, and a flex camera that may follow chase but could be sent to follow a hot round on another card. There will again be live drone footage cut into the show, two studio cameras, and a "beauty" camera for scenic shots.
Notably, the Central Coast post-produced coverage will use the footage from four of the six live cameras, along with one additional slow motion camera that will be exclusive to the post-production.
The on-course cameras will transmit footage wirelessly through backpack encoders, similar to the Disc Golf Network approach and a departure from last year's roving van wireless connection.
The commentators are also expected to have access to an in-studio television display that will allow for the analysts to visually break down holes and shots with drone footage.
One notable difference about this year's coverage compared to a season ago is that it comes on the heels of a far more successful Disc Golf Pro Tour livestreaming campaign through the Disc Golf Network. Already, some online commenters have expressed displeasure about having to pay a separate PPV fee for the USDGC/WNC coverage since they're already subscribed to DGN. The DGPT sought to provide this year's coverage but did not get selected for the coverage.
"We had our agreements in place prior to a lot of the Disc Golf Network development," said USDGC Tournament Director Jonathan Poole, who said that their two-year agreement with their livestream host, Vimeo, and established relationship with Fulcrum Media precluded a switch to DGN coverage. "There's no way out of that. We need to honor our commitments."
Fulcrum has said they are well aware of the additional pressure. "We know we're going to be put up absolutely against what the Disc Golf Network has done," said Fulcrum owner Luke Johnson. "We're going to be automatically compared to that."
Even though they won't be broadcasting the round coverage, the Disc Golf Network will still be on site to produce a live analysis show, "Inside the Winthrop Arena," hosted by Jamie Thomas and Terry Miller. Per the Pro Tour, "The show will feature live coverage of the infamous 17th Hole, look-ins to the live stream, highlights, interviews, and expert analysis and opinions" that begins at 1 PM Eastern each day as the WNC lead card comes into the clubhouse. The show will run through the start of the final MPO cards to take the course, previewing the day at the USDGC. The coverage will be available exclusively to DGN subscribers.
"We're excited," said DGPT CEO Jeff Spring. "It's a new format — a companion show for a live broadcast."
"We're really excited to be working together with them to find the future of disc golf media," said Poole.
Exclusive Post-Production & No Jomez
In an effort to drive pay-per-view sales, this year's USDGC will not be available to watch on YouTube for two weeks following the event. Next-day and same-day, in the case of the WNC, coverage will be produced by Central Coast's editing team for All-Access and Gold PPV package buyers.
"The sport really needs to put pay-per-view to the test," said Poole. "We're finding our way."
Jomez Productions — the sport's biggest post-production team — will not be covering the event this year after talks fell through.
"While we are disappointed to be absent from the USDGC this year, we respect the direction that Jonathan Poole and the production crew have chosen for this event," said Jomez Productions founder Jonathan Gomez. "We hope that our fans trust that we had to make a very difficult decision to stay true to our free, next-day production standards that didn't align with their PPV model. We trust that the broadcasts will be well received, and look forward to watching along with the fans!"
Jomez has had bad experiences in the past with the Disc Golf Pro Tour when trying to use the live-camera footage for their post-production efforts, which was a requirement from USDGC this year.
"We wanted them to be part of the live," said Poole. "We wanted to marry that effort. Jonathan wanted to stick to their format: front nine, back nine, next day…Jomez didn't want to do live, because that's not what they do. They shoot for post-produced with post-produced in mind. And they didn't want to do a post-produced show with content that was shot live or not theirs."
"Kudos to them for sticking to their guns and wanting to stay true to their business model," he added.
Jomez had been a part of the coverage team at the last five USDGC tournaments, though last year they were relegated to chase card as SpinTV, an Innova-affiliated production channel, got lead card coverage duties.
Central Coast's Ian Anderson, who was originally approached just for commentary duties on the live broadcast, was willing to delay the YouTube debut, which he said he knows will hurt viewership on the videos. "That was kind of the terms I had to agree to in order to be at the table," he said. "And I totally get why they're doing it, to drive views to the pay-per-view."
Overall, Anderson is thrilled to be a part of the event, particularly as a commentator in his first time doing live coverage. "I'm incredibly excited," he said. "I can't wait. I feel like I should be nervous but I'm really not."
Current Players Choosing Commentary over Competition
It won't escape many fans' notice that two active touring players will be in the broadcast booth instead of out on the course.
Philo Brathwaite finished sixth at last year's USDGC and took home a $1900 payday, automatically qualifying for the 2020 event. Hannah McBeth was in the field at the Women's Disc Golf Championships last season. Neither will be chasing a title this year.
"You see a lot of players now looking for opportunities to do commentary," said Poole. "They're looking for ways to get that visibility and build their fan bases. This was an opportunity for Philo to do just that. It's an event he knows really well; it's a course he knows really well. And I think a lot of players like his style."
Anderson, who's been commentating rounds with Brathwaite on most of Central Coast's coverage this season, said that he spoke to Philo about the USDGC commentary opportunity almost every night on their recent two week road trip together at the Pittsburgh Flying Disc Open and Ledgestone, weighing the pros and cons.
"I've been playing some good golf this year," said Brathwaite. "I'm just as skilled a player to make a run as anybody. I guess the opportunity presented itself and it seemed like an opportunity I shouldn't pass up for a number of reasons."
Ultimately, he opted for the chance to develop his brand, open up potential future commentary opportunities, and guarantee the screen time that you usually only get if you're on the lead card.
"It could open doors for me down the road," he said. "I'm 40 years old and I don't know how much longer I'll be relevant on the pro scene."
This will be the first time in his pro career — since 2006 — that he's missed USDGC or even intentionally sat out an event. Given his back-and-forth Innova sponsorship contract situation in recent years, with promotions to and demotions from the Star Team, Innova's top pro player tier, it was, at least in some ways, a business decision. "For me, I was like, 'Wow, are you guys saying my value is more off the course than on the course?'" he said. "And they said, 'No, you're the best man for the job.'"
Hannah McBeth is already in the process of making a shift from player to media personality. She's been producing a podcast for the Disc Golf Network and, recently, appearing on the DGN live coverage as an on-course reporter. "It just does more for the women's side of the sport with me actually commentating and doing media and making sure the stories are being told instead of me finishing in the middle of the pack at a tournament," she said.
She said she's been frustrated at times with the DGN coverage this season which has more heavily emphasized the MPO division. "Wow, there's so much happening [in FPO]," she said. "Why are we not more excited? I didn't want that to happen at the Women's National Championship."
McBeth said she's been doing heavy research into the players to prepare for the event and is excited to be joined in the booth by Juliana Korver, who's not only played in USDGC in the past but won prize money, something she points to as one of her top career achievements.
"Cashing against the top men in the sport in a major event is quite possibly the accomplishment I am most proud of in all my years playing disc golf," she told USDGC in the past.
Ian Anderson has plenty of experience commentating disc golf, but this will be his first foray into live coverage. "We're trying to bring in lots of look-backs at old tournaments: epic meltdowns, awesome throws, cool stats," he said.
Notes
The live coverage will begin on Wednesday, October 7th, with the first round of the Women's National Championship in the late morning Eastern time. USDGC coverage will follow in the afternoon.
The USDGC commemorative disc available to Gold Pass PPV purchasers will be one of six Innova molds in a Shimmer Star plastic. There are 500 available.
There will still be a Monday qualifying tournament this year for USDGC. The 84 available slots have been filled.
From the USDGC website: "Face coverings, social distancing, and frequent hand sanitizer stations are just a few of the precautions planned for players and staff during the event."
There will be a live one-hour Hall of Fame induction ceremony following the final round of the Women's National Championship.
---
Fulcrum has done the live coverage at the USDGC each of the last two years. ↩