Circle 1 stats decided a winner at Pro Worlds, but Pierce's ascension to putting superiority was a slow process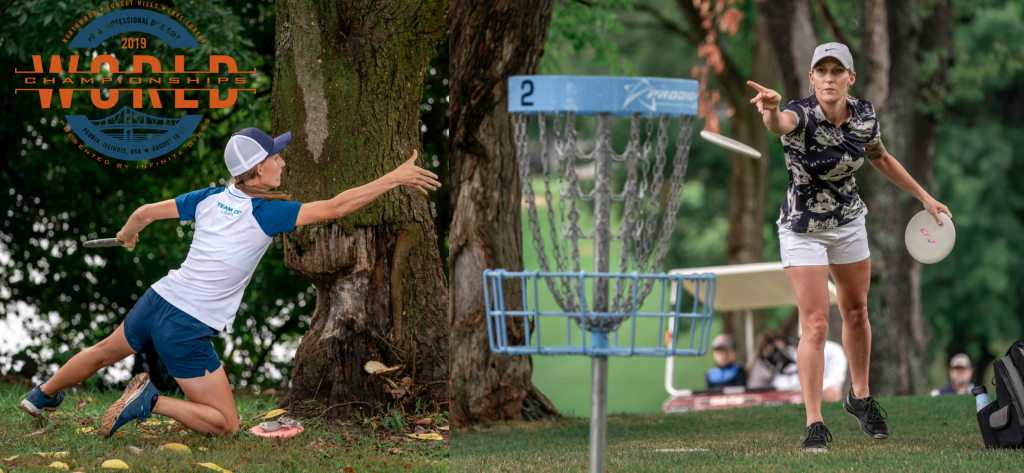 The Gospel According to John, chapter 8, verses 7 – So when they continued asking him, he lifted up himself, and said unto them, He that is without sin among you, let him first cast a stone at her.
C'mon now. We've all done it. Had one of those momentary lapses of concentration or coordination (or both) and air-balled a putt from a few feet out. An effort that'd have your card mates saying things like, "How many baskets are you seeing?" or other such ribaldry. Perhaps though, few of us have missed a short one when the stakes were so high. 
2019 Pro Worlds Matt Bell miss
Actually, we weren't talking about that one from Matt Bell.
If there was a single moment that defined Catrina Allen's PDGA Pro World Championships, it was an unfortunate lapse during the penultimate round on Friday. On hole 17, Allen had canned a tricky, short, birdie-putt from her knees to pick up a hard-fought stroke from Paige Pierce, whose drive had slid OB left. Both players drives then faded long and left on hole 18 and they laid-up to take their pars, which would give Allen a slender but crucial one-throw advantage over Pierce and Eveliina Salonen going into the final day. 
Then came one of the most inexplicable moments I've seen in recent disc golf history. Allen didn't just miss her less-than-10-foot tap-in for par, she almost completely air-balled it, barely tickling the chains as it sailed past the basket's right side. Stoic as ever, she quickly snatched up her disc, precariously tapped-out, and walked off. A four-time world champion must be difficult to buy gifts for, but Allen didn't need to worry about what to get Pierce because she'd just given her a birthday and Christmas present rolled into one. 
2019 Pro Worlds Sunset Hills Round 4 Catrina Allen hole 18 putt
A quick glance at Allen's statistics from UDisc Live from the weekend tells an obvious tale.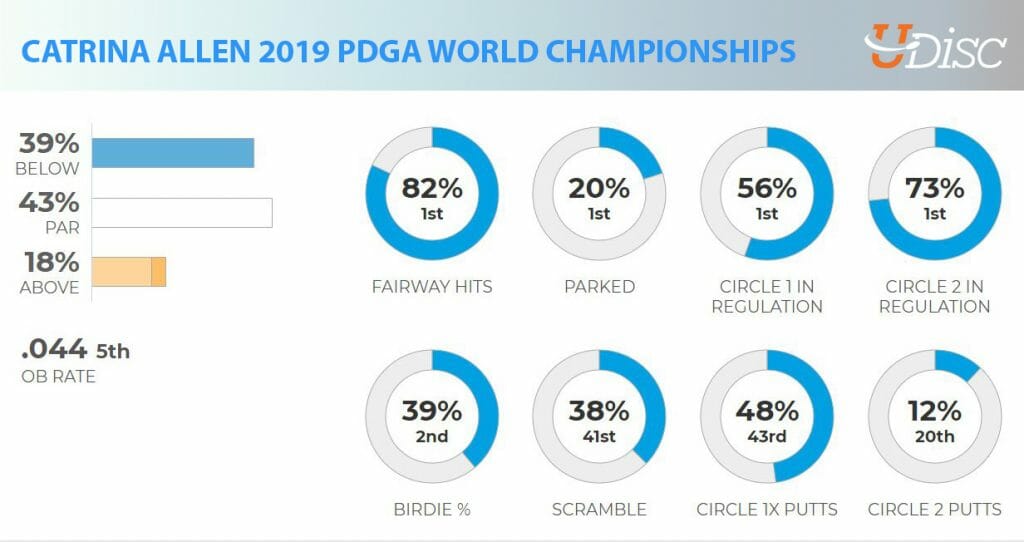 Allen hit the most fairways in the tournament, parked the most holes, and hit Circle 1 and Circle 2 most often. Clearly a recipe to win a tournament until you see that she hit less than half of her C1 putts. There was only one finisher in the event who did worse. If she'd managed field average C1 putting for the event (61%), we'd potentially be telling a much different story. 
To the next day, the final round of the world championships, and after three holes Allen had gained two throws on Pierce after a birdie on hole 1 and a par to Piece's bogey on hole 3. As she'd been doing all week, Allen threw a beautifully controlled hyzer on the 345-foot hole 4 to within 20 feet of the basket. Pierce, who was determined to commit to her throw and avoid fading early into the water on the left, over-cooked the drive slightly, throwing 55 feet past, and above, the basket, narrowly avoiding the golf bunker hazard but leaving a chest-high shrub between her and the pin.
2019 Pro Worlds Final Round Sunset Hills Paige Pierce hole 4 putt GIF
Facing the loss of another throw to Allen that would have left her three down with 14 holes to play, Pierce's half-step/half-jump putted a slight anhyzer throw over the top of the shrub, that glided out beautifully down the slight incline and hit center pole. As Pierce charged the basket, it wasn't a fist pump as much as a fist momentarily held aloft, like she was leading a war cry. There were other moments to come where the tournament had to be won, but Pierce birdied 10 of the next 14 holes and momentum was hers.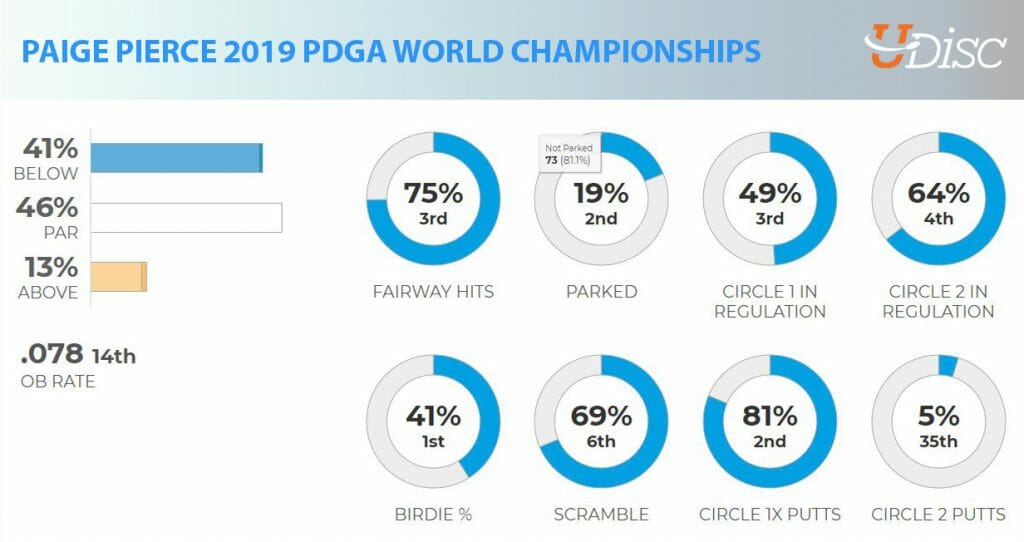 Despite not managing to hit many C2 putts, Pierce was solid on the greens all week. Her 81% C1 putting ranked second only to Holly Finley. However, Pierce has also struggled with solid putting from inside 10 meters this year. Before heading to Europe last month, Pierce only shot above 70% from C1 at UDisc Live events once and never finished better than fourth in the field in C1 putting percentage. Starting with the European Open, Pierce has found her stroke, going 84% in Finland, 84% at Idlewild, and 81% in Peoria, finishing first, fourth, and second in C1 putting at those events.
At Pro Worlds, Pierce's putting consistency was aided by adjustments off the tee between rounds two and five. She improved from 74% fairway hits and 44% of C1 in regulation during the first playthrough of Sunset Hills to 84% and 67%, respectively, in the final round.
They have a saying in the game of cricket in Australia: "You have to win the key moments." That seems to have been the story of this latest installment of this great rivalry between these two champions. A story of opportunities taken, and opportunities missed.