With Worlds two months away, pros will try to set a tone in Peoria for the rest of the season


Don't look now but we are about halfway through the season, and with this weekend's Ledgestone Insurance Open, at the midpoint of the Disc Golf Pro Tour circuit. This year Ledgestone will undoubtedly be considered a preview and warm-up for the 2019 PDGA Pro World Championship which will be played partially on the same courses in, wrap your heads around this, less than two months.
Besides being known for big-time paydays, the Ledgestone Open, especially the Lake Eureka Temp Course, has attracted strong opinions from fans and players alike. Some love the ultra-tight fairways and shots demanded from the players, some hate the prevalence of artificial, roped OB. Even Tournament Director Nate Heinold elicits strong opinions. Some like this tournament because it's relatively easy to write about, some don't care and just want the preview article. Here we go.
This year we will see a larger field in both open divisions. Open Women's will have 46 competitors in 2019, up from 26 in 2018; 25 players are rated 900 or better. On the Open side, there are 188 players this year, 12 more than last year; 69 are 1000+ rated. As many players and pundits noted following Beaver State Fling, the field is getting deeper and stronger with each passing year.
Last year Nate Sexton and Jessica Weese took home the title. This year Sexton will not be in attendance to defend his title, but Weese will be making the trip to Peoria. Sexton has been limited in action this season, and to be fair did announce that during the offseason. For her part, Weese has had a typically Weese season: a big win, some strong finishes, some not so great finishes. Which Weese Will We Watch this Weekend?
Not much has changed for 2019, with the exception of the event dropping the fourth round in favor of three, and the FPO division staying on one course.
In case you hadn't heard, there is a fair bit of OB at Ledgestone. If we are to look to history as our guide, the early season runs at ball golf-style tracks should tell us what most already know. Big arms will have an advantage by cutting off huge chunks of distance, and if they go OB, oh well. They'll take the stroke penalty which the rest of the field will use catching up to their spot, and move along with their par or bogey at worst. With that said…
The Courses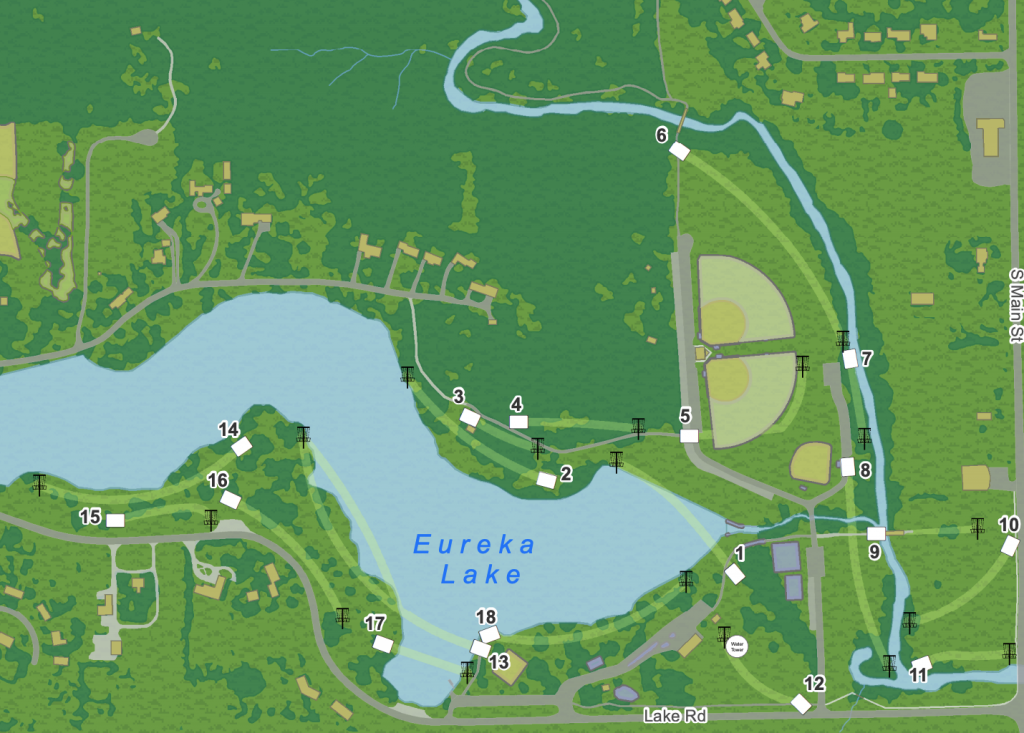 Lake Eureka Temp: MPO – Par 63, 9,647 feet
If you're surprised we're under 10,000 feet, feel welcome to join the club. Eight of the holes check-in at over 500 feet, five are less than 350 feet. There are water carries abound and lots of opportunities for bad kicks, rolls, and the like to ruin a perfectly good round.
Between the ropes, the baseball field (hole 5), the bridge (hole 9), and the water tower (hole 12),  Lake Eureka gets a gimmicky reputation, and isn't usually listed as a favorite of pros. Players like Eagle McMahon have skipped the event in the past for that reason. It does allow for more parity in the results, however, which is exciting for fans.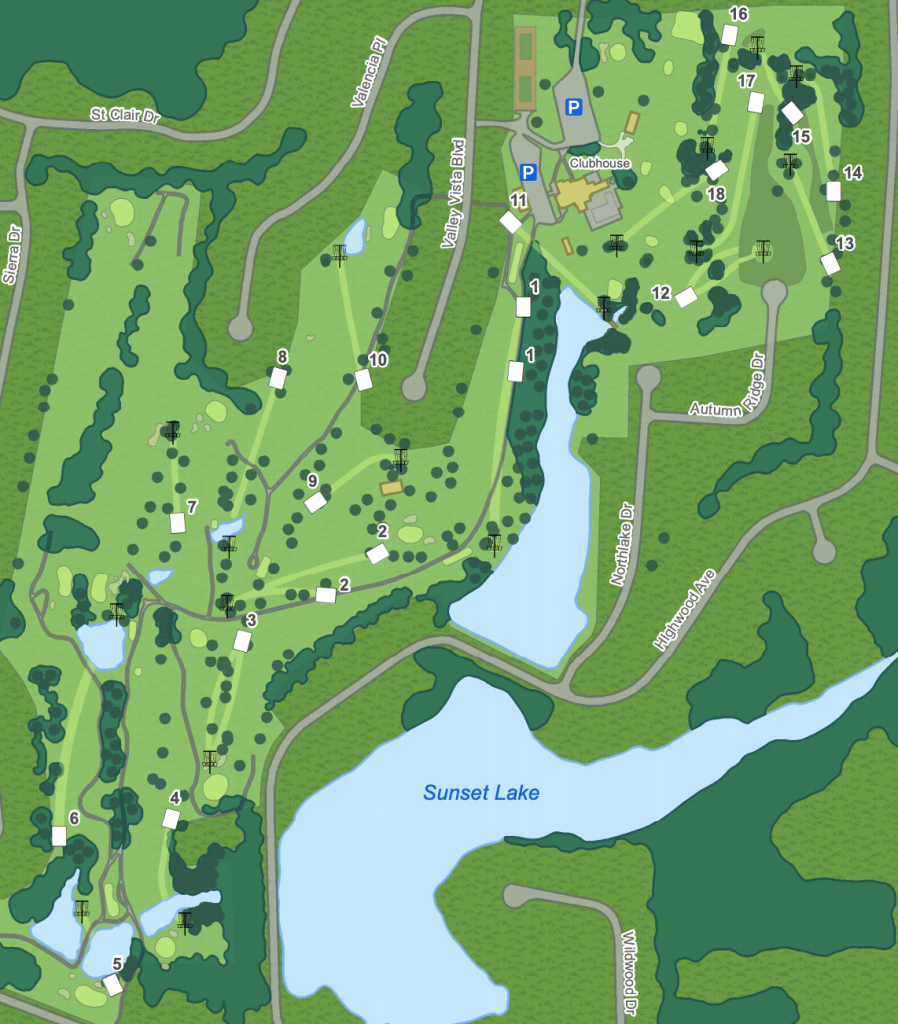 Sunset Hills: FPO – Par 58, 7,325 feet
Sunset demands less water carries and less distance, but we'll let the caddy book blurb from hole 11, a 383-foot par 3, do the talking for us: "Water OB. Practice greens OB. Parking lot OB. Golf tee box OB. Roof of cart barn OB. White rock area OB."
Sarah Hokom was able to post a 7-under during the final round and plenty of scoring opportunities still exist.
Note: At Pro Worlds, MPO will be playing three rounds at Lake Eureka and two rounds at Northwood Gold. FPO will play three rounds at Sunset Hills and two at Northwood Blue. Northwood is only be used by amateur divisions for this event.
Past Winners
Ledgestone Open Past Winners
| Year | PDGA Tier | Open | Open Women |
| --- | --- | --- | --- |
| 2022 | DGPT | Ricky Wysocki | Missy Gannon |
| 2021 | DGPT | Ricky Wysocki & Calvin Heimburg (tie) | Paige Pierce |
| 2020 | A/DGPT | Ricky Wysocki | Catrina Allen |
| 2019 | A/DGPT | Paul McBeth | Paige Pierce |
| 2018 | A/DGPT | Nate Sexton | Jessica Weese |
| 2017 | A/DGPT | Josh Anthon | Valarie Jenkins |
| 2016 | A/DGPT | Paul McBeth | Catrina Allen |
| 2015 | NT | Simon Lizotte | Catrina Allen |
| 2014 | A | Nikko Locastro | Catrina Allen |
| 2013 | A | Devan Owens | Catrina Allen |
| 2012 | A | Nikko Locastro | Sarah Hokom |
Extended Forecast
An active weather pattern, conducive to storms, will likely set up shop for the Ledgestone Insurance Open. This sets the stage for a complicated forecast on the weekend as several upper level disturbances move through the region.
Friday: Scattered showers and thunderstorms will be possible throughout the day. Highs will warm into the low 80s. Gusty southeast winds will be likely. Some gusts over 20 mph will be possible.

Saturday: An upper level ridge will bring more heat and humidity to the region. Highs will warm in the mid to upper 80s. Isolated to scattered showers and thunderstorms will be possible. Southerly winds will likely gust in excess of 20 mph. Given the humidity, temperatures will feel more like the low to mid 90s.

Sunday: That aforementioned ridge will move east on Sunday. This will lead to a better chance of showers and thunderstorms. Highs will remain in the mid 80s, with gusty southwest winds possible.
With daily chances of showers and thunderstorms, lightning delays will be possible, if not likely during the tournament. It will be interesting to see how tournament staff and players handle the situation throughout the weekend. Given the variables in play, an isolated severe storm could be possible. Vivid lightning, torrential rainfall, hail, and damaging wind will be possible in the most intense storms.
How to Watch
The whole gang will be there. JomezPro, Central Coast Disc Golf, and GK Productions will be on post-produced coverage. Smashboxx TV will cover livestreams on the DGPT channel for both FPO and MPO each day. UDisc Live has live scoring.