Holes 17 and 18 proved to be the deciders at Hornets Nest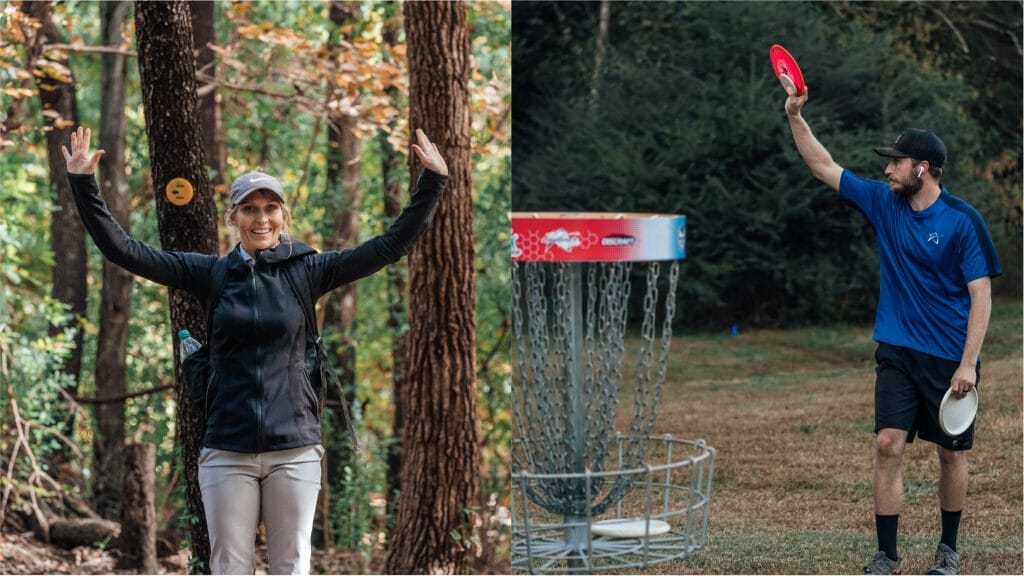 CHARLOTTE – Catrina Allen bogeys the first two holes, Sarah Hokom birdies those same two, and Rebecca Cox and Paige Pierce are each 1-under in the same span. Who do you think wins based on that information alone? Ok, then let's add that nobody makes a Circle 2 putt all round — does that change your answer?
The final round of the Disc Golf Pro Tour Championship was just one of those days that you can't script; you'd get laughed out of the pitch meeting for being too unrealistic. The reality is that on this soggy Sunday morning Hokom was the clearcut frontrunner early, a fierce surge by Pierce in the midgame put her in the running, and an indomitable will-to-win performance by Catrina Allen late capped off the day. 
2019 DGPT Championship Catrina Allen
Rebecca Cox was unfortunately a non-factor after a great round in the semifinals, she just couldn't get the engine kickstarted to produce enough scoring opportunities, finishing at the bottom of the card in reaching either the circle in regulation. To her credit, she did putt at a very respectable 86% from C1X, 16% better than the next best performer.
Let's keep playing the elimination game. Pierce tied for the most birdies on the card, and finished in last place, one stroke behind Cox at 3-over par 68. The DGPT season leader in both C1 and C2 in regulation, as well as fairway hits, was unable to play to her season averages in the final round, and subsequently only successfully scrambled once in five tries on the front 9. She mounted a spirited charge after the turn with two birdies where all three of her opponents took pars, but picked a rather strange hill to die on. On the par 5 hole 13, the same hole she eagled in majestic fashion one day prior, an overturned full power heave found the right side rough, and a stubborn Pierce refused to pitch out. It resulted in a fatal double bogey.
Down to two players. Hokom, who was never over par at any point in the round, and Allen, who was never under par until she stood on the 15th tee. Allen who putted 43% from C1X. Hokom who co-led in OB rate and par percentage, and led in scramble rate. 
Catrina Allen wins this in the least textbook way possible, but possibly the most gutsy.
Frankly, Hokom just cooled off. She has earned her accolades these last two weeks by shaping shots, successfully using her backhand in crucial spots, and making putts. It's not that she didn't do all of those things, she actually did, it just wasn't enough.
Frankly as well, nobody was paying as much attention to Allen as to the brewing Pierce/Hokom showdown. Frustrated and at times even morose on the course, Allen seemed from the spectators' perspective close to throwing in the towel after missing five C1X attempts on the front 9. 
To her credit, she's always said that she builds her game from the tee forward, and when you view it through that perspective the numbers tell a completely different story. Leading the card with 61% C1 in regulation and 78% C2 in regulation, she wasn't looking at birdies on only four holes — three of those were the three opening holes.
Suddenly, as Pierce fought the right side rough on the par 5, Allen unleashed a massive flip-up-and-ride drive down the right side that faded perfectly back to the ideal landing zone. From there she worked a beautiful turnover shot to short-left of the pin and picked herself up from her second 3-putt of the day on the previous hole by forcefully canning a 9-meter putt for eagle.
After a park-job on 14, Allen stumbled on The Gauntlet by surrendering a double bogey before redeeming birdies on 16 and 17. All the while Hokom was taking pars, which would have been enough except for hole 17. Allen's birdie from circle's edge big-putted Hokom, who looked uncomfortable with the angle on the elevated pin and found the cage. Even more nerve-wrecking was the roll-back to nearly to the same lie, though Hokom wouldn't miss twice from the same distance.
Tied on 18, Allen laced another flip-up drive downhill into a tailwind and had one more circle's edge attempt at glory, but it splashed out weak side and extra golf was in order with both players tied at 1-under par. 
Allen corrected from her round-opening mistake and managed par, while Hokom, who filleted hole 1 earlier in the morning, took a hard kick off a tree to the right side rough and wasn't able to scramble from there.
Disc Golf Pro Tour Championship Chris Dickerson Final Round 2019
The Open division was a similar story of perseverance. Drew Gibson, hobbled by a back injury, wasn't able to get off to the same strong start that he managed during the quarter- and semifinal rounds. On each of the past two days he was able to get to 6-under on the front 9, but the injury clearly stymied his putting and he 3-putted twice, finding himself 1-over after 9 holes with little hope of keeping pace.
Despite that, however, Gibson was impressive in his tenacity. Over par for most of the round, he was able to find three birdies late in the round to tie Kevin Jones on 17, forcing Jones to smash a 50-foot birdie putt to break the tie and claim solo third place at 3-under par. Gibson also delighted the fans with huge drives, visibly wincing after each huk, but committing to the show nonetheless.
Jones, who has a penchant for big plays in big situations, suffered from the same sort of issues that Hokom dealt with. The big bomber out of Arkansas found pars where he needed birdies, mostly due to the inability to get inside C1 in regulation. Jones had nine C2 attempts on the day, connecting on only three. All three other players on the card had only a combined 14 C2 attempts to put things in perspective.
Early on in the round it became a two horse race between Calvin Heimburg and Chris Dickerson. Heimburg looked unstoppable, casually lofting 5-meter birdie putts on the first two holes and then catching fire in the mid-round with a string of six straight birdies, well-earned with five C1X putts in the stretch. Both Heimburg and Dickerson were inside C1 in regulation on half of the holes, both only missed two C1X putts all round, and each only took six pars on the day. It was a firestorm pace that separated the card in two.
Dickerson, for his part, had revenge on his mind. Remember that last week he missed out on participating in that playoff between Heimburg and Adam Hammes by inches, a too-high birdie attempt on hole 18 left him one stroke shy of stealing the Hall of Fame Classic title from the chase card.
Determined to not have history repeat itself, Dickerson strung together two supremely technical birdies on holes 15 and 16, and suddenly has a one-stroke advantage on Heimburg going into 17. Having faced this hole three times already, Dickerson's history was birdie-bogey-birdie, and on Sunday he laced the drive perfectly to line up a gentle lofty hyzer approach to about 20 feet.
Heimburg's approach on 17 came up short. Down one and facing certain elimination, Heimburg once again made a clutch putt, this one from 50 feet out. Somehow, inexplicably, once again the leader was big putted. Dickerson, like Hokom, missed from the range that is normally automatic, and for the second time in a single day it was tied as the card traversed the greenway to the 18th tee.
Dickerson smashed the tee shot, testing the right corner treeline, and nestled the full-flex drive about 5 meters from the pin to a roar of cheers from the 200-strong gallery. Heimburg once again came up short, and his C2 attempt pulled strong side and slid off right. Not to be outdone twice, Dickerson's final birdie attempt was center and true, and Chris Dickerson – who played more holes than any other player in this format – became the first player to win back-to-back Disc Golf Pro Tour Championships.