It's hard to separate from the pack at Milo McIver. Who comes out on top?


The Beaver State Fling is one of the most highly anticipated, storied, and exciting events of the season. And it is finally here.
Milo McIver State Park in Estacada, Oregon is routinely ranked as an all-time favorite venue by players, media, and fans alike. Lush forests, challenging yet attackable fairways, and plenty of places to take a post-round swim have made the BSF a must-hit for any player on tour.
Oh yeah, the golf is pretty good too.  
Over the past several years we have seen playoffs in both Open divisions, and when there hasn't been a playoff the margins of victory have been razor thin. In fact, in the last nine instances when the BSF has been classified as a stop on the PDGA National Tour, there have only been three instances when the margin of victory was more than a single stroke. Ken Climo was the last Open Division player to run away with a win when he beat Avery Jenkins by seven strokes in 2009.
Eagle McMahon will be hoping to join the two-time winners club this year after beating Paul Ulibarri by two strokes in 2018. As many will recall, that was McMahon's third NT win of both his season and career. McMahon hasn't caught the same lightning in a bottle feeling in 2019, and is coming off of a heartbreaking playoff loss to Drew Gibson at the Portland Open. The critical question for McMahon this weekend will be, how well can he bounce back?
On the flip side of that coin, how will Drew Gibson respond? Gibson has placed in the top 10 each time he has played the event, and finished in a five way tie for fifth last year. The Riverbend Disc Golf Courses aren't entirely dissimilar to Blue Lake, and he'll have plenty of opportunities to let the disc fly. Even on the wooded portions of the course, Gibson has the touch to thread the gaps.
Reminder: Paul McBeth is not in attendance. 
We know that Catrina Allen and Paige Pierce have got to be excited on their way to Milo. The two have alternated wins going back to 2015, when Jessica Weese took the win. We've said it plenty, Allen is playing at an inspired level this season while the rest of the Open Women's division, Pierce included, has struggled to find consistency. We are still waiting on Sarah Hokom to bag her first Pro or National Tour podium of the season. Rebecca Cox, who many picked to make a big move this season is in the same boat.
Madison Walker, on the other hand, is one FPO player who has been on a steady upward climb this season. Walker has three straight top five finishes to her name and, if you follow her Instagram, should be in her happy place among the ferns and foliage at Milo. Walker averages 10th place across the big six UDisc Live statistical categories, but finds ways to stay in contention. She has some A-tier wins to her name, but a win at BSF would be the signature win she has been looking for.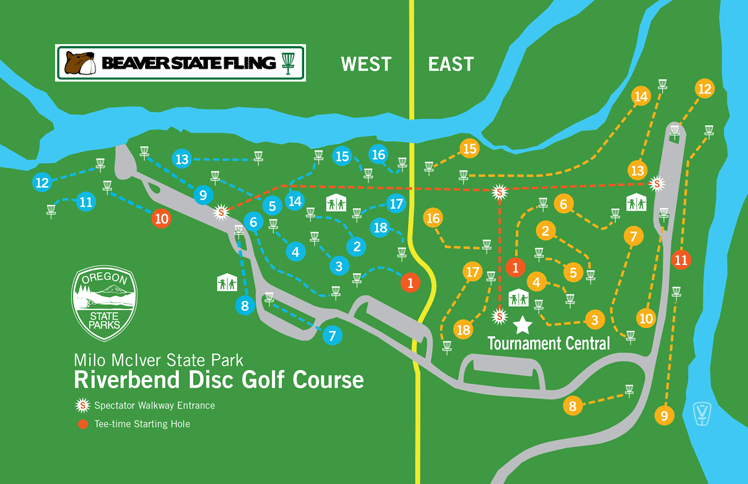 The Course
Riverbend Disc Golf Course: West – 8,511 feet, par 61; East – 8,696 feet, par 61
Riverbend Disc Golf Course features three layouts, only one of which will be used this weekend: the East and West courses. Both are meant to challenge and test big throwers and technicians alike. The BSF layout is only in the ground a few times each year since the BSF moved to Milo McIver Park full time in 2006.
Open and Open Women will be playing the same layouts but on different schedules. Rounds one and two are played on Friday with shotgun starts at 9 a.m. and 2:30 p.m. local time. The Open field will start on the West course and the Open Women on the East. The fields will swap courses in the afternoon. Round three on Saturday will be played the same as round one. The final round Sunday finishes with Open on East and Open Women playing West.
Naming one signature hole at courses like this would be an excellent way to start a war in the comment section. The green on hole 2 of the west course may be the image that pops into your head.
Check out the full caddy book.
Past Winners
| | PDGA Tier | Open | Open Women |
| --- | --- | --- | --- |
| 2018 | NT | Eagle McMahon | Catrina Allen |
| 2017 | NT | Ricky Wysocki | Paige Pierce |
| 2016 | NT | Ricky Wysocki | Catrina Allen |
| 2015 | NT | Paul McBeth | Jessica Weese |
| 2014 | B | Nate Sexton | Valarie Jenkins |
| 2013 | NT | Will Schusterick | Paige Pierce |
| 2012 | NT | Cale Leiviska | Catrina Allen |
| 2011 | B | Paul McBeth | Valarie Jenkins |
| 2010 | NT | Christian Dietrich | Liz Carr |
| 2009 | NT | Ken Climo | Des Reading |
| 2008 | A | Steve Rico | Kathy Manley |
| 2007 | NT | Nate Doss | Valarie Jenkins |
| 2006 | NT | Barry Schultz | Des Reading |
| 2005 | NT | Barry Schultz | Des Reading |
| 2004 | NT | Barry Schultz | Ruth Steele |
| 2003 | B | Aaron Kirschling | N/A |
| 2002 | C | Erik Smith | N/A |
Extended Forecast
An upper level trough will bring a chance of rain and cool weather to the Estacada region Friday. Temperatures on Friday will be around 15 degrees below normal! However, nicer conditions are expected to follow on Saturday and Sunday as the upper level trough moves out of the region.
Friday: Temperatures will likely warm only into the upper 50s. Scattered showers are expected across the region with some embedded thunderstorms possible. Gusty southwest winds will be possible, especially in the afternoon when gusts could exceed 20 mph.

Saturday: Temperatures should warm into the mid 60s throughout the day. No rain is expected. Calm wind conditions may give way to a slight northwest breeze during the afternoon hours.

Sunday: Temperatures warm to near 80° on Sunday! Mostly sunny skies are expected with a northeast breeze between 5 and 10 mph.
As the temperature heats up on Sunday, I expect the play to as well. Will we see another hot round from chase card win back-to-back tournaments? Or will lead card fend off challengers with the great scoring conditions?  
How To Watch
Central Coast Disc Golf is doing extra duty to cover all four rounds of feature or lead MPO cards. They are also bringing in extra crew to be able to put out round one on Friday evening and then commence with day after coverage starting with round two becoming available Saturday. JomezPro will have next day coverage of MPO chase card starting with round two, as will the Disc Golf Guy of FPO lead card. There will not be any livestreamed coverage.
With it being a National Tour event, the PDGA will be posting daily podcast wrap-ups, as well as daily video recaps. UDisc Live will handle livescoring, and Alyssa Van Lanen will be photographing the event for the PDGA.