McBeth comebacks stalls in second place

From now one, maybe we should look at the San Francisco Open as the tournament that really sets the tone for the season. In its first two editions, SFO has kicked-off the west coast swing and seen players get their first big wins of the year.
Ricky Wysocki bagged his first Disc Golf Pro Tour win of the season at Gleneagles, shooting a 1073-rated, 11-under par 53 to finish the weekend at 33-under par 159 total. He threw a bogey-free final round — his only bogey on the weekend came on hole 15 of the second round — and shot double-digits under par each day of the event.
"It was a good week," Wysocki said. "For me, I've been in that spot and played too cautious, and this week I kept playing aggressively. Picking up my birdies when I can, taking my medicine and not risking 3 putts when I needed to."
"I knew the [Pro Tour] win was going to happen eventually," Wysocki continued. "And this week every part of the game was where I needed it to be. I've started to figure stuff out. My sidearm is coming along, I'm really comfortable with my Pro Pig for approach shots, and my putting has been great. I'm making the huge pressure putts when I needed to."
Wysocki was 100% scrambling on Sunday, and only missed one Circle 1X putt. He connected on two putts from C2 in a streak of six holes where he went 7-under par in the middle of the round. Wysocki averaged 1076-rated golf, and finished first in four UDisc Live statistical categories including C1X putting, C2 in regulation, and parked shots.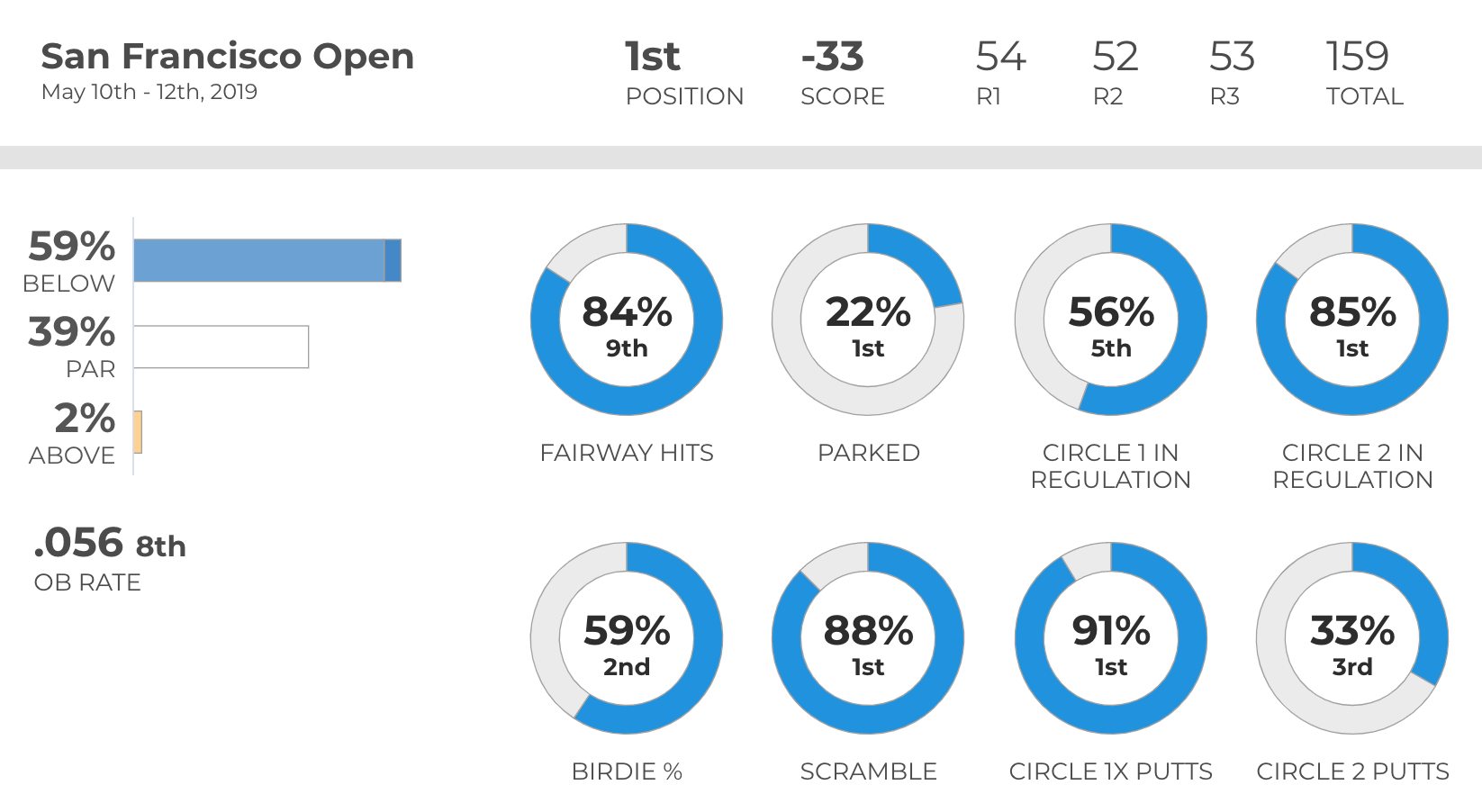 While Wysocki was doing his thing, the battle for the remaining two podium spots was heated. Simon Lizotte, Eagle McMahon and Anthony Barela started the round in a three way tie for second, and Lizotte looked primed to make a run for sole possession of second until hole 12 when his roller attempt off the tee hit an early branch before it got to the ground.
From his lie, Lizotte placed his upshot into position to save par, but he missed putts for par and bogey, walking away with a double-bogey 5. The miscue seemed to take the wind out of Lizotte's sails and he finished the final seven holes at 1-under par to finish in a tie for sixth at 22-under par 170 total. Barela wasn't able to maintain the pace he set during the first round and his putter went cold. He bogeyed holes 6 and 7, and only hit 73% of his C1X putts, finishing in sixth as well. It was a similar story for McMahon on the green. He was 70% from C1X and finished tied for third at 25-under par 167.
As the lead card watched Wysocki take control of the tournament firsthand, Paul McBeth and Calvin Heimburg were making their moves from the chase cards.
McBeth finished in second place at 27-under par for the weekend after starting the day in fifth place. A hard charge on the front half of the course, where he birdied nine of the first 11 holes, made it look for a moment like the tournament may come down to the final couple of holes. Wysocki essentially ended the potential heroics once he hit the back nine, thanks in large part to an eagle on hole 10 that put him up five. McBeth was able to get his putter going after a sub-standard second round, and hit 90% of his C1X putts. He finished the round 12-under par 52, tying Heimburg and Adam Hammes for the hot round.
Heimburg was bogey-free, hitting 100% of his putts from inside C1X, and climbed up from sixth place to a tie for third along with McMahon. Hammes was also bogey-free, hit 95% of his fairways, and rose five spots into solo fifth at 23-under par 169. Avery Jenkins and Kevin Jones were in the tie for sixth with Lizotte and Barela.