McMahon, Lizotte, Barela will try to catch the two-timer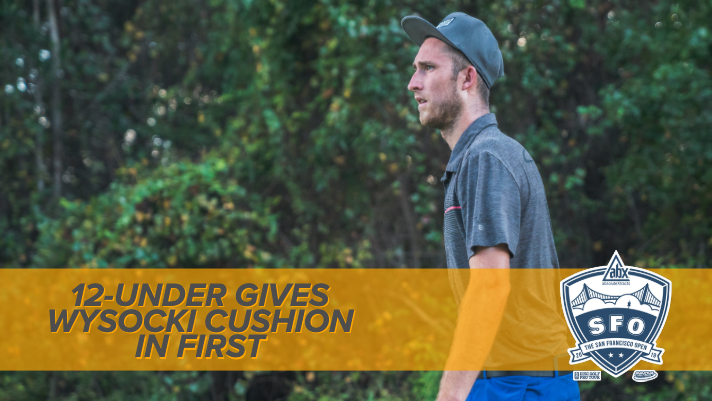 The rest of the lead card wasn't doing much to take control of the San Francisco Open during round two, so Ricky Wysocki stepped up and held off hard charging challenges from the chase cards to cement a moving day lead.
Wysocki has opened up a five stroke advantage heading into the final round after firing off a 1082-rated, 12-under par 52 to move him to 22-under par 106 total. He first took the lead midway through the day, just as James Conrad and Paul McBeth had also worked their ways into shares of first and second place a couple of holes ahead of the top group. Wysocki used a six birdie streak to match and soon overtake Anthony Barela for first between holes 4 and 9, and separated himself from the field with six birdies in seven holes between 11 and 17.
He was efficient from inside Circle 1X, only two-putting on hole 18, and added a 40% conversion rate from C2. Wysocki's C2 in regulation rate, 94%, and C1 in regulation, 67%, were best on the day.
Conrad threw his way into the podium conversation thanks in part to back-to-back eagles on holes 9 and 10. He jumped up nine spots to a three-way tie for fifth with McBeth and Seppo Paju at 15-under par 113 total. For his part, defending SFO champ McBeth hit a cold patch on the back nine where he mixed a bogey with two birdies after starting 6-under par before the turn. His putter turned untrustworthy Saturday, as he was 70% from inside C1X and two-putted twice in the final four holes.
Anthony Barela slipped from his perch at the top to a three-way tie for second along with Eagle McMahon and Simon Lizotte at 17-under par 111 total. McMahon was another big shaker, moving up seven spots thanks to a bogey-free, 10-under par 54. He hit 95% of the fairways playing from the third card.
As a whole, Gleneagles played .75 strokes lower in round two than in round one, and two players — Robert Lockwood, Boston Abbinett — recorded aces. Holes 5, 6, and 18, in that order, again played the hardest to par on the course.