Wysocki right on Big Jerm's heels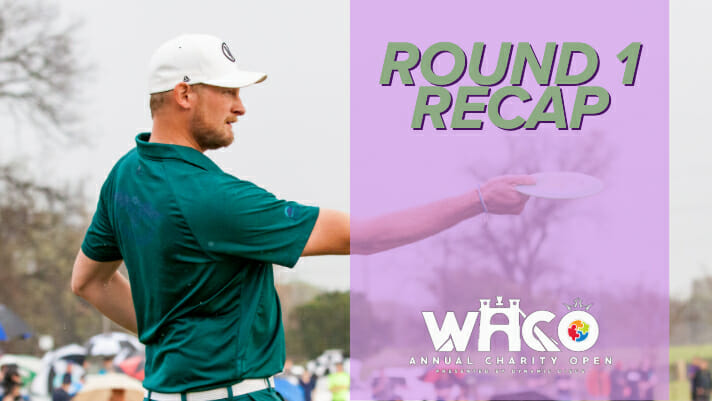 It's like Jeremy Koling never left the menacing confines of the Brazos East disc golf course.
Koling is out in front at the Waco Annual Charity Open after one round, finishing the day in sole possession of first place, shooting a 1082-rated, 15-under par 52. Koling threw like a defending champion on the forehand-friendly course. He put his drive inside Circle 1 nearly 75-percent of the round, including a drop-in eagle for 3 on the par 5 hole 9. That confidence off the tee saw Koling place first in the division in parked percentage, second in fairway hits, and he only gave up one stroke to OB.
"The sidearm felt great and when the sidearm is on fire at WACO I feel really confident with my angle control," Koling said. "Today was a lot of fun! But so are all rounds that end up at 15-under."
Ricky Wysocki is one stroke off Koling's pace in second and was the clubhouse leader for much of the afternoon at 14-under par 53. Wysocki finished the first round clean but wasn't able to register any deep blue for eagle on UDisc Live.
"Putting felt good and my sidearm was on point allowing me to get a lot of birdie opportunities," Wysocki said after the round. "Didn't give myself any eagle looks on the par 5s, which is totally possible out there. I feel like I left two to three shots on the course."
Playing on the live feature card with Koling, Nate Perkins, who played college disc golf not too far from Waco, shot a vengeful round after losing to Koling last year in a playoff. Perkins has put himself in a strong position to make another run at the title as he's currently in third at 13-under par 54.
Matt Dollar is tied with Paul Ulibarri in fourth at 12-under par 55; Dollar will take the final spot on the round two lead card.
Brian Earhart, who was fan-voted onto the lead card, had an injured toe that visibly hindered him. He put on a brave face throwing almost entirely standstill and is in a tie in 28th place at 6-under par 61.
Takeaways
Eagle McMahon, Paul McBeth, James Conrad, and Alex Russell are all lurking in a tie for seventh at 10-under par 57. This talented hoard is currently five strokes back of Koling, which is nothing as bogeys and eagles alike are found all over this course.

Koling, Perkins, and Emerson Keith were in the top 10 after one in 2018, and find themselves once again the top 10 after one in 2019.